658 Views
Gorilla Ladders Vs. Little Giant: Which Ladder Is Best?
October 14th, 2021 12:38 PM
Share
There are countless ladders on the market to help with any project, but few are as reliable as Gorilla Ladders and Little Giant. Both brands have their benefits such as the sturdiness of Gorilla Ladders, and Little Giant sweetens the pot with a 30-day guarantee. Whether it be the build, height, or return policies, let's take a look at how Gorilla Ladders and Little Giant differ from one another.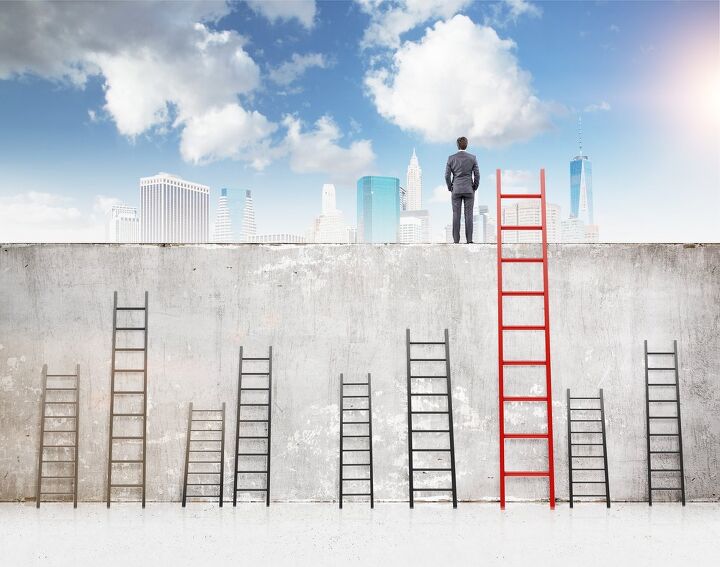 Choosing the right ladder can be tough because there are so many brands that make them, and many are similar. Good ladder manufacturers not only create a wide variety of ladder heights, but also several options for materials and purpose.
Two of the best and most popular brands making ladders right now are Little Giant and Gorilla Ladders. While Gorilla Ladders makes a great ladder, Little Giant is the best of the two.
Not only are Little Giant ladders affordable and widely available, they are sturdy and safe. Little Giant also sweetens the pot with a 30 day money back guarantee and lifetime warranty which is hard to beat. With that said, Gorilla Ladders is still a formidable choice and produces several effective multi-position ladders.
Follow along as we explore the differences in quality between Gorilla Ladders and Little Giant.
What Is Gorilla Ladders?
Gorilla Ladders is a brand that produces everything from household ladders and platform to multi-position ladders. Their ladders are constructed to be durable and easy to maneuver, and Gorilla Ladders values safety with non-slip surfaces.
The Gorilla Ladders household ladders are designed to be comfortable and easy to use. Their one-step, two-step, three-step household ladders have comfort grips and are portable like Gorilla's other ladders.
Similar to their household ladders are the Gorilla Ladders Heavy Duty Steel Step Stools. They are three-step stools and Gorilla Ladders added built-in organization in the form of a tray and sorter at the top.
For more professional use, Gorilla Ladders makes multi-position ladders with sturdy armored feet. The hinges on Gorilla's multi-position ladders are oversized leaving little room for flexibility which makes them stable.
The Gorilla Ladders multi-position ladders start at 14 feet and go up to 26 feet with a 375 pound load capacity. Similar to their household ladders is Gorilla Ladder's Aluminum Super Light series that is perfect for small task like hanging things or changing bulbs.
Gorilla Ladders does offer a limited lifetime warranty for defects in construction or materials.
What is Little Giant?
Little Giant makes ladder and ladder accessories are well known for their high quality construction. Their selection ranges from step stools and step ladders to adjustable a-frame ladders and articulating ladders.
What makes Little Giant the best choice is that each of their ladders is incredibly sturdy, durable, and stand the test of time. Most of their ladders, such as the Little Giant Velocity Ladder Type 1A come in several heights, such as 13, 17, 22, and 26".
For short to medium height tasks, Little Giant has several options such as the Flip-N-Lite Step Ladder and the MightyLite Fiberglass stepladder. One of the many great things about Little Giant is that they have both aluminum and fiberglass offerings.
Cheap options like the $99.99 Little Giant Jumbo Step Stepladder are perfect for tasks like painting or hanging a frame. Little Giant also has premium offerings like the Revolution Ladder Type 1A.
The Revolution Ladder 1A is an example of how Little Giant carefully considers user safety. Because it is adjustable and the Revolution Ladder 1A is designed for curbs, stairs, and uneven surfaces, you can safely use it for tasks of medium to large heights.
Whether it be one of their small step stools or premium adjustable ladders, each Little Giant ladder is of the highest quality.
Which One is Better?
Between Gorilla Ladders and Little Giant, Little Giant is the better of the two. Each one of Little Giant's ladders is solid, sturdy, safe, and reliable.
One of the best things about Little Giant is the variety of ladders they offer. Not just the variety between step stools and multi-position ladders, but between materials. Both their aluminum and fiberglass offerings are effective in all Little Giant ladders.
Gorilla Ladders makes some great ladders as well, but the overall construction quality is not as solid as Little Giant. That is not to say that Gorilla Ladders are not sturdy or safe, they are just not as high quality hen compared to Little Giant.
If lightweight ladders is a must for you, however, Gorilla Ladders makes some exceptionally light aluminum ladders. The tradeoff with Gorilla Ladders is that they are just not quite as sturdy or durable as Little Giant.
With that said, Gorilla Ladders are significantly cheaper than Little Giant ladders are. Some Gorilla Ladders that cost $99 with the Little Giant equivalent costing $375. However, if the adage "you get what you pay for" means anything, it's that Little Giant is worth the extra cost.
At the end of the day, you want a ladder that will last you for years to come.
How to Choose Between Types of Ladders
When looking into ladders, there are several things to keep in mind before deciding to choose one. Some of the main things to consider include:
What kind of projects/jobs you may have
What kind of material you prefer (aluminum or fiberglass)
Cost
Durability
Do you need a ladder for commercial use or for projects around the house? If it is for commercial use, consider something like the Little Giant Epic Ladder Type 1A or Gorilla Ladder GLMPX-13.
For commercial use, you need large, multi-position ladders like the above examples. As far as materials go, aluminum is best for solo jobs because it is so light. Beyond that, fiberglass is the better choice because it is more durable.
It is worth noting that Gorilla Ladders does not currently offer much in the way of fiberglass ladders whereas Little Giant does. Cost is important in choosing a ladder. Keep in mind that price is related to ladder height, so ladders for medium to high projects will cost more.
Durability is just as important to consider as cost when choosing a ladder. That is where Little Giant has the leg up over Gorilla Ladders. The durability of Little Giant ladders and lacking in Gorilla means you won't need to replace your ladder for years to come.
Related FAQs
Q: Are both Gorilla Ladders and Little Giant good for indoor and outdoor use?
A: Both Gorilla ladders and Little Giant ladders can be used inside or outside. Little Giant produces several fiberglass ladders which are better for outdoor use than aluminum ladders because they are not affected by the elements.
Q: What specs affect the pricing of ladders?
A: Typically, ladder price is determined by the height of the ladder as well as the maximum load capacity. Adjustable height positions also can add to the cost of a ladder, as well as accessories like tool trays.
Q: How long do ladders last?
A: There is no iron-clad rule, but with heavy use, you can expect 1-3 years at least. Inspect the ladder daily and weekly before using it to keep track of its condition.
What Did We Learn?
Little Giant is the best choice for ladders when compared to Gorilla Ladders. The wide selection Little Giant produces is varied, durable, consistent, and most importantly, safe.
You can't go wrong with any one of the Little Giant ladders currently available. The 30 day money back guarantee and lifetime warranty makes it even more clear that Little Giant is the perfect choice.
Whether you need a step stool or commercial grade multi-position ladder, Little Giant has more than enough great options.
Related Guides

Upgraded Home Team
We are a team of passionate homeowners, home improvement pros, and DIY enthusiasts who enjoy sharing home improvement, housekeeping, decorating, and more with other homeowners! Whether you're looking for a step-by-step guide on fixing an appliance or the cost of installing a fence, we've here to help.
More by Upgraded Home Team
Published July 14th, 2020 12:13 PM