101 Views
Fiberon Vs. Trex Composite Deck: Which One Is Better?
August 16th, 2022 4:37 PM
Share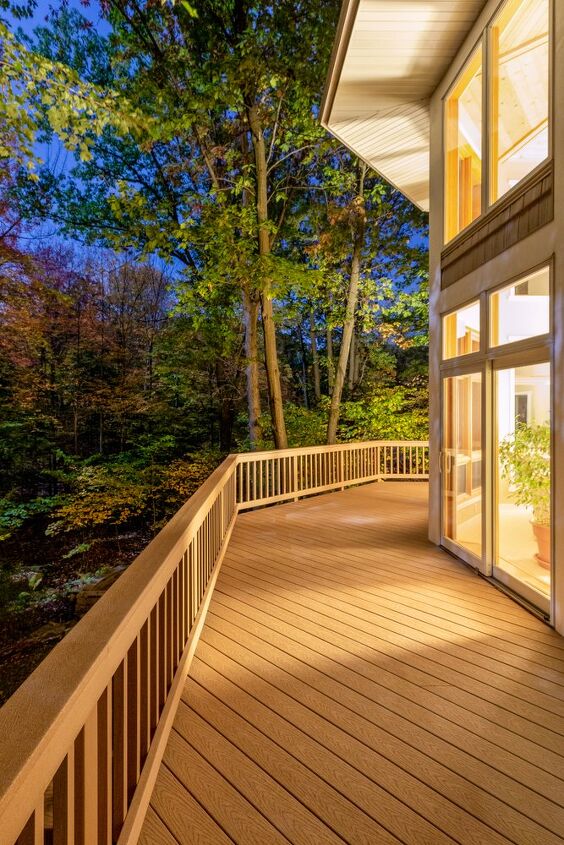 A deck can be one of the most exciting, beautiful, and social spaces in your home. It can host barbecues, playtime for kids, parties for the whole family, and quiet nights watching the sunset. Composite decking made by brands like Trex and Fiberon has many benefits, but when comparing Fiberon vs. Trex, which is better?
Fiberon and Trex both offer excellent durability, competitive warranties, and a variety of finishes to create a low-maintenance and eco-friendly deck. Fiberon is more cost-effective if you want a high-end deck, but Trex still offers comparable prices. However, Trex offers man more products beyond composite decking, including fencing, railings, and lattice.
While several brands offer composite decking options, not all products are created equal. Here's the lowdown on two of the industry's leaders: Trex and Fiberon. A deck is an investment, so how can you be sure you're choosing the right material?
Do You Need a Deck or Porch Contractor?
Get free, zero-commitment quotes from pro contractors near you.
What Is A Composite Deck?
Composite decking has become an eco-friendly and low-maintenance alternative to traditional wooden decks. They have an average 25-year lifespan, often complete with a warranty. On the other hand, you may need to replace a wooden deck in less than half the time.
Composite decks are insect and rot-resistant, so neither termites nor rainstorms will affect them. Environmental factors like heat and humidity or snow and frost, depending on your location, can wreak havoc on natural wood. This can result in deck boards splintering, warping, and the color fading.
Their eco-friendliness is apparent in several ways. First, a longer-lasting deck means less waste from replacing it several times over.
Using composite material also prevents further deforestation and avoids the harsh chemicals used to make pressure-treated wood. Made mainly of post-consumer waste, the boards themselves are great examples of upcycling and recycling.
A composite deck costs more upfront than a natural wood deck, but the higher price may be a good investment. Composite decks require much less maintenance, in the long run, saving you time and money each year.
Maintenance Of Composite Decking At A Glance
Fiberon estimates that the average wooden deck requires 16-32 hours of maintenance per year. This includes sanding, re-staining, power washing, and replacing old, warped deck boards. All of these tasks can add up to almost $5,000 in maintenance costs over ten years.
A composite deck, on the other hand, requires less than five hours of maintenance per year. All it needs is a good scrub with soap and water either seasonally or bi-annually. The deck boards arrive finished, so you'll save time (and money) on this step during the initial installation too.
What Is Fiberon?
Fiberon is one of the industry leaders in composite decking. Founded in North Carolina in 1997, they now also have a home base in Idaho. Locations in these two hubs allow for easier distribution and lower shipping costs.
They're not the biggest company, but they pride themselves on quality over quantity. Fiberon firmly stands by its "legacy of quality, innovation, and sustainability." They offer eight distinct lines of flooring to choose from.
The company is responsible for several industry firsts. Fiberon made the first composite PVC railing and was the first to introduce the long-term stain and fade warranty.
Fiberon was named the 2006 Lowes supplier of the year. They've been featured by HGTV's beloved Property Brothers on an episode of Brother vs. Brother filmed in Galveston, TX. Fiberon is also an influencer on the popular home renovation website Houzz.
What Is Trex?
Trex is a giant in the composite decking industry. Its products are available at 6,700 stores in 40 countries around the world. They have the largest market share of composite decking in North America.
Since 1996, Trex has grown its company to offer the most comprehensive array of high-performance composite products on the market. They offer four distinct decking lines for different price points and styles.
They've also been featured on HGTV, this time in the annual Smart Home giveaway. This contest showcases the latest and greatest in building trends.
Known for its innovation in sustainability, Trex has earned numerous environmental awards. Home Depot honored them as the 2016 Environmental Company of the Year. In 2014, Trex received the GAIA award for sustainability in building and manufacturing in the Middle East.
Comparing Fiberon Vs. Trex Composite Decking
Fiberon vs. Trex: Durability
Since composite material is virtually unaffected by things like moisture and temperature changes, both Fiberon and Trex feature excellent resistance to the elements. Plus, durability is strong with both options since it is stronger than regular wood. This strength makes it harder to chip or scratch.
Resistance to the elements is a given with both companies, as composite material is unaffected by temperature fluctuation, moisture, and other natural elements. It's also stronger than regular wood and much harder to scratch or chip.
The biggest difference is Friberon caps their boards on all four sides, while Trex only caps on three.
Winner: Fiberon, by just a smidge (mostly due to the fact that they cap their boards on all four sides).
Fiberon vs. Trex: Price
Each brand has several different lines of products that cater to different price points. When comparing cost, make sure you're looking at a similar grade of finish quality.
For example, Fiberon and Trex's lower-tier lines cost $5.50 and $5.00 per square foot, respectively. Their higher-end lines sell for $9.00 (Fiberon) and $10.40 (Trex) per square foot.
Winner: Tie (with specific considerations to each brand's line)
Fiberon Vs. Trex: Finishes
There's no such thing as just a basic "wood" color. Just like trees and lumber come in a natural rainbow of hues, so do composite deck boards. Choosing a color, grain pattern, and texture you like can be a fun part of the design process.
Trex offers 23 color choices that mimic popular natural wood hues. They're broken up into color categories: 4 reds, 12 browns, and 7 greys. All of these colors are available in different grain configurations.
Fiberon offers 24 colors. Their color families include greys, classic browns, golden browns, and reddish browns. Not every color is available in every product they sell, so you may need to upgrade to get the color you love.
Winner: Tie
Fiberon Vs. Trex: Eco-Friendliness
Overall, composite decking is a much more environmentally conscious choice than a traditional wood deck. Boards are made of recycled material such as plastic and scrap lumber. Both companies are proud to tout sustainability as one of their core values.
Fiberon's makes their deck boards with nearly 94% recycled content. They opened their own plastic recycling plant in 2014 that diverts millions of pounds of plastic a year from landfills. This waste includes plastic bags, milk jugs, wood chips, sawdust.
Trex reports comparable levels of 95% recycled material in their decking products. This material includes scrap wood, sawdust, and even used pallets. A 300 square foot deck made with Trex boards includes 84,000+ reclaimed plastic bags (wow)!
But here's where Trex takes recycling a step further. They've launched the NexTrek recycling program, which collects pallets and polyethylene plastic from retailers. The company also partners with schools to educate on proper recycling procedures.
Trex has diverted over 500 million pounds of waste from landfills. Their residential railing products are 50% recycled while their commercial railing products are 70% recycled. These stainless steel and aluminum products represent a whole other category of materials they're able to repurpose.
Winner: Trex
Fiberon Vs. Trex: Warranty
Both companies stand behind the longevity of their products. Trex offers a 25-year warranty against fading and staining, including discoloration from mold or mildew.
Fiberon offers a 20-year warranty on their Armor Guard line and 25 years on everything else. Their warranty protects against staining and fading as well but stipulates that it must be installed properly.
One main difference is Trex will allow you to transfer the warranty once, while Fiberon does not allow transfers. So if you move and someone buys the house, the warranty becomes null and void, even if you just installed the decking. With Trex, if someone purchases your home, you can transfer the warranty into their name.
Winner: Trex — both companies have similar warranty plans, but Trex allows you to transfer the warranty once.
Fiberon Vs. Trex: Other Products
There's so much to think about when building an outdoor space than what's under your feet. Railings are a must-have for safety, and you can elevate the look and feel with furniture and accessories. To finish the space, it's helpful to have products already made in the same style and color family.
In addition to their full range of decking products, Fiberon also offers several varieties of railings to compliment their flooring. Other products include fencing to define your space and cladding to tie in the deck colors with the house itself.
Trex, however, takes the cake on this one. They, too, offer decking, railings, and fencing, but demonstrate that you can also use their composite material for decorative items. They offer lattice, outdoor lighting, deck furniture, pergola options, outdoor fireplaces, and even a cornhole set.
Winner: Trex
Fiberon Vs. Trex: Installation
Fiberon and Trex both feature hidden fastening systems, but Trex offers a glass-filled nylon fastener and Fiberon only offers plastic. Trex also offers stainless steel screws in addition to carbon-coated ones, while Fiberon only offers carbon-coated screws.
However, Fiberon has partnered with CAMO to offer alternative options for hidden fastening using EDGE and EDGEX clips. They also have partnered with Cor-Tex and Captor for color-matched screws and plugs to blend with the face of Fiberon boards.
The fasteners will also work with Trex decking, but you won't have the same guarantee that they will match Trex's colors.
The Winner: Fiberon — Fiberon takes the lead here simply for the ability to color match screws and plugs.
Fiberon Vs. Trex: Maintenance
You don't need to do much maintenance for either Fiberon or Trex decking, although Fiberon does require cleaning twice a year to avoid voiding the warranty. However, cleaning is not difficult, you can simply clean the decking with mild soap and water using a soft-bristled brush.
You can also pressure wash the decking, but Trex allows a stronger psi than Fiberon. Fiberon states to not use more than 2,300 psi at no closer than 12 inches. Trex allows for 3,100 psi, no closer than 8 inches.
Verdict: Trex
Our Final Take
So, which company gives you the most bang for your buck? Who will build you the best-looking deck? Whose will last the longest, and help sustain the environment for longer too?
While Trex and Fiberon are comparable in many categories, Trex edges out the competition. Their commitment to sustainability and a wide range of products to complete your outdoor space makes them the best choice overall.
---
Related Questions
Are there any downsides to composite decking?
While overall, the benefits of composite decking are many, here are a few factors to consider based on your particular situation. Composite decks are not cheap to build and are considered a sizeable investment. A wood deck costs about $25-25 per square foot (including installation), while a composite deck costs $45-55 for the same.Installing a deck is a great way to increase a home's value. Unfortunately, you may not make the full amount back in a real estate appraisal for a composite deck. The color is permanent and fade-free, so make sure you choose wisely! What if you decide to paint or remodel your home within the 25-year lifespan of the deck? You won't be able to re-paint or stain the deck to match the house like you could with natural wood.If your goal in using composite decking was not to use any treated lumber at all, we've got bad news. Composite decks are still built on frames made of pressure-treated lumber. While a composite deck will significantly reduce your consumption of this type of wood, it won't eliminate it completely.
Do You Need a Deck or Porch Contractor?
Get free, zero-commitment quotes from pro contractors near you.
Related Guide

Stacy Randall
Stacy Randall is a wife, mother, and freelance writer from NOLA that has always had a love for DIY projects, home organization, and making spaces beautiful. Together with her husband, she has been spending the last several years lovingly renovating her grandparent's former home, making it their own and learning a lot about life along the way.
More by Stacy Randall
Published October 7th, 2020 5:06 PM