59 Views
How Much Does Crawlspace Encapsulation Cost?
August 27th, 2021 2:39 AM
Share
We're committed to finding, researching, and recommending the best products. We earn commissions from purchases you make using links in our articles. Learn more here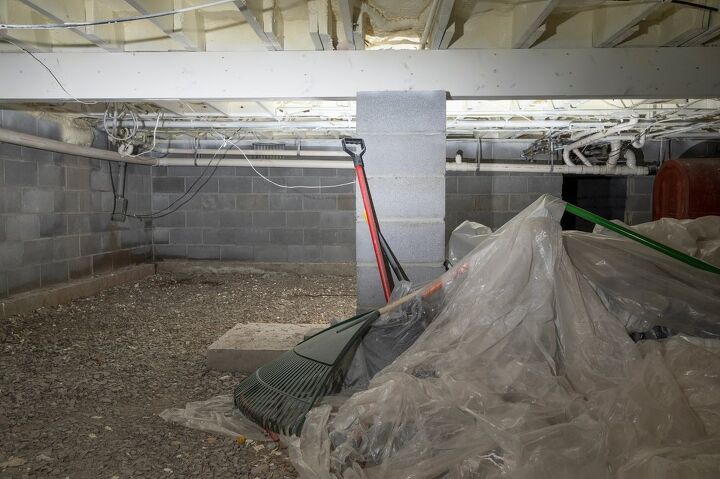 In hot or humid regions, crawlspaces are at an increased risk of damage from water. Likewise, colder climates pose threats to crawl spaces, such as increased heating bills and frozen pipes. It's always a great idea to install a crawlspace encapsulation, but how much does that cost?
The average crawlspace encapsulation cost is $5,500. You may also need to pay $18 per vent cover, $1,100 for a drainage system, and another $890 for a dehumidifier. Material costs can total $140 or more, and the average crawlspace needs two rolls of insulation at $70 each.
This article will provide you with the cost factors for installing an encapsulation system around your crawlspace. In turn, the information will help you budget accurately so that you can protect the space under your house.
Do You Need to Hire a General Contractor?
Get free, zero-commitment quotes from pro contractors near you.
Average Cost Of A Crawlspace Encapsulation
Crawlspace Encapsulation Cost

Low

Typical Range

Average

High

$1,500

$4,400 – $7,100

$5,500

$15,000
A crawlspace encapsulation will cost, on average, around $5,500. Although, most people will find themselves paying between $4,400 and $7,100. (This price can go as low as $1,500 or as high as $15,000.)
The cost ultimately depends on the materials that you use and the size of your crawlspace. Also, it depends on whether you hire a professional or do it yourself. If you hire a professional, it's a good idea to shop around for quotes before choosing a contractor or company.
Foundation Wall Insulation Cost
Contractors will suggest an insulation category based on the crawl space size and ventilation. Spray foam insulation will cost from $0.50 and $2 per foot of the board. Also, batting prices will range from $3 for a single roll to $300 for bigger spaces.
Your contractor will line the foundation walls with stiff, R-valued foam board before installation of insulation. The materials and labor are usually always included in your quote. However, it doesn't hurt to verify this beforehand.
DIY Crawlspace Condensation Barrier Cost
Crawlspace Condensation Barrier Cost

Materials

Price

6mm Condensation Barrier

$140 – $175

Stakes

$5 – $15 (total)

Gloves

$15 – $35

Goggles

$3 – $10

Coveralls

$58 – $122

Respirator

$80 – $200+

Basic Tools

$50
This is an inexpensive job for a DIYer. One roll of black 6mm condensation barrier (10×100) covers 1,000 square feet. This will cost around $70.00 from any major retailer. With average crawl spaces needing two rolls, materials could total around $140. You would also need stakes to fix the barrier to the ground, which costs about $5 – $6 for a pack of five.
It's necessary that you use protective equipment, such as gloves, goggles, and coveralls. Also, a high-spec respirator is necessary as dust or pathogens can be dangerous if inhaled. Then, of course, you can't forget the typical household tools that are needed to complete a job adequately:
A hammer
Razor knife (or even scissors)
A strong light, such as a floodlight
Additional Fees
Disposal fees need to be taken into consideration if you're removing an existing barrier. Local dumps may charge a minimum of $36.00. If you are looking to hire a professional for this job, make sure you ask if this price is included in the quote.
Polyethylene Condensation Barrier Cost
Expect to pay between $0.50 and $0.70 per square foot for a 20mm thick condensation barrier. To secure it, you'll need a 180-foot roll of 4inch tape, costing around $50. It's crucial that you don't compromise the tape quality, as it needs to be tear-resistant and keep out moisture.
A plastic condensation barrier is used to line the walls and floor of crawl spaces to prevent moisture entry. Prices vary according to thickness, which can be between 6mms and 23 MMS.
Crawlspace Encapsulation Costs And Installation Factors
There are several factors to take into consideration for the installation of a crawlspace encapsulation installation project, such as:
The complexity of the project
Square footage for your home
The thickness of the condensation barrier
Whether you seal vents or reroute HVAC
Insulation category
If you used any dehumidifiers or sump pumps
All of these factors will raise labor and material costs. If you hire a professional, you need to work with them to figure out the best options for your situation. However, if you're doing this alone, ensure you take the time to plan this out.
Crawlspace Encapsulation Cost Factors

Factor

Price

Sealing Vents

$15 – $22 per cover

Drainage System

$650 – $1,800

Dehumidifier

$780 – $1,000

$1,500 – $15,000
Seal Vents
After any leaks and installs are fixed for your encapsulation, the exterior vents need sealing. Also, this is the best time to check for any air leaks to be sealed as well. Vent covers cost between $15 to $22 per cover. Make sure you check for leaks around these areas:
Rim Joist
Sill Plate
Pipe/Cable Penetrations
If you have an HVAC duct system available, the installation of vents is a better low-cost solution. Although for this, you would need to have central air conditioning. The AC inside your home can help keep your crawlspace dry, so keep that in mind when installing your encapsulation system.
Drainage System
If the house's crawl space is below ground level or there is a high water table in your area, your contractor may recommend incorporating a sump pump into your encapsulation system.
Installing a sump pump costs, on average, $1,100, though you can expect to pay anything from $650 to $1,800. A pedestal unit will cost between $60 and $170, while a submersible pump could cost anything from $100 to $400.
The pump has to have enough power to cope with heavy rain to remove groundwater. The pump needs an airtight lid to stop water from pooling and creating condensation in the crawl space. Specific models provide built-in floor channels and even alarms systems, which sound if a leak develops.
Dehumidifier Costs
If there is high humidity in your area, a condensation barrier may not be adequate protection against moisture. A large, powerful dehumidifier can handle a higher level of moisture. This will cost anywhere from $780 to $1,000, excluding installation.
Cleaning & Repair Cost Estimates
Before encapsulation, your crawl space must be thoroughly cleaned, and any existing moisture damage repaired. This will typically cost between $1,500 and $15,000, depending on the extent and type of repairs needed.
If there are issues with settling, sagging, or mold, these can be serious and expensive to repair. Before installation, your encapsulation contractor will deal with these issues. They will also remove rocks or other debris that could damage the barrier.
Benefits Of A Moisture Barrier
Common issues such as vented crawl space can be resolved by encapsulation. Other problems, including high levels of humidity and toxin release, which can also be addressed. It is critical to fix these issues to remove the threat of structural instability developing.
The condensation barrier fixes and averts several problems, including:
Rodents and insect pests
Excess humidity
Sagging foundation
Bowing
Molds, fungi, and toxins
Radon gas
Finishing Your Crawlspace
Finishing your foundation will protect the investment you made in your home. In areas with hot, humid climates, this will stop water vapor from building up.
Whether this is done when the foundation is installed, or afterward, the benefits include:
Improvement in Air Quality: The air from crawl spaces enters the property via floors, ducts, and partitions.
Saving of Energy: Crawl space air affects the efficient functioning of heaters and air conditioning.
Pest Control: Keeps away rodents and other vermin – plus their debris.
Economy: Money is saved on heating and cooling. Costly future repairs are avoided.
Mobile Homes
Expect to pay similar rates as standard houses. While the square footage may be smaller, you will spend quite a bit of money on sealing the encapsulation.
You can always have a professional come and check your home to advise you on what needs to be done for your particular crawlspace. From there, you can budget accurately for the installation of a crawlspace encapsulation system for your mobile home.
DIY vs. Hiring A Professional
Crawlspace encapsulation makes for a great DIY project; however, if you're a beginner, you may want to hire a professional or ask an experienced fellow DIYer for help. There are many aspects of this job that may be hazardous to your health if you are not well-versed on standard precautionary measures.
If you are not comfortable taking the whole job on yourself, you can always hire a professional to carry out some parts of the process, such as:
Cleaning mold
Clearing the debris from under the home
Installing the vents if you have an HVAC system
Assisting with the sealing process
Assessing any structural damage
Materials Needed For DIY Crawlspace Encapsulation
New homes are less likely to suffer from pests, mold, or extensive structural damage, making for a safer DIY project. Although you will need to make sure you have the correct supplies.
DIY Materials

Materials

Price

Stiff 2-Inch Foam Insulation Board

$26

20mm Condensation Barrier

$0.50 – $0.70 per sq ft

4-Inch Condensation Tape

$50

Sump Pump

$60 – $400

Dehumidifier

$780 – $1,000
Stiff, 2-inch, foam insulation board: pricing for a 4-by-8-foot sheet
4-inch condensation tape: pricing for a 180-foot roll
Sump pump: pedestal units $60-$170; submersibles $100-$400
Do You Need to Hire a General Contractor?
Get free, zero-commitment quotes from pro contractors near you.
---
Related Questions
Is a crawlspace encapsulation necessary, and does it work?
Damage to the foundations and structure is a serious and costly issue. It is cheaper to take preventative measures such as encapsulation, stopping the proliferation of mold and vermin, and controlling humidity in the long run.Energy efficiency is improved, and structural integrity is protected when you clear out and encapsulate your crawl space. In areas with high humidity, sealing and waterproofing are specially required.
What's the difference between a condensation barrier and insulation?
The barrier stops vapor from seeping into the crawl space. Insulation will control the entry of air from outside. Also, the fiberboard used for walls serves as a condensation barrier and insulation material. The plastic groundsheets protect against moisture but have a negligible effect on insulation.
How to calculate the cost to replace insulation?
Removing the previous insulation helps resolve vermin and mold damage. The cost, including disposal, will vary between $0.75 and $2 per square foot.
How much does it cost to waterproof my crawlspace?
The cost of waterproofing will depend on the additional features you need to install. A professional will advise on the products you'll need to ensure that humidity is stopped, pumped, or drained effectively. This will help to avoid any issues from arising later on.

Heather Robbins
Heather is a passionate writer who loves anything DIY. Growing up, she learned everything from home repairs to design, and wants to share her tips with you. When she's not writing, she's usually hiking or searching for her next DIY project.
More by Heather Robbins
Published September 30th, 2020 12:48 PM