80 Views
Counter-Depth Refrigerator Dimensions (with Drawings)
February 11th, 2022 4:40 PM
Share
We're committed to finding, researching, and recommending the best products. We earn commissions from purchases you make using links in our articles. Learn more here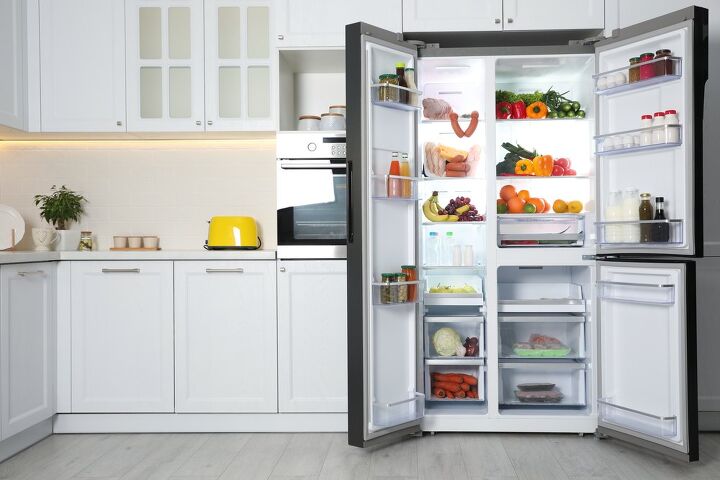 A counter-depth refrigerator is set flush against your kitchen counter or cabinets. Therefore, they are unique from standard refrigerators, which jut out several inches past the cabinets and counters. However, most counter-depth refrigerator dimensions are slightly taller and wider than standard refrigerators, offering equal storage room.
Counter-depth refrigerators are 24 inches in depth, compared to a standard refrigerator's 36 inches. The majority of counter-depth refrigerators are 30 to 36 inches wide and 66 to 72 inches tall. However, some designs, such as under-counter refrigerators and built-in refrigerators, fall outside that range.
Counter-depth refrigerators are designed to offer similar storage capacity to standard refrigerators in a style that conserves kitchen space. This style of fridge creates a streamlined, space-efficient effect for any kitchen. However, it's essential to get the style and size of a counter-depth refrigerator that works best for your space.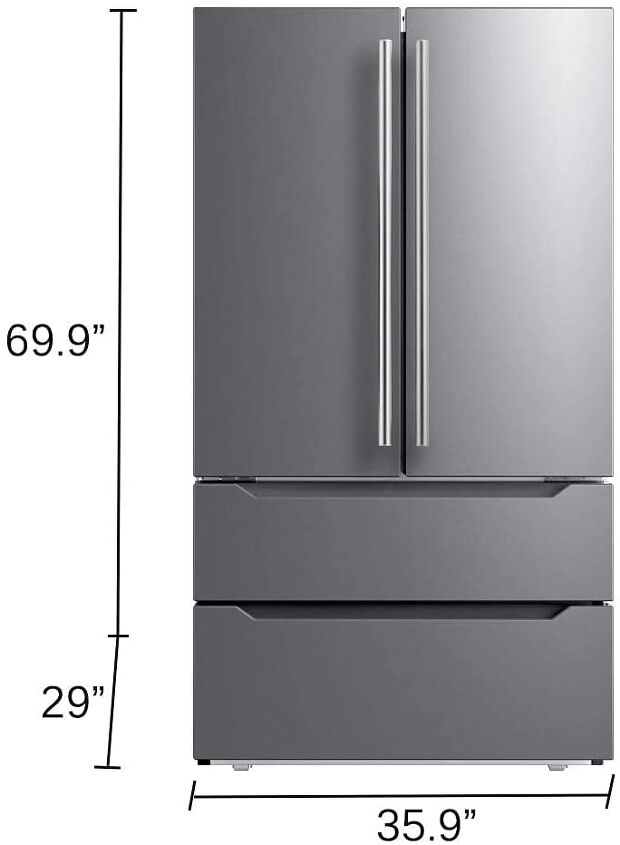 Average Counter-Depth Refrigerator Dimensions
Counter-depth refrigerators are a popular alternative to standard-sized refrigerators. These units are far more space-efficient than most other refrigerator models by aligning with the edge of counters or cabinets. This is unique from standard refrigerators, which jut out several inches past the cabinetry.
Most counter-depth refrigerators are 24 inches deep, 30 to 36 inches wide, and 66 to 72 inches tall. However, the total depth of the fridge will be just under 30 inches when including the doors and handles. It is also important to factor in one to two inches on all sides to allow for proper ventilation and space to open doors.
If you are considering investing in a counter-depth refrigerator, read on to determine the best size and style for your kitchen.
How To Measure Your Kitchen For A Counter-Depth Refrigerator
Step 1: Determine The Refrigerator's Placement
If you're considering having a counter-depth refrigerator installed, the first thing you should do is measure your cabinet cutout space. It's important to measure the depth, height, and width of this space to ensure you can accommodate a counter-depth refrigerator.
However, keep in mind that many counter-depth refrigerators make up for a lack of depth with additional height and width. Therefore, if you're replacing a standard refrigerator with a counter-depth model, the space must be able to fit these added dimensions.
Step 2: Measure The Depth
To measure the depth of your cutout space, start at the wall and measure to the edge of your countertop. The counter-depth should be 24 to 25 inches, as this is equivalent to the depth of the refrigerator box.
Furthermore, remember to include at least one inch of space between the refrigerator and the wall to ensure proper ventilation.
Step 3: Measure The Width And Height
Most counter-depth refrigerators are wider and taller than standard models. Therefore, to obtain an accurate width, make sure to measure the cabinet cutout at the narrowest point. To accurately measure the height of your space, measure to the bottom of any cabinets that will be above your fridge.
Additionally, remember to account for the extra inches needed to accommodate ventilation space and opening doors.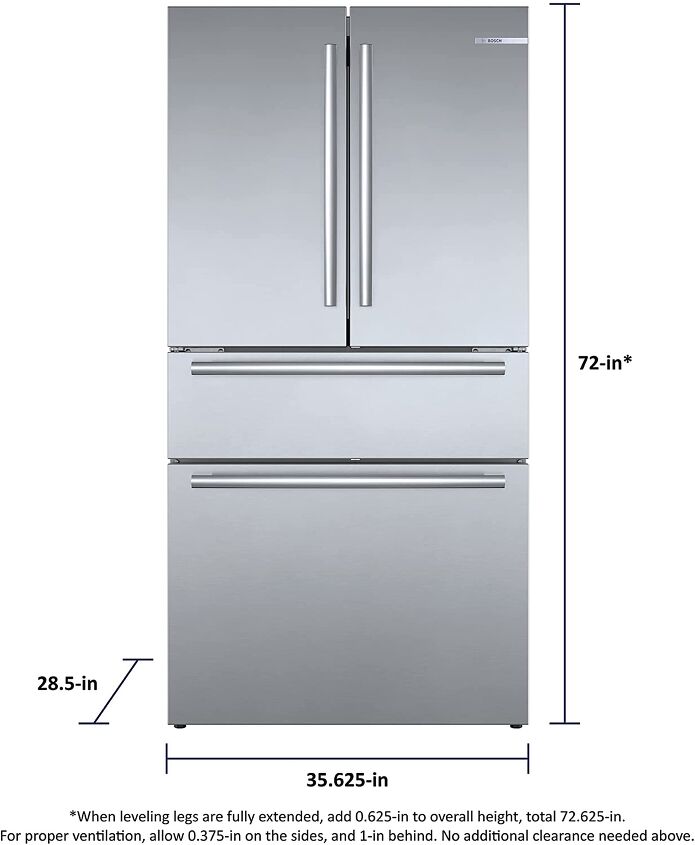 Counter-Depth Refrigerator Styles And Their Dimensions
Once you have completed the necessary measurements, you can decide which counter-depth refrigerator style is best for your kitchen.
French Door Refrigerators
French door counter-depth refrigerators are a great design for any modern kitchen. Like most counter-depth refrigerators, these models range from 30 to 36 inches wide and 66 to 72 inches tall.
French door refrigerators feature double doors that open to one continuous refrigerator space. This space is accompanied by either one or two freezer drawers below. Many French door models offer an array of features, such as ice and water dispensers and adjustable shelves and bins.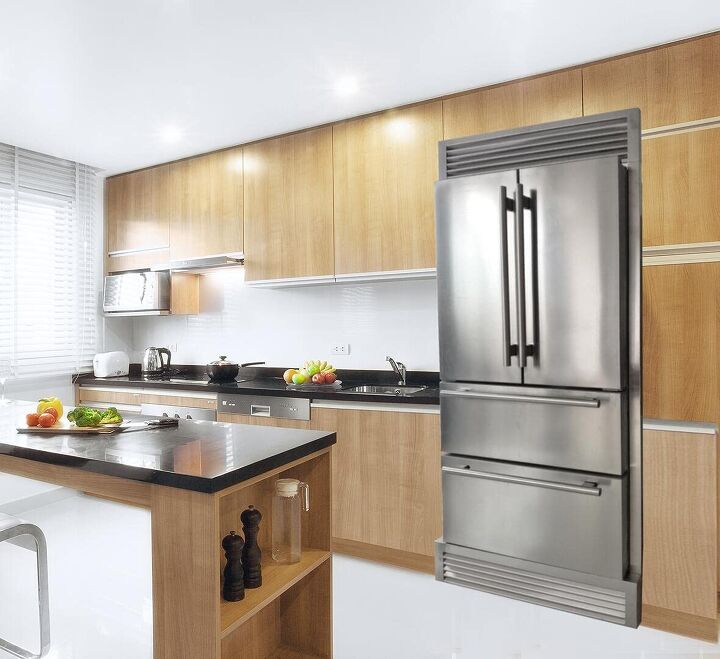 Side-by-Side Refrigerators
Comparable in both dimension and storage capacity to French door models, side-by-side counter depth refrigerators are another timeless refrigerator choice. Most side-by-side counter-depth refrigerators are 30 inches wide and 66 inches tall.
Side-by-side refrigerators contain two full-length compartments, each with its own door. One side opens to the refrigerator compartment while the other side opens to the freezer compartment. Side-by-side refrigerators are a classic design, allowing for equal storage of fresh and frozen foods.
Many side-by-side refrigerators offer similar amenities as French door refrigerators, including adjustable shelves, bins, and ice and water dispensers.
Top-Freezer And Bottom-Freezer Counter-Depth Refrigerators
Top-Freezer models are a popular choice for counter-depth refrigerators. They contain two separate compartments that are separated vertically. The larger and lower refrigerator is used for fresh food refrigeration.
The top compartment is slightly smaller and acts as a freezer. With wide doors and roomy compartments, top-freezer models are well-liked by many for their ample storage capacity.
The opposite of top-freezer models, bottom-freezer refrigerators offer fresh food storage above and a freezer area on top.
Both top-freezer and bottom-freezer refrigerators have similar dimensions. They are roughly 26 inches in width, 72 inches in height, and a 24-inch depth.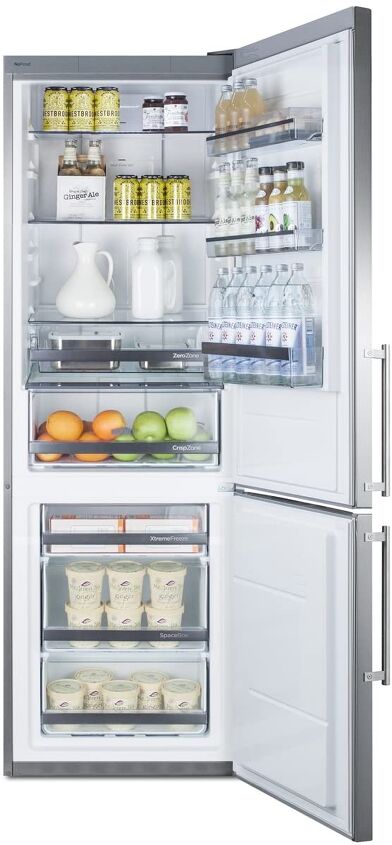 Freezerless Refrigerators
Freezerless refrigerators are more narrow than most counter-depth refrigerators, averaging 29 to 30 inches in width.
These fridges feature one door that opens to a full-sized refrigeration compartment. As the name suggests, these models don't have a freezer compartment and are only meant to store fresh food.
Dimensions Of The Best Counter-Depth Refrigerator Brands
Regardless of which counter-depth refrigerator design you choose, it is important to buy from a good and reliable brand. Here are some of the most highly recommended refrigerator brands and models on the market, based on both quality and price.
Frigidaire Gallery GRSC2352AF
The Frigidaire Gallery counter-depth refrigerator is a quality Side-by-Side model that comes at a great price. With units priced at $1,703, the Frigidaire Gallery is ideal for families who need an organized refrigerator and freezer.
Some of the Frigidaire Gallery's best assets are:
LED Lighting 
Spacious 22.2 cubic ft. capacity
Adjustable shelves
Smudge-proof stainless steel
The height and width of this model are 69 ⅞" by 36 ⅛", including doors and handles. It is 28 ½" deep with cubic footage of 22.3 ft.
Bosch B36CT80SNS
This Bosch model is a luxurious design and is regarded as one of the overall best counter-depth refrigerators. A high-quality design, one of these Bosch units goes for $2,700 and usually has a $200 savings rebate.
The Bosch model's most well-liked features include:
Dual compressors
An ice maker with filtered water
High-quality humidity and air circulation for preserving food
SuperFreeze to keep frozen food from defrosting
Extra controls to balance temperature
The dimensions for this French door style model are 35 5/8 inches wide and 28 1/2 inches deep. The depth with the door at 90° is 43 3/8 inch.
GE Profile PYE22KYNFS
A highly reliable model, the GE Profile is a great pick from a reliable brand. Featuring excellent factory service, this counter-depth refrigerator has been a customer favorite for years.
Some of the GE Profile's best factors are:
Hands-free autofill dispenser with filtered water
An electronic, temperature-controlled drawer for deli meats and vegetables
LED Lighting
A TwinChill evaporator to separate climates in fresh food and freezer sections help keep foods fresh
At 36 inches high with 22.2 cubic ft., this refrigerator offers ample storage room.
KitchenAid KRFC300ESS
With a sleek and modern design, this KitchenAid model is a great choice for a counter-depth refrigerator.
Among its key features:
A temperature management system
Interior water dispenser
Produce preserver
A humidity-controlled crisper
Temperature-controlled full-width pantry
A 36-inch wide and 20 cubic ft. unit, this refrigerator is a great option for a French door refrigerator.
Samsung RF22K9381SR
This Samsung model is a highly innovative design that will stand out in any kitchen. This refrigerator incorporates FlexZone, one of Samsung's newest innovations, which converts the refrigeration and freezer compartments into four quadrants. You can adjust the temperatures of these quadrants on demand to help keep your food fresh.
The most innovative, helpful features of this Samsung refrigerator model includes:
High efficiency LED lighting
Stainless steel exterior to keep refrigerator looking shiny
IceMaster ice dispenser, which can produce up to 5 lbs. of ice per day
Premium cooling system that features 3 evaporators for utmost freshness
Food Showcase with metal cooling displays on the go items front and center
This model is 35 ¾ inches x 71 ⅞ inches and has a storage capacity of 22 cubic ft.
Frigidaire Professional FPRU19F8RF
Another Frigidaire model, the Frigidaire Professional counter-depth refrigerator, is a popular unit with great value.
This unit's most notable amenities include:
PureAir Filtration keeps products tasting fresh
LED lighting and adjustable shelves
An internal ice maker
Easy to clean, smudge-proof stainless steel
This is a wide, modern-looking industrial refrigerator, measuring approximately 64 inches in height with a capacity of 38 cubic feet.
The design that you choose will depend on your own unique situation—your kitchen setup, food storage needs, budget, and desired features. However, any of the above models will reward you with a host of benefits. You'll enjoy flexible food refrigeration, world-class features, stylish design, and reliability you can depend on.
In Summary
Counter-depth refrigerators are roughly 24 inches deep with an average width and height of 30 to 36 inches. They are usually between 66 and 72 inches tall. Including doors and handles, most counter-depth refrigerators will have a total depth of just under 30 inches.
This makes counter-depth refrigerators more shallow than standard refrigerators while being several inches taller and wider to offer similar storage capacity. There is a multitude of designs and dimensions of counter-depth refrigerators available. Therefore, it is important to ensure that you pick the one that's right for your kitchen.

Stacy Randall
Stacy Randall is a wife, mother, and freelance writer from NOLA that has always had a love for DIY projects, home organization, and making spaces beautiful. Together with her husband, she has been spending the last several years lovingly renovating her grandparent's former home, making it their own and learning a lot about life along the way.
More by Stacy Randall
Published February 11th, 2022 4:39 PM