11 Views
Cost of Living In San Antonio, Texas [Taxes, Housing & More]
June 15th, 2021 10:12 PM
Share
We're committed to finding, researching, and recommending the best products. We earn commissions from purchases you make using links in our articles. Learn more here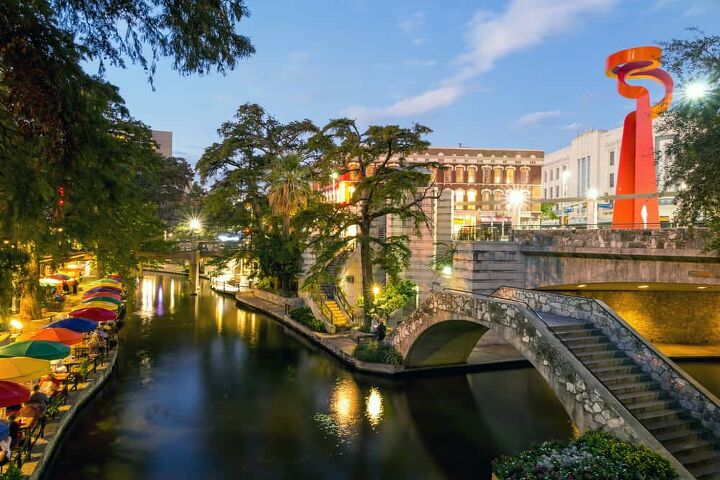 The Lone Star State contains many sprawling cities that boast good food, nightlife, and culture. One city that embodies all of the benefits that come with living in Texas is San Antonio. Whether it be a nice chicken fried steak, or a tour of the third biggest zoo in America, San Antonio has something to offer for everyone.
The average cost of living in San Antonio for a median home is $175,400. On average, San Antonio housing costs are nearly 25% lower than the national average, and overall living costs 14% less. The average cost of renting in San Antonio is $1,049 a month compared to the national average of $1,550.
Currently, 53% of San Antonio residents own a home, and homeowners pay $0.34 per $100 of taxable value in property taxes every year. Utilities can add as much as $156 each month, which is far below other Texas cities, such as Lubbock.
Everything from food and grocery costs, gasoline prices, and public transportation affect the cost of living. Follow along as we take a close look at what plays the biggest role in how much you pay each year in San Antonio.
Do You Need to Hire Movers?
Get free, zero-commitment quotes from pro contractors near you.
Housing Prices San Antonio
The median price of homes in San Antonio as per Zillow is $198,162. This number fluctuates greatly based on the housing market, and the median price increased by 4.6% since last year. Currently, 53% of the population of San Antonio are homeowners, and many residents are renters.
| | | |
| --- | --- | --- |
| Location | Median Home Value | Homeownership Rate |
| San Antonio | $198,162 | 53% |
| Texas | $223,107 | 67.5% |
| United States | $295,300 | 65.1% |
Buying houses is not the only option in San Antonio, and many residents opt to buy apartments instead. You can expect to pay between $112 and $182 per square foot when you purchase an apartment in San Antonio.
San Antonio Property Taxes
Another big cost of owning a house in San Antonio is property taxes. Property taxes are set at different rates from state to state, and often between cities as well. In America, the national average for property taxes is 1.08%, but the average in Texas is 1.83%.
As of 2018, the property tax rate in San Antonio is roughly $0.34-$0.35 for every $100 of taxable value for maintenance. Do not confuse market value with taxable value, as the taxable value is determined by the county and not the market.
Property owners that are 65 and older, as well as disabled people, are entitled to property tax exemptions. Disabled citizens and veterans can get up to $12,000 in exemptions, but only if they submit for them before May 1st. However, homeowners in San Antonio that are 65 or older can have up to $65,000 in property tax exemptions for their homestead.
Renting Prices San Antonio
The median cost of rent in San Antonio is $1,049 a month, which is lower than the state's median of $1,550. Compared to several other large and significant Texas cities, San Antonio falls somewhere in the middle.
| | |
| --- | --- |
| Texas City | Rent Price |
| San Antonio | $1,049 |
| Dallas | $1,250 |
| Austin | $1,439 |
| Fort Worth | $1,128 |
| Lubbock | $719 |
| Galveston | $1,102 |
Texas has a high homeownership rate, but San Antonio is 12-14% behind the state's rate. Roughly 47% of San Antonio residents are renters, and monthly costs can start as low as $882. Renting is a great idea, especially if you are new to San Antonio, or are planning to be there for a limited time.
In fact, many young people rent and stay renters for years as opposed to buying, and San Antonio is a good place to do that. The low to mid-ranged monthly rent costs of San Antonio make lease living affordable and stress-free. Rent prices in San Antonio also vary based on the neighborhood.
| | | |
| --- | --- | --- |
| San Antonio Neighborhood | Rent Price | Home Value |
| Woodlawn Hills | $765 | $160,000 |
| Heritage | $1,050 | $314,999 |
| Eastern Triangle | $806 | $94,648 |
| Meadow Village | $790 | $170,000 |
| Encino Park | $1,165 | $309,900 |
| Gillette | $793 | $118,775 |
Cost of Utilities In San Antonio TX
Rent is not the only recurring cost that comes along with renting a house or an apartment. Utilities are another cost factor to consider when budgeting for the month, and cost varies from city to city. The average cost of utilities in all of Texas is $139.55, and the average in San Antonio is $156.98.
Yes, the cost of utilities is higher in San Antonio than the state average, but it's worth noting how massive Texas is. It's also important to remember that many areas in Texas are low income and low rent, thus keeping utilities cost low. Monthly trash removal can cost as much as $30 in San Antonio, but that is for large trash pickup.
| | |
| --- | --- |
| Utilities | Monthly Cost |
| Electric, Heating, Cooling, Water | $105-$247 |
| Internet | $50-$100 |
| Garbage Disposal | $18-$30 |
Texas has the 33rd highest utility rates in America, and it sits between California and North Carolina. San Antonio is not even in the top 10 for the highest utility bills in Texas, but Wichita Springs and Lubbock make up for it with their $474-$516 monthly average.
Texas State Income Taxes
If you're thinking of making a move to the Lone Star State, there's yet another incentive you may not have thought of. How does no state income tax sound? Well, the forefathers of Texas thought it sounded fairly good as well as state income tax was not a part of their constitution.
There are only 7 other states without state income taxes, such as Wyoming, Nevada, and Alaska. Texas is considered the 23rd most affordable state, and the lack of state income tax helps keep it that way.
Taxes in San Antonio, TX
There are more costs of living than just renting, utilities, and buying a home or apartment. There may be no state income tax in Texas, but San Antonio has others to make up for it. The sales tax rate in San Antonio is 8.25%, and that's 2% higher than the 6.25% rate that Texas boasts.
Besides sales tax, there are additional taxes are various goods, items, and services in San Antonio.
| | |
| --- | --- |
| San Antonio Taxes | Cost |
| Sales | 8.25% |
| Satellite | 1.25% |
| Gasoline | $0.38 Per Gallon |
| Liquor | $2.40 Per Gallon |
| Beer | $0.20 Per Gallon |
| Tax Burden | 18.1% |
Sales tax may seem high in San Antonio, but Texas a whole carries an 8.19% sales tax rate. Neighboring states, such as Oklahoma and Louisiana, have higher sales tax rates at 8.94% and 9.52%, respectively.
Cost of Food In San Antonio, TX
Texas is known for countless things, but one of the bigger ones is without a doubt its food. That includes San Antonio, which is s known for its puffy tacos, barbacoa, and sweet potato fries, among others. Eating out is quite popular and all too easy in San Antonio, but groceries are the biggest food cost.
Food costs vary based on the item, its demand, and the time of the year. For example, 1 pound of apples costs between $1.70 and $2.00 or more. Residents in large Texas cities like San Antonio spend $290-$320 or more on food a month.
| | |
| --- | --- |
| Food | Cost |
| 1 Pound Apples | $1.70-$2.00 |
| Restaurant Meal | $13 (Per Person) |
| Gallon of Milk | $2.50-$3.09 |
| Dozen Eggs | $1.01-$3.07 |
| Loaf of Bread | $1.60-$2.35 |
As with any city, restaurant dining varies entirely based on the type of establishment that you choose. There are many affordable places to eat in San Antonio, and much of the dining includes affordable Tex-Mex restaurants. San Antonio residents spend an average of $32 per day on food, but can be much lower eating in.
San Antonio Education Costs
Education is a major cost of living no matter where you live, whether you're a student or you have children. Many people move to San Antonio from across the country to attend San Antonio College. Without scholarships, tuition costs vary greatly and depend on whether you're out of state and living on or off-campus.
| | |
| --- | --- |
| Education | Cost |
| San Antonio College | $8,745-$20,830 Per Year |
| Preschool | $100-$375 Per week |
| Daycare | $1,027 Per Month |
| Private Primary Education | $7,070-$9,178 Per Year |
| High School | $9,000+ Per Year |
Roughly 32.4% of San Antonio residents are below 18 years old, and they are hopefully attending school. People living in San Antonio have to factor education into their cost of living, if they are parents, of course. Public education is the safest bet to save money while saving up for college.
If you are a San Antonio parent and have a child that wants to attend San Antonio College, that is good news. Students that are from San Antonio and live with their parents spend $8,745, while in-state but out of district students pay $12,225 a year.
Driving Costs in San Antonio
San Antonio is a large city stretched out over 505 square miles. Because of that, many residents need to drive to either commute to work or get around town for convenience. Luckily, gasoline only costs between $1.55 and $1.65 per gallon for cash transactions in San Antonio.
Another cost of driving that goes without saying but adds up is car insurance. Most Texans spend $152 each month for car insurance. Each year, Texans spend an average of $1,820 or more on car insurance, but minimum coverage can cost between $400 and $500 a year.
Don't forget that you are ultimately able to take control over your car insurance costs in San Antonio, or anywhere else. The deductibles that you choose, your driving history, and the number of past claims ultimately determine your insurance rate. With a low cost of gas and low possible insurance minimums, driving in San Antonio is not too costly.
San Antonio Flight Cost
The San Antonio International Airport hosts countless flights going in and out of the southern city each year. There are 12 different airlines that currently fly in and out of San Antonio, and their prices vary. For example, one of the most common flights into San Antonio comes from New York and costs $179 roundtrip.
A quick flight from San Antonio to Houston would only cost you $97 and covers spans 191-225 miles.
San Antonio Public Transportation
A lot of the residents of San Antonio utilize the public transportation system, and its low cost explains why. You can ride the bus all day with unlimited stops for only $2.75, and a single trip only costs $1.30.
You can also take trains into San Antonio, and many working commuters do it. The best deal that you can find for a train ride into the city is $6, which gets you into San Antonio from San Marcos. You could also take a train from Fort Worth to San Antonio for $30 and just under 8 hours of rail travel.
Taxicab services are also available but can cost as much as $24 per hour. Base fairs for Uber rides begin at $2.55 when departing from the San Diego International Airport.
Entertainment in San Antonio
Southern nights and hospitality are some of the things that outsiders may know about Texas. San Antonio helps uphold that reputation with more than plenty of things to do in the widespread city. You can easily have a great time alone, with family and friends, or on a date without spending much.
| | |
| --- | --- |
| Entertainment | Cost Per Person |
| San Antonio Riverwalk Boat Ride | $10.50-$13.50 |
| The Alamo | $15 |
| Six Flags Fiesta Texas | $49.99-$79.99 |
| Movie Ticket Price | $8.03-$10.61 |
The above examples exclude the countless bars, restaurants, and even music venues available in San Antonio. It's always worth leaving room in your budget for leisure and entertainment. Luckily, you can go out and have fun in San Antonio without worrying that it'll break your bank.
---
Related Questions
Is San Antonio safe?
San Antonio is safe, but both violent and property crimes are prevalent. For example, 1 out of every 25 residents faces the risk of a property crime. Violent crime is much less common however and affects 1 in 158 San Antonio natives.
Does San Antonio get hurricanes?
Yes, San Antonio does experience hurricanes, and storms such as Harvey took a serious toll on the city. Other natural disasters in San Antonio include earthquakes, wildfires, and tornadoes.
Does San Antonio get cold?
San Antonio only experiences freezing weather for roughly 16 days out of the year. It can get cold at night in San Antonio, but snowfall and frost typically thaw and melt by the afternoon. The coldest month in San Antonio is January, which hits lows of 36 and highs of 94.
Do You Need to Hire Movers?
Get free, zero-commitment quotes from pro contractors near you.
What Did We Learn?
San Antonio is cost-effective, has no state income tax, and a high rate of homeownership. If you choose to rent, budget yourself $1,049 for rent each month. Otherwise, you can own a home for $198,162.
San Antonio is largely safe and has great education opportunities. There is also a cheap and effective public transportation system, an airport, and taxicab services. Look out for the 8.19% sales tax, but besides that, San Antonio is a cost-effective, gorgeous, and cultured place to live.

Nick Durante
Nick Durante is a professional writer with a primary focus on home improvement. When he is not writing about home improvement or taking on projects around the house, he likes to read and create art. He is always looking towards the newest trends in home improvement.
More by Nick Durante
Published October 20th, 2020 1:56 PM