21 Views
Cost of Living in Tacoma, WA (Taxes, Housing & More)
January 7th, 2022 1:36 PM
Share
We're committed to finding, researching, and recommending the best products. We earn commissions from purchases you make using links in our articles. Learn more here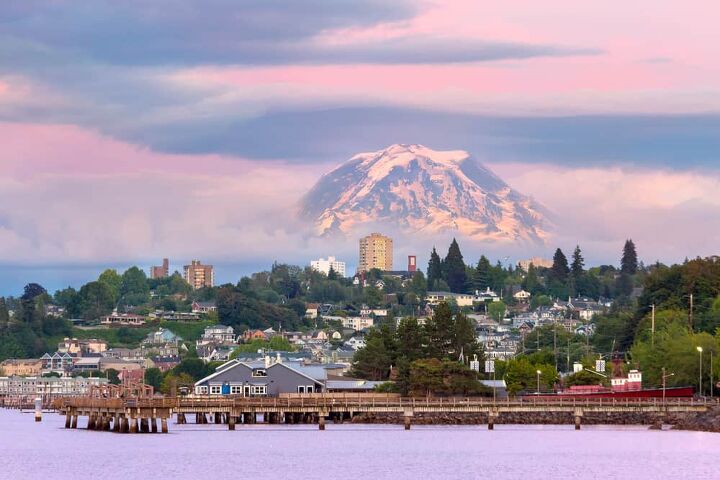 The pacific west coast has many great cities that are just as affordable as they are comfortable and unique. Tacoma is no exception, and is Washington state's most charming, fun, and welcoming cities, earning the nickname City of Destiny. The 216,279 Tacoma residents have stayed there for a reason, but how what is the cost of living in Tacoma?
Tacoma is a slightly expensive city, yet still, 50.8% of the population are homeowners. The median cost of a home in Tacoma is $370,000, and building a home often costs $240 per square foot. Property taxes are low in Tacoma at 1.21%, but the sales tax rate is 10.2%.
Luckily, there is no state income tax in Tacoma, Washington, but there are still many living costs. Let's take a close look at how much it costs to live in Tacoma, Washington.
Related Guides: The Safest Neighborhoods In Tacoma, WA
Do You Need to Hire Movers?
Get free, zero-commitment quotes from pro contractors near you.
House Prices in Tacoma, Washington
The median home value in Tacoma, Washington is $370,000, well above the $284,600 national average. Tacoma has a 50.8% homeownership ship rate, and that's 13% below the Washington state average. Builder-owners in Tacoma spend at least $240 per square foot to build a new home in the City of Destiny.
| | | |
| --- | --- | --- |
| Location | Median Home Value | Homeownership Rate |
| Tacoma | $370,000 | 50.8% |
| Washington | $362,100 | 63.8% |
| United States | $231,200 | 67.9% |
You can also buy apartments in Tacoma, Washington, but it can still be pricey. It can cost as much as $340 per square foot to buy an apartment in the center of Tacoma. Apartments further out from the city center and downtown cost closer to $220-$240 per square foot.
Mortgage payments are another cost to consider, and you could spend between $1,100 and $1,600 or more per month. Other recurring home costs in Tacoma and elsewhere are repairs and maintenance which can easily cost $3,000 or more per year.
Rent Prices in Tacoma, Washington
Rent costs an average of $1,360 per month in Tacoma, and almost half of Tacoma residents are renters. The cost varies depending on how many bedrooms the apartment has, and where it is located within the city. Rent prices in Tacoma, Washington have gone up by 6% between 2019 and 2020, but there are still affordable options.
| | |
| --- | --- |
| Tacoma, WA Apartments | Average Rent Cost |
| Studio Apartment | $800-$1,030 |
| 1 Bedroom | $1,180-$1,600 |
| 2 Bedroom | $1,370-$1,540 |
| 3 Bedroom | $1,700-$2,200 |
The lower end rent costs shown above generally depict apartments outside of central Tacoma. Apartments located outside of the center of the city are generally cheaper, but central city apartments can cost $200-$500 or more extra per month. There is also a difference in monthly rent costs in Tacoma based on which neighborhood you choose.
| | |
| --- | --- |
| Tacoma, Washington Neighborhoods | Average Rent Cost |
| The Boulders | $1,350 |
| Central Tacoma | $1,100 |
| Fircrest | $1,350 |
| New Tacoma | $1,500 |
| South Tacoma | $1,300 |
| South End Tacoma | $1,250 |
Tacoma, Washington Rent Compared to Other Cities
Between 2019 and 2020, average rent increased in 39 states across the U.S., and Washington state was among them. In fact, Washington comes in eighth on the list of the states with the highest average rental prices in the country. The state's average rent is approximately $1,258, which is only marginally lower than the average rental price in Tacoma.
To put things in perspective, the following table outlines how the average monthly rent in Tacoma compares to other cities in the state of Washington:
| | |
| --- | --- |
| City | Average Rent |
| Seattle, WA | $2,197 |
| Bellevue, WA | $2,506 |
| Spokane, WA | $1,276 |
| Tacoma, WA | $1,360 |
| Olympia, WA | $1,509 |
| Yakima, WA | $828 |
Utility Costs in Tacoma, Washington
Tacoma residents pay an average of $208 per month in utilities, and the majority of it is in electrical costs. You can easily spend between $120 and $130 in electrical bills alone, and at least $30 in water bills. It can cost more or less based on energy consumption, number of plumbing appliances, and gas usage.
Expect to pay $20 per period for regular trash collection from garbage services in Tacoma. You pay an additional $7.25 per 100 pounds if you exceed 400 pounds of garbage waste. Another recurring cost to consider is internet bills, and it can cost roughly $70 per month in Tacoma.
Taxes in Tacoma, Washington
Generally speaking, Taxpayers in Tacoma pay higher taxes than other cities across the United States. The state's tax system consists of a state sales tax, local sales taxes, local property tax, and a range of extra excise taxes on things like liquor and gasoline.
The high gasoline tax can add several dollars to each fill up at the gas station in Tacoma. Washington is also known for having the highest liquor taxes, almost triple the national average.
Although residents dodge having to pay state income taxes, they are subject to some of the highest sales taxes in the state.
| | | |
| --- | --- | --- |
| Tacoma, WA Taxes | Cost & Rate | National Average |
| Sales Tax | 10.2% | 7.25% |
| Property Tax | 1.19% | 1.07% |
| Gasoline Tax | $0.49 Per Gallon | $0.18 Per Gallon |
| Liquor Tax | $32.52 Per Gallon | $13.50 |
Sales Taxes in Tacoma, Washington
One of the things that Tacoma is known for is having one of the biggest sales tax rates in the country. You face a 10.2% sales tax rate in Tacoma, WA, and Washington's sales tax for the state is 6.2%. All Washington cities have high sales tax rates, and their lowest rate is 8.5% in Burlington, Washington.
Tacoma's low property tax rate helps even the keel from the far above average sales, liquor, and gasoline tax rates.
Property Taxes in Tacoma, Washington
Real estate property taxes are calculated on the assessed value of the home, which is usually not the list or sell price, and is actually a percentage of the home's value. Regardless, the more expensive the home, the higher the property taxes. The national average effective property tax rate is 1.07 percent.
However, in Pierce County, the rate is 1.19%. The county has the highest property tax rates in Washington State. For a home assessed at $277,000, Tacoma residents pay an average of $3,397 in annual property taxes. Expect to pay approximately $16.08 for every $1,000 of your property's value in property taxes each year in Tacoma.
Washington state has the 25th highest property taxes in the United States. Senior citizens and veterans are eligible for property tax breaks, but only 1 out of 100 applicants qualify. Multifamily housing units also qualify for exemptions from property taxes in Tacoma for up to 12 years if you qualify.
Income Tax in Tacoma, Washington
Tacoma, Washington residents don't have to worry about income tax, and Washington has no state income tax. There are very few states without an income tax, and the others include Texas, Wyoming, Alaska, South Dakota, Nevada, and Florida.
Although there is no income tax in Tacoma, Washington, they make up for it with their high sales tax.
Food & Grocery Costs in Tacoma, Washington
You can control how much you spend on food in Tacoma based on whether eat in, or at restaurants. Single residents of Tacoma can spend $60-$80 at the grocery store and have enough for the week. When you shop for groceries in Tacoma, be sure to remember the 10.2% sales tax rate.
Expect to spend $240 on groceries each month at a minimum in Tacoma, or $480 or more for families. Families of 4 or more in Tacoma can spend up to or over $1,000 each month on food, and that excludes eating out. Dinner for 2 costs $50-$60 in Tacoma, and lunch or dinner for 1 only costs $12-$15 a person.
Buying groceries is the easiest way to save money on your monthly food budget in Tacoma, Washington. Some of the essentials, such as milk and eggs, are pricier in Tacoma than elsewhere, but it is still a great choice.
| | |
| --- | --- |
| Tacoma, Washington Groceries | Average Cost |
| Dozen Eggs | $3.80 |
| Gallon of Milk | $3.50 |
| Pound of Apples | $3 |
| Pound of Tomatoes | $4.30 |
| Pound of Chicken | $5 |
| Mid-Ranged Bottle of Wine | $14-$16 |
Education Costs in Tacoma, Washington
Elementary education is expensive if you choose private, but public schooling offers a mostly free option in Tacoma. The average Tacoma resident spends over $6,000 a year for private elementary school education. High school is even more costly, and can cost as much as $10,500 or more per year, on average.
For college education, the cheapest option in Tacoma is Toyota Community College, and it costs up to $18,861 per year. Other colleges in Tacoma include the University of Puget Sound, and it costs $65,616 whether you're in or out of state. The University of Washington Tacoma is another great choice and can cost $28,407 per year, or $20,520 for commuters.
Daycare is another common cost for families in Tacoma and can cost up to $1,600 per month. Preschool can also cost between $400 and $900 per month in Tacoma, and it varies based on the child's age.
Transportation Costs in Tacoma, Washington
The transportation cost of living index in Tacoma is 119.3, which is higher than both the national average (100) and the state index of 113.6. Transportation costs are another important factor that you must consider in order to determine the overall cost of living in a particular location. These include expenses such as gas prices, public transportation costs, and car insurance premiums.
Driving Costs in Tacoma, Washington
Right now, gasoline in Tacoma costs between $2.60 and $3.00 per gallon with a $0.49 per gallon tax rate. The average driver uses 656 gallons of gasoline per year, and that costs between $1,705 and $1,968 in Tacoma. One of the biggest driving costs in Tacoma, Washington is the $1,692 per year you may spend on car insurance.
The national average cost or auto insurance is $1,548, and Washington's state average is $1,368 per year. Your cheapest auto insurance option in Tacoma is USAA, and it costs $1,055 each year. Other options, such as Allstate, are quite pricey for Tacoma residents at $2,252 per year.
If you choose to hire a taxicab service in Tacoma, Washington, they will charge roughly $2.50-$3.00 per mile. Buying a new car in Tacoma generally runs between $20,000 and $23,000, but you can save big with used cars.
Public Transportation Costs in Tacoma, Washington
Public transportation is a great way to save money, especially for daily commuters in Tacoma, Washington. Buses are the most common form of public transportation in Tacoma, and fares can cost as little as $2.00. There are also shuttles throughout Tacoma, and some in downtown Tacoma can take you to the airport.
There is a free transportation option called the Tacoma Link Light Rail, and you can catch it every 10 minutes. You can get month-long bus passes for $72 for adults and $36 for children. If you wanted to catch a train into Tacoma from another city, the cheapest ticket is $11.
Flight Costs in Tacoma, Washington
There are a few local airports in and around Tacoma, Washington for residents to choose from. The Seattle-Tacoma International Airport is the most widely known option, and it is a hub of air travel. You could fly to Tacoma from New York for between $217 and $299 roundtrip, right now.
West coast flights are cheaper, and a flight from Los Angeles to Tacoma costs $137-$178 or more currently. The further in advance that you purchase flight tickets in Tacoma, the cheaper it will cost. You can choose between American Airlines, JetBlue, Spirit Airlines Flights, United Flights, and more to fly into Seattle-Tacoma International Airport.
Entertainment & Miscellaneous Costs in Tacoma, Washington
Many of the fun things to do in Tacoma, Washington are provided by mother nature. There are plenty of places to spend money, such as the movie theater or one of their many museums. Tacoma is home to so many museums and walking tours due to its history, particularly its role in rail history.
| | |
| --- | --- |
| Entertainment Tacoma, WA | Cost |
| Movie Ticket | $12 |
| Museum of Glass | $17 (Adult) $5 (Kids) |
| Gym Membership | $15-$30 Per Month |
| History Museum | $11-$14 |
| Tacoma Home and Garden Show | $12 |
| Tacoma Scavenger Hunt: Bright Lights, Big Glass | $12.31 |
You can have a great day on the town in Tacoma, Washington without spending any money. There are free, public art installations throughout Tacoma, such as Bridge of Glass, and Spaceworks Tacoma. Or you could hop on the free Light Rail and head over to Defiance Park for free views on a nice day.
Don't forget that Tacoma is only a mere 33.8 miles away from Seattle, and that makes room for more entertainment. The average ticket to a Seattle Seahawks football game is $111, but some tickets can cost up to $541.
---
Related Questions
Is Tacoma, Washington a safe place to live?
Yes, Tacoma is a safe place to live, and there are 61 crimes for every 1,000 residents. Areas such as New Tacoma and Downtown in particular are safe, but Oakland and Portland Ave are best avoided at night. Despite being safe, property crime still occurs in certain areas of Tacoma, with a 1 out of 19 property crime rate.
Does it rain a lot in Tacoma, WA?
It does rain a lot in Tacoma, and most of the rainfall comes between April and October. During the rainy season, there is a 32% chance that it will rain at least a little bit in Tacoma. You can expect 40" of rain per year, on average, in Tacoma, Washington.
What is Tacoma, Washington known for?
Tacoma, Washington is most well-known for its gorgeous hiking trails, significance in railroad history, and the University of Washington Tacoma. Many people know Tacoma as the sister city of Fuzhou, a Chinese city, and Tacoma has a Fuzhou Ting garden to match theirs.
Do You Need to Hire Movers?
Get free, zero-commitment quotes from pro contractors near you.
Summing It Up
Homes are expensive in Tacoma with a median value of $370,000. Rent is a cheaper option without the benefit of investment and costs $1,360 per month. Utilities can cost as much as $208 each month, and at least $120-$130 of it will be in electrical costs.
If you plan on driving nearly every day, budget yourself at as much as $1,968 a year in gasoline costs. Always keep the 10.2% sales tax in the back of your mind at the grocery store as well. Tacoma, Washington is a great place to live, and the City of Destiny nickname it earned is appropriate.

Nick Durante
Nick Durante is a professional writer with a primary focus on home improvement. When he is not writing about home improvement or taking on projects around the house, he likes to read and create art. He is always looking towards the newest trends in home improvement.
More by Nick Durante
Published March 3rd, 2021 11:40 AM