258 Views
What Is The Cost Of Living In Nebraska? (Taxes, Housing, & More)
January 7th, 2022 2:43 PM
Share
We're committed to finding, researching, and recommending the best products. We earn commissions from purchases you make using links in our articles. Learn more here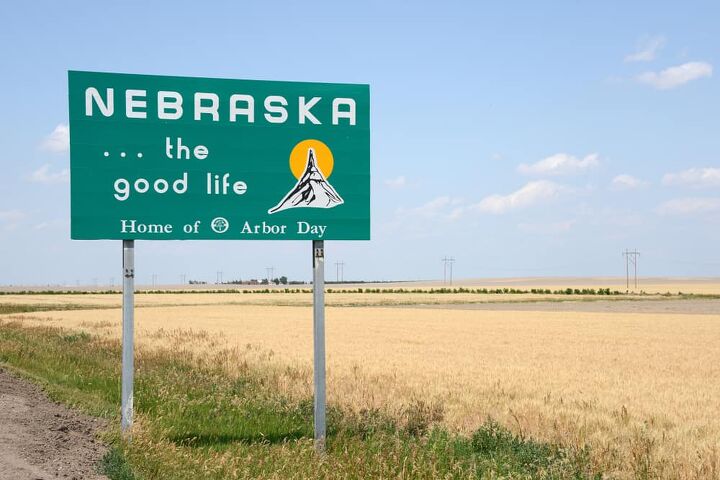 If you love the great outdoors, then Nebraska might be the perfect state for you. The "Cornhusker State" features countless opportunities for recreation and adventure, including windsurfing, hiking, fishing, hunting, and more. It also has friendly people, breathtaking views, low unemployment, and it's one of the most affordable places to live.
Nebraska features a cost of living roughly 11.5% below the national average, although taxes are high. The median household income in Nebraska is $168,900, while the average home value is $192,584. On a cost of living index ranking the US average as 100, Nebraska falls at 89.1. Housing costs are very affordable, and for many, the state is the perfect place to live or retire.
Nebraska also features multiple museums, an incredible zoo, and other fun attractions. Therefore, it's not surprising that almost 2 million people call it home. However, before you decide to move, it's a good idea to consider potential living costs to make an informed decision.
Do You Need to Hire Movers?
Get free, zero-commitment quotes from pro contractors near you.
Housing Costs in Nebraska
On the cost of living index, Nebraska's average housing costs score 73.1 compared to the US average of 100. Almost 65% of the population are homeowners, while just under 36% opt to rent. Furthermore, the median home price in Nebraska is $161,800 but can vary depending on the city.
The Cost to Own a Home in Nebraska
Over the past five years, Nebraska's home appreciation rate stands at 26.85%, with an annual rate of 4.87%. The appreciation average over the last quarter is 6.56%, placing many cities in the top 30% nationally.
The majority of Nebraska's homes fall between $121,000 and 242,000. However, about 9.4% of homes are below $60,500, with about 1% at one million-plus. Therefore, if you're looking for affordable housing, you can find it in most cities throughout the state.
However, when deciding where to set down roots, it's also essential to look beyond home prices. For example, the median income often adjusts up or down with home prices, but not always. Therefore, it's essential to consider all of the elements when deciding on your future city.
The median income in Nebraska is $59,566 but will vary from city to city. This chart lays out the median home price and income for popular cities in Nebraska.
Median Home Prices and Income in Popular Nebraska Cities

City
Median Home Price
Median Income
Omaha
$163,400
$59,266
Lincoln
$173,600
$55,388
Bellevue
$143,900
$63,443
Grand Island
$137,500
$52,642
Kearney
$169,600
$53,790
Papillion
$180,700
$80,853
Columbus
$140,500
$59,894
Roca
$140,200
$52,708
Fremont
$123,600
$48,644
Norfolk
$135,400
$49,490
Rental Costs in Nebraska
The average rent in Nebraska is $1,014 per month, placing it far below the national average.
Average Rent by Bedroom Size in Nebraska Compared to the US

Bedroom Size
Nebraska Cost Per Month
United States Cost Per Month
Studio
$560
$821
One-Bedroom
$655
$930
Two-Bedroom
$831
$1,148
Three-Bedroom
$1,122
$1,537
Four-Bedroom
$1,267
$1,791
Of course, where you choose to hang your hat might bump your rent up or down, so choose wisely. Here's a look at the average rent for two-bedroom apartments in various cities throughout the state.
Median Rent for a Two-Bedroom in Popular Nebraska Cities

City
Median Rent Per Month
Omaha
$995
Lincoln
$873
Bellevue
$958
Grand Island
$765
Kearney
$822
Papillion
$1,135
Columbus
$814
Roca
$1,180
Fremont
$840
Norfolk
$770
The Cost of Utilities in Nebraska
Nebraska's average cost for utilities is lower than the nation's, scoring 95 on the cost of living index. Here's a glance at the average costs of basic utilities, including cable and internet.
Average Utility Costs in Nebraska

Utility
Average Cost Per Month
Electric
$119
Basic Internet Plan
$20
Natural Gas
$68
Cable
$45
Water
$23
Overall Utilities
$275
Tax Rates in Nebraska
When it comes to taxes, Nebraska isn't necessarily the best or worst place for taxpayers. The state has made changes over the past few years to lessen the burden when it comes to income tax. However, property taxes are some of the highest in the country.
Sales Taxes in Nebraska
The state sales tax is 5.5% and ranges from 5.5 to 8% when you add local taxes. The state's gas tax is 33.2 cents per gallon, and for a 20-pack of cigarettes, you'll pay $0.64 in tax. Nebraska's alcohol tax is 31 cents/gallon for beer, $3.75/gallon for liquor, and $0.95/gallon for wine.
Sales Tax Rate in Different Nebraska Cities

City
Sales Tax
Omaha
7.00%
Lincoln
7.25%
Bellevue
7.00%
Grand Island
7.50%
Kearney
7.00%
Papillion
7.50%
Columbus
7.00%
Roca
7.00%
Fremont
7.00%
Norfolk
7.00%
Property Taxes in Nebraska
Nebraska's property taxes average roughly 1.61% of a home's value, which means you'd pay approximately $2,164. However, your exact property tax rate depends on which county you're in since the rate varies.
A Closer Look at Nebraska Property Tax Rates

County
Average Property Tax
Percent of Home Value
Lancaster County
$2,753
1.89%
Douglas County
$2,784
1.97%
Buffalo County
$1,812
1.41%
Madison County
$1,722
1.71%
Sarpy County
$3,281
2.07%
Sheridan County
$1,192
1.88%
Platte County
$1,711
1.58%
Hall County
$1,951
1.81%
Dodge County
$1,799
1.63%
Income Taxes in Nebraska
Nebraska made changes to lower their overall income tax, but the income for the top rate is still relatively low. This means you don't have to make a huge income before you end up in the top tax bracket.
The state also has an inheritance tax that varies based on several criteria. There are four tax brackets, and your income and filing status determines your tax bracket.
Income Tax Brackets for Single Filers and Married Filing Separately

Nebraska Taxable Income
Rate
$0 – $3,290
2.46%
$3,291 – $19,700
3.51%
$19,701 – $31,750
5.01%
$31,751+
6.84%
Income Tax Brackets for Married Filing Jointly

Nebraska Taxable Income
Rate
$0 – $6,570
2.46%
$6,751 – $39,410
3.51%
$39,411 – $63,500
5.01%
$63,501+
6.84%
Income Tax Brackets for Head of Household

Nebraska Taxable Income
Rate
$0 – $6,130
2.46%
$6,131 – $31,530
3.51%
$31,531 – $47,080
5.01%
$47,081+
6.84%
Food & Grocery Costs in Nebraska
On the cost of living index, Nebraska comes below the national average of 100, scoring 94.9. Although, depending on where you live, you could pay significantly less or even more than this.
In general, your food budget should be 11% of your annual income, 6% for groceries, and 5% for dining out. Since Nebraska's median income is $59,566, a typical food budget might be roughly $6,552 per year.
Here's a look at what you could expect to pay for common food items in various Nebraska cities.
Costs of Popular Food Items in Various Nebraska Cities

Food Item
Lincoln
Omaha
Kearney
A Dozen Eggs
$1.72
$1.57
$2.00
1 Gallon Milk
$3.26
$2.48
$2.76
Fast-Food Combo Meal
$8.05
$8.00
$8.00
1 Loaf of Bread
$2.46
$2.42
$2.20
1 Pint Domestic Beer
$5.00
$4.00
$3.00
Basic Meal Out
$15
$12
$10
Schooling Costs in Nebraska
For colleges, tuition and fees average about $5,850 for in-state students. Out-of-state students pay an average of $10,277. However, the average private college tuition is $24,107. These numbers place Nebraska in the middle of the pack regarding tuition costs in the United States.
The highest tuition in the state is $39,630 at Creighton University in Omaha, Nebraska. Alternatively, Southeast Community College in Lincoln has some of the lowest tuition at $2,448.
Private school tuition typically falls below the national average, but childcare costs are high.
Average Nebraska Private School Tuition Costs by Grade Level

Grade Level
Average Tuition Costs Per Year
Preschool/Elementary School
$2,992
High School
$7,518
The private school with the highest tuition is The Roberts Academy (7th-12th) in Gretna, Nebraska, costing $11,000. On the opposite end of the spectrum is St. John the Apostle Catholic School in Lincoln. The school serves children in PK-8th grades and has a tuition of $1,200.
Daycare costs are incredibly high in Nebraska, costing a family making an average income roughly 20% of their pay. For infants, the average price for childcare is about $1,048 per month, while for four-year-olds, it's about $952 monthly.
Additional Education Costs in Nebraska
There are many decent schools in Nebraska and public education is great for any parents moving to this state. There are also many private schools to choose from with a decent average price to pay per month.
University
The University of Nebraska in Lincoln has impressive programs and affordable tuition. If you are an out-of-state student, you can expect to pay $25,828 and even less if you are a resident of Nebraska. Students who live in Nebraska and are accepted as residents can expect to pay $9,522. This is an excellent price for education.
Community College
Suppose you are looking for something a bit cheaper than a university or are not ready to commit to a degree. In that case, Nebraska has some great community colleges. Depending on the city you live in will determine what kind of programs there are, how long you will need to attend, and the price per year.
It will also make a considerable difference depending on if you are an in-state or out-of-state student. The average price of a community college for an in-state student is $3,081, and if you are out-of-state, you can expect to pay $4,438.
Private Elementary School
Some decent school districts have great education for free in Nebraska. However, some parents like a more targeted learning approach that can only come from enrolling kids into private school. You can find a suitable private school for your elementary kid close to home for an average of $2,992 per year.
Private High School
If your kid went to a private elementary school, chances are you will want them to attend a private high school as well. This can be great during the teenage years and give them extra support during this time. Private high schools can be more expensive than elementary schools, but they also allow them to do more. You will see that the average price for a private high school is $7,158 per year.
Health Care Costs in Nebraska
Health insurance premiums can get pretty high in Nebraska, with costs scoring 132.3 on the cost of living index. The average price of health insurance for a 40-year-old in Nebraska is about $615 per month. However, if you're young and healthy, you could opt for more basic coverage and pay less.
A 20-year-old could pay about $296/month for a catastrophic plan, while a 60-year-old would pay closer to $804. For a more top-of-the-line plan, a 20-year-old would pay about $605 and a 60-year-old roughly $1,642. The same plans would cost a 40-year-old $378 and $773, respectively.
Transportation Costs in Nebraska
Transportation costs in Nebraska are relatively low, scoring a 76.1 on the cost of living index, compared to the nationwide average of 100. Transportation costs are another important factor that you must consider in order to determine the overall cost of living in a particular location. These include expenses such as gas prices, public transportation costs, and annual car insurance premiums.
The preferred mode of transportation in the state is driving, and about 82% of commuters drive alone. Most households own two cars, and the average commute time is low at 17.9 minutes.
Gas Prices in Nebraska
As of January 2022, the national average gas price is $3.30 a gallon. In Nebraska, however, gas prices are just below the national average, at $3.10 per gallon. Although gas prices fluctuate and vary based on where you live in the state, you can typically expect them to remain lower than the national average.
Drivers in Nebraska pay an average of $1,667.85 a year on gas and $369.60 on car repairs.
Public Transportation in Nebraska
Given the rural nature of the state of Nebraska, most people own a car and visitors will rent a car to get around. There is virtually no public transportation to take you between towns. Though, in the larger cities like Lincoln and Omaha, there are taxis. In fact, Omaha and Lincoln are the only cities in Nebraska that have city bus systems.
That said, here are the public transportation costs you can expect in both Omaha and Lincoln:
Public Transportation Costs in Omaha, Compared
| | |
| --- | --- |
| Adult Regular | $1.25 |
| Adult Express | $1.50 |
| Half-Fare | 60 cents |
| MOBY | $2.50 |
| Downtown Circulator | 25 cents |
| Transfers | 25 cents |
| K-12 Students | FREE |
| Children (5 and under) | FREE |
Public Transportation Costs in Lincoln, Compared
| | |
| --- | --- |
| Cash Fare | $1.75 |
| Child (under four years) | FREE |
| Senior Saver (62+) | 85 cents |
| Transfers | FREE |
| Downtown Trolley | 25 cents |
| Senior Downtown Trolley | 10 cents |
| Paratransit | $3.50 |
| UNL Students | FREE |
Annual Car Insurance Premiums in Nebraska
The average cost of car insurance in the state of Nebraska is $335 a year for minimum coverage and $1,530 for full coverage. Though, your rate can vary based on your age, driving record, the insurance company that you choose, and whether you opt for full or minimum coverage.
To help illustrate how car insurance premiums vary based on where you live in Nebraska, the following table outlines average car insurance rates in five Nebraska cities:
| | | |
| --- | --- | --- |
| City | Average Annual Premium for Full Coverage | Percent Difference from Statewide Average |
| Omaha | $1,594 | 4% |
| Lincoln | $1,334 | -13% |
| Grand Island | $1,412 | -8% |
| Bellevue | $1,472 | -4% |
| North Platte | $1,659 | 8% |
Entertainment & Miscellaneous Costs
When you move somewhere new, you will want to check out new things, like movies, gyms, and even eat out. These are some basic things we all love to do occasionally. In Nebraska, most of them are budget-friendly because other costs are so low. Take a look at the table below to find out how much the activities you want to do are.
| | |
| --- | --- |
| Activities To Enjoy In Nebraska | Price Of Activities |
| Fitness Clubs | $35.33 |
| Cinema | $10.00 |
| Wine (mid-range) | $11.50 |
| Meal four two (mid-range) | $50.00 |
---
Related Questions
Is Nebraska safe?
Overall, Nebraska has a reasonably low crime rate that falls below the national average for both violent and property crimes. Your chances of becoming a victim of a violent crime are 1 in 332. The property crime rate is closer to the national average, with chances of becoming a victim about 1 in 49. There are approximately 5,821 violent crimes a year in Nebraska and about 39,449 property crimes.
How much money do you need to live comfortably in Nebraska?
If you are a single person, you will want to make $14.93 to live comfortably. If you have a family with three children, you will want to make $35.28 to keep everyone happy. Nebraska has a minimum wage of $9.00.
Is Nebraska expensive to live in?
With an overall cost of living that is about 11.5% lower than the national average, Nebraska can be considered a relatively affordable place to live. Although health insurance premiums and taxes are high in Nebraska, residents enjoy the largest savings in housing costs. In fact, Nebraska's housing costs are nearly 27% lower than the nationwide average.
Is Nebraska a wealthy state?
Nebraska is a great place to live, and one more reason to attract you to the state is, it is the thirty-third wealthiest state in the United States. Nebraska has a per capita of $19,613 and a personal capita of $32,276.
Do You Need to Hire Movers?
Get free, zero-commitment quotes from pro contractors near you.
Is Nebraska a Nice Place to Live?
Nebraska can be a phenomenal state to live in. Many of the cities are populated and rich with culture. Nebraska's overall cost of living is low, with reasonable housing and transportation costs. However, things like health care, childcare, and property taxes can take a toll on your budget, depending on your situation.
The state offers ample opportunities for entertainment, outdoor recreation, and fantastic scenery. Plus, the people are warm and welcoming, and crime is low; there are certainly lots of perks. Therefore, just weigh all of your options before deciding if a move to Nebraska is right for you.
Related Articles

Stacy Randall
Stacy Randall is a wife, mother, and freelance writer from NOLA that has always had a love for DIY projects, home organization, and making spaces beautiful. Together with her husband, she has been spending the last several years lovingly renovating her grandparent's former home, making it their own and learning a lot about life along the way.
More by Stacy Randall
Published February 24th, 2021 1:31 PM