173 Views
What Is The Cost Of Living In Louisiana? (Taxes, Housing, & More)
December 21st, 2021 7:46 PM
Share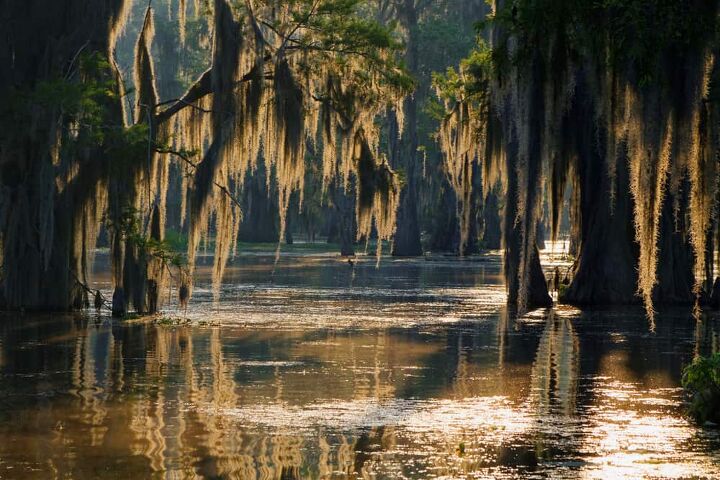 Depending on where you go in Louisiana, you'll find opportunities for outdoor adventure, vibrant nightlife, great food, and sports. The Pelican State has a little bit of something for everyone, including an affordable cost of living. All of these qualities are likely why roughly 4.65 million people call it home.
The cost of living in Louisiana is lower than the national average. Schooling, housing, utility, and gas prices are cheaper than in most U.S. states in Louisiana. The median home value in Louisiana is $164,675, and you need to earn at least $24,000 per year to live in the state.
Here's a look at the costs of essential factors like taxes, utilities, education, groceries, transportation, and more. Use this information to determine the impact a move to Louisiana might have on your finances.
Do You Need to Hire Movers?
Get free, zero-commitment quotes from pro contractors near you.
Housing Costs in Louisiana
Likely the largest component of your budget is housing costs, making it a significant factor when you consider living somewhere. On the cost of living index, Louisiana's housing costs are 62.1, far below the national average of 100.
The homeownership rate in Louisiana is 63.5%, which is about on par with the average rate in the country. What you pay for a home varies from city to city, but the median price for the state is $164,675.
Louisiana's overall home appreciation rates are slightly lower than the national average, with an annual average of about 3.2%. However, in certain cities, like New Orleans, appreciation rates are higher. In fact, nationally, New Orleans falls within the top 20% of home appreciation rates.
Depending on your budget, there are some cities on the more expensive side of homeownership and others relatively low. The median income also varies based on where you live. The price you pay for a home varies considerably based on the city you're in, as this chart shows.
Related Guide: Safest Neighborhoods In Shreveport, LA?
Median Home Prices in Popular Louisiana Cities

City
Median Home Price
Median Income
Baton Rouge
$169,200
$41,761
Shreveport
$144,800
$38,279
Lafayette
$190,800
$50,182
Alexandria
$140,200
$40,353
New Orleans
$242,900
$38,423
Monroe
$142,600
$30,009
Metairie
$228,400
$55,505
Bossier City
$161,400
$50,652
Lake Charles
$149,700
$41,538
Kenner
$175,600
$53,885
Rental Costs in Louisiana
If you prefer to rent versus buy, the average rent per month in Louisiana is $1,115. However, it depends on the apartment size and location. Here's a look at the overall average rent for different size apartments in Louisiana.
Average Rent by Bedroom Size in Louisiana Compared to the US

Bedroom Size
Louisiana Cost Per Month
United States Cost Per Month
Studio
$636
$821
One-Bedroom
$723
$930
Two-Bedroom
$868
$1,148
Three-Bedroom
$1,130
$1,537
Four-Bedroom
$1,308
$1,791
However, once again, what you pay all depends on the city. In some places, like New Orleans, renters comprise over 40% of the population. Therefore, in cities like this, rent is often higher.
Median Rent for a Two-Bedroom in Louisiana Cities

City
Median Rent Per Month
Baton Rouge
$970
Shreveport
$826
Lafayette
$890
Alexandria
$803
New Orleans
$1,079
Monroe
$735
Metairie
$1,028
Bossier City
$1,040
Lake Charles
$843
Kenner
$1,035
The Cost of Utilities in Louisiana
On the cost of living index, Louisiana's overall utilities are 89.9, quite a bit less than the national index of 100. Of course, this can vary by city, but this chart gives you a good idea of the state average.
Average Utility Costs in Louisiana

Utility
Average Cost Per Month
Electric
$115
Basic Internet Plan
$20
Natural Gas
$55
Cable
$50
Water
$33
Overall Utilities
$273
Tax Rates in Louisiana
While the state sales tax is 4%, individual cities/counties can add up to 7%, for a total of 11%. Also, items like groceries are tax-exempt when it comes to the state tax. However, local jurisdictions can place their own taxes on food items.
Here is a snapshot of the different taxes you can expect to pay if you live in Louisiana.
Property and Sales Tax in Louisiana and Popular Cities

Type of Tax
Tax Rate
Property Taxes
Average of $800
State Sales Tax Rate
4%
Average Sales Tax
9.52%
New Orleans Sales Tax
9.45%
Baton Rouge Sales Tax
9.95%
Lafayette Sales Tax
8.45%
Lake Charles Sales Tax
10.2%
Shreveport Sales Tax
9.05%
Monroe Sales Tax
10.44%
Alexandria Sales Tax
9.95%
Property taxes are some of the lowest in the nation but still can vary greatly depending on the city.
A Closer Look at Louisiana Property Tax Rates

Parish
Average Property Tax
Percent of Home Value
Orleans Parish
$1,131
0.61%
Jefferson Parish
$755
0.43%
Lafayette Parish
$583
0.38%
East Baton Rouge Parish
$683
0.44%
Bossier Parish
$577
0.44%
St. Tammany Parish
$1,335
0.66%
West Baton Rouge Parish
$454
0.36%
When it comes to income tax, Louisiana falls around the middle compared to other US states. You can expect to pay about 2% less than the national average in taxes. Here is a look at your possible tax burden considering income and filing status.
Income Tax Brackets for Single Filers and Married Filing Separately

Louisiana Taxable Income
Rate
$0 – $12,500
2%
$12,501 – $50,000
4%
$50,001+
6%
Income Tax Brackets for Married Filing Jointly

Louisiana Taxable Income
Rate
$0 – $25,000
2%
$25,001 – 100,000
4%
$100,001+
6%
Income Tax Brackets for Head of Household

Louisiana Taxable Income
Rate
$0 – $12,500
2%
$12,501 – $50,000
4%
$50,001+
6%
Food Costs in Louisiana
Overall, food costs in the state are lower than the national average. On the cost of living index, where the US average is 100, Louisiana has a rank of 92.7.
In general, your food budget should be 11% of your annual income, 6% for groceries, and 5% for dining out. Louisiana's median income is $47,905, so your food budget should be about $5,270 per year. Of course, a big plus of Louisiana is its incredible food, so you might end up dining out often.
Here's a look at what you could expect to pay for food items in some of Louisiana's most popular cities.
Costs of Popular Food Items in Various Louisiana Cities

Food Item
New Orleans
Baton Rouge
Shreveport
A Dozen Eggs
$2.73
$3.97
$2.73
1 Quart Milk
$.99
$1.17
$.96
Fast-Food Combo Meal
$8
$7
$8
1 Bottle Red Table Wine
$13
$14
$16
2 liter of Coca-Cola
$2.18
$1.90
$1.80
Basic Business Lunch Out
$12
$16
$13
Schooling Costs in Louisiana
Overall, Louisiana features slightly lower tuition rates than the national average, but it all depends on the school. For colleges, tuition and fees average about $6,461 for in-state students. Out-of-state students pay an average of $15,514.
One of Louisiana's most expensive universities is Tulane University New Orleans, with an annual tuition of $56,800. Infinity College, a community college in Lafayette, has some of the lowest tuition rates, with a yearly cost of $585.
If you have children, education costs add a whole other line to your budget. For elementary and high school, roughly 80% of Louisiana's schools have a religious affiliation.
The lowest private school tuition is $2,365 for St. Mary's Assumption School (grades Pk-8th) in Cottonport, LA. McGehee School, grades Pk-12th, in New Orleans, has the highest private school tuition with a cost of $20,000.
Average Louisiana Private School Tuition Costs by Grade Level

Grade Level
Average Tuition Costs Per Year
Preschool/Elementary School
$5,852
High School
$8,182
Childcare costs about $644 a month for an infant to a young toddler. For older toddlers to roughly four-years-old, daycare costs average about $576 per month.
Transportation Costs in Louisiana
Transportation costs are another large piece of most budgets. Therefore, it's vital to note that on the cost of living index, Louisiana has a rank of 108.2. This means the state far surpasses the national average.
A large share of Louisiana households, over 40%, own two cars. Plus, the state features some of the highest car insurance rates, as well. For example, if you opt for full auto-insurance coverage, expect to pay an average of roughly $2,601. Alternatively, if you go with a bare-bones policy, you'll pay about $771.
Gas prices average about $2.18 a gallon, and the average commute is roughly 25.4 minutes. Drivers pay an average of $1,528.80 a year on gas and $388.57 on car repairs.
Approximately 82.7% of commuters drive alone to work, followed by about 9% who carpool. Not many residents use public transportation.
Costs of Popular Louisiana Attractions
Louisiana features ample opportunities for diverse entertainment. There are tons of outdoor activities, family-friendly places, museums, sporting events, and more.
Of course, some of the most famous events, like Mardi Gras in New Orleans, are free. Plus, there are many beautiful parks and certain days when admission to museums is free to Louisiana residents.
But, if you plan to check out some of the state's most popular attractions, you'll likely have to pay something.
Average Ticket Price for Popular Louisiana Attractions

Attraction
City
Average Cost for an Adult/Child
National WWII Museum
New Orleans
$35/$25
NFL Saints Game at Superdome
New Orleans
$256
Audubon Zoo
New Orleans
$24.95/$19.95
Louisiana State Capitol
Baton Rouge
FREE
USS Kidd and Veterans Memorial
Baton Rouge
$12.53/$8.36
Rosedown Plantation and Gardens
St. Francisville
$12/$6
Acadian Village Tour
Lafayette
$8.68/$6.51
Sci-Port Discovery Center
Shreveport
$15
---
Related Questions
What are healthcare costs in Louisiana?
The average cost of health insurance for a 40-year-old in Louisiana is about $596 a month. On the cost of living index, with the national average of 100, Louisiana is 93.9 for healthcare. Depending on your type of coverage, age, and location, insurance rates vary significantly.
For example, a bronze plan would cost a 40-year-old about $511 per month. However, that same plan would cost a 21-year-old roughly $400 a month and a 60-year-old $1,085 per month.
If you want more coverage or a lower deductible, both of these factors can raise rates significantly. For example, for a gold plan, a 40-year-old would pay about $754 a month. For the same plan, a 21-year-old would pay about $590, and a 60-year-old would pay $1,601.
How much do you need to make to live comfortably in Louisiana?
You need to make at least $24,000 after taxes to live comfortably in Louisiana. It is possible to live comfortably off of lower wages than the rest of the U.S. in Louisiana due to the low cost of living. Residents should earn at least $12.75 per hour to live comfortably in Louisiana.
Do You Need to Hire Movers?
Get free, zero-commitment quotes from pro contractors near you.
Summing It Up
Louisiana boasts a variety of opportunities for entertainment, food, sports, and more. It also features a low cost of living throughout the state, although costs are higher in places like New Orleans. However, transportation costs are significantly higher than the US average.
It all comes down to your lifestyle, the choices you make, and your city of choice. Overall, you can find many affordable places to live in Louisiana.'
Related Articles

Stacy Randall
Stacy Randall is a wife, mother, and freelance writer from NOLA that has always had a love for DIY projects, home organization, and making spaces beautiful. Together with her husband, she has been spending the last several years lovingly renovating her grandparent's former home, making it their own and learning a lot about life along the way.
More by Stacy Randall
Published February 17th, 2021 12:40 PM