120 Views
What Is The Cost Of Living In Kentucky? (Taxes, Housing, & More)
December 17th, 2021 2:07 PM
Share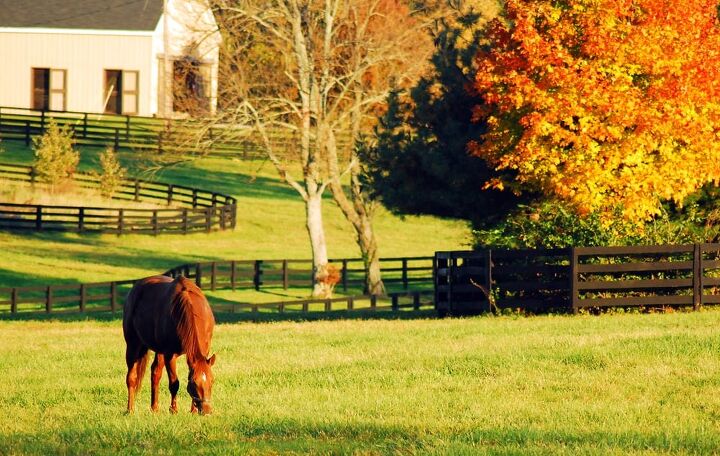 Kentucky has a reputation for horse racing, bourbon, and moonshine; this state knows how to have a good time. It also has a low cost of living, making it appealing to the over 4.5 million residents. Of course, there are also lots of tornadoes, but all of the pros seem to make living here worth it.
Kentucky boasts a lower cost of living than the US average across all major points, including housing, transportation, and healthcare. On a cost of living index placing the national average at 100, Kentucky is 83.6. Depending on where you live in the state, the cost of living drops down even more.
Kentucky is full of outdoor adventure, relaxing with a bourbon on the rocks, and friendly people. However, before you decide to move, it's always advisable to know the potential impact on your bank account. Check out the costs of housing, taxes, transportation, and more if you're thinking about calling "The Bluegrass State" home.
Do You Need to Hire Movers?
Get free, zero-commitment quotes from pro contractors near you.
Housing Costs in Kentucky
On the cost of living index, Kentucky's average housing costs score 63.3 compared to the US average of 100.
About 65% of Kentucky's population own their homes, while approximately 35% rent. The state's median home price is $148,100 but varies as you travel from city to city.
Home Ownership in Kentucky
Kentucky has experienced home appreciation rates above the national average over the past five years. The annual rate for the five years is 4.59%, and it's jumped to 7.55% in the last quarter.
About 38% (the most considerable portion) of homes in the state fall between $118,000 and $237,000. However, roughly 13.5% of houses fall below $60,000, with about 1% costing above one million. Of course, the exact city you decide to call home plays a huge part in finding affordable housing.
Another thing to consider when comparing home prices in different areas is the median income. Typically, cities with higher home prices feature a higher median income, but that isn't always the case. Therefore, it's essential to look at both elements when choosing your future home.
The median income in Kentucky is $50,247, and this number goes up or down depending on the city. This chart lays out the median home price and income for popular cities in Kentucky.
Median Home Prices and Income in Popular Kentucky Cities

City
Median Home Price
Median Income
Frankfort
$128,900
$48,345
Louisville
$170,157
$53,436
Lexington
$193,300
$54,896
Bowling Green
$153,600
$41,516
Georgetown
$159,600
$62,321
Fort Wright
$195,800
$74,798
Bellevue
$130,900
$58,750
Newport
$134,600
$35,164
Mayfield
$91,300
$30,084
Owensboro
$111,400
$41,215
Rental Costs in Kentucky
If you'd rather not venture into homeownership, Kentucky's average rent is about $961. Keep in mind this is an overall average for the state; specific cities will have higher and lower rents.
Average Rent by Bedroom Size in Kentucky Compared to the US

Bedroom Size
Kentucky Cost Per Month
United States Cost Per Month
Studio
$536
$821
One-Bedroom
$601
$930
Two-Bedroom
$760
$1,148
Three-Bedroom
$1,028
$1,537
Four-Bedroom
$1,190
$1,791
To get a feel for rent prices across the state, take a peek at what you'd pay in certain cities.
Median Rent for a Two-Bedroom in Popular Kentucky Cities

City
Median Rent Per Month
Frankfort
$810
Louisville
$901
Lexington
$963
Bowling Green
$854
Georgetown
$860
Fort Wright
$885
Bellevue
$820
Newport
$870
Mayfield
$618
Owensboro
$760
The Cost of Utilities in Kentucky
The cost of living index places the average for utilities in Kentucky at 92.9. Here's a glance at the average costs of basic utilities, including cable and internet.
Average Utility Costs in Kentucky

Utility
Average Cost Per Month
Electric
$117
Basic Internet Plan
$35
Natural Gas
$94
Cable
$45
Water
$49
Overall Utilities
$340
Tax Rates in Kentucky
Kentucky features a sales tax and property taxes lower than the national average. However, the state's income tax is about on par with the US average. Plus, counties add between 0.01 and 2.5% of local income taxes.
The state sales tax is 6%, and it is statewide. Therefore, no matter what city you go shopping in, your sales tax is the same. The state's gas tax is 24.6 cents per gallon, and for a 20-pack of cigarettes, you'll pay $1.10 in tax. For alcohol, taxes in Kentucky are high, 83 cents a gallon for beer and $7.35 per gallon for liquor.
Property taxes in Kentucky are some of the lowest in the country. They average $1,257, roughly 0.83% of a home's value. However, some counties have a rate as low as 0.51% and as high as 1.17%.
A Closer Look at Kentucky Property Tax Rates

County
Average Property Tax
Percent of Home Value
Franklin County
$1,110
0.80%
Jefferson County
$1,318
0.90%
Fayette County
$1,1416
0.89%
Warren County
$864
0.64%
Scott County
$978
0.62%
Kenton County
$1,494
1.03%
Campbell County
$1,473
1.01%
Graves County
$504
0.60%
Daviess County
$908
0.85%
Kentucky is unique since it's one of a few states with local income taxes and an inheritance tax. It also has a flat income tax rate of 5%, no matter your income or filing status.
Then, on top of the state's 5%, there's an occupational tax based on wages and county and city of residence.
Local Income Taxes (Occupational Tax) for Popular Kentucky

Kentucky City
Rate
Frankfort
1.75%
Louisville
2.20%
Lexington
2.25%
Bowling Green
1.85%
Georgetown
1.00%
Fort Wright
1.00%
Bellevue
2.50%
Newport
2.50%
Mayfield
2.00%
Owensboro
1.33%
Food Costs in Kentucky
On the cost of living index, Kentucky comes below the national average of 100, scoring 94.2. Of course, a lot depends on where you shop and how often you eat out. However, you shouldn't have to worry about groceries breaking your bank.
In general, your food budget should be 11% of your annual income, 6% for groceries, and 5% for dining out. Since Kentucky's median income is $50,247, a typical food budget might be about $5,527 per year.
Here's a look at what you could expect to pay for common food items in various Kentucky cities.
Costs of Popular Food Items in Various Kentucky Cities

Food Item
Louisville
Lexington
Bowling Green
A Dozen Eggs
$1.85
$1.75
$1.10
1 Gallon Milk
$1.72
$2.44
$1.48
Fast-Food Combo Meal
$8.25
$6
$8
1 Loaf of Bread
$1.86
$2.25
$2.13
1 Pint Domestic Beer
$6
$3.25
$4
Basic Meal Out
$15
$9
$15
Schooling Costs in Kentucky
For colleges, tuition and fees average about $6,331 for in-state students. Out-of-state students pay an average of $18,352.
The highest tuition in the state is $44,700 at Berea College in Berea, Kentucky. Alternatively, Trend Setters' Academy of Beauty Culture-Elizabethtown features the lowest tuition at $4,800.
If you decide to send your children to private school, tuition sometimes takes a significant bite out of your budget. However, tuition costs in Kentucky fall below the national average by a few thousand dollars.
Average Kentucky Private School Tuition Costs by Grade Level

Grade Level
Average Tuition Costs Per Year
Preschool/Elementary School
$6,169
High School
$7,821
The private school with the highest tuition is Louisville Collegiate School (Pk-12th), costing $24,960. Conversely, the lowest tuition cost is $1,650 at a small school in Virgie, KY, Valley Christian Academy. The school serves PK-6th grade but has a tiny enrollment.
Daycare costs are lower than the national average, with childcare for infants close to $595 per month. For toddlers and four-years-old, daycare costs are roughly $535 per month.
Transportation Costs in Kentucky
Transportation is typically the second-largest piece of your budget, so it's worth paying attention to average costs. If you plan to move to Kentucky, the state's average of 89.1 on the living cost index seems appealing. However, the state has some of the highest car insurance premiums in the country.
Gas prices average about $2.35 a gallon, and the average commute is roughly 22.5 minutes. Almost 82.4% of commuters opt to drive alone for their commute instead of using public transportation or a rideshare program. Drivers pay an average of $1,606.70 a year on gas and $390.02 on car repairs.
Most Kentucky households own two cars. The average car insurance premium in Kentucky is between $748 and $2,128 a year, depending on whether you choose minimum or full coverage. Both of these averages are higher than the average national cost of car insurance – namely $565 for minimum annual coverage and $1,674 for full annual coverage.
Though, rates can vary depending on the city you live in, the insurance company you go with, and your age and driving record. To help illustrate how car insurance premiums vary based on where you live, the following table outlines average car insurance rates in 10 cities in Kentucky:
A Closer Look at Average Annual Car Insurance Premiums in Kentucky
| | | |
| --- | --- | --- |
| City | Average Annual Premium for Full Coverage | Percent Increase in Average Annual Premium |
| Louisville, KY | $2,274 | 7% |
| Lexington, KY | $1,662 | -22% |
| Bowling Green, KY | $1,654 | -22% |
| Owensboro, KY | $1,603 | -25% |
| Richmond, KY | $1,685 | -21% |
| Frankfort, KY | $1,777 | -16% |
| Elizabethtown, KY | $1,833 | -14% |
| Florence, KY | $1,606 | -25% |
| Hopkinsville, KY | $1,776 | -17% |
Entertainment & Miscellaneous Costs in Kentucky
| | |
| --- | --- |
| Cost Factor | Average Price in Kentucky |
| Monthly local gym membership | $27.04 |
| Movie ticket | $10.42 |
| Pack of cigarettes | $5.73 |
| Domestic beer (1 pint) | $3.50 |
| Cappuccino (mid-range area) | $3.99 |
| Pair of running shoes | $76.90 |
| Fast food combo meal | $6.67 |
Cheapest Place to Live in Kentucky: Monticello
Median Home Value: $100,400
Average Monthly Rent Cost: $473
Cost of Gasoline: $2.06 Per Gallon
Median Household Income: $25,510
Population: 5,906
When it comes to the state of Kentucky, it doesn't get much more affordable than Monticello. While the median household income is only $25,510, the average cost of living is 24% lower than the national average and nearly 16% lower than the state average. The median home value in Monticello is $100,400 and median income for homeowners is $34,821, meaning approximately $812 per month is allocated towards housing expenses.
While monthly homeownership costs are low, rental costs are even lower in Monticello. Renters enjoy an average rental price of just $473 per month. With low housing and living costs, it's easy and comfortable to live in Monticello, Kentucky with relatively low wages.
---
Related Questions
What are healthcare costs in Kentucky?
Compared to the US average, Kentucky's healthcare costs are slightly lower at 93.9. However. As with most health insurance plans, your premium depends on things like coverage and age.If you're young and healthy, you could choose a basic plan for about $238 a month. If you're older, about 40, you'd pay about $304 for the same catastrophic plan. A 60-year-old would pay closer to $646. However, if you decide to go with more top-of-the-line coverage, expect to pay between $479 and $1,300 per month. 
What is Kentucky's crime rate?
Overall, Kentucky boasts a reasonably low crime rate, at about almost half of the national average for violent crimes. Property crimes are a little closer to the national average but still fall slightly below.Your chances of becoming a victim of a violent crime in Kentucky are 1 in 461. Your chances of becoming a victim of a property crime are about 1 in 53. In Kentucky, there are approximately 9,701 violent crimes in a year and about 84,769 property crimes.
Do You Need to Hire Movers?
Get free, zero-commitment quotes from pro contractors near you.
Summing It Up
Kentucky boasts an affordable cost of living, low crime rate, and laid-back atmosphere. It can be a great place to live, especially if you're a fan of hunting, horse racing, and bourbon. Depending on the city you call home, you could pay more or less than the state average, so consider all of your options.
Homes prices are well below the national average in Kentucky and rent is only about $961 per month on average. The cheapest place to live in Kentucky is Monticello, with an average rent of just $473 per month. Your typical household in Kentucky brings in about $50,247, which is enough to live comfortably and higher than the U.S average.
Related Articles

Stacy Randall
Stacy Randall is a wife, mother, and freelance writer from NOLA that has always had a love for DIY projects, home organization, and making spaces beautiful. Together with her husband, she has been spending the last several years lovingly renovating her grandparent's former home, making it their own and learning a lot about life along the way.
More by Stacy Randall
Published February 20th, 2021 4:24 PM