42 Views
What Is The Cost Of Living In Greenville, SC?
September 14th, 2022 4:46 AM
Share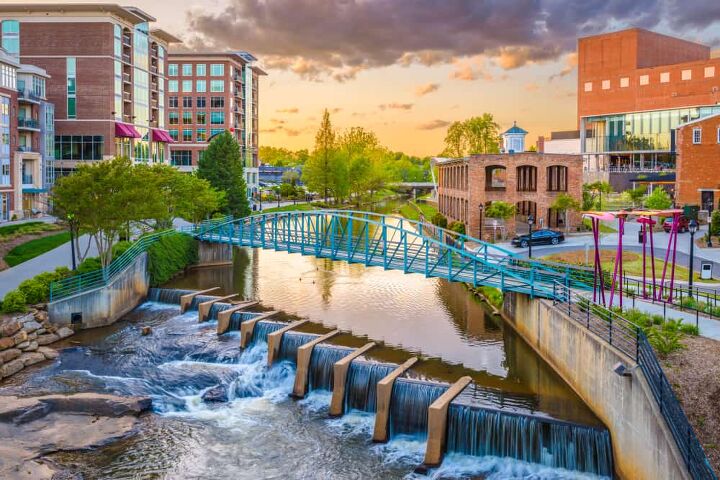 The mere mention of Greenville, South Carolina, does not stir up feelings of sheer thrills and excitement. What it does invoke is a sense of family, community, and progress. For the past four years, Greenville has been named one of the Top 10 Best Small Cities in the US.
On a cost of living scale that holds a US average of 100, Greenville rates 89.8. It may be below the national average, but Greenville scores slightly higher than the state's average of 88.5. The most expensive city in South Carolina would be Port Royal, with a cost of living rate of 106.
Let us walk through some major expenses to check whether Greenville is the right place for your budget. These would include housing costs, taxes, utilities, food expenses, and other factors that make up the cost of living. Check out these facts and figures before deciding whether Greenville is the best move you and your family can make.
Do You Need to Hire Movers?
Get free, zero-commitment quotes from pro contractors near you.
Housing Costs in Greenville, South Carolina
Greenville's average home price is $253,700, with a median price of $128/ sq ft. The neighborhood you choose would dictate the going rate of properties, with the Mcbee Avenue Area as the most expensive. The homeownership rate is 42.7% which is lower than the national average of 63.9%.
Median Home Prices in Greenville Neighborhoods

Neighborhood
Median Home Price
Mcbee Avenue Area
$769,000
Viola St Area
$585,900
Pettigru Historic District
$456,200
Hollingsworth Park
$389,000
Greenline
$374,900
Pleasant Valley
$358,300
Overbrook Historic District
$299,800
Haynie-Sirrine
$249,000
Greenville Community College Area
$245,000
Greater Sullivan
$220,000
Augusta Street Area
$209,900
Valley Creek
$180,000
Rental Costs in Greenville, South Carolina
Before you decide which neighborhood works best for you, try living in the area first and scope out the rentals. Take into consideration the factors essential for you and your household, such as proximity to work, schools, and public transit.
Rental properties command almost 50% of all residential structures in Greenville. This makes it slightly easier to find a suitable place for you and your family. Currently the average rent for a 947-square foot apartment in Greenville is $1,267 per month.
Average Rent in Greenville By Bedroom Size

Bedrooms
Price
1 Bedroom
$975
2 Bedrooms
$1,100
3 Bedrooms
$1,500
In addition to size, apartments in Greenville can vary in price based on quality and location. For renters, some of the most affordable neighborhoods in Greenville are Greater Sullivan, Augusta Acres, and Donaldson Heights. Whereas, Payne-Logan, Sterling, and Southernside Greenville are among the most expensive places to rent in Greenville.
Average Rental Cost for a 1-Bedroom in Greenville Neighborhoods

Neighborhood
Price
West End
$2,480
Downtown Greenville
$2,247
North Main Area
$1,655
Viola Street Area
$1,553
McBee Avenue Area
$1,387
Southern Side Area
$1,364
Pettigru Street Area
$1,100
Pleasantburg
$1,091
Valley Creek
$1,033
Greenville Community College
$895
Pleasant Valley
$825
Greenline
$790
Average Rent in Greenville Compared to Other Cities
To put things in perspective, the following table outlines how the average monthly rent in Greenville compares to other cities in or neighboring the state of South Carolina:
| | |
| --- | --- |
| City | Average Monthly Rent |
| Summerville | $1,363 |
| Charleston | $1,708 |
| Columbia | $1,249 |
| Greenville | $1,267 |
| Asheville | $1,512 |
| Lexington | $1,422 |
Taxes in Greenville, South Carolina
Taxpayers in Greenville enjoy some of the lowest gas and property taxes in the country. Whereas, the sales tax ranks as one of the highest in the nation. In terms of income tax, South Carolina has one of the highest top marginal rates in the U.S., but the bottom rate is the lowest. Let's take a look.
Income Taxes in Greenville, South Carolina
Like the federal income tax structure, South Carolina has a progressive income tax system. This means that taxpayers in Greenville are subject to marginal tax rates based on income brackets. As the income goes up to higher brackets, the percentage of income you pay in taxes also goes up.
There are six income tax brackets in total, with rates ranging from 0% to as much as 7%, with individuals making over $15,400 paying the most. The following brackets apply regardless of your filing status.
Greenville Income Tax Brackets and Rates for All Filers
Income Tax Bracket
Income Tax Rate
$0 – $3,069
0%
$3,070 – $6,149
3%
$6,150 – $9,229
4%
$9,230 – $12,309
5%
$12,310 – $15,399
6%
$15,400 and over
7%
Property Taxes in Greenville, South Carolina
Fortunately, South Carolina has one of the lowest property tax rates in the country. They average out at 0.55%, which bodes extremely well for South Carolinians compared with the national average of 1.07%. Though, at 0.69%, Greenville County's average effective rate rate is slightly higher than the state's 0.55%.
In other words, with an assessed home value of $172,100, you're looking at spending about $1,184 in annual property tax payments in Greenville.
Sales Taxes in Greenville, South Carolina
The base sales tax rate in South Carolina is 6%, which is about average for the country. While South Carolina counties can also levy a "local option tax" on general sales, Greenville County does not. So, the combined city, county, and state minimum sales tax for Greenville, South Carolina, is just 6%.
Utility Costs in Greenville, South Carolina
In the cost of living index, utilities score a 96.9, which is lower than the US 100. However, the average monthly electric bill is $132, which is higher than the US average of $107.
This chart will give you an idea if living in Greenville is a good option for you.
Average Utility Costs in Greenville, South Carolina

Utility
Average Cost Per Month
Electric
$132
Water
$32
Basic Internet
$55
Natural Gas
$65
Basic Cable
$40
Food & Grocery Costs in Greenville, South Carolina
The cost of groceries in Greenville is not a deterrent in considering a move there, but neither is it an incentive. Grocery prices fall somewhere smack dab in the middle compared to any other small city in America.
Here is a sampling of staple grocery items and how much they cost in Greenville.
Prices of Grocery Items in Greenville

1 Loaf of Bread
$2.86
1 Gallon of Milk (reg)
$3.57
1 Dozen Eggs
$3.49
1 lb Chicken Fillets
$5.55
1 lb Apples
$2.42
1 lb Potatoes
$1.67
1 lb Local Cheese
$6.08
1 lb Bananas
$.63
1 Head of Lettuce
$2.08
1 lb Tomatoes
$1.60
1 lb Oranges
$2.62
1 Bottle of Coca Cola (11 fl. oz)
$1.67
1 Bottle Domestic Beer (.5 liter)
$3.17
1 Bottle Mid-Range Wine
$12.00
When eating out, prepare to pay $7- 8 for a fast food meal or $12 for lunch at a decent restaurant. Greenville boasts of several fantastic steakhouses. Expect to shell out $250 or more for dinner and drinks for 2.
Transportation Costs in Greenville, South Carolina
With a cost index of 76.2, transportation costs in Greenville are considerably lower than both the national and state averages. Greenville offers various public transportation options, from city buses to downtown trolleys to taxis and fun bike rentals. When driving your own car, traffic is manageable but, as you would expect, gets gnarly during rush hour.
Greenlink, the city's transit system, under contract with the Greenville Transit Authority, manages the buses and trolleys. To give you an idea of public transportation costs in Greenville, check out the chart below.
Cost of Transportation in Greenville, South Carolina

Transportation Type
Price
City Bus (1-day pass)
$5.00
Trolley (1-day pass)
$5.00
City Bus (7-day unlimited rides pass)
$6.25
Trolley (7-day unlimited rides pass)
$6.25
City Bus (31-day unlimited rides pass)
$50.00
Trolley (31-day unlimited rides pass)
$50.00
Taxi (meter drop)
$3.50
Taxi (1 mile)
$2.00
Taxi (minimum fare)
$7.50
Bike Rental (one day use)
$15-30
Annual Car Insurance Costs in Greenville, South Carolina
Car insurance premiums are not cheap in Greenville; hence the same holds true for the entire state of South Carolina. You're looking at spending close to the state average for car insurance in Greenville. The average annual rate for full coverage is $1,512, while minimum coverage is $558 per year.
Drivers in South Carolina must pay personal injury protection, and some drivers can legally drive uninsured if they pay a fee to the state. Thus, all insured drivers end up sharing the increasing cost of insurance.
It is possible to forego owning a vehicle in Greenville and taking advantage of cheap public transport. But unless you work and live downtown, it may not be the best choice for you. Biking is a good option that the Greenville local government understands and is improving infrastructure for bikers in the county.
Education Costs in Greenville, South Carolina
There are 59 public schools and 38 private pre-elementary, elementary and high schools in Greenville. The average tuition for a private high school is $8,620, lower than the US average of $11,173. Christ Church Episcopal School is the most expensive high school in Greenville, with a tuition fee of $21,130.
The average tuition for a community college is $6,284 per year for in-state and $10,399 for out-of-state students. One of the largest 2-year technical colleges in the state is Greenville Technical College, with an acceptance rate of 100%. The most expensive university is Furman University Greenville, with an average in-state tuition fee of $50,464.
There are 89 daycare centers in Greenville, with an average monthly cost of $1,087.50 per child. The cost of child care in Greenville can often rival the cost of tuition at a prestigious private high school.
Entertainment Costs in Greenville, South Carolina
Greenville may seem like your typical slow southern city, but nothing could be further from the truth. The city boasts a 17,000-seat arena, a 340,000 square-foot convention center, and nationally recognized museums. It may be quieter than neighboring historic, touristy Charleston, but this city surprises everyone with its own brand of charm.
One of the biggest festivals in Greenville happens in mid-September, dubbed the "Euphoria Food, Wine & Music Festival." Greenvillians of all shapes, ages, and sizes come out of hiding and look forward to this event every summer. "Fall for Greenville" comes in at a close second and features the best in local music, food, and crafts.
There aren't many entertainment options in Greenville, but the ones they have are definitely worth experiencing. Here are the top attractions to check out if and when you find yourself in Greenville, South Carolina.
Popular Greenville Attractions & How Much They Cost

Attraction
Price
Falls Park on the Reedy
Free
GHS Swamp Rabbit Trail
Free
The Peace Center
Free
Liberty Bridge
Free
Paris Mountain State Park
$6.00 (per person)
The Children's Museum of the Upstate
$10 (adult) $9 (15 and below)
Runway Park at GMU
Free
---
Related Questions
What is the climate in Greenville?
One thing Greenville has going for it is its climate does not fall in the extremes.  The average summer temperature is a high of 89° F, with a winter low of 34°F.  The hot season lasts from mid-May to September, while the coldest days of the year fall in mid-January.
Is Greenville, SC safe?
Greenville is not the safest place in South Carolina, but it is not the most crime-ridden either. The city reports a violent crime rate of 5.3 per 1,000 residents.  While it is pretty safe to be alone during the day, those chances fall 50% when walking alone at night.
How is health care in Greenville?
Unfortunately, South Carolina is the eighth-worst state in a new national ranking for health care.  Aside from high out-of-pocket spending, the state ranked 42nd for life expectancy and 40th for maternal mortality rate. However, the Greenville Health System and the Bon Secours St. Francis offer high-level cancer care and level one trauma centers.
Do You Need to Hire Movers?
Get free, zero-commitment quotes from pro contractors near you.
Summing It Up
If you find yourself a bona fide resident of Greenville, South Carolina, you have found yourself at a good place. Greenville can be a true oasis with the ease of small city living coupled with the modern comforts of life. For over half a million people who call Greenville "home," it is paradise on a piece of American earth.
Related Articles

Stacy Randall
Stacy Randall is a wife, mother, and freelance writer from NOLA that has always had a love for DIY projects, home organization, and making spaces beautiful. Together with her husband, she has been spending the last several years lovingly renovating her grandparent's former home, making it their own and learning a lot about life along the way.
More by Stacy Randall
Published February 25th, 2021 1:02 PM