172 Views
Can You Put Siding Over Asbestos Siding? (Find Out Now!)
December 2nd, 2021 3:02 PM
Share
We're committed to finding, researching, and recommending the best products. We earn commissions from purchases you make using links in our articles. Learn more here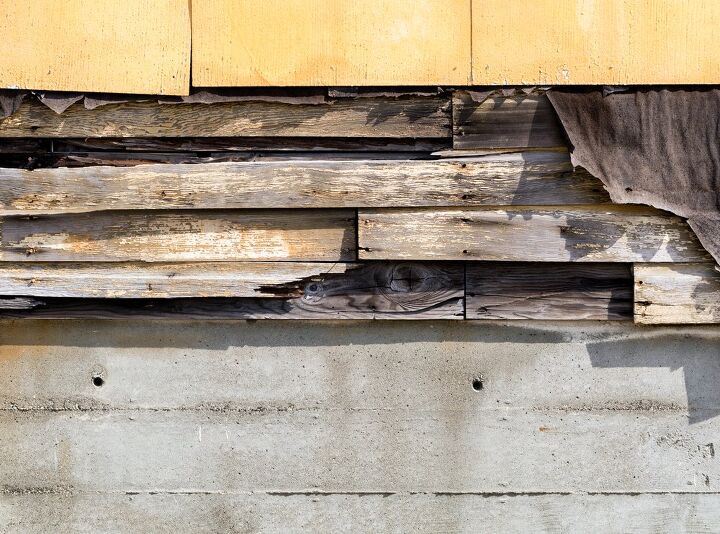 Asbestos is the great boogeyman of building materials. Once seen in almost every home as a siding material, it's now regarded as "blue death." Builders do not want to touch it unless they absolutely have to, and rightfully so. It's cancer-causing. But, when you have asbestos siding, it feels like you need to work with it. Can you place siding over asbestos?
Regular siding can be safely placed over asbestos siding, but it needs to be done carefully. Due to the dangers that asbestos poses, it's best to screw the siding into the asbestos rather than hammer it in. Professional installation is recommended.
Any time you hear the word "asbestos" should be a moment that you hit the pause button. Here's what you should know about putting siding over siding.
Do You Need Siding Installation or Repair?
Get free, zero-commitment quotes from pro contractors near you.
Can Siding Go Over Asbestos Siding?
Siding can, indeed, go over asbestos siding. However, there are a couple of catches that you are going to be aware of. Your siding can go right over asbestos if (and only if) your asbestos siding is not damaged, leaking, or cracked. If it is, then you will need to get rid of it.
How Do You Get Rid Of Asbestos Siding?
If you notice damage on your asbestos siding, then you won't be able to put any type of siding over it. We strongly suggest professional removal here. (Heck, it may even be mandated by your local laws in some places.) Inhaling this can kill you, so always use a breathing apparatus like PPE to avoid inhalation.
There are really only two things we can advise you to do here. First, do not break apart the asbestos. This lets loose fibers that could be inhaled. Second, if asbestos is exposed out in the open and damaged, wet it. Do not let it dry as this could lead fibers to end up in the air around your home.
What Kinds Of Siding Can Go Over Asbestos?
There are several types of siding that can go over asbestos. Stucco is a popular option in areas like California, and it can help decrease the risk of asbestos poisoning long-term. However, most people will use vinyl or aluminum siding as a potential install over asbestos.
Wood siding is generally not advisable as an asbestos cover. Anything that would involve an extremely high number of holes is not a good move. When in doubt, ask a siding expert or an installer who has experience with putting siding over asbestos.
Is It Legal To Put Siding Over Asbestos?
While it is always possible to put siding over unharmed asbestos, it's important to realize that it's not always legal. Here's what you need to know:
A growing number of cities are beginning to mandate the removal of asbestos siding. This may mean that putting siding over existing asbestos is barred in your building code. In most jurisdictions where this is the case, asbestos siding is expected to be removed when you want to install new siding of ANY type. Check your local building codes to see what the scoop is near you.
If it is legal, make sure that you choose the right siding installers for it. Due to the nature of asbestos concrete, we at Upgraded Home suggest that you hire professionals to lay siding over it. The risk of having an accidental inhalation might be low, but it's still a risk that can lead to serious health problems. Unless you know how to mitigate asbestos risk and are certified in it, do not try it.
Make sure that all asbestos is properly removed and disposed of. Asbestos has very strict disposal methods that are generally codified in local laws. All asbestos will eventually find itself in a dump. However, transporting it can be tricky. Check with your local building ordinances to see if you need professional waste disposal.
Is Putting Siding Over Asbestos A Good Idea?
Honestly, the jury is still out about it. Asbestos does offer a high degree of insulation. It doesn't rot and won't mold up, no matter how much time has passed. People who are looking for long-term durability will want to keep it for a while. However, it's still an incredibly dangerous material.
Even though it's mixed with concrete, it's still asbestos. It still is a major cancer-causing material that can be lethal when inhaled. So, it really depends on what you're looking for. If you notice a single chip or flake in your asbestos, it's time to say sayonara to this material.
Do You Need Siding Installation or Repair?
Get free, zero-commitment quotes from pro contractors near you.
---
Related Questions
How can I tell if I have asbestos siding?
In some jurisdictions, sellers are legally required to tell buyers if their home has asbestos siding. However, there's a better way to know than that. The best way to find out if your siding is asbestos is to have it tested. If it comes back positive for any level of asbestos, chances are that you have asbestos siding on your house.
Will a bank finance a home that has asbestos siding?
Unlike other potentially hazardous situations, this depends. In some cases, banks will fund homes that have asbestos sidings. However, this requires that the home be inspected for asbestos damage. Many banks that have higher standards for homes sold will automatically bar the sale of homes that have asbestos siding.Since this goes against many areas' building codes, you may have to shop around for a lender who will allow you to borrow a home that has asbestos siding. Such is the risk that comes with not removing this siding from your house. It's a hard sell.
How does asbestos siding affect home resale value?
Asbestos siding is one of those things that is both extremely dangerous to have and extremely expensive to remove. It's super stigmatized, which means that most buyers will not want a house with asbestos siding if they can avoid it. As a result of the stigma, most homes with asbestos siding will see a decrease in their home value compared to comparable houses in their area.

Ossiana Tepfenhart
Ossiana Tepfenhart is an expert writer, focusing on interior design and general home tips. Writing is her life, and it's what she does best. Her interests include art and real estate investments.
More by Ossiana Tepfenhart
Published November 13th, 2021 3:42 PM