61 Views
Can You Put Siding Over Brick? (Find Out Now!)
March 4th, 2022 2:34 AM
Share
We're committed to finding, researching, and recommending the best products. We earn commissions from purchases you make using links in our articles. Learn more here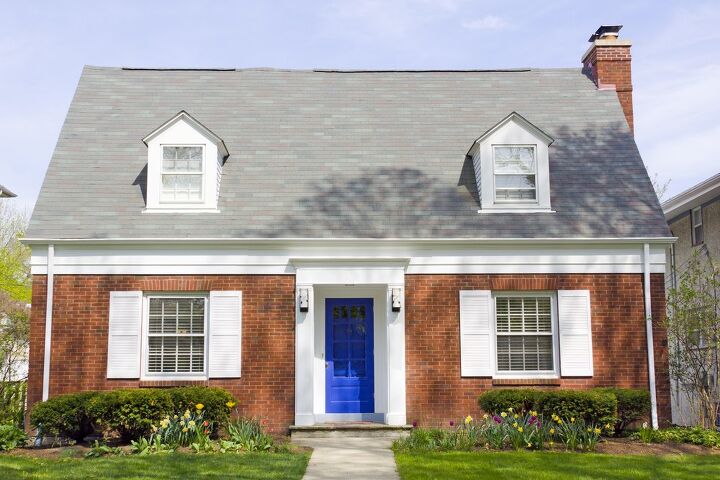 Home enthusiasts (and self-proclaimed designers) alike are constantly looking for new ways to spruce up both the interiors and exteriors of their homes. If your house is suffering from old, worn-looking brick, can you put siding over the top to give it a refresh?
You can put siding over brick, although it's recommended to use sheathing to level the surface beneath first. The entire process takes anywhere from 15-30 days and costs an average of $18 per square foot. Vinyl siding is the best all-around option due to its versatility, quick installation, and low cost.
Painting your siding is also an easy feat, given that you have the right materials and a qualified painter.
Follow along to learn if it's possible to put siding over brick and how to do so. Additionally, we'll cover the best type of siding to apply on top!
Do You Need Vinyl Siding Installation or Replacement?
Get free, zero-commitment quotes from pro contractors near you.
Is It Possible to Put Siding Over Brick?
Anything's possible, but does that mean you should do it?
While you can put siding directly over brick, it isn't recommended by those who know what they're talking about. Contractors typically suggest removing the brick layer first because it does not provide the flat surface required to apply siding.
However, if you insist on doing so, they can place sheathing (usually made of oriented strand board or plywood) over top of the brick first. This will create a secure, water-tight layer that siding can easily be implemented over top of!
Cons to Putting Siding Over Brick
Even though you can put siding over brick, here are some of the drawbacks to doing so.
If you don't use a sheathing material and the siding is installed incorrectly, you risk trapping moisture, dirt, and mold underneath the siding. This will ruin the work altogether.
Some other possible cons include:
Uncertain resilience due to flimsy siding material or improper application
Room for installation errors if the contractor is unskilled
Costliness- for example, wood siding can be pricey and require more expensive homeowners insurance.
Time-consuming- for heavier siding material (like fiber cement), more workers may be required, or the job could take longer than expected.
How to Put Siding Over Brick
If you choose to move forward with this process, let's talk about the best way to do it.
Steps for putting siding over brick:
Have your brick professionally cleaned- a solution of equal parts vinegar and water works wonders. A clean surface will be more receptive to adhering to other materials and less likely to be a catalyst for mold.
Map out the application process- this will require your contractor to make several markings on your home.
Install furring strips- these will prevent moisture from entering and create a surface for the sheathing to attach to. Additionally, they make space for insulation.
Apply sheathing material- this is the level layer that the siding will attach to.
Attach the siding- this step is done with a hammer and nails, a stapler gun, or self-tapping nails.
Perform a final cleaning- if you opted for white or a light-colored siding, it could get dirty during the application process. Have a power washing company come out right after everything is installed to make your home shine! Just make sure they use a lower-pressure setting.
Following this guide will ensure that the siding is installed correctly over your brick home and limit the opportunity for error.
The Cost & Timeline of Putting Siding Over Brick
Is putting siding over brick a time-consuming and expensive procedure?
It costs an average of $18 per square foot of siding application. The installation can take anywhere from 15 days to a month, depending on the size of your house and what the process involves.
For example, it may take longer to remove brick (if that's the route you choose) vs. applying a sheathing material. Additionally, where you live will have an impact on pricing relative to the costs in your area.
Another factor is the type of siding you select. Here are the most common materials and the cost associated with each:
Fiber cement ~$11.50 per square foot
Aluminum ~$4.50 per square foot
Steel ~$6 per square foot
Copper ~$27.50 per square foot
Stone veneer ~$8 per square foot
Cedar shake ~$9 per square foot
Engineered wood ~$7 per square foot
Natural wood ~$9 per square foot
Vinyl ~$5 per square foot
There are so many different looks and options to suit just about anyone's taste!
The Best Type of Siding to Put Over Brick
Now that we've covered all the different types, which is the best for putting over brick?
This depends heavily on what you're looking for, but we'll rank each based on category:
Most affordable: Aluminum siding
Most durable: Fiber cement siding
Quickest and easiest installation: Vinyl siding
Most low maintenance: Steel siding
Most eco-friendly: Natural wood siding
Best statement look: Copper siding
If we had to pick the best overall, Vinyl siding definitely tops the charts. It's affordable, easy to install, versatile, and tough against the elements.
Additionally, it sits nicely over the top of bricks, making it the perfect choice for a remodel!
---
Related Questions
Can you put siding over stucco?
Yes, you can! The application process is similar to that of putting siding over brick.It's important to prep the stucco, apply furring strips, sheathing, then the siding of your choice. However, your best option is to remove the stucco first.This will eliminate room for error and moisture getting trapped beneath the surface. Pay attention to weather conditions, as rain can severely impact your contractor's progress.
Can you put siding over stone?
Stone is known for its character and overlapping patterns, making it a notoriously uneven surface to apply siding to.You're better off removing the stone first, as it offers even less stability than brick. Otherwise, you run the risk of improper application and more problems down the line.
Is siding paintable?
If you don't like the color of your siding, can you paint over it?Almost all siding is 100% paintable. However, it's important to note that thicker vinyl siding will require more paint than something standard.Most surfaces will need to be primed first before you apply the paint. We recommend high-quality paint that will withstand chipping and won't need much maintenance.Going with a color that is different but close to the original siding color can help with this!
Do You Need Vinyl Siding Installation or Replacement?
Get free, zero-commitment quotes from pro contractors near you.
The Bottom Line
Siding is a great way to give your home or office building a new look. Furthermore, with the right process, it can even be installed over brick.
There are many different types of siding, but one of the most popular choices is vinyl. Vinyl is strong, easy to install, and can be painted if you wish to change the look.
When it comes to installation, there are several things you'll need to take into consideration, such as the condition of the underlying surface to ensure that you get the best results with your new siding.
The cost & timeline for putting siding over brick may vary depending on factors such as the size of your house and what processes are involved (i.e., removing bricks vs. applying sheathing).
To find out more about how much it will cost in relation to where you live, contact a local roofing contractor!

Emily Carr
Emily is a copywriter with over five years of experience in crafting content for the home renovation and remodeling industry. She loves house projects, whether it be painting a room or tweaking small design elements to transform a space. Her favorite aesthetic is french modern because of its clean lines and airy feeling! When not writing, Emily loves to travel and check out architectural details all over the world.
More by Emily Carr
Published December 13th, 2021 7:56 PM