395 Views
Can You Change the Color of Ceramic Tile? (Here's How To Do It)
February 8th, 2022 4:59 PM
Share
We're committed to finding, researching, and recommending the best products. We earn commissions from purchases you make using links in our articles. Learn more here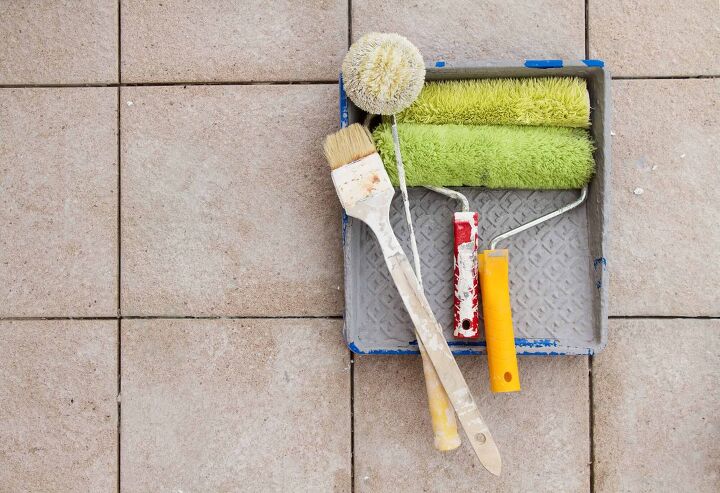 Let's imagine a scenario where you just bought a new home and beyond exciting to start making it your own. You put in new countertops, add in some vinyl flooring, and put in beautiful blue ceramic tiles in the bathroom.
The short answer is yes, you can change the color of your ceramic tile. To do so, begin by buying ceramic-friendly paint. Next, you will need to clean, sand, and prime the tiles before painting. You can also replace your tiles entirely but choosing to repaint them can save you upwards $1,000.
There are a variety of different options, including stain and paint. This can save you time and money from having to remove and reinstall tiles. Today we're going to talk about how to unleash your inner artist and create a new look.
Do You Need to Hire Tile Installers?
Get free, zero-commitment quotes from pro contractors near you.
What to Consider Ahead of Time
You can use paint or coatings, but many people get confused over if tiles should be painted, refinished, or reglazed. There are plenty of major differences between these treatments. If the tile is in your kitchen or bathroom, you'll want something that can handle plenty of water exposure.
Any ceramic tile that will be exposed to excess moisture needs to be refinished. Adding a topcoat on newly painted tiles is a must. If the tile is on the floor, adding on a surface sealant that can handle a lot of foot traffic may also be a good idea.
What You'll Need
If you're looking at painting the ceramic, there are several things you'll need. Some of these items you'll already have, while all are available at stores like Walmart, Lowe's, or Home Depot.
Bucket
Detergent or cleaner
Vacuum cleaner
Power sander
Sandpaper (180- or 220-grit)
Denatured alcohol
Painter's tape
Primer
Paint
Paintbrushes and low-nap roller
Polyurethane
How to Paint Ceramic Tiles
The general project of painting ceramic tiles isn't too much work. It takes around six steps and can quickly be done in an afternoon. The most tedious part is having to do each step to every tile.
The more tiles you have, the longer the job is going to take. If you have a large surface you're painting, consider inviting some friends and family over to help.
Step 1 – Cleaning the Tiles
The first thing you'll want to do is clean the tiles. Removing any dirt, debris, or grease is essential. You can use a handful of things to get this job done, including any household cleanser.
I prefer using hot water, soap, and a little bit of vinegar. Using a sponge or washcloth, simply wipe down all the tiles until they're noticeably clean. Scrub in a circular motion to ensure getting the most gunk off as possible.
Step 2 – Sanding the Tiles
After the tiles are all good and clean, it's time to sand. You can use a palm or orbital sander with 180 to 200-grit sandpaper. Your goal here is to remove as much of the glaze as possible.
Getting the tile's surface to have a little shine as you can is key to bonding the primer and paint. There will be a lot of sanding dust during this step that can easily be cleaned up with a vacuum hose.
After the surfaces are free from shiny glaze, wipe them down with denatured alcohol. This helps prep the tile for the next step.
Step 3 – Tape Off Grout Lines
The third step is to tape off any grout lines around the tile. If you want to paint them as well, you can skip to the next step. Some grout lines are incredibly thin, making them hard to tape off.
Instead of getting painters tape from a hardware store, pick up pinstripe tape at an automotive store. It's essentially a thin masking tape that is perfect for taping off grout lines. This saves you time from hassling with painters tape that's way too thick.
Step 4 – Prime the Tiles
To prime these tiles, you'll need a primer that's made specifically for ceramic surfaces. Brush the primer onto the tile, starting at the corner. Then roll it onto the rest of the surface with a low-nap roller.
It's essential to move the roller in every direction to make sure it sinks it. This also reduces the roller marks that could appear after priming. Sometimes primers have a hefty chemical smell, so consider doing this with windows open and fans on.
Step 5 – Painting Time!
Finally, it's the time you've been waiting for. After the primer has completely dried, the tiles will be ready to paint. You'll want to use the same rolling technique you used with the primer when painting.
It's best to use oil-based or latex paint, as long as it has urethane resin. If you're in a pinch, you can also use epoxy paint on ceramic tiles. If you want more saturation after the first coat is dried, apply a second coat of paint.
Step 6 – Apply Finish
You read a bit about how it's important to seal the paint on tiles to ensure they can handle the environment. Before adding a finish, allow the paint to cure for two full days. At this point, take a soft cloth and wipe off any dust or dirt that accumulated.
Then take a clear polyurethane coat to the tile surface. The clear coat packaging should mention how many layers to add for optimum protection. Follow that and allow it to dry completely.
Painting vs. Replacing Cost
If you're considering painting ceramic tiles, you've likely thought about replacing them as well. Ceramic flooring costs between $7 and $14 to install per square foot. A medium-sized bathroom can be $563 to finish.
If you're looking at installing ceramic flooring to your kitchen, that'll be $1,610 to $2,415. As you can already guess, installing and replacing ceramic tiles is way more expensive than repainting.
Here's what you can expect to pay for supplies to paint ceramic tiles. This doesn't include things like a sander of vacuum, as most homeowners have these already. These are average prices and can vary depending on things like location and product brand.
| | | | |
| --- | --- | --- | --- |
| Product | Lowe's | Home Depot | Walmart |
| Primer | $20 | $20 | $10 |
| Oil-based paint | $9 | $18 | $22 |
| Denatured alcohol | $14 | $8 | $18 |
| Polyurethane | $12 | $15 | $20 |
| Total | $55 | $61 | $70 |
You can grab a sander at most stores for less than $20. Painters tape and pinstripers tape shouldn't cost you over $5 per roll. On top of all that, things like sandpaper and a low-nap roller should all be under $10 as well.
As you can tell, it is much more cost-efficient to paint the tiles yourself. This can save you over $1,000 depending on the size of the room you're tiling. I don't know about you, but that sounds much better to me.
Do You Need to Hire Tile Installers?
Get free, zero-commitment quotes from pro contractors near you.
Related Questions
Can you use bleach on ceramic tiles?
If you're cleaning ceramic tiles, you can safely use bleach. Mix ¾ cup of bleach with one gallon of water to get the job done. Bleach should not be used on marble or any other porous surface.
Can you stain ceramic tile?
Because a piece of ceramic tile isn't porous, the stain must be painted onto the surface. If you want to stain tile that already has glaze, you'll have to remove it first. This can be done with a lot of patience and sandpaper.
Which is better porcelain tile or ceramic tile?
While the final decision is up to you, porcelain is much better than ceramic. It does cost more, but it is less porous and more impervious to moisture. This makes it a durable and longer-lasting option when compared to ceramic.

Kirstin Harrington
Kirstin is a passionate writer who loves helping people learn new things when it comes to home improvement. When she's not behind a keyboard, she enjoys DIY projects, crafts, spending time with her pets, and making videos. She hopes that with all she writes, someone is finding a solution to their home improvement needs.
More by Kirstin Harrington
Published September 11th, 2020 10:29 AM