93 Views
What Are The 12 Best Small Towns In North Dakota?
October 16th, 2021 12:48 PM
Share
We're committed to finding, researching, and recommending the best products. We earn commissions from purchases you make using links in our articles. Learn more here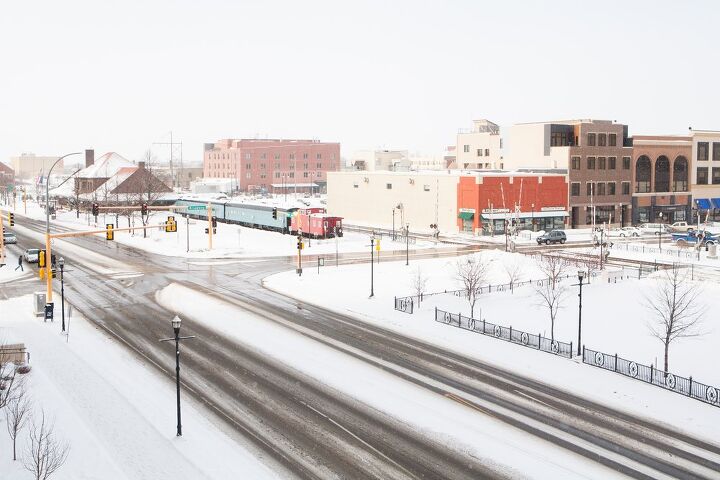 Teddy Roosevelt was so fond of North Dakota that he bought a ranch in the state and eventually turned it into a national park. While North Dakota is one of the least visited states in the U.S., it is much more than rural land, lakes, and wild buffalo. Today, North Dakota boasts 63 national wildlife refuges and 13 state parks for visitors and residents to enjoy. Not to mention, it has some of the most underrated and charming small towns.
In addition to highly walkable streets, in North Dakota you'll find a food scene that transitions from hot dish to international fare and even fine dining. The state also offers a thriving brewing community and a diverse music scene. Whether you're planning to visit or settle down in one of North Dakota to enjoy the small-town scene, you've come to the right place.
Here's our list of the 12 best small towns in North Dakota, in terms of the most highly-rated experiences and best amenities:
Jud
Gackle
Medora
Walhalla
Valley City
New Salem
Jamestown
Bottineau
Garrison
Devils Lake
Lisbon
Hillsboro
Do You Need to Hire Movers?
Get free, zero-commitment quotes from pro contractors near you.
12 Best Small Towns in North Dakota
Made famous by the breathtaking Roosevelt National Park and the movie Fargo by the Cohen Brothers, North Dakota is big on scenic views and blue skies. The state is full of picturesque and fascinating small towns waiting to be discovered, including the following:
1. Jud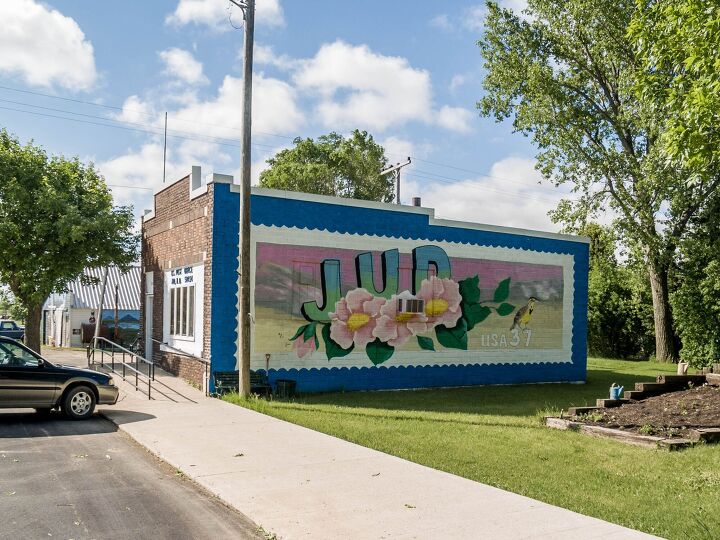 Home to only 69 people, Jud is a teeny tiny town is also known as The City of Murals. It earned this nickname because it has a mural on virtually every building in the entire town. The town sought to be different and add character the boring walls of their buildings, to which they certainly succeeded. Homes, garages, convenience stores, and even the local bar feature beautifully painted scenes.
Jud offers something to look at around every corner and even has one of the oldest standing stores in North Dakota. Thanks to its uniquely lovely works of art and rich history, Jud stands out as one of the most eclectic small towns in the state and should not be missed!
2. Gackle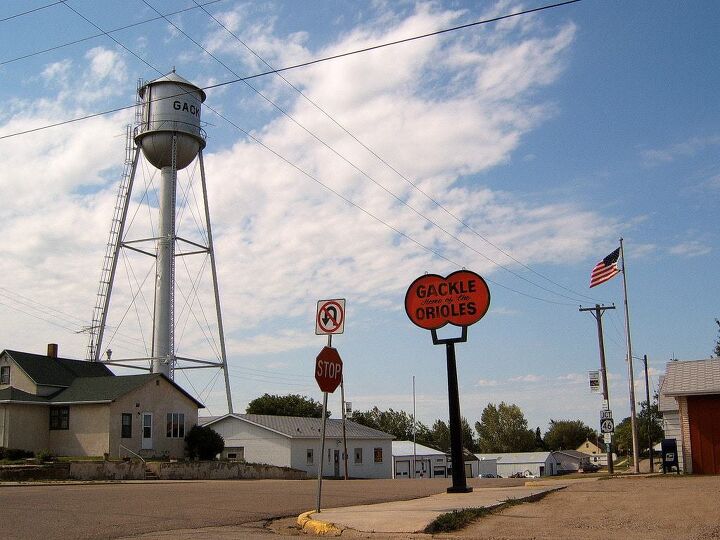 Named after George Gackle, a farmer who founded Gackle back in the early twentieth century, this town is home to roughly 300 residents. It's located in the southern part of North Dakota on a gorgeous prairie and is known by some to be the Duck Hunting Capital of the World.
The town offers friendly locals who love sharing their town history with those who visit. If hunting isn't for you, you'll enjoy fishing and boating in Gackle. Be sure to check out one of the many lakes in the area, with Marvin Miller, Hehn-Schaffer, and Arnies being among the most popular.
3. Medora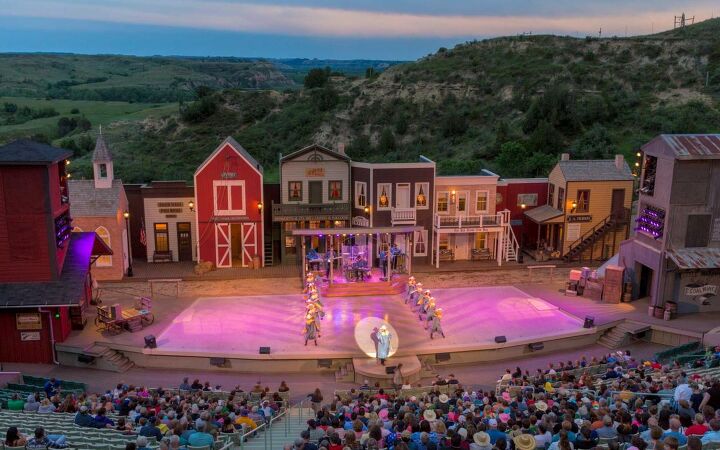 Situated completely inside of Theodore Roosevelt National Park, Medora is home to about 150 residents and considered the top tourist destination in North Dakota. The town offers limitless opportunities for adventure, including taking a stroll through the downtown area to visit the Chateau de Mores, a historical site that used to be the summer home of the town's founder.
Visit Pitchfork Steak Fondue in Medora for a unique dining experience that involves western-style steaks cooked atop the scenic Tajaden Terrace bluff. The Burning Hills Amphitheater overlooks the Little Missouri River Valley and is famous for the annual Medora Musical. With the national parks positioned on all sides, you'll be blown away by the beauty that Medora has to offer.
4. Walhalla
Located just a stone's throw away from the Canadian border, the town of Walhalla is the second oldest community in North Dakota. It was founded in 1845 during the area's burgeoning fur trade of the late 19th century. For history buffs, Walhalla is a real gem – the Kittson Trading Post, constructed in 1843, is the oldest building in the state. Meanwhile, the Gingras Trading Post State Historic Side features North Dakota's oldest standing Euro-American buildings, constructed in the 1940s by Antoine Blanc Gingras.
On the west side of town, the stunning Pembina Gorge State Recreation Area offers miles of trails that can be traversed via bike, horseback, or on foot. The community spirit of Walhalla is evident in the numerous events held year-round in the town, including the annual Giant Pumpkin Festival.
5. Valley City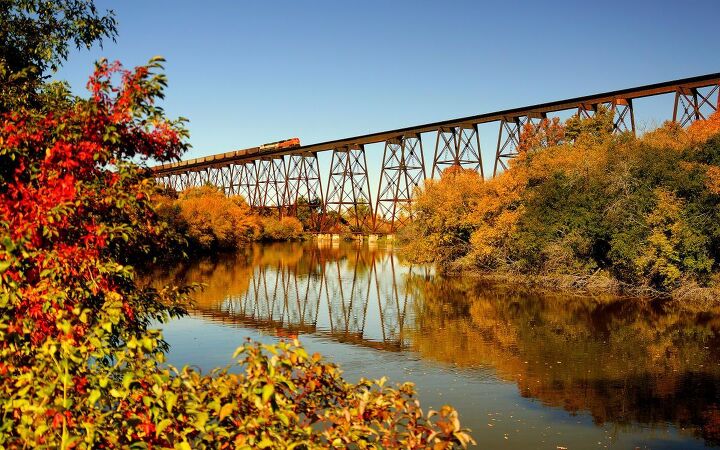 Also known as the City of Bridges, Valley City has 11 historical bridges and is located on the Sheyenne River. The Valley City State University footbridge and the Highline Bridge are among the most famous bridges in the town, the latter being one of the highest rail bridges in the country. For views, head across town to Medicine Wheel Park, home to Native American sacred burial grounds and two solar calendars.
To enjoy a scenic drive in Valley City and the surrounding areas, you can drive down the Sheyenne River Valley National Scenic Byway. It stretches 63 miles from Baldhill Dam to Lisbon and is one of the best places to see fall colors in the region.
6. New Salem
New Salem is a charming town that was founded in 1882 and has one of the higher populations on our list. Home to just under 1000 residents, this quiet Morton County town is most known for its massive 38-foot fiberglass Holstein cow statue – named Salem Sue. The statue is a popular roadside attraction but you can also stop by to try local dairy products made in town. New Salem also offers six local parks, a gorgeous old auditorium and tons of history!
7. Jamestown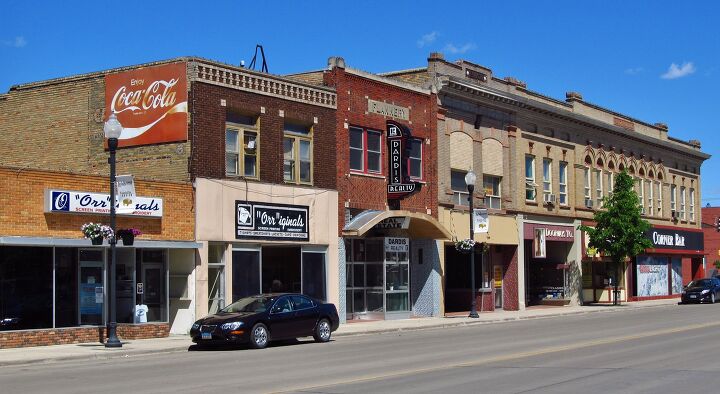 Another larger community on this list, Jamestown is home to about 16,000 residents but still has the heart of a small town. It was founded in 1872 and is considered the historic midpoint between Bismarck and Fargo, earning the nickname the "Pride of the Prairie."
Visitors can enjoy a recreation of the prairie life at Jamestown's Frontier Village, or check out the world's only albino bison and the 26-foot-tall Dakota Thunder (North Dakota's monument to buffalo) at the National Buffalo Museum.
8. Bottineau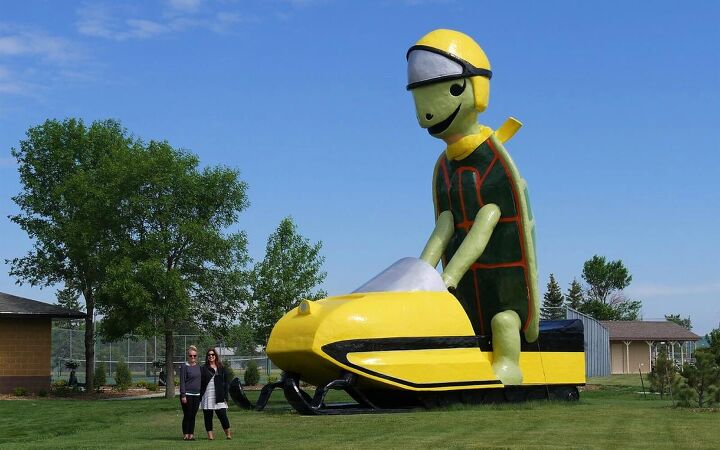 Also known as the "Four Seasons Playground," the town of Bottineau is full of blue skies, sloping hills, and nature abound. Tucked in between two federal wildlife refuges, Bottineau specializes in outdoor activities suitable for all four seasons – hence the nickname.
The town is also the final stop before you reach the Turtle Mountains, which are known to be an adrenaline junkie's paradise. Before you head to the mountains, stop in Bottineau to grab a photo with their 26-foot-tall town mascot – Tommy the Turtle.
9. Garrison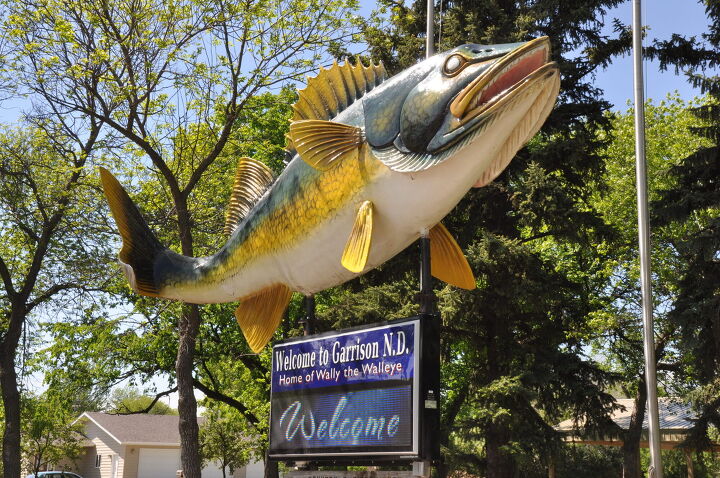 Located on the edge of Lake Sakakawea, one of the largest man-made lakes in the country, Garrison is loved by history buffs and anglers alike. It is nicknamed the "Walleye Capital of the World," as avid fishermen and women flock to the area for catching record-breaking walleye, smallmouth bass, and pike.
Aside from fishing, Garrison features the Heritage Park and Museum – an open-air museum that showcases early 20th-century life in the town. Not to mention, the Dickens Village Festival happens annually, which transforms Garrison into a Victorian village with horse-drawn carriages, fancy dress, and parades!
10. Devils Lake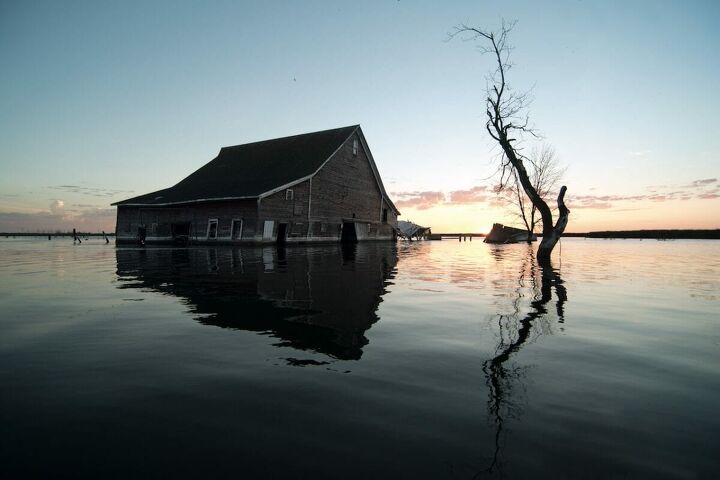 Like Garrison, Devils Lake is also a haven for lovers of angling. It is situated along the northern edge of the lake of the same name, which, stretching 160,000 acres, is the biggest natural body of water in North Dakota. Devils Lake is commonly known as one of the best fishing lakes in the United States.
However, if fishing isn't really your thing, the town offers many opportunities to enjoy nature in other ways – from boating on the lake to heading to Graham Island for camping and bird-watching. For history buffs, the town is home to Lake Region Heritage Center where you can learn about the life and culture during the pioneering days.
11. Lisbon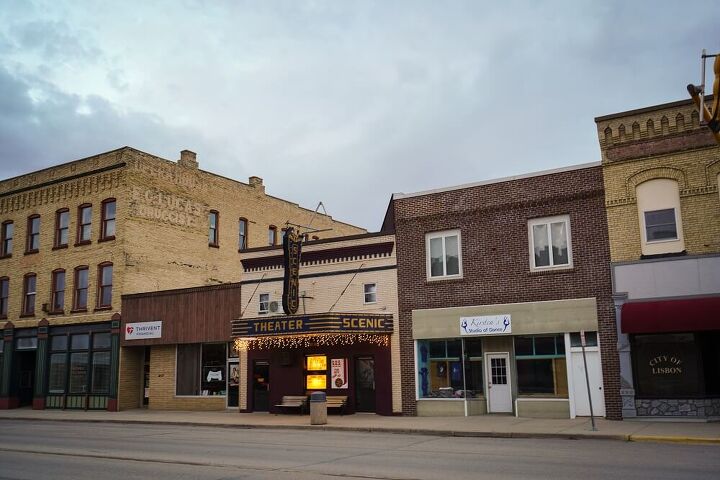 Founded in 1880 by Joseph Lynn Colton, Lisbon was a major hub for the Northern Pacific Railroad. Nowadays, this small town is still rich in history with its wonderful preserved homes and structures, including the stunning Lisbon Opera House. Lisbon also offers many community events and concerts throughout the year, making it an ideal place for families to visit. For nature lovers, the Sandager Park, which overlooks the Sheyenne River, is a summertime utopia for pools and campgrounds.
Do You Need to Hire Movers?
Get free, zero-commitment quotes from pro contractors near you.
12. Hillsboro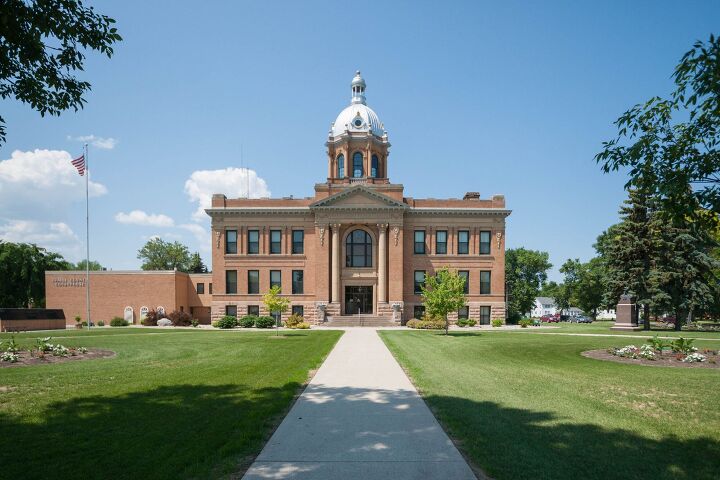 Positioned within driving distance of two of North Dakota's largest cities, Grand Forks and Fargo, Hillsboro is the quintessential small town. It was settled in the 1860s by European settlers and has a long history of hospitality. Local legend claims that when railroad baron James J. Hill came through the area, he had an unkempt appearance that saw him being snubbed at a hotel in the neighboring town of Caledonia. However, the early settlers of Hillsboro welcomed him with open arms.
Since he was so pleased with their hospitality, Hill ensured that his railroad – the Great North Railroad – ran through Hillsboro. This helped the small community of Hillsboro flourish. Nowadays, the town remains a friendly and welcoming community with scenic spots and many gorgeous historic buildings. With such an easy drive to Grand Forks or Fargo, many come for the weekend to enjoy a slower pace, excellent coffee, and good conversation in Hillsboro, North Dakota.
Related Articles

Jessica Stone
Jessica considers herself a home improvement and design enthusiast. She grew up surrounded by constant home improvement projects and owes most of what she knows to helping her dad renovate her childhood home. Being a Los Angeles resident, Jessica spends a lot of her time looking for her next DIY project and sharing her love for home design.
More by Jessica Stone
Published June 23rd, 2021 11:32 AM