41 Views
10 Best & Safest Places To Live In Nevada
December 20th, 2021 5:19 PM
Share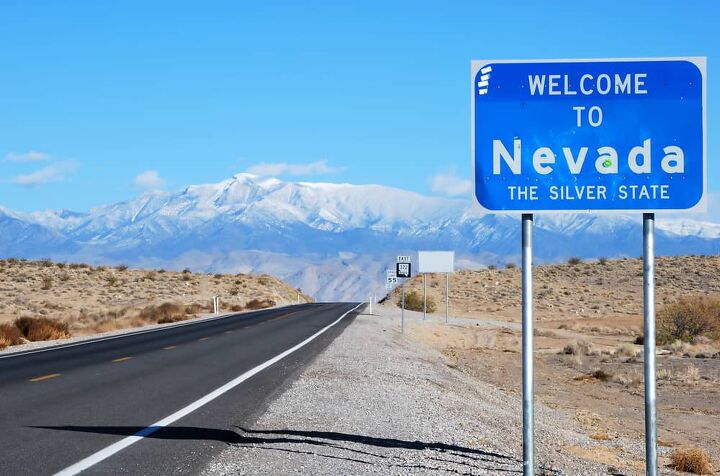 Nevada is known all over the world for being the gambling capital, specifically Las Vegas. But what many people don't know is that the desert state has many more things to offer other than that.
With the reasonable cost of living, endless job opportunities, having no state income tax, and ever-growing economy, The Sagebrush State is drawing more and more people to consider relocating here. After all, when it comes to livability, Nevada would not disappoint.
With vibrant, sunny all-year-round weather, coupled with affordable cost of living, the state of Nevada is a great place to call home. Opportunities for fun and entertainment are almost inescapable, but that's not the only thing the local government is focusing on as healthcare is also prioritized.
Do You Need to Hire Movers?
Get free, zero-commitment quotes from pro contractors near you.
Top 10 Best Places to Live in Nevada
| | |
| --- | --- |
| Rank | Location |
| 1 | Henderson |
| 2 | Boulder City |
| 3 | Summerlin |
| 4 | Mesquite |
| 5 | Laughlin |
| 6 | Gardnerville |
| 7 | Elko |
| 8 | Incline Village |
| 9 | Sparks |
| 10 | Enterprise |
If you're reading this article because you want to move to Nevada, then you better read until the end. Here's a list of 10 of the best places to live in Nevada. It also includes other important information you will surely find useful.
1. Henderson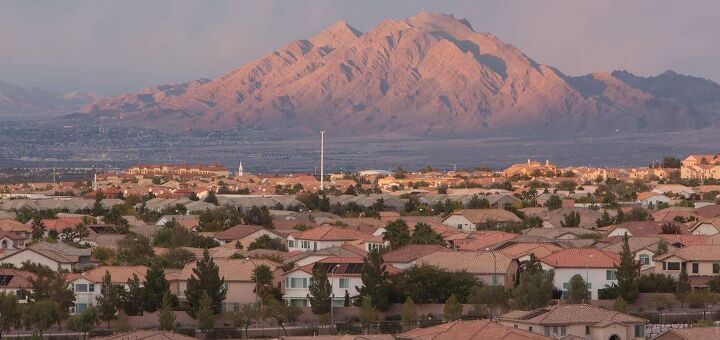 Population: 310,390
Median Home Cost: $351,883
Median Household Income: $72,884
Only a few minutes away from some of the most famous entertainment destinations in the world, Henderson is not only a great holiday destination but also a good place to live. From culture and shopping to both indoor and outdoor entertainments, Henderson is a convenient, safe, and great place to live located in the southern part of the state.
Henderson, the second-largest city in Nevada, is also one of the safest places to live in the state. With a violent crime rate of 1 in almost 600, you can walk at any time on any of the neighborhoods without a worry in mind.
On top of its overall safety, you will also appreciate the place's higher median household incomes and its proximity to Sin City. If you're someone who loves eating out and doing something fun after work, this area never runs out of something new for you.
Related Guide: The Safest Neighborhoods In Henderson, NV
2. Boulder City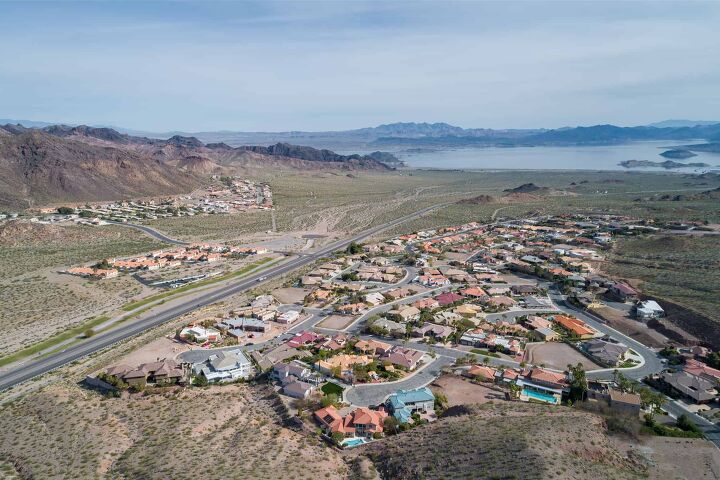 Population: 15,977
Median Home Cost: $334,509
Median Household Income: $81,339
Only about 30 minutes away from the Las Vegas Strip, Boulder City will not only give you good access to the world's gambling capital, but it will also give you a less crazy, yet exciting lifestyle.
Boulder city is a wholesome, family-friendly community, which a huge retirement sector, which boasts a high quality of living. This place is ideally located between the strip of casinos in Las Vegas and the country's biggest manmade lake, the Lake Mead National Recreation Areas.
But aside from the entertainment factor, more things attract people to move to Boulder City. This place offers a strong sense of safety, a higher-income rate, and a quite short average commute to some of the major points of interest.
Despite its proximity to the strips, it still far enough to give that wholesome family atmosphere. Finding a place to eat should not also be a problem, thanks to the endless restaurant selections in the area.
3. Summerlin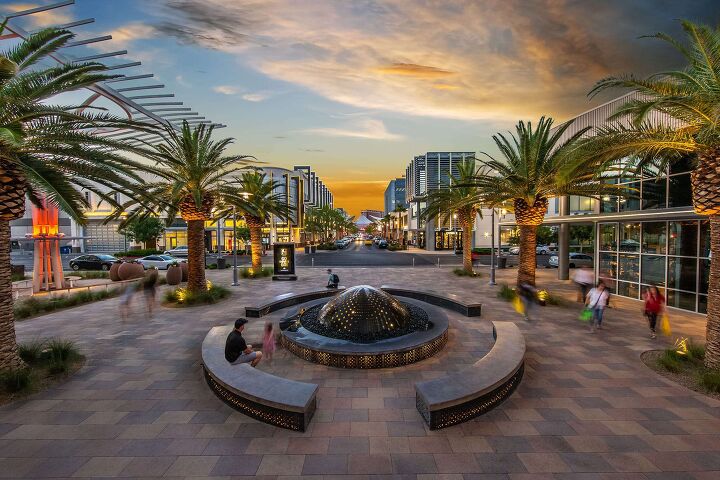 Population: 27,506
Median Home Cost: $458,456
Median Household Income: $81,339
The next on the list is the beautiful and peaceful area of Summerlin. This is a family-friendly city with a very convenient location – living here will provide you with everything you need, so you don't have to travel too far.
Another thing you will love about this place is the year-round pleasant weather and despite being in the desert, you'll find many plants and trees everywhere. There are several parks and many community centers that offer different types of classes for your kids to enjoy – from ballet and martial arts to dance and guitar lessons.
Many resources are also available nearby. You'll have an outdoor mall and shopping centers where you can also find restaurants when you want to eat out.
One of the first things you'll also notice here is how well-maintained the streets are and how easy they are to navigate. All in all, this is a great place to live, particularly if you are planning to raise a family.
4. Mesquite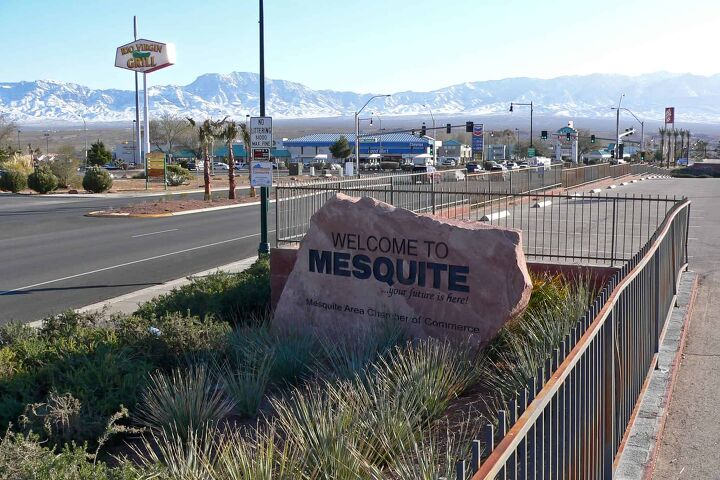 Population: 19,079
Median Home Cost: $294,522
Median Household Income: $50,597
What used to be a tiny pioneer town is now one of the fastest-growing tourism and retirement spots in Nevada. Mesquite is located about 80 miles northeast of Las Vegas and is the last stop before you set afoot on Arizona.
One of the best things about living in Mesquite is that you'll live close to several national parks and Lake Mead. And to make things even better, this place also gets incredibly low cases of violent crimes, and going to some of the places of interest requires a short drive.
This place is perfect for those who are looking to live in a more rural neighborhood but love the convenience of a small-sized city. Mesquite also endless recreational opportunities for everyone of any age.
If you have kids, they'll have the opportunity to go to some of the top-rated schools in the country. It's also a perfect place for retirees who want to live in a peaceful neighborhood but don't want to be too far from entertainment.
5. Laughlin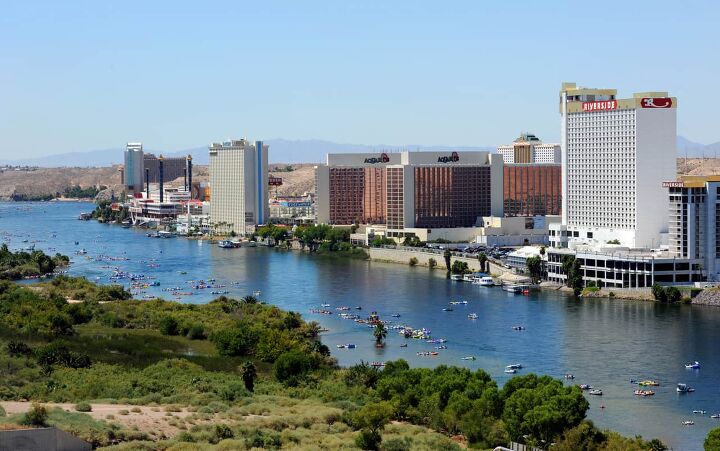 Population: 7,502
Median Home Cost: $180,664
Median Household Income: $33,851
With a prime location being right on the Colorado River and only 90 miles away from Las Vegas and Phoenix, Arizona, Laughlin is another highly in demand location in Nevada among homebuyers. With the beautiful wild desert and mountain backdrop scenery, more and more people choose to move here.
If you love the outdoors, then you'll be so happy living here. Laughlin is surrounded by nature, so it will give you that laid-back, friendly atmosphere you won't get in bigger towns surrounding the area.
This charming little town also offers whatever you might need from a bigger place. You'll have different options for dining, shopping, and attractions.
So, basically, Laughlin offers the best of both worlds. You will have the fun and excitement of great nightlife within close distance and also a close-knit community vibe that will give you peace of mind raising your family.
6. Gardnerville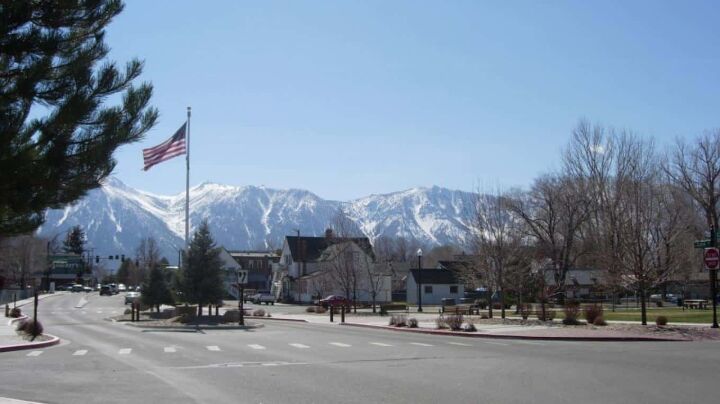 Population: 6,148
Median Home Cost: $426,927
Median Household Income: $50,700
The next location on the list is also perfect for those yearning for some small-town community lifestyle. Gardnerville has specious parks, swimming facilities, and even hot springs for the kids.
But of course, it doesn't mean that you will get away from the lively nightlife if you choose to live here. You can still enjoy casinos nearby, or if you prefer outdoors, Lake Tahoe is only 30 minutes away.
Douglas County School District, which is one of the top school districts in the state is also located here. If you're worried about the job market, don't! The town of Gardnerville is pretty quiet, and you'll hardly hear any crimes happening here. It's perfect for both families and retirees. The town is pretty quiet and rarely has any large crime stories. It is a great place for families and retirees alike.
7. Elko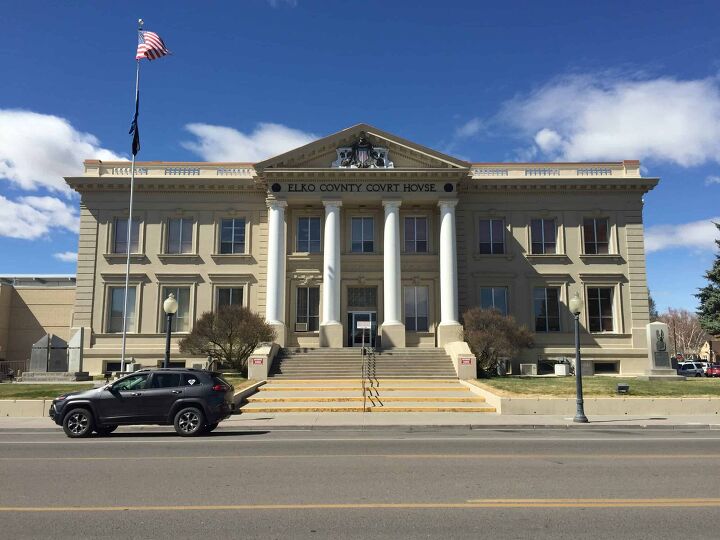 Population: 20,341
Median Home Cost: $264,468
Median Household Income: $75,652
Another place that made it to the list is Elko. This place is one of the most affluent communities in the state, with a median household income of more than $75,000.
Elko has a remarkably diverse economy, thanks to its booming tourism, mining, and education industry. Going east, you'll have the Ruby Mountains that offer a great location for snowmobiling for winter and hiking for warmer seasons.
The town also has a great selection of restaurants, so you will surely have something that will satisfy your cravings. Elko is absolutely a great place if you want to enjoy the convenience of having the amenities you can find in bigger cities.
Another thing that is great about this place is the low unemployment rate at only 5%. This means that you don't have to worry about finding a job when you move here due to the opportunities it offers.
On the other hand, the poverty rate is 14.4% with an affordable cost of living. Compared to the rest of the states, Elko also has some of the most affordable rental rates.
8. Incline Village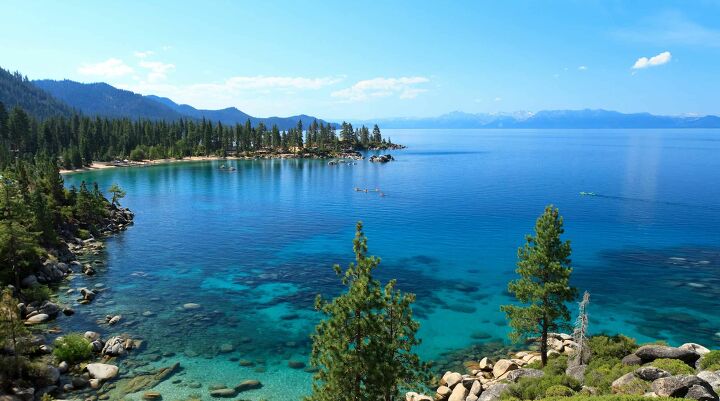 Population: 8,491
Median Home Cost: $930,597
Median Household Income: $93,507
If you are searching for a peaceful smaller place with a friendly community to relocate to, then you must check out Incline Village. This place is located near Lake Tahoe, which means you will have access to many activities the lake has to offer – skiing, swimming, hiking, and other fun outdoor activities, all within a 30-minute drive!
Aside from its natural beauty, another thing that makes Incline Village one of the best places to live in Nevada, particularly for families, is the high ranking of public schools. They get an A ranking for excellence, graduation rates, high test scores, and safety.
But of course, what comes with this quality of living is a higher price tag. The housing in this place might not be the most affordable, but the amenities you can get from it make it very worth it.
It's also close to Reno. So, if there's something you need to get from a bigger city, it shouldn't be a problem.
9. Sparks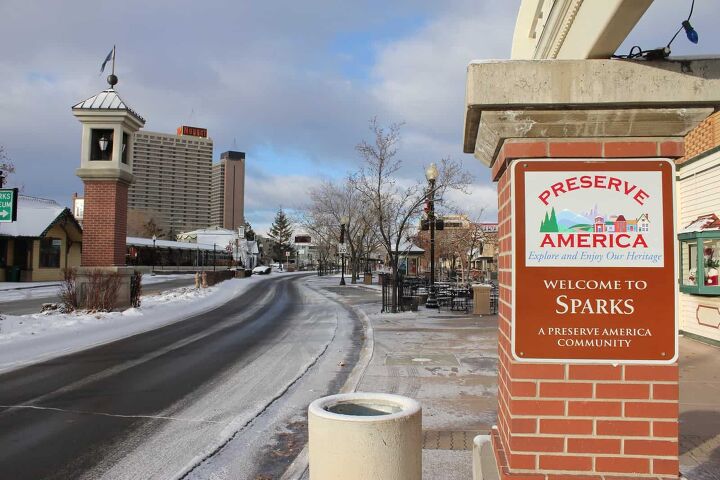 Population: 104,246
Median Home Cost: $380,612
Median Household Income: $53,481
Another great place to live, and also remarkably close to Reno is Sparks. This city is known as the main event destination not only for tourists but also for homebuyers, as they stay true to their slogan, "It's Happening Here".
Every year, the city hosts the classic car show called "Hot August Nights", and the Nugget Casino's Best of the West Rib Cook-off. While Sparks have different attractions for adults, it also has several family-friendly activities and attractions.
Sparks is a beautiful, peaceful city. It is filled with kind, friendly people, as well as good public schools, run by amazing teachers that genuinely care about their students. Sparks is one of the safest cities you'll ever live in the country.
The city also offers a lot of diversity. You also don't have to worry about finding a job as there are many job opportunities laid for everyone.
10. Enterprise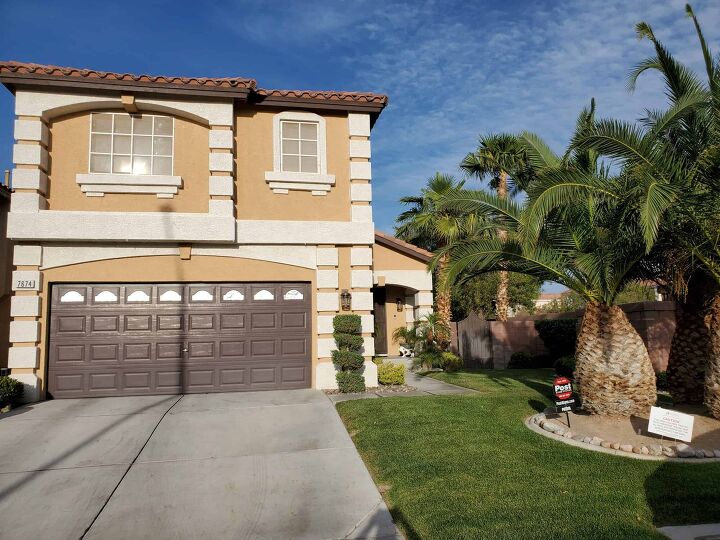 Population: 155,773
Median Home Cost: $340,543
Median Household Income: $94,690
The last one on our list is Enterprise. This is one of the biggest metropolitan places in the states and is also ranked as one of the best places to live.
This ever-growing city offers a lot of amenities when it comes to dining, shopping, entertainment, and even sports. If you're curious about the crime rate, Enterprise has a moderate level of crime, but residents feel generally safe in their home and when they are out and about doing their errands.
There are not a lot of businesses here right now, although more and more establishments are being constructed. Aside from public establishments, more housings are also being built.
Is it Safe to Live in Nevada?
Reading the list above, you might think that Nevada is an extremely safe place to be. However, that is not exactly the case.
The truth is Nevada has particularly high crime rates compared to the national average. Based on WalletHub reports, the state of Nevada ranks 46th when it comes to personal and residential safety. It has also been reported that your chances of becoming a victim of violent crime are 5.4 out of 1,000. On the other hand, the average rate for the national level is 3.7 in 1,000.
But of course, this all depends mainly on where you are in the state. There are pockets in cities that are more crime-ridden than others, while rural areas are less prone to crimes. When choosing a place where you can raise your family, be careful when choosing your neighborhood. Usually, places that are closer to the desert are safer.
Now, let's look at Nevada's crime rates compared to the rest of the United States.
Nevada's Population: 3,139,660
United States' Population: 331 million
Annual Crime Rates in Nevada
VIOLENT

PROPERTY

TOTAL

Number of Crimes

16,420

73,985

90,405

Crime Rate


(per 1,000 residents)

5.41

24.38

29.79
Violent Crime Rates in Nevada
| | | | | |
| --- | --- | --- | --- | --- |
| | MURDER | RAPE | ROBBERY | ASSAULT |
| Report Total | 202 | 2,329 | 3,862 | 10,027 |
| Rate per 1,000 | 0.07 | 0.77 | 1.27 | 3.30 |
Violent Crime Rates in the United States
| | | | | |
| --- | --- | --- | --- | --- |
| | MURDER | RAPE | ROBBERY | ASSAULT |
| Report Total | 16,214 | 139,380 | 282,061 | 807,410 |
| Rate per 1,000 | 0.05 | 0.43 | 0.86 | 2.47 |
Property Crimes in Nevada
| | | | |
| --- | --- | --- | --- |
| | BURGLARY | THEFT | MOTOR VEHICLE THEFT |
| Report Total | 17,743 | 44,338 | 11,904 |
| Rate per 1,000 | 5.85 | 14.61 | 3.92 |
Property Crimes in the United States
| | | | |
| --- | --- | --- | --- |
| | BURGLARY | THEFT | MOTOR VEHICLE THEFT |
| Report Total | 1,230,149 | 5,217,055 | 748,841 |
| Rate per 1,000 | 3.76 | 15.95 | 2.29 |
Safest Places to Live in Nevada
While the data shown above doesn't favor the state at all, there are just towns and cities that will give you more peace of mind than the others. Check this list below to see the safest places in Nevada to live.
| | | | |
| --- | --- | --- | --- |
| City | Population | Violent Crime (per 1,000) | Property Crime (per 1,000) |
| Boulder City | 16,112 | 5.0 | 9.1 |
| Carlin | 2,319 | 15.1 | 9.5 |
| Elko | 20,764 | 4.6 | 21.3 |
| Henderson | 309,586 | 1.9 | 19.6 |
| Las Vegas Metropolitan Police Department | 1,644,390 | 6.1 | 28.4 |
| Lovelock | 1,775 | 6.2 | 22 |
| Mesquite | 19,055 | 1.7 | 15.6 |
| North Las Vegas | 246,951 | 9.7 | 21.1 |
| Reno | 252,341 | 6.5 | 24 |
| Sparks | 102,354 | 5 | 23.8 |
| West Wendover | 4,290 | 9.79 | 17.9 |
| Winnemucca | 7,832 | 1.2 | 23.1 |
Is it Expensive to Live in Nevada?
Generally, the state of Nevada is a little bit more expensive than the rest of the United States. The cost of living in the state is higher because the most populous cities in Nevada are more expensive.
The median home price in Nevada is somewhat more than $275,000 as compared to the national average of $216,000. However, this doesn't mean that you will not find a house in Nevada lower than several thousands of dollars. Instead, homes in wealthy cities like Las Vegas are expectedly more expensive.
For example, a beautiful 4-bedroom house in Henderson, Nevada will likely cost anywhere between $200,000 and $500,000 while you can buy the same size house in less in a less populous, more rural areas like Pahrump for a lot cheaper! And while the cost of living in Nevada is higher than the national average, it's still significantly lower than states like California, New York, and Massachusetts.
Cost of Living in Nevada
The cost of living data indicated below is based on a US average of 100. An amount below 100 means Nevada is cheaper than the national average. On the other hand, the cost of living index above 100 means the state is more expensive.
Nevada's cost of living: 110.5
Nevada's median home price: $294,700
| | | |
| --- | --- | --- |
| COST OF LIVING | Nevada | United States |
| Grocery | 100.3 | 100 |
| Health | 92.4 | 100 |
| Housing (Median Home Cost) | 127.5 ($294,700) | 100 ($231,200) |
| Utilities | 97.2 | 100 |
| Transportation | 116.7 | 100 |
| Miscellaneous | 99 | 100 |
| Overall | 110.5 | 100 |
Do You Need to Hire Movers?
Get free, zero-commitment quotes from pro contractors near you.
Final Thoughts
When we talk about Nevada, the first things we think about our Las Vegas, gambling, and even Area 51! But as you can tell by now after reading this article, The Sagebrush State has a lot to offer.
Hopefully, has been helpful to you, especially if you are considering moving to this beautiful state. If you have other questions about Nevada, we're ready to help you. Let us know your thoughts or questions in the comment box below!
Cyril Balahadia
Coming from a family of woodcarvers, Cyril has always been fascinated with wooden interiors and home decorating. While she followed the path of writing as her career, her interests in home improvements still remain.
More by Cyril Balahadia
Published January 1st, 2021 6:00 PM