84 Views
10 Best & Safest Places To Live In South Carolina
April 20th, 2021 2:57 PM
Share
We're committed to finding, researching, and recommending the best products. We earn commissions from purchases you make using links in our articles. Learn more here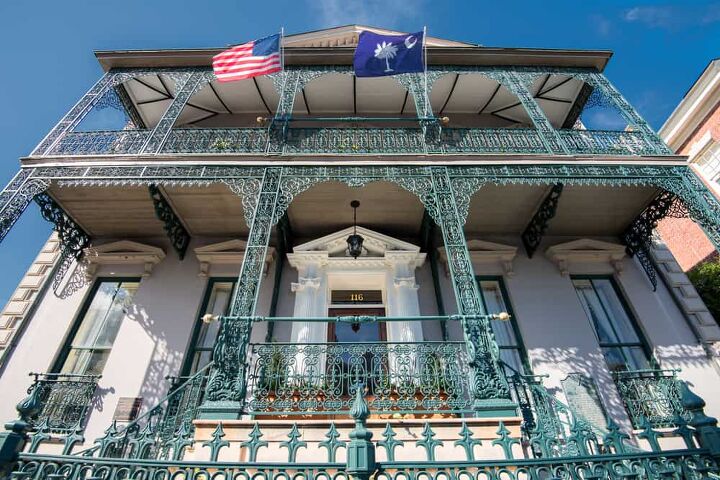 In the past decade, South Carolina has seen a boom in its real estate market. This increase in real estate demand is partly because more and more people wanting to move to The Palmetto State.
With the scenery and communities, one can enjoy in South Carolina, this is not surprising. People who want to move to this state have the option to relocate near the mountains, a coastal city, or anywhere in the middle where it's more low-key.
Do You Need to Hire Movers?
Get free, zero-commitment quotes from pro contractors near you.
Top 10 Best Places to Live in South Carolina
| | | |
| --- | --- | --- |
| Rank | Location | Crime Rate per 1,000 People |
| 1 | Mauldin | 1,847 |
| 2 | Hanahan | 1,485 |
| 3 | Mount Pleasant | 1,341 |
| 4 | Five Forks | 1,202 |
| 5 | Fort Mill | 1,202 |
| 6 | Simpsonville | 2,876 |
| 7 | Lake Murray | 1,122 |
| 8 | Tega Cay | 1,493 |
| 9 | James Island | 1,382 |
| 10 | Greer | 3,530 |
If you're one of these people, considering moving to this state, check out our list of the top 10 best places to live in South Carolina.
1. Mauldin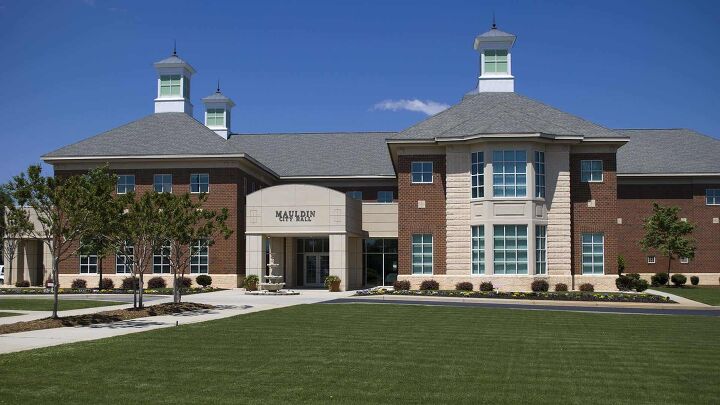 Population: 25,193
Median Household Income: $65,737
Median Home Price: $201,425
Average Rental Rate for 1-BR Apartment: $805
If your top priority in choose the place to live in South Carolina is safety, Mauldin, located in Greenville County, should be on top of your list. Aside from a lower crime rate, residents of Mauldin can also enjoy a high-quality education system, incredible job opportunities, great public amenities, and many more!
Living here, you may also benefit from the eighth highest median income in the state with some of the most affordable real estate. The cost of living may entice you too! Stuff like commute prices, auto insurance rates, and others are a lot lower in Mauldin being a small suburb on the outskirts of the Greenville region.
Moving to Mauldin, you'll find that two of the best neighborhoods to purchase a home are the Grove and Sunset Heights – these two have beautiful homes as well as nice scenery. If you're planning to rent an apartment for more affordable rates, then you must check out Brookfield and Arbors.
2. Hanahan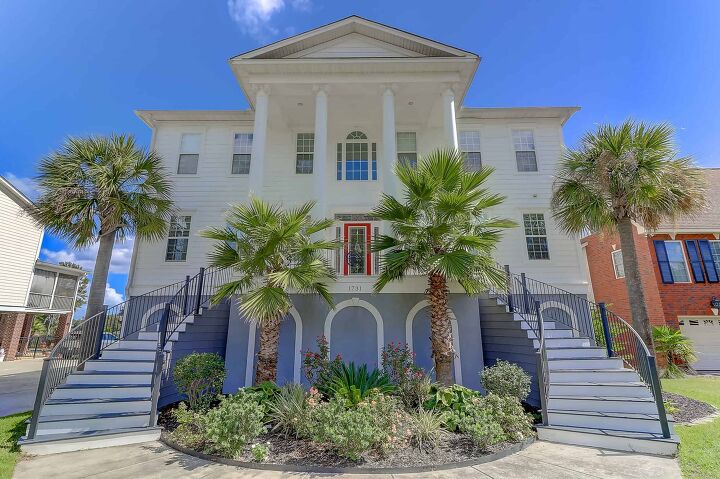 Population: 25,765
Median Household Income: $65,329
Median Home Price: $270,855
Average Rental Rate for 1-BR Apartment: $950
Up next is Hanahan in Berkeley County. This medium-sized city has also seen a spike in population as more and more people out-of-state are choosing to live here. Hanahan is bordered by Goose Creek and North Charleston and is located in maybe the most central part of the greater Charleston area.
The 18th-century historic house of indigo plantation Otranto still stands in a residential area of the city. Parts of the Naval Weapons Station Charleston, which includes the Naval Consolidated Brig Charleston, are also found in the city.
A lot of people are drawn by Hanahan's stable economy, striking property market, outstanding public amenities, and of course, the low crime rates. And while its popularity has grown, the prices of homes remained to be the same, which makes Hanahan a good place to buy a home for many families.
3. Mount Pleasant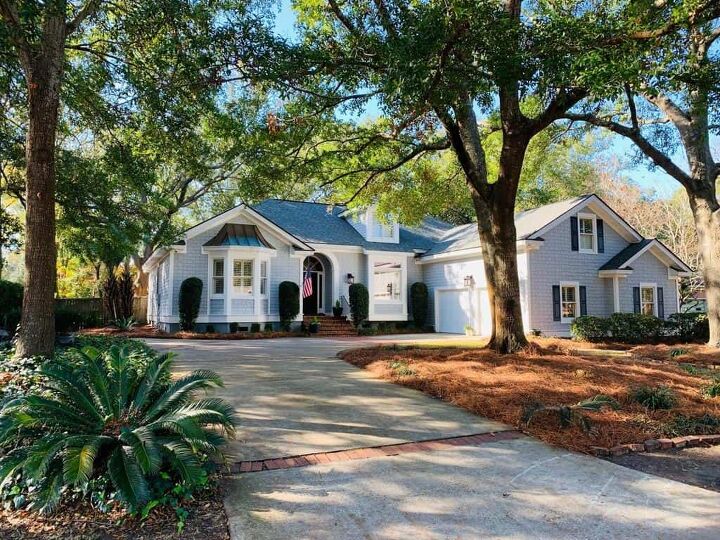 Population: 89,338
Median Household Income: $76,202
Median Home Price: $466,758
Average Rental Rate for 1-BR Apartment: $1,458
The third on the list is Mount Pleasant. This is a big suburban town in Charleston County. It's the fourth biggest municipality and biggest town in South Carolina, and for many years was one of the fastest-growing areas in the state, doubling in population between the years of 1990 and 2000.
It seems like wherever you are in the world, there is a Mount Pleasant. However, Mount Pleasant you will find in South Carolina is arguably the most pleasant. Within a short drive, you'll see Isle of Palms as well as Sullivan's Island. There are just so many opportunities for everyone to explore the outdoors and enjoy the versatile landscapes the state has to offer.
However, living in this breathtaking paradise, of course, comes with a price. Compared to the rest of the county, the cost of living here is a little bit steeper.
But then again, it's not the most expensive than the rest of the US. If you're willing to go a little over than the national average, though, with the scenery, safety, and convenience Mount Pleasant has to offer, you can assure that you'll get more than what you're paying for.
4. Five Forks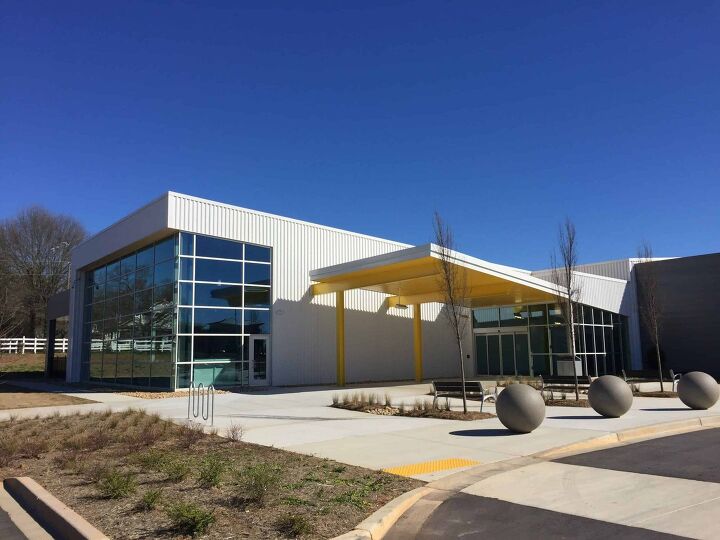 Population: 18,004
Median Household Income: $104,237
Median Home Price: $301,500
Average Rental Rate for 1-BR Apartment: $1,105
Located in Greenville County, Five Forks is only a short drive away from Greenville itself. Five Forks is an outcrop town, which is home to 18,004 residents, that offers everything you might need in a home. It's so easy to see why many people choose to live in Five Forks. It has wonders and offerings that you wouldn't find anywhere else in the country.
Five Forks area is one of the suburbs in Greenville that have seen fast growth throughout the last decades. More and more housing developments that cater to the real estate needs of all groups of people from different walks of life keep coming.
Living here is also convenient because it's so close to Downtown Greenville where you will get a great selection for dining and shopping. This is also one of the main reasons why people choose to live here. On top of that, with 6% sales tax rates, it also has one of the lowest in the state. It's also one of the safest, so more people choose to raise their families here.
Compared to the rest of the country, however, Five Forks is a pretty affluent area, but the median housing is quite affordable. Residents enjoy the steady influx of jobs that keeps the local economy booming and people thriving.
5. Fort Mill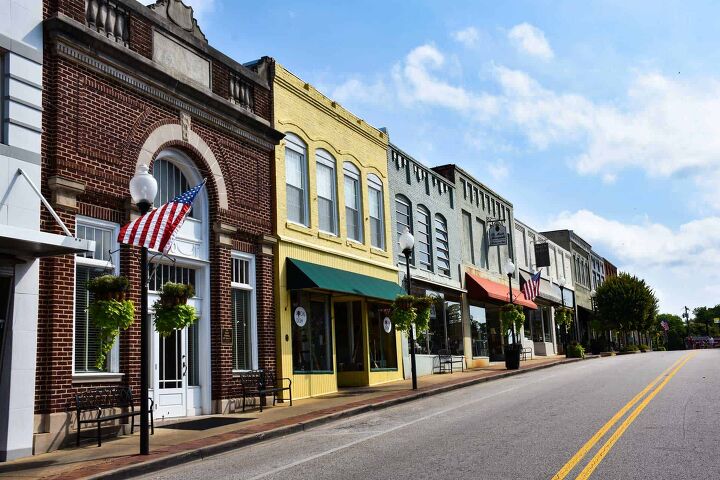 Population: 19,848
Median Household Income: $61,100
Median Home Price: $324,106
Average Rental Rate for 1-BR Apartment: $1,270
Seated just east of Tega Cay, the next place we feature on this list is Fort Mill. This is a brilliantly inexpensive area to live in and being so close to the city center means there are a lot of job opportunities for everyone to choose from.
People who love the outdoors will find Fort Mill a spectacular place to live. It has a 2,300-acre natural preserve known as Anne Springs Close Greenway, which offers opportunities for hiking, horseback riding, cycling, and trekking.
This is what the Close family who owned over 7,000 acres in Fort Mill wanted to happen – they wanted to preserve the land from the growing metropolis of Charlotte. The Close family established Clear Springs Development in 1997 as they wanted to bring more businesses to the county of York.
Fort Mill is the closest suburb of Charlotte in York County and a lot of commuters choose to live in Fort Mill but work in Charlotte. This makes so much sense as driving to the Charlotte area only takes about a few minutes.
6. Simpsonville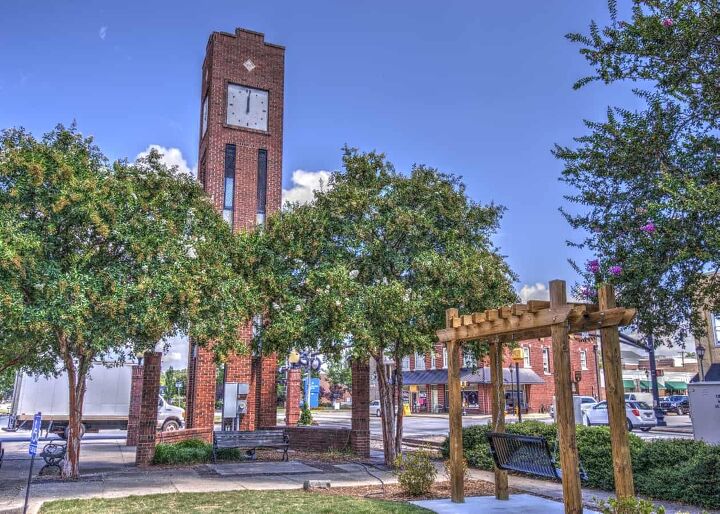 Population: 23,037
Median Household Income: $55,910
Median Home Price: $263,371
Average Rental Rate for 1-BR Apartment: $918
The next on our list is Simpsonville, situated in the rolling hills of the northwestern part of the state in Greenville County. Simpsonville is located in the heart of the Golden Strip area, one of the quickest-growing areas in the Southeast.
With a very stable economy, reasonable median income, and an extremely low crime rate along with its geographical beauty, more and more people choose to buy homes and live here. Simpsonville has lots of subdivisions with gorgeous homes, ideal for families, young couples, and retirees.
The neighborhoods in Simpsonville combine classic country living with great access to the downtown, together with a close-knit community feel. It basically offers the best of both worlds. One of the best things about Simpsonville is its natural beauty. Living in Simpsonville will let you enjoy the forested areas, local parks, and enormous trees lining the streets.
During the fall, the whole town transforms its colors along with the season. This place is also located at the base of the Blue Ridge Mountains and is only a stone's throw away from Lake Conestee Nature Park, which is a 400-acre park with more than 12 miles of trails.
7. Lake Murray
Population: 5,484
Median Household Income: $104,691
Median Home Price: $215,000
Average Rental Rate for 1-BR Apartment: $1,262
Lake Murray, the Jewel of South Carolina, offers boating, world-class fishing, golf packages, and many more fun and free things to do for anyone of any age. Lake Murray is a 50,000-acre manmade lake located in the Midlands of South Carolina.
It's operated by South Carolina Electric and Gas Company and is known for fishing and watersports. Public access is through public parks near the public boat ramps, dam, and marinas, and Dreher Island State Recreation Area. Lake Murray is situated in the central part of South Carolina just west of Columbia. It's not the name of a town as there are a few towns around the lake that has 600 miles of shoreline.
Living in Lake Murray, you will be able to enjoy many different watersports like swimming, boating, and fishing, and other outdoor recreational activities. This area is best known for its striped bass and largemouth bass fishery, but it also serves as host to many other popular gamefish like redear sunfish, bluegill, crappie, as well as catfish.
Every summer, an approximate flock of more than a million Purple Martins fills the predawn and evening skies, forming their seasonal roost at Bomb Island, situated in the heart of the lake. The island is the location of the first official sanctuary in North American designated exclusively for roosting Purple Martins.
8. Tega Cay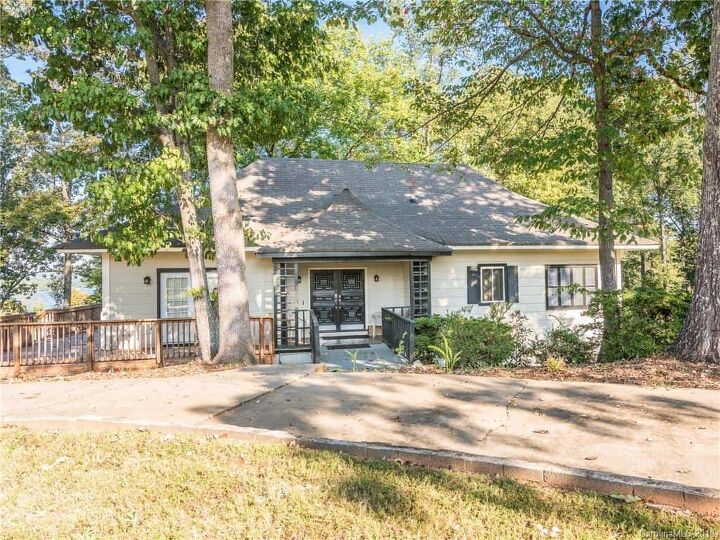 Population: 10,863
Median Household Income: $123,564
Median Home Price: $438,994
Average Rental Rate for 1-BR Apartment: $1,088
Every list of the best places to live in South Carolina that you will find online will not miss Tega Cay on their list. And it's so easy to see why.
Tega Cay is a city with a waterfront community situated on Lake Wylie between Charlotte and Rock Hill. Because of its prime location, there's never a shortage of things to do in and around this place. But aside from the never-ending activities offered by Tega Cay to its residents and visitors, there are many more reasons why many are deciding to relocate here. Tega Cay also offers a solid school system, exceptional amenities, and a nearly non-existent crime rate!
This city also gives an opportunity for people to flourish as it has a staggeringly high median income of $123,564. So, it shouldn't really come as surprise why this small city is becoming one of the most desired areas in South Carolina. This laid-back community has rolling hills, verdant forests, pleasant neighborhoods, and magnificent homes that sit along a stunning peninsula overlooking the vast blue waters of Lake Wylie, offering an amusing playground just steps from every back door.
Another thing to love is the close-knit community spirit that draws residents together to form community events and festivals throughout the year. No wonder it's always named as one of the best places in the state.
9. James Island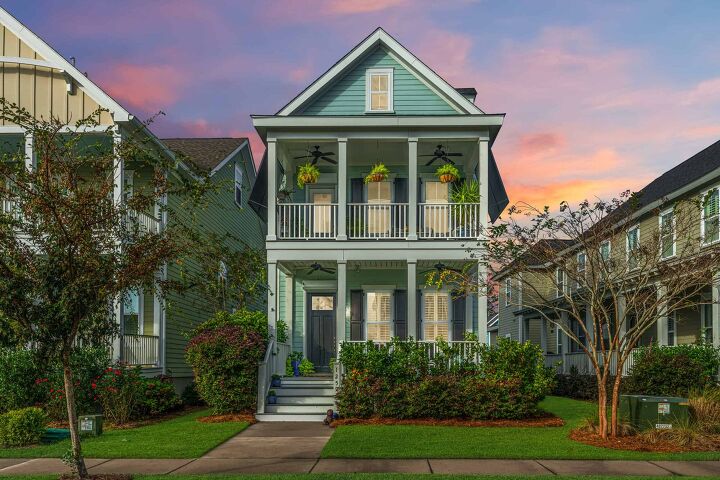 Population: 12,068
Median Household Income: $94,263
Median Home Price: $355,000
Average Rental Rate for 1-BR Apartment: $1,681
The next is James Island, which has one of the strongest housing markets in tri-county Charleston due to the steady demand from home buyers every year. Many people who need or want to live near Downtown Charleston and the beach choose to live in James Island.
James Island is a truly laid-back, beach community well-renowned for its huge fishing pier. It is one of the sea islands that mark the coast and surround the headland of historic Charleston. This town is part of the seat of the most authentic African culture in America. And to honor this history, there is an annual 3-day Island Heritage Festival that commemorates the Gullah culture.
This town is surrounded by amazing schools, restaurants, hospitals, and many public amenities. You will fall in love with the smell of the sea and blooming flowers that are truly intoxicating. The weather is also amazing! Summer can be pretty hot and humid while winter lasts for about two months.
Living in James Island is like going back in time with its history seen no matter where you look. It's a safe, family-friendly place. This town is a more conservative area of Charleston with a lot of churches and conservative values that make it a great place to live and raise a family.
It has a close-knit community that looks out for each other. If you're raising a family, love to enjoy the wonder of nature, want to explore downtown, interested in learning about history, enjoying the sea, and is a thoughtful neighbor then James Island is surely a great place for you to live.
10. Greer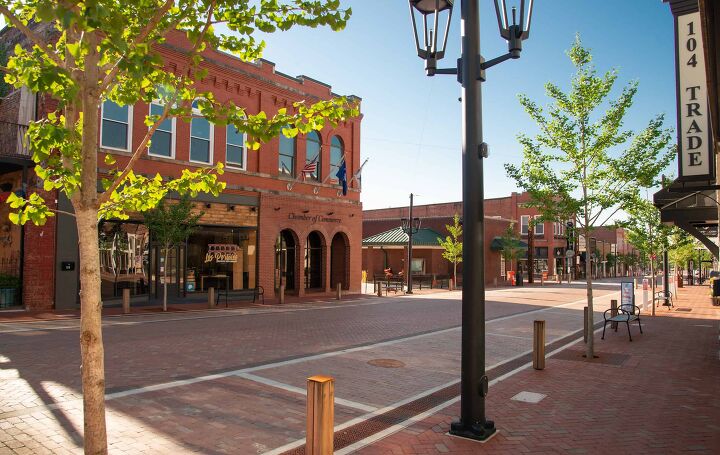 Population: 32,102
Median Household Income: $44,111
Median Home Price: $217,192
Average Rental Rate for 1-BR Apartment: $916
The last on the list is Greer, which is one of the fastest-growing cities in South Carolina. This city is located in the slopes of the Blue Ridge Mountains, in the center of the busy Upstate region of the state.
Greer offers wonderful scenery with landscapes that include both lakes and mountains. Families and young professionals alike have found the city's exceptional services, excellent park facilities, and recreation programs, and big-city amenities while maintaining a small-town atmosphere.
Spanning over 20 square miles, the city limits to the north offer outdoor recreation at Lake Cunningham and Lake Robinson, while the southern boundary of the city includes a major transportation corridor with Interstate 85 and the Greenville-Spartanburg International Airport, as well as the only United States manufacturing facility of BMW.
You'll see some of the friendliest people in Greer. Anyone you meet in this town will be glad to lend a helping hand if you need one.
The city of Greer is also in a very convenient place, located midway between the city of Spartanburg and Greenville. Visiting here, you'll surely don't want to leave and just settle down.
Is South Carolina a Safe Place to Live?
While South Carolina has a higher level of concern when it comes to safety compared to other states in the US, it doesn't mean that it's a dangerous place to live. This high level of concern is mainly because of the higher statewide crime rates compared to the national averages.
But then again, the safest cities and towns in South Carolina – like the ones listed above – are leading the way with fewer incidents of both property and violent crime. Even though it is not one of the safer states in the country, South Carolina is home to many communities that are pretty safe and family-friendly.
Crime Rates in South Carolina
To learn more about the crime rates in South Carolina, check out the charts below comparing it to the National Average.
South Carolina Population: 5,084,127
United States Population: 327,167,434
South Carolina crime statistics indicate below shows a total downward trend in crime derived from data from 17 years when violent crime was reducing and property crime was going down.
Based on a report, the crime rate in South Carolina for the year 2020 is expected to be lower than in 2016 when the state violent crime rate was higher than the national violent crime rate average by 26.38% and the state property crime rate was higher than the national property crime rate average by 32.36%.
| | | |
| --- | --- | --- |
| Crime | South Carolina (per 1000 persons) | National Average (per 1000 persons) |
| Murder | 0.08 | 0.05 |
| Rape | 0.48 | 0.43 |
| Robbery | 0.70 | 0.86 |
| Assault | 3.63 | 2.47 |
| Burglary | 5.80 | 3.76 |
| Theft | 21.56 | 15.95 |
| Motor Vehicle Theft | 2.82 | 2.29 |
| Total Crime Rate per 1000 People | 35.06 | 41.29 |
Worst Places to Live In South Carolina
And while South Carolina on the whole shouldn't be avoided when looking for a safe place to live in the United States, some of its areas are just more dangerous than the others. Here are the top 10 most dangerous places in South Carolina you must watch out for.
| | | | |
| --- | --- | --- | --- |
| Rank | City | Population | Total Crime Rate Per 100,000 Inhabitants |
| 1 | Myrtle Beach | 31,864 | 15,481 |
| 2 | Dillon | 6,648 | 12,816 |
| 3 | Hartsville | 7,837 | 12,390 |
| 4 | Marion | 6,674 | 9,874 |
| 5 | Darlington | 6,130 | 9,755 |
| 6 | Walterboro | 5,253 | 9,670 |
| 7 | Camden | 7,132 | 9,548 |
| 8 | North Myrtle Beach | 15,945 | 8,454 |
| 9 | Lake City | 6,809 | 8,327 |
| 10 | Orangeburg | 13,365 | 7,932 |
Cost of Living in South Carolina
South Carolina is a more affordable state to live in compared to the many states in the country.
Although you'll see varying costs between cities and neighborhoods throughout the state, the average price of a home in South Carolina is currently around $203,707. That is significantly lower compared to the national average of $320,000.
But now, let's look deeper at the cost of living in South Carolina. This data is based on a US average of 100. An amount lower than 100 means South Carolina is cheaper compared to the US average. A cost of living index of more than 100 means more expensive than the national average.
The cost of living in South Carolina is 88.5
The median home price in South Carolina is $170,100
| | | |
| --- | --- | --- |
| Cost of Living | South Carolina | United States |
| Grocery | 95.8 | 100 |
| Health | 102.3 | 100 |
| Housing (Median Home Price) | 73.6 ($203,707) | 100 ($320,000) |
| Utilities | 103.9 | 100 |
| Transportation | 86.8 | 100 |
| Miscellaneous | 95.6 | 100 |
| Overall | 88.5 | 100 |
Where is the Most Affordable Place to Live in South Carolina?
While South Carolina is already affordable on the whole, you can even choose to find the cheaper places that will truly give you a bang for your buck. Here are the top cheapest places to live in South Carolina.
| | | | |
| --- | --- | --- | --- |
| Rank | Location | Cost of Living vs. Nat. Avg. of 100 | Median Home Price |
| 1 | Homeland Park | 82 | $154,000 |
| 2 | Abbeville | 82 | $103,03 |
| 3 | Lake City | 84 | $87,289 |
| 4 | Union | 84 | $63,200 |
| 5 | Laurens | 85 | $105,819 |
| 6 | Chester | 85 | $82,751 |
| 7 | Darlington | 85 | $97,600 |
| 8 | Parker | 85 | $139,400 |
| 9 | Greenwood | 85 | $124,265 |
| 10 | Belvedere | 85 | $167,960 |
Do You Need to Hire Movers?
Get free, zero-commitment quotes from pro contractors near you.
Final Thoughts
While this might not be a comprehensive guide on everything you need to know about the Palmetto State, we're hoping that you still find this article helpful. And while the state of South Carolina is not perfect (just like every place in the world) we hope this list highlights some of the areas that add beauty to the place.
If you have other questions, suggestions, or opinions you want to share about the best places to live in South Carolina, don't hesitate to let us know in the comment section below!
Cyril Balahadia
Coming from a family of woodcarvers, Cyril has always been fascinated with wooden interiors and home decorating. While she followed the path of writing as her career, her interests in home improvements still remain.
More by Cyril Balahadia
Published January 1st, 2021 6:00 PM