293 Views
10 Stylish Bed Skirt Alternatives (with Photos)
January 17th, 2022 5:59 PM
Share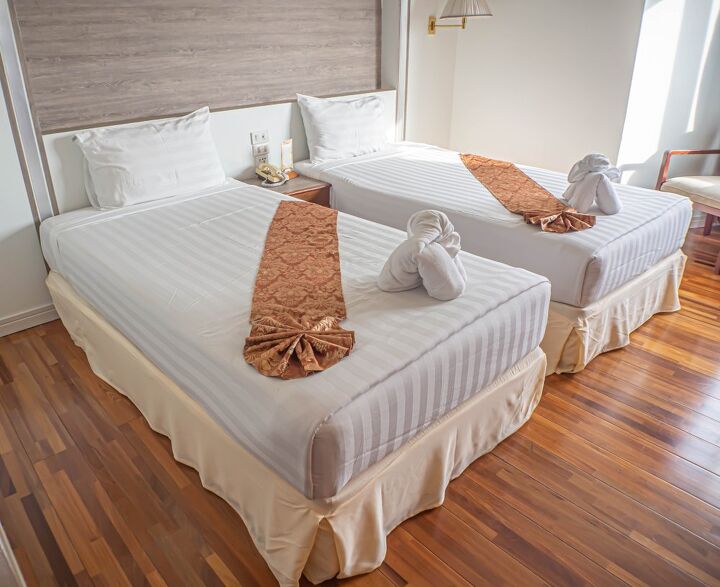 Also referred to as a valance, a bed skirt is an appealing piece of fabric that runs around the perimeter of your mattress. It appears, predictably, exactly as the name suggests – as if your mattress has a skirt. Bed skirts are often used in the bedroom to display an individual style and aren't necessarily a new design.
Since minimalism has gained so much popularity in the interior design world, many have chosen to omit the bed skirt entirely to achieve a more streamlined aesthetic. They've also started to lose their appeal due to their outdated appearance. However, one of the major benefits of bed skirts is that they hide both the mattress and whatever else you have going on underneath your box spring. So, if you have a box spring or simply want to store things under your bed, you need to find another solution.
Bed skirt alternatives include fitted sheets, oversized flat sheets, box spring covers, wrap around bed skirts, and simply choosing your bed frame carefully or getting creative with storage. Each of these options serve the same purpose as traditional bed skirts, but can give your bedroom a modern, refreshing touch.
There are a number of stylish designs that can give your bedroom the desired sophisticated look without forking over too much money. Let's take a look.
Do You Need an Interior Decorator?
Get free, zero-commitment quotes from pro contractors near you.
What is a Bed Skirt?
A bed skirt is simply a decorative piece of fabric that is placed between the mattress and box spring on a bed. Traditionally, it is long enough to touch the floor. Bed skirts may be made out of soft, flowy fabrics like linen, rayon, viscose, and poly-cotton, or tougher fabrics such as duck cloth, woo tweed, or poplin.
The main purpose of a bed skirt is to conceal the items stored underneath the bed or hide the box spring and/or bed frame, resulting in a cleaner, more appealing look. Some of the advantages of a bed skirt is that they can keep dust, bed bugs, and allergens from collecting under your bed.
For this reason, bed skirts are a must-have for those who want to hide stuff under their bed and/or make their bedroom more hypoallergenic. However, due to their slightly outdated appearance, bed skirts have lost their popularity in recent years. This is, along with the fact that they are available in limited designs, is one of the main reasons why people wonder what they can use instead of a bed skirt.
10 Stylish Bed Skirt Alternatives
Take a look at our 10 alternatives to a standard bed skirt to help inspire your next interior design project.
1. Fitted Sheet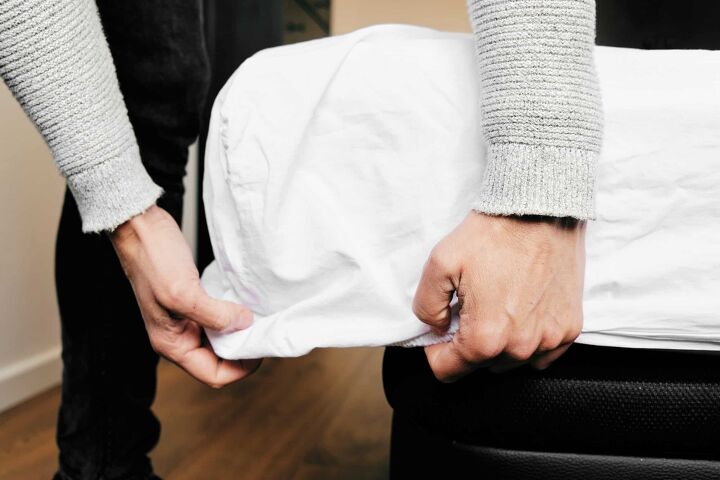 Can you use a sheet as a bed skirt alternative? Yes, you absolutely can! A fitted sheet offers a simple solution for covering up your box spring. However, it's not going to hide the items you have stored underneath your bed.
With that said, the sleek and streamlined appearance of a fitted sheet can provide a modern style to your bed. This alternative is especially desirable for those looking to transition their master bedroom to have a more minimalistic design.
Using a fitted shit as a bed skirt alternative won't cost much and will achieve your goal of concealing your box spring. When it comes to choosing the right fitted sheet, it's important that you pick one that fits snug on the mattress. Or, if you run into some difficulty with the sheet fitting, you may need to tuck or adjust accordingly.
Once you find the appropriate size, your fitted sheets can be coordinated with nearly any color scheme. You can also match them to your curtains to help tie the whole room together.
Pros of Fitted Sheets
Perfect for those who want a minimalist and contemporary style.
Easy to fit on your box spring.
Comes in a variety of colors and materials.
A cost-effective alternative to bed skirts.
Cons of Fitted Sheets
Can be challenging to find the perfect size.
Depending on the quality, some fitted sheets are see-through.
Can come undone frequently and will need to be re-adjusted often.
Fitted sheets will not cover the bed frame or whatever you have going on underneath the bed.
2. Choose Your Bed Frame Carefully
One of the best ways to avoid needing a bed skirt on your bed is to be selective with your bed frame. If you like the frame that supports your bed, you won't have a desire to hide it in the first place. Platform beds, sleigh beds, and even intricate metal-framed beds serve as statement pieces and covering them with a bed skirt would diminish their appeal.
Therefore, if you'd rather not use a bed skirt on your bed, finding an alternative begins with choosing your bed frame carefully. If you find the right one, you won't have to spend any extra money on some other bed skirt alternative.
3. Wrap Around Bed Skirt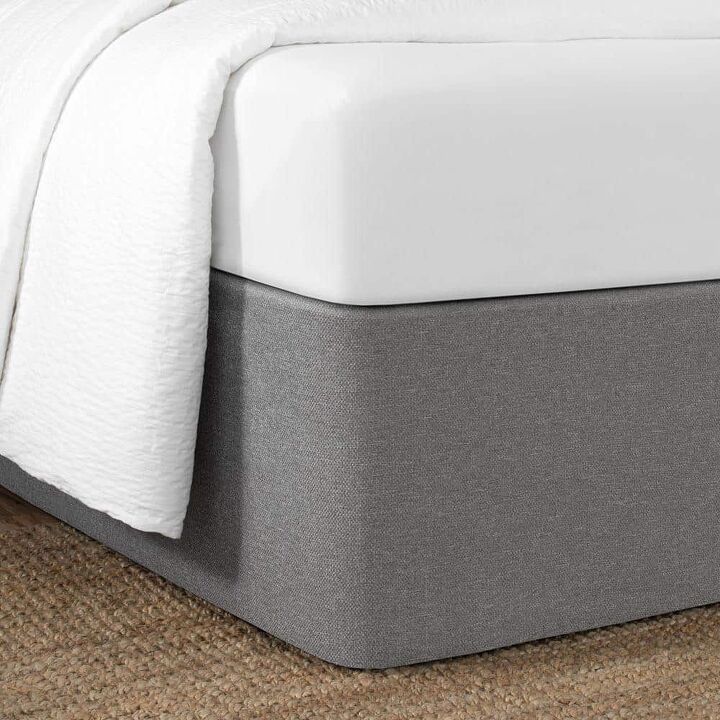 This alternative to a traditional bed skirt is just as affordable and also widely available. However, unlike bed skirts, the wrap-around variety can be customized to match an individual's personal design aesthetic. It also allows you to easily hide the bed frame, box spring, and the space under your bed.
Wrap-around bed skirts come in a range of colors and patterns, which makes them a wonderful cost-effective alternative. Whenever you change your bedsheets you can easily change the wrap-around to match. Not to mention, it also offers the convenience of not needing to lift your mattress to fit it. They are installed by simply wrapping them around the mattress and can shift and slide easily.
The disadvantage to this alternative is that wrap-arounds tend to tear over time. Also, make sure that you don't stretch the elastic too much when installing them, as it can wear down and lose resistance over time.
Pros of Wrap Around Bed Skirt
Simple to fit around the perimeter of your bed.
Plenty of color and pattern options to choose from.
Can be easily replaced.
Does not require re-adjusting over time.
Will not slide like fitted sheets do.
Cons of Wrap Around Bed Skirt
Wrap arounds, like traditional bed skirts, are still an outdated design.
The elastic will stretch and can break down over time.
Varying lengths may not be suitable for every bed height.
4. Get Creative With Storage
Although the purpose of a bed skirt is to hide the frame and/or any unsightly clutter underneath the bed, you can display the area under your bed in a unique way. Try using a line of storage crates under the bed to streamline your storage and avoid needing a bed skirt. Both you and your guests know that you're likely storing things under your bed anyway, so why not show it off by using colorful bins, wire baskets, or natural wooden crates that complement the look of your room.
Alternatively, you can opt for a storage bed. These types of beds are outfitted with drawers for storage underneath the mattress. This option still allows you to store things under your bed, without the need to conceal anything.
5. Velcro Bed Skirt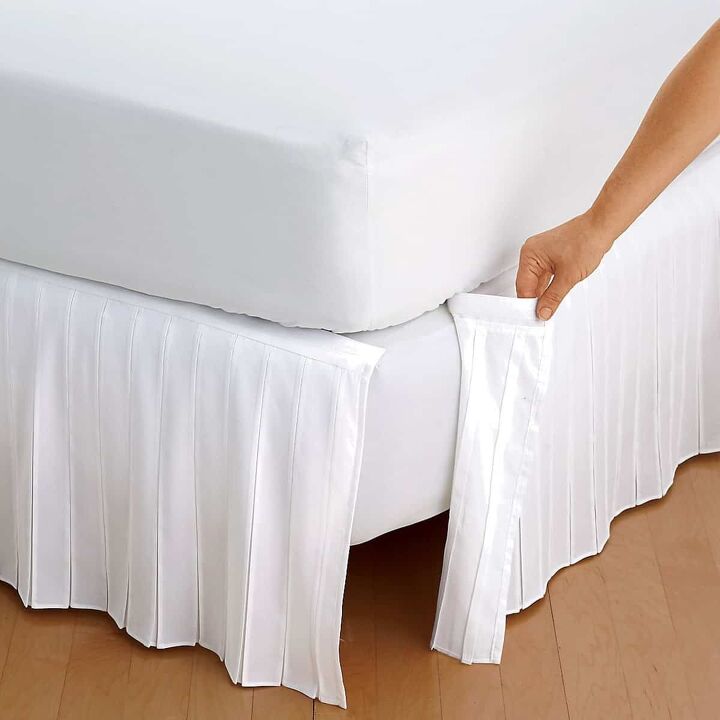 Another excellent option that serves as a bed skirt alternative is a Velcro bed skirt. The main advantage of this design is that you won't ever have to lift your heavy mattress to install this type of bed skirt. Some Velcro bed skirts are also "anti-shift," meaning you save yourself the hassle of having to frequently readjust it. Like wrap-arounds, you can also match your Velcro bed skirt to the style and size of your bed.
Some varieties also feature lace, ruffles, and tassels to add some visual interest to the lower half of your bed. The chief disadvantage to this alternative is that they are especially vulnerable to wear and tear. Over time, the adhesive that holds the fabric in place will break down.
Pros of Velcro Bed Skirt
Easy to install.
Can be used along with an existing bed skirt.
Versatile design, available in many colors and patterns.
Cons of Velcro Bed Skirt
Adhesive may wear out over time.
Has a stiff feel.
Not as easy to keep looking neat and orderly.
6. Oversized Flat Sheet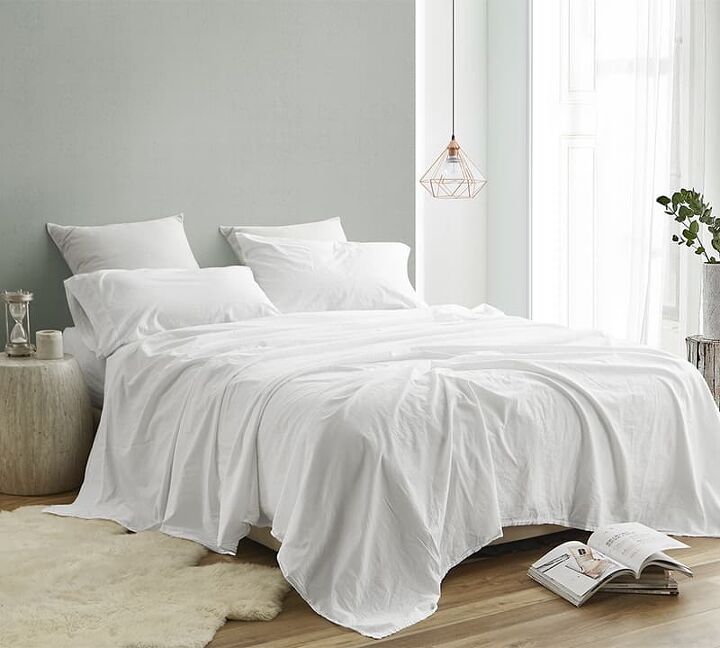 Arguably, the most cost-effective way to avoid using a bed skirt is to use an extra-large flat sheet. Using an oversized flat sheet on a smaller bed is a very simple alternative to a bed skirt, as all you need to do is purchase a flat sheet that is larger than your mattress. However, if you have a California King bed, this solution may take some more prep work. Flat sheets also tend to require more frequent adjusting and tend to slip more than other options.
By using decorative embroidery, lace, or any other personalization can really enhance a simple flat sheet. This is a great way to put your DIY skills to the test and enhance the sheet to match your particular style and taste. Fortunately, with this option, you don't have to buy a lot of extra materials. You can easily transform your current flat sheet into a sophisticated and contemporary bed skirt alternative.
Pros of Flat Sheet
Cost-effective, as your existing flat sheet can be used.
Usually easy to find the perfect size.
Versatile design – from simple or pleated to trimmed or ruffled.
Fun and easy to personalize.
Cons of Flat Sheet
May require more frequent adjusting.
Can appear too plain if no embellishments are added.
Often easily slides off of the mattress.
7. Integrate a Canopy
An alternative that is as efficient as it is dreamy is to incorporate a canopy into your bedroom design. Simply hang a canopy from the ceiling, directly above the center of your bed. This will help to draw the eye upward while also draping over and concealing the area beneath your bed!
8. Box Spring Cover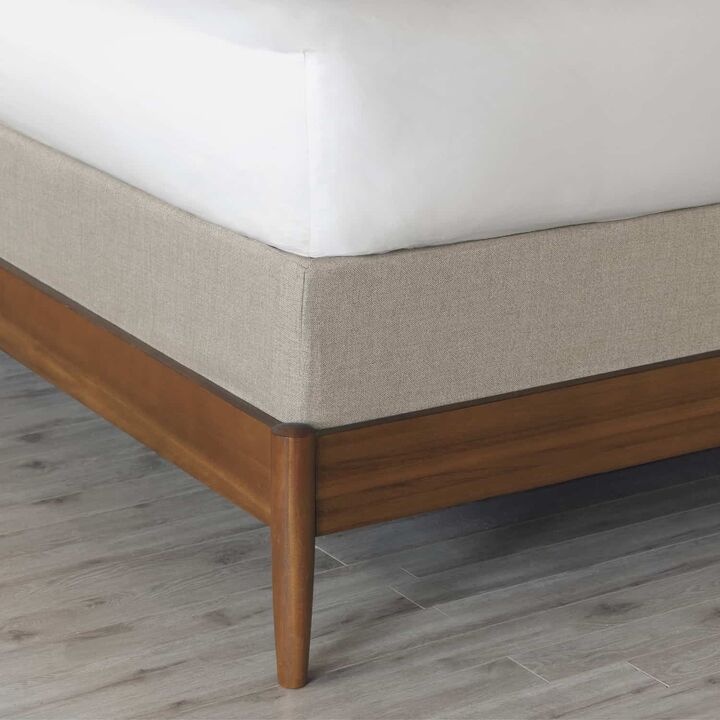 A box spring cover, or encasement, is designed to protect your box spring. It can also help to seal out bed bugs and dust mites, while also shielding the surface from stains, spills, and accidents. By limiting the moisture that reaches the box spring, these covers prevent mold and mildew growth.
However, this design can also be used as a bed skirt alternative. The benefit of this option is that it provides a semi-permanent solution of not needing to adjust or replace your bed skirt. It completely covers the box spring and is neatly tucked, require little to no maintenance. Though box spring covers aren't as cost-effective as a wrap-around or DIY option, they are still a very effective alternative for those who want to avoid using a bed skirt altogether.
Pros of Box Spring Cover
Specifically designed for box springs.
Affordable alternative to bed skirts.
Sleek, minimalistic design.
Little to no maintenance required.
Cons of Box Spring Cover
Though affordable, box spring covers are more expensive than traditional bed skirts.
Can be challenging to install initially.
Don't provide any concealment for the area under the bed.
The price goes up as the size of the bed increases.
Limited on styles, colors, and patterns available.
9. DIY Bed Skirt (Make Your Own)
If you desire a bit more control over the pattern, color, length, and overall design of your bed skirt, you can try your hand at creating your own. Those who are handy with sewing can very easily stitch together fabric to make the perfect bed skirt.
This alternative allows you to choose any fabric you like to match the design of your bedroom. You can even use old fabrics that you have laying around the house, such as duvet covers, sheets, curtains, or other linens. If you don't know how to sew or your sewing skills are a little rusty, you can find tons of video tutorials online to get you started.
The major advantage to making your own bed skirt is that you have the flexibility to incorporate any fabric to create a design that you're truly proud of. Additionally, you have the freedom to include as much or as little trimming as your heart desires. Not to mention, if you repurpose old fabrics, this alternative can be a very affordable option.
10. Wood Bed Skirt
This bed skirt alternative is achieved by creating a false wooden frame around your bed to serve as a bed skirt. Compared to some of the other options on our list, a wood bed skirt is more expensive and more challenging to install – especially if you build a headboard to match.
Additionally, for best results, you need the expertise of a woodworker and need to select a wood that will ensure long term durability.
Pros of Wood Bed Skirt
Adds an extra layer to the bed.
Very aesthetically pleasing.
Increases the overall durability of your bed frame.
Cons of Wood Bed Skirt
Can be difficult to fit and install.
Requires the assistance of a professional woodworker.
Do You Need an Interior Decorator?
Get free, zero-commitment quotes from pro contractors near you.
Final Thoughts
If you're ready to ditch your traditional bed skirt for a more modern substitute, you now have plenty of bed skirt alternatives to choose from. Whether you're trying to achieve a minimalist style or an elaborately trimmed design, we're confident that any of the above ideas will help satisfy your desires.

Jessica Stone
Jessica considers herself a home improvement and design enthusiast. She grew up surrounded by constant home improvement projects and owes most of what she knows to helping her dad renovate her childhood home. Being a Los Angeles resident, Jessica spends a lot of her time looking for her next DIY project and sharing her love for home design.
More by Jessica Stone
Published February 15th, 2021 10:26 PM