228 Views
What To Put In Glass Cabinets In Your Kitchen
March 27th, 2023 7:42 AM
Share
We're committed to finding, researching, and recommending the best products. We earn commissions from purchases you make using links in our articles. Learn more here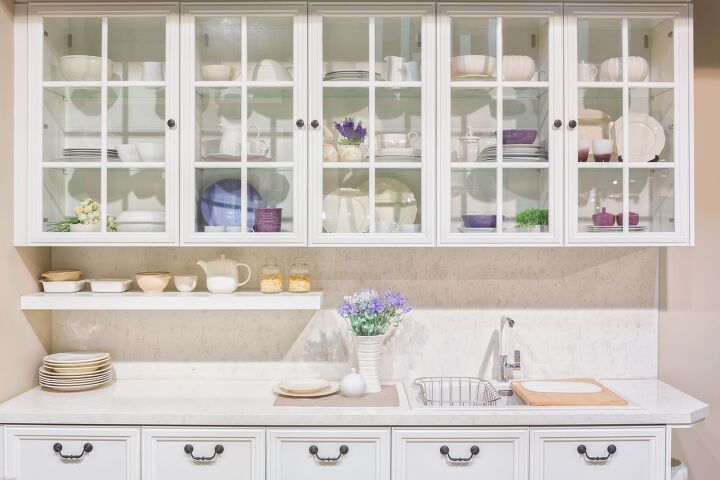 Glass cabinets make a statement in your kitchen, but depending on what you keep in them, that statement can turn sour. Since everyone will see what's inside of them, it's essential to pay attention to how you style your glass kitchen cabinets.
Choose a color scheme that works with your kitchen and streamline contents when styling glass kitchen cabinets. Maintain a good balance when you place items on shelves, considering the shape and size of the pieces. Choose a mix of items that are functional and decorative, and avoid overfilling the cabinets. Adding in-cabinet lights adds visual interest and ambient lighting in the kitchen.
Whether you already have glass cabinets or are planning to add some, there are a few things to consider first. Primarily, you need to be more intentional about what you keep in your cabinets.
Smart Styling Tips For Glass Cabinets
The items you choose to place in your glass-fronted cabinets will be visible to everyone. The addition of glass transforms your cabinets from mere storage space to display pieces. Therefore, deciding what you should put in them can become overwhelming.
Keep reading for some easy and helpful tips when styling glass kitchen cabinets.
1. Be Selective When Choosing Items
Since the contents of your cabinets will be on full display, it's essential to be intentional with your selection. It's also vital to maintain a sense of functionality in your kitchen to keep meal prep and similar tasks manageable. Therefore, choose items that are both functional and beautiful.
For example, you might display a ceramic pitcher, vase, or a creamer and sugar set you use frequently. If you have attractive dishes, arrange your place settings in another glass cabinet. Other items that look good in glass cabinets are cake stands, cookbooks, baskets, and canisters.
The primary idea is to put your more basic, utilitarian items in your cabinets with solid fronts. Typically, these are your bottom cabinets, perfect for things like stock pots, baking dishes, and small appliances. Store food storage containers, plastic water bottles, and similar items out of sight. (Check out how to organize under the kitchen sink.)
Avoid using your kitchen cabinets to display your heirloom china and grandma's silver serving set (unless you use them frequently). As beautiful as these items might be, having them take up space in your kitchen is not practical. Keep things in your cabinets that you need close at hand for cooking and other frequent tasks in your kitchen.
2. Maintain A Specific Color Palette
Another consideration when choosing items for your kitchen cabinets is the design of your overall kitchen. Pay attention to the color palette, including the wall color, cabinet color, flooring, countertops, window treatments, etc.
The items visible in your cabinets should complement this color scheme and not clash with it. If you have certain tools and dishes that don't mix well with your kitchen's colors, replace them or store them out of sight.
If you end up with a mish-mash of bowls, plates, pitchers, and other items in several different colors, it can look messy. If you have an all-white kitchen, you have a bit more freedom with your color choices. However, if you have various wood tones and defined colors in the space, it limits your palette.
No matter which direction you go in with your kitchen, limit your color choices to three. Don't overdo it. Always assess and tweak as needed. Sometimes it's helpful to take a picture and see how everything looks in the photo. Looking at things through a different lens often helps give you another perspective.
3. Balance Items In Your Glass Cabinets
Maintaining a sense of balance in your glass cabinets will significantly impact the overall feel and look of your kitchen. Avoid putting multiple small items in one cabinet. Instead, mix a few small pieces with a couple of key larger items.
Often, cabinets are divided in half between the two doors, so you can use this as a guide. For example, put one large item on the top right shelf and another large item on the bottom left. Fill in the empty spots on the upper left and bottom right with smaller pieces.
Play around with different heights. Here are a few suggestions:
A tall pitcher balanced against a short vase
A stack of cookbooks balanced against a pretty mixing bowl 
Stacked plates or bowls set against a single row of coffee mugs
After arranging items in your cabinets, take a step back and assess the overall look. If it seems a bit lopsided or heavy on one side, remove some items or rearrange pieces until things come into balance.
4. Add In-Cabinet Lighting
Installing in-cabinet lighting can bring your kitchen to a whole new level. It creates an elevated, sophisticated look, provides accent lighting, and makes glassware sparkle. Contact an electrician, or look into some DIY methods using LED strips.
Some lighting is hard-wired, while others are operated via battery and remote. Depending on your budget and preferences, you'll find several options when researching lighting types.
Of course, lighting isn't a must when it comes to glass cabinets. However, it can certainly add an extra-special touch that instantly boosts your kitchen's design.
5. Don't Overfill Glass Cabinets
One of the biggest things that can derail the look of your glass cabinets is overfilling them with stuff. You can get away with stuffing as much as possible into solid-front cabinets. But if you do this with glass cabinets, it will look messy, cluttered, and overly busy.
As you place items in your cabinets, concentrate on leaving negative space between each piece, each stack of things, etc. Don't fill every inch of space. Leave some room on each side of every piece, as well as space above each item. (Count a stack of plates, cookbooks, etc., as one thing.)
What If I Can't Keep My Glass Cabinets Clutter-Free?
Glass cabinets are popular in many kitchen design styles, from farmhouse to modern elegance. But they aren't for everyone. If you already have glass cabinets, and you just can't seem to keep them neat, don't despair.
You don't need to rush out and buy new cabinets or get new cabinet doors. You can simply add decorative backing to the glass, such as wallpaper, fabric, or shelf-lining paper. This trick can maintain a unique design point in your kitchen but hide the clutter.
Make the Most of Glass Cabinets
Glass cabinets can add a sleek, modern, and beautiful touch to your kitchen, but they're not for everyone. Remember, everyone will see your cabinets' contents, so it's essential to be more intentional with what you put in them. Keep items functional and beautiful, and avoid stuffing cabinets to the brim.
Maintain a sense of balance by mixing more oversized items and smaller pieces and playing around with different heights. Leave some space between the items in the cabinets and choose pieces that work with your kitchen's color scheme. If desired, add lights in your cabinets to provide an elevated look.
If you're short on space in your kitchen, glass cabinets might not be the best choice. You likely need every inch of room for storage and can't be as selective about what you display.
But if you already have glass cabinets, you can always add decorative fabric or paper to the back of the glass. This trick lets you maintain a unique design element without worrying about how things look.
Related Guides:

Stacy Randall
Stacy Randall is a wife, mother, and freelance writer from NOLA that has always had a love for DIY projects, home organization, and making spaces beautiful. Together with her husband, she has been spending the last several years lovingly renovating her grandparent's former home, making it their own and learning a lot about life along the way.
More by Stacy Randall
Published March 27th, 2023 7:40 AM