196 Views
What Size Bed For A Guest Room?
May 29th, 2022 6:13 PM
Share
We're committed to finding, researching, and recommending the best products. We earn commissions from purchases you make using links in our articles. Learn more here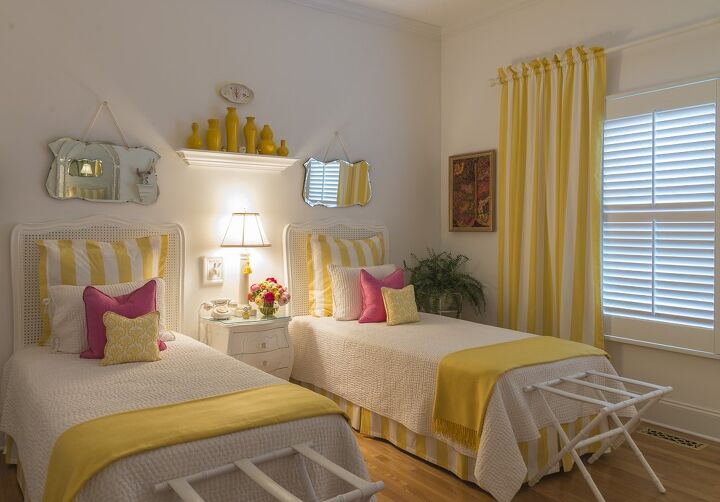 When you prepare to purchase a new home, an extra bedroom can be a real selling point. A guest room is an opportunity for you to truly show hospitality towards those you care about. You can give a hotel-quality experience in the comfort of your own home. But when you begin planning out your guest room, you may struggle to decide on what sized bed is perfect for your guest room.
A king bed is an ideal bed size if your guest room is large enough, as it can comfortably sleep two people. A queen mattress is preferable to a full-size mattress, as it is only slightly larger but it more comfortably fits two adults. Twin beds are great for younger guests, and convertible beds are ideal for those who use their guest room for multiple purposes.
Before you head to the mattress store to grab a mattress for your guest room, you should take note of your space. As you look at your guest room, envision the layout you want for the space. Then, you should ask yourself some crucial questions before you pick out your perfect bed.
Questions To Ask When Buying A Bed For Your Guest Room
1. How Big Is Your Guest Bedroom?
The size and shape of your guest room is one of the biggest factors that comes into play when you are bed shopping for your guest room. The first thing you need to consider are the room's dimensions. Guest rooms are often much smaller than master bedrooms. In many cases, a king bed will not even fit in the room.
You must consider the layout of the guest bedroom as well. Be aware that your guests will want to do more than just sleep in the room. It is helpful to have a walkway to the bed, a night stand, or dresser for clothing and belongings. A mirror and other bedroom features are also appreciated.
Consider this while you measure your room for a mattress. You need to envision not only the bed in the guest room, but the other furniture, if any, as well.
2. How Often Will The Bed Get Used?
You also need to ask yourself how often this guest bedroom will be used. While you want your guests to be comfortable, If you only receive guests once in a blue moon, you don't need to be as concerned with making someone at home.
If, however, this is a bedroom that will be used regularly, it should function as an actual bedroom. This means the bed should be comfortable, and the closet and room itself should be set up to receive guests regularly.
3. Who Will Sleep In The Guest Room?
You next need to ask yourself who, exactly, will be sleeping in this guest bedroom. In other words, who is your "clientele?" This may seem like a strange thing to ask yourself, but different people have different bedding needs.
If you have a child or niece/nephew who comes to visit for summers or holidays, you may select a more kid-friendly option. You will want to set up a safe, and smaller bed setup.
If, however, the room is used for an elderly family member, you have other factors to consider. Or, perhaps you host couples more than individuals. A bed that is comfortable for one person may be terribly uncomfortable for two people. This is critical to consider when you shopper a mattress.
4. What Else Will You Use Your Guest Room For?
If you live in a large house with several extra rooms, you may have one or even multiple rooms dedicated as guest rooms. Many others have more limited space. Often a guest room doubles as an office, or storage, or perhaps a hobby room.
If you are going to use the guest room for other purposes when you don't have company, you need to know how much space you require for its other purposes. This may dictate whether you put an actual bed, or perhaps a convertible or store-able bed.
The Five Main Bed Types Used In Guest Rooms
When you begin your search for the perfect bed for your guest room you will quickly learn there are only a handful of bed categories to choose from. The five main bed categories include: king beds, queen beds. Full-sized beds, twin beds, and covetable or storable beds. As with most decisions, there are pluses and minuses to each bed category.
Type One: A King Mattress In Your Guest Room
The most luxurious and spacious bed you can select for your guest room is a king bed. King bed and California King beds are ideal for those who have large guest rooms and anticipate frequent visits from couples.
The downside to these mattresses is how much space they take up. Many guest rooms can't fit a king mattress, so be sure to take your room's measurements first. King beds are often fairly expensive as well.
Type Two: A Queen Bed For Your Guest Room
Queen beds are a great option for most guest rooms. They are smaller than king beds, but they can still comfortably fit two adults. If you plan on having couples spend the night but don't quite have room for a king bed, then a queen bed is your best bet.
Type Three: A Full Sized Bed For Your Guest Room
A full-sized bed is another popular option for guest bedrooms. A full bed is large enough for most adults, but it is significantly smaller than a king, and slightly larger than a queen. This is a good option if you find a queen bed is too snug for the room.
Full mattresses, however, are often uncomfortable for two adults. They also can be a bit short for your taller guests. If you have tall house guests, their feet may dangle over the edge.
Type Four: A Twin Mattress For Your Guest Room
A twin mattress is a great option if your guest room is dedicated to a youth. These mattresses take up very little space, and are perfect for younger guests.
Twin beds are a tight squeeze for many adults. If you choose a twin mattress for space reasons, consider an extra-long twin bed. This way at least the bed will be long enough for taller adults.
Type Five: Convertible Bed Options For Your Guest Room
Futons and Convertible Couches
Futons and convertible couches are a very popular option for those who want to provide a place for guests to sleep, but don't have much room to spare. These sleeping options allow for a comfortable bed for guests, but can be transformed into a couch, which is great for entertaining while taking up a fraction of the space.
Murphy bed
Murphy beds have come a long way. There are many stylish Murphy beds that create a great place to sleep. You can also easily store them vertically, which opens up the entire room for other uses.
Daybed/Chaise Lounge
If you have an office that doubles as a guest room, a chaise lounge or daybed may be a good option. These options are great for reading and studying, but can be a comfortable place for an occasional overnight guest.
Airbed
Airbeds are the ideal choice for those who have extra floor space, but not enough rooms for a guest room. Air mattresses, especially high-end ones, are comfortable and adjustable. You can even roll up most airbeds to the size of a sleeping bag.
Final Considerations On Guest Bed Sizes
When it comes to bed size in your guest bedroom, in a perfect world we would always choose a king bed. Since space and budget does not always allow for this, a slightly more practical option is a queen. A twin extra long mattress is a good choice if your room is small, or you plan on having mostly children, with an occasional adult guest.
If you plan on using the room more as an office or recreation room than a guest room, consider one of the many convertible or storable bed options available.

Tom Gaffey
Tom Gaffey is an expert writer who currently resides in Washington D.C. Tom has a passion for real estate and home improvement writing, as well as travel and lifestyle writing. He lived the last twelve years in Hawaii where he worked closely with luxury resorts and event planners, mastering his knowledge of aesthetics and luxury products. This is where he found his passion for home improvement and a keen interest in DIY projects. Currently, Tom resides in Washington D.C, and also working on his debut fiction novel.
More by Tom Gaffey
Published May 29th, 2022 6:13 PM