72 Views
Special Touches To Help Holiday Guests Feel At Home
November 13th, 2023 2:30 PM
Share
We're committed to finding, researching, and recommending the best products. We earn commissions from purchases you make using links in our articles. Learn more here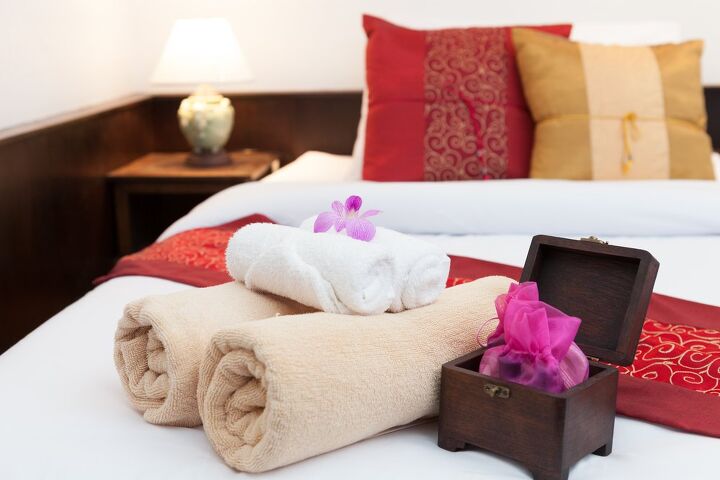 The holidays are a much-anticipated time of year, full of parties, traveling, and hosting guests from out of town. Preparing your home for holiday guests often means cleaning and stocking up on certain items. But going the extra mile and adding a few special touches help guests feel at home and welcome.
Provide a welcome basket of snacks and drinks for guests and put extra towels and blankets in their room. Set up a coffee station in their space, plus puzzles, games, books, and a few luxuries. Give guests a list of local attractions, restaurants, and shops, and make proper arrangements for those traveling with children or pets.
If you tend to stress when you're hosting out-of-town visitors, it's time to breathe. Use these tips to create a comfortable, convenient home-away-from-home for your guests that makes the season enjoyable and memorable for everyone.
Go Beyond The Basics For Holiday Guests
Some things are obvious when you're about to host overnight guests. Cleaning, washing bed sheets, and making sure there are enough towels are a few basics that make guests feel welcome.
You also need to ensure you have adequate sleeping space for everyone or if the bed in the guest room is sufficient. But if you really want to pamper your visitors and help them feel at home, here are a few ways to go above and beyond.
1. Put A Basket Of Goodies In Their Room
Purchase a few of your guest's favorite snacks and place them in a basket in their room. Add a few bottled waters, some napkins, and some home-made treats for a personal touch. Your guests will appreciate the thought and enjoy having some goodies close at hand when they're in the mood for a little snack.
2. Set Up A Coffee Station
Create a coffee station in the bedroom or bathroom, depending on your situation. Use a tray to place a small coffee pot, filters, K-cups, or anything else your guest needs to brew a cup of coffee.
Don't forget to add things like stirrers, sweeteners, and creamer. Include an assortment of teas and some packs of hot chocolate to accommodate non-coffee drinkers or simply provide some variety.
3. Have Robes And Slippers Available
Hang a couple of fluffy robes in the closet and a couple of pairs of slippers (go with larger sizes). It's a simple touch that gives the space a luxury feel and makes guests feel like they're staying at a cozy inn or fancy hotel. If you're having multiple guests stay with you throughout the season, don't forget to clean the robes and slippers in between visitors.
4. Provide Extra Towels
Add extra towels in your guest's bathroom, or place some extras in their room so they never need to ask for more towels. It's always nice to anticipate your guest's needs and limit the number of things they need to ask for or find. This not only makes things easier on you, it makes your guests feel more at home.
5. Add A Few Luxuries
Indulge your guests with a few simple luxuries, like high-quality scented candles, soaps, or essential oils. Add a soft, plush blanket to their room, a white-noise machine, or a sleep mask.
Even if they don't end up using these items, they'll still appreciate having access to them if needed. Plus, little extras like these make guests feel welcome and that you're happy to have them there.
6. Make A Welcome Gift For Pet Guests
If your guests are bringing pets along, don't forget to add a few goodies for your furry visitors. Make sure everyone is clear about rules surrounding pets (especially if you have pets of your own).
Create a welcome gift with treats and a couple of pet toys. Have a pet bed and dishes that they can use during their stay so they don't need to worry about bringing extra stuff with them.
7. Sprinkle In Some Relaxing Entertainment
Give guests something to do when they want to unwind or have some time to themselves. Adding a few things to their room like puzzles, books, or games is a nice touch.
If there's a television in the room, make sure it's in working order and the remote has fresh batteries. If guests need any type of passwords for various streaming services, write them all on a piece of paper and place it by the TV.
8. Make It Easy For Guests To Use Their Tech
In addition to a working television, make sure it's a breeze for your guests to use their own technology. Provide an extra charging cable, a charging station, and have your Wi-Fi password available.
9. Include Special Items For Visiting Children
For guests bringing children, provide some additional items to make their trip easier. For example, if they have an infant, perhaps you can arrange ahead of time to have a pack-and-play or bassinet available.
You might be able to borrow a stroller, car seat, or other items, so your guests don't have to cart so many large things with them on their trip. Have a few toys and other things to help occupy kids based on their ages and interests.
10. Add A Mini-Fridge
Sometimes, guests don't feel comfortable walking through someone else's house at night to find a midnight snack. If space allows, place a mini-fridge in your guest's room so they have access to beverages and cold snacks without trudging to the kitchen.
11. Don't Forget The Festive Flair
Since it's the holidays, add a few seasonal touches to your guest spaces. Perhaps you switch out the bed pillows for ones with some holiday flair or toss a fun, festive blanket over the bed. A holiday soap dispenser and towel go great in the bathroom.
Another great way to do this is to incorporate seasonal flowers into the space. But check beforehand with guests about any allergies. Also, if they're bringing pets along, make sure the flowers or plants you choose aren't toxic to pets.


12. Provide Essentials
When you stay in a hotel, the front desk typically keeps a lot of essentials available to guests who forget them. For example, you usually can ask for things like toothpaste, a toothbrush, razor, comb, etc. And of course, in your hotel room, you'll find little bottles of shampoo, lotion, and conditioner.
There's also usually a market or station in the hotel lobby where you can purchase basic medications and first-aid items. Use these things as inspiration to provide essentials for your guests in case they forget anything.
13. Create A Cheat-Sheet
Put together a list of nearby restaurants, shops, and local attractions for your guests. If they're bringing kids, include family-friendly places and things to do with children.
If they're bringing pets, include local dog parks, groomers, and animal emergency clinics. You can also add any special events that are happening during their stay.
14. Ask About Special Requests And Preferences Ahead Of Time
Don't wait until your guests arrive to find out about any special restrictions or situations they might have. For example, allergies, dietary restrictions, medical needs, and other factors should be known ahead of time.
Then, you can best prepare for their visit and ensure they have what they need. It also reduces the chances of any awkward or uncomfortable moments. (Like only having steak when your guest doesn't eat red meat.)
Give Guests The Five-Star Treatment This Holiday
Adding a few extras like a welcome basket, fuzzy robe, books, and some little luxuries give your guests the royal treatment. They'll feel like they're staying in a five-star hotel or highly rated bed-and-breakfast, making their stay even more memorable.
And you don't need to break the bank. There are plenty of ways to host holidays on a budget, but give yourself time to prepare. If you wait until the last minute, you're more likely to spend more than you need to.
Ask your visitors about any special needs before they arrive, so you can best accommodate them. Create a welcoming space for them to stay, and you'll make your mark as a perfect host. But be warned -- they may never want to leave!
Related Guides:

Stacy Randall
Stacy Randall is a wife, mother, and freelance writer from NOLA that has always had a love for DIY projects, home organization, and making spaces beautiful. Together with her husband, she has been spending the last several years lovingly renovating her grandparent's former home, making it their own and learning a lot about life along the way.
More by Stacy Randall
Published November 13th, 2023 2:30 PM