65 Views
What Is The Cost Of Living In New Orleans, LA?
December 29th, 2021 12:25 PM
Share
We're committed to finding, researching, and recommending the best products. We earn commissions from purchases you make using links in our articles. Learn more here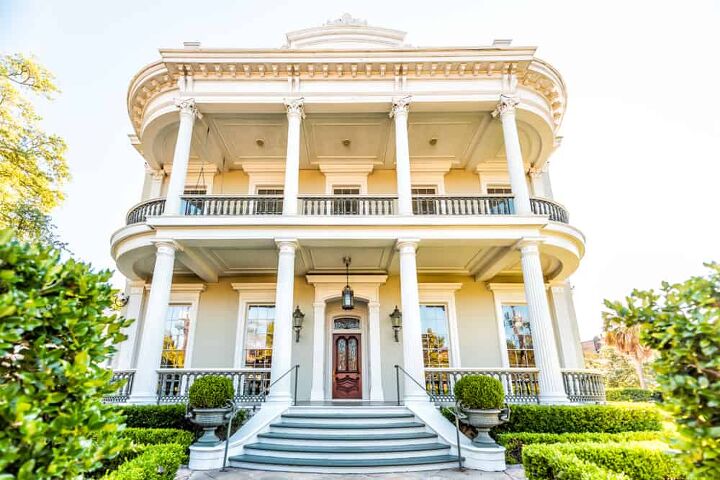 Mardi Gras parades, Bourbon Street, cajun food, dancing at funerals, and all that jazz. Who hasn't thought of living in New Orleans at one time or another in their life? But before you move to this vibrant city down south and start dancing in the streets, can you afford the cost of living in New Orleans?
The cost of living in New Orleans is slightly below the national average, but it's almost 10% higher than the state of Louisiana. The median home price is $254,600, and rent averages $1,828 for a three-bedroom apartment. Utilities and grocery prices are below the national average but transportation costs are almost 30& higher. New Orleans also has a 6% income tax rate, higher than the US average of 4.6%.
Now that you have these figures filed away, how about the costs of utilities, groceries, gas, and entertainment? Take a look at the numbers, and get to know how much it takes to live in New Orleans, Louisiana.
Do You Need to Hire Movers?
Get free, zero-commitment quotes from pro contractors near you.
Housing Costs In New Orleans, LA
As with many cosmopolitan cities, housing prices in New Orleans vary widely depending on the neighborhood. The average home value is $254,600, with a median price of about $193 per square foot. Roughly 54.4% of the properties in the city belong to homeowners.
The other 45.6% are rentals, with about 19% of the total number of structures unoccupied at any given time. Of course, it all depends on which neighborhood you find yourself living in New Orleans.
There are over 60 neighborhoods in the city, with Audubon being the most expensive. For more affordable options, consider the Little Woods or Old Aurora neighborhoods. Here is a comparison of neighborhoods in New Orleans and the varying costs of setting up residence in each area.
Median Home Prices In New Orleans Neighborhoods

Neighborhood
Median Home Price
Audubon
$879,000
Garden District
$795,000
Irish Channel
$557,500
Lakeview Park
$525,000
Midcity
$429,900
West End
$399,000
Broadmoor
$350,000
Leonidas
$350,000
Fillmore
$320,000
Gentilly Terrace
$254,900
Seventh Ward
$246,600
Central City
$233,500
St. Roch
$232,500
St. Claude
$176,500
Little Woods
$161,500
If buying a home is not a viable option, there are many rental properties to choose from. The average cost of rent in New Orleans is $1,300 for a 1-bedroom apartment. Here is a list of New Orleans rental prices for different apartment sizes compared to the rest of the country.
Average Rent By Bedroom Size In New Orleans Compared To The US

Bedroom Size
New Orleans Cost Per Month
United States Cost Per Month
Studio
$1,042
$821
One-Bedroom
$1,303
$930
Two-Bedroom
$1,682
$1,148
Three-Bedroom
$1,828
$1,537
Rental costs in New Orleans run higher than any other city in the state of Louisiana. Demand for rentals is up, and almost half of all existing residential structures target renters rather than homeowners.
The Cost Of Utilities In New Orleans
The cost of utilities scores 87.3, which is lower than the US cost of living index average of 100. This translates to about $198.78 a month for a 900 sq ft apartment for water, electricity, heating, cooling & garbage. Cable or ADSL internet with unlimited data and a speed of 60 Mbps or more would be about $71.
Average Utility Costs In New Orleans

Utility
Average Cost Per Month
Electric
$117
Basic Internet Plan
$50
Natural Gas
$55
Basic Cable TV
$60
Water & Garbage Services
$115
Cost Of Living In New Orleans: Tax Rates
You can't discuss the cost of living in New Orleans and not mention the higher tax rates. New Orleanians pay a combined city, parish, and state sales tax of 9.45%.
Most groceries are excluded from this though, which is a boon for this food-loving city. Income tax falls at 6.0%, higher than the US average of 4.6%
One good thing for seniors living in New Orleans is the city and the entire state is tax-friendly towards retirees. Social Security income is not taxed, and private pension income is only marginally taxed.
In New Orleans, millage rates determine the property tax rates that appear on tax bills. Orleans Parish pays the highest millage property tax rates compared to other parishes in Louisiana. Here are the top 10 parishes paying the highest millage rates in the state.
Louisiana Parishes With The Highest Millage Rates

Orleans
154.1
Lasalle
154.0
Allen
153.6
Grant
153.0
Cameron
148.3
St. Tammany
146.8
St. Bernard
143.2
St. Helena
143.0
Caldwell
138.4
Caddo
135.4
Food Costs In New Orleans
New Orleans is known worldwide for its Cajun and Creole cuisines. As a veritable melting pot, NOLA features a dizzying variety of international tastes and flavors throughout the city. Bars are busy, restaurants thrive, and grocery stores are a hop, skip and jump away.
In this city, people revere food, and it's refreshing to discover that grocery costs don't go through the roof. Here is a list of grocery items and how much they would cost in New Orleans compared to other major US cities.
Prices For Groceries In New Orleans And Other Cities

Food Item
New Orleans
New York
San Francisco
1 Loaf of Bread
$3.00
$3.83
$3.75
1 Gallon Milk
$4.40
$4.72
$4.32
1 lb Bananas
$.69
$1.33
$.81
1 Dozen Eggs
$2.13
$3.54
$3.78
1 lb Apples
$2.14
$2.11
$2.75
1 lb Potatoes
$1.70
$1.35
$1.91
8-oz Local Cheese
$6.02
$7.88
$7.40
1 lb Boneless Chicken Breast
$3.91
$6.53
$6.30
Mid-range Bottle of Wine
$12.00
14.54
$13.29
Fast Food Combo Meal
$7.95
$8.22
$10.00
Cost Of Eating Out In New Orleans
Despite being one of the country's most visited tourist spots, you can get amazing restaurant food for cheap in New Orleans. So, luckily, enjoying some of the most incredible food on the planet doesn't need to impact the cost of living in New Orleans too much.
Here is a sampling of some of the most well-known dishes in the city and how much they cost.
Sample Prices Of Restaurant Eats In New Orleans

1 Order of Beignets and Chicory Coffee
$6.75
1 lb of Boiled Crawfish
$3-5.00
1 Bowl of Jambalaya
$6.50
1 Order Red Beans & Rice
$8-10.00
Fried Chicken Dinner
$10.00
1 Bowl of Pho
$8-10.00
Vehicular Insurance Costs In New Orleans
With an annual average rate of $3,380, New Orleans ranks 3rd for the highest car insurance premiums in the US. This is 11.2% more than the state average and a whopping 137.3% higher than the national average.
Car insurance rates have remained sky-high for many years in New Orleans due to several factors. Aside from the sheer number of uninsured drivers, there is also a high rate of auto litigation. Constant car theft and vandalism in the city push up the price of premiums as well.
Costs Of Living In New Orleans: Transportation Costs
Public transportation in New Orleans can either be a breeze or a real pain in the behind. Buses ply most major city avenues, and the New Orleans streetcars offer a lovely view of busy thoroughfares. In the French Quarter, visitors and locals alike can avail of pedicabs pedaled by enterprising residents for a small fee.
Here is a list of public transportation options in the city and how much they cost.
Cost Of Public Transportation In New Orleans

Transportation Type
Price
City Bus (one way)
$1.25
City Bus (31-day pass)
$55.00
Streetcar (one way)
$1.25
Streetcar (31-day pass)
$55.00
Passenger Ferry (one way)
$2.00
French Quarter Pedicab
$5.00 (first 5 blocks)
Taxi (meter drop)
$3.50
Taxi (city center to the airport)
$36.00
Taxi (charter trip, 2 hr minimum)
$35.00/hr
You can also take advantage of car services like Uber and Lyft which are pretty plentiful in the area. But depending on what attractions and events are going on in the city, be prepared for them to raise their rates.
Education Costs In New Orleans
There are 125 public schools and 75 private schools in New Orleans. The average private school tuition is $11,456 for high schools and $7,835 for elementary schools. Childcare costs for pre-K and Kindergarten range from $8,000-$11,000 annually.
The average tuition fees for colleges in New Orleans is $7,674 for in-state students and $19,600 for out-of-state. These figures are slightly higher than the national average of $6,768 for in-state and $17,690 for out-of-state. Tulane University would be the most expensive university in New Orleans, with an average tuition fee of $56,800.
Cost Of Living In New Orleans: Entertainment Costs
New Orleans boasts of some of the best musical acts and live entertainment in the world. But aside from jazz, blues, and hip-hop, there are many other cultural and fun activities to experience. There is something for everybody, from swamp tours to bar hopping to some of the country's top museums.
Ticket Prices For Popular New Orleans Attractions/Events

Attraction/Event
Price
New Orleans Jazz & Heritage Festival
$70 (general admission)
French Quarter Festival
Free
Voodoo Music + Arts Experience
$80 (general admission)
National WWII Museum
$28.50 (adult)
Audubon Zoo
$24.95 (adult)
Audubon Aquarium of the Americas
$29.95 (adult)
Honey Island Swamp Tour
$30.50 (adult)
City Park Sculpture Gardens
Free
New Orleans Museum of Art
$15.00 (adult)
Louisiana Children's Museum
$14.00 (adult/child over 12 months)
---
Related Questions
Is owning a car worth it in New Orleans?
Driving a car in New Orleans has its own set of pros and cons. Traffic congestion downtown can get a bit gnarly, and road conditions are not necessarily the best. Unfortunately for bikers, New Orleans is not a bike-friendly town, and there is still a shortage of safe bike lanes.Despite these disadvantages, having a car is the most convenient way to get around in the city. It is still the safer option, and there are many parking options everywhere. Car insurance rates are steep, but fuel costs are below average at $3.08/gallon compared to the national average of $3.28.
Is New Orleans a safe city?
Like any other modern city in the US, crime is present and, at times, rampant.  Touristy areas like Bourbon Street in the French Quarter can be a hotbed of petty thievery and street brawls. While in public places, be aware of your surroundings, ditch the expensive jewelry, and act like you belong.The overall crime rate in New Orleans is 150% higher than the national average, with violent crime 242% higher. There are approximately 1,324 violent crimes er 100,000 people and 4,540 property crimes.Some of the safest neighborhoods in New Orleans are Audubon, West End, and Lake Shore-Lake Vista. Lake Shore-Lake Vista's crime rate is 49% below the national average, Audubon's is 26% below, and West End's is 19% below.Even the historic French Quarter, which sometimes gets a bad rep because of assumptions based on news reports and media is relatively safe. It has a crime rate that is equal to the national average. You just need to know where to go and where not to go.
Do You Need to Hire Movers?
Get free, zero-commitment quotes from pro contractors near you.
Summing It Up
In a nutshell, it takes a certain type of individual to call New Orleans "home." One must have a sense of adventure, loads of patience, a spirit of acceptance, and a certain joie de vivre. There is no place on earth quite like it.
Related Articles

Stacy Randall
Stacy Randall is a wife, mother, and freelance writer from NOLA that has always had a love for DIY projects, home organization, and making spaces beautiful. Together with her husband, she has been spending the last several years lovingly renovating her grandparent's former home, making it their own and learning a lot about life along the way.
More by Stacy Randall
Published February 23rd, 2021 7:53 AM