134 Views
What Is The Cost Of Living In New Jersey Vs. New York?
November 30th, 2021 2:29 PM
Share
We're committed to finding, researching, and recommending the best products. We earn commissions from purchases you make using links in our articles. Learn more here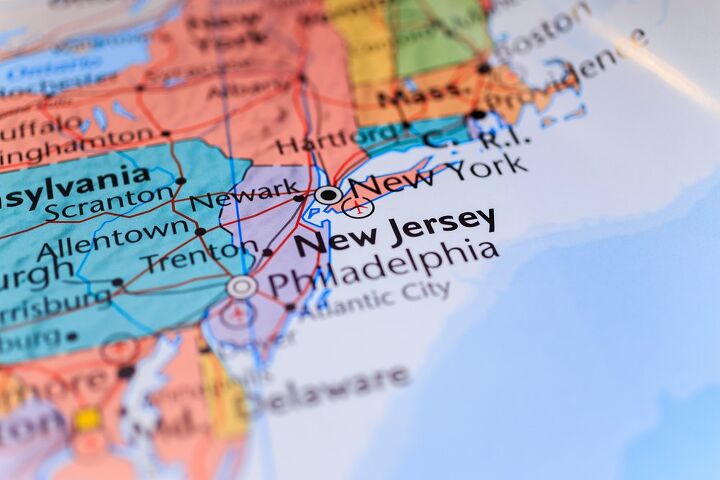 Although New York City is the most populated and most expensive city in the country, there is much more to The Empire State than the five boroughs that make up NYC. The state has a rich history and is full of natural wonders, with world-class art and theater, gorgeous fall colors, wine country, and much more. For those that work in New York City but desire more affordable housing, it is possible to find cheaper home prices in other areas of the state.
Or, you can opt for the alternative and settle just over the Hudson River in New Jersey. New Jersey residents enjoy more space, lower taxes, ample public transportation, and plenty of scenery. But, how do these two states stack up when it comes to cost of living?
The cost of living index in New Jersey is 120.4, meaning it is about 20% more expensive to live in New Jersey than the national average (100). New York, on the other hand, has a cost of living index of 120.5, so it is on par with New Jersey but both states are still well above the national average. The median price of a home in New Jersey is $397,900, which about 36% higher than the national average of $291,700. Meanwhile, the median home price in New York is $373,000 – only about 6.3% less than New Jersey.
Aside from median housing prices, let's take a deeper look at how the cost of living compares in New Jersey vs. New York.
Do You Need to Hire Movers?
Get free, zero-commitment quotes from pro contractors near you.
Housing Market in New Jersey vs. New York
When you consider the fact that the median home price in New Jersey is nearly $400,000, it is more expensive to purchase a home here than in the state of New York. With New York's median home price of $373,000, you'd be looking at spending about 7% more for a home in New Jersey compared to New York.
Over the last couple of years, we've been seeing record-low interest rates on mortgage loans, an increased demand among buyers, and a limited supply of homes. This has caused home prices to rise exponentially all across the country. Not to mention, the reluctance of potential sellers to put their home up in the middle of a global pandemic has contributed largely to the limited housing supply. For the few homes that were available, both New Jersey and New York experienced competitive bidding.
Though, the red-hot market in New Jersey is beginning to cool off. The frenzied purchasing in New Jersey that took place during the second half of 2020 and the first half of 2021 was caused by low interest rates, low inventory, and buyers leaving urban areas, like NYC, in search of more space and more affordable housing in the suburbs. Sales are down because home prices have risen so much that they are unaffordable, even with the record low interest rates.
In New York, as of June 2021, sale prices continue to increase while inventory remains at an all-time low. The median sale price for homes in New York is up 28.3% from the previous year and the increase in demand for homes along with the low inventory has meant that buyers have less wiggle room to negotiate on price. While it may be a great time to be a seller in both New Jersey and New York, the conditions are not ideal for home buyers.
Home Prices in New Jersey vs. New York Comparison
Median home prices vary quite a bit across New Jersey and New York, and are ultimately based on the city and county that you live in. The following table displays some of the most well-known cities in both states, along with their associated median home prices.
| | |
| --- | --- |
| City | Median Home Price |
| Newark, NJ | $351,012 |
| Jersey City, NJ | $572,300 |
| Trenton, NJ | $228,400 |
| New York, NY | $654,300 |
| Albany, NY | $238,800 |
| Buffalo, NY | $183,100 |
Overall, more affordable housing is an advantage to living in New York over New Jersey. However, based on the table, cheaper home prices are mostly concentrated in Upstate New York – including Albany and Buffalo. The closer you get to New York City, the more expensive the homes are.
Median home prices also vary depending on where you live in New Jersey, but, generally, you can still expect housing costs to be around 7% higher in New Jersey than New York.
Rent Prices in New Jersey vs. New York
Generally speaking, rent is higher in states with higher incomes. For instance, the top five states with the highest average monthly rental prices are also among the highest-earning states in the U.S. With a statewide average rent of $1,334 per month, New Jersey has the fourth-highest average rent in the nation. However, like home prices, rental prices vary based on the city.
With that said, refer to the following table for the average monthly rent in some of the various cities across the state of New Jersey:
| | |
| --- | --- |
| City | Average Rent |
| Newark, NJ | $1,299 |
| Jersey City, NJ | $2,842 |
| Trenton, NJ | $1,490 |
| Paterson, NJ | $1,414 |
| Hoboken, NJ | $3,374 |
| Toms River, NJ | $1,478 |
With a statewide average of $1,280 per month, New York has the sixth-highest rental prices in the country. Though, like New Jersey, apartment rental prices vary quite a bit in New York depending on the specific city. To help put things into perspective, the table below outlines the average monthly rental prices for a few of the cities and towns in New York State:
| | |
| --- | --- |
| City | Average Rent |
| New York, NY (Manhattan) | $4,072 |
| Rochester, NY | $1,144 |
| Buffalo, NY | $1,132 |
| Albany, NY | $1,385 |
| Kingston, NY | $1,284 |
| Springfield, NY | $1,106 |
Taxes in New Jersey vs. New York
There are some distinct differences between the taxes in New Jersey versus the taxes in New York, highlighted in detail below:
State Income Tax
The state income tax in New Jersey has a similar structure to the federal income tax, with rates based on income tax brackets. There are seven total income tax brackets and each bracket is taxed at the corresponding rate, ranging from as low as 1.4% to as much as 10.75%. New Jersey's top marginal rate of 10.75% is one of the highest in the country, but only applies to taxpayers that make over $5 million in taxable income.
At 8.82%, New York's top marginal income tax rate is also one of the highest in the nation. However, the rate only applies to select few taxpayers. Like New Jersey, New York has a progressive income tax system, with high earners paying higher rates. If you live in New York City, you will be subjected to additional an additional income tax. NYC collects its own income taxes, ranging from 3.978% to 3.876% of taxable income, which must be paid on top of the tax collected by the state.
Sales Tax
There is a single statewide sales tax rate in New Jersey of 6.625%. Since it is a flat sales tax rate this means you will pay the same rate regardless of where you are in the state, with two exceptions. There are areas known as "Urban Enterprise Zones" in New Jersey where purchases made at qualifying businesses have a reduced sales tax of 3.3125%. The other exception is the sales tax in Salem County, which has the same reduced rate.
At just 4%, New York's base sales tax rate is higher than only six other states. Though, all counties in the state levy additional taxes on top of this rate. This means that, depending on where you are in New York, you may have end up paying as much as 8.875% in sales tax. It's important to note that all five New York City boroughs are subject to the full city rate of 8.875%, or the highest total rate in New York.
Property Tax
Of all the states in the country, New Jersey has the highest property taxes. The state's average effective property tax rate is 2.42%, meaning New Jersey homeowners pay an average of nearly 2.5% of their home's market value in property taxes annually. In roughly half of New Jersey's counties, real estate taxes for homeowners are over $8,000 a year. In Essex and Bergen Counties alone, the average annual property tax payment is over $10,000.
In New York, property taxes are assessed by the counties and cities in the state. This means that rates vary considerably from one place to the next. Effective property tax rates range from as less than 0.7% to as much as 3.5%, with the state's average effective property tax rate being 1.69%. Astonishingly, New York City has one of the lowest effective property tax rates in the state, at just 0.88%. Regardless, both New Jersey and New York have average effective property tax rates well over the 1.07% national average.
Taxes in New Jersey vs. New York Comparison
State
Income Tax
Sales Tax
Property Tax
New Jersey
1.40% – 10.75%
3.3125% – 6.625%
2.42% (average effective rate)
New York
4% – 8.82% (state income tax)
3.078% – 3.876% (NYC income tax)
4% – 8.875%
1.69% (average effective rate)
Do You Need to Hire Movers?
Get free, zero-commitment quotes from pro contractors near you.
Transportation Costs in New Jersey vs. New York
Whether you decide to settle in New Jersey or New York, transportation costs are another factor that you must consider when determining the overall cost of living in either state.
With New Jersey's transportation cost index of 127.7 and New York's transportation cost index of 140.7, these expenses tend to be more expensive in New York overall. Though, both states are well above the national average of 100.
| | | |
| --- | --- | --- |
| Cost Factor | New Jersey | New York |
| Gallon of gas | $2.59 | $2.61 |
| Monthly public transit pass | $104.05 | $113.57 |
| Taxi trip in downtown (approx. five miles) | $20.04 | $18.17 |
| New Volkswagen Golf | $22,258 | $24,635 |

Jessica Stone
Jessica considers herself a home improvement and design enthusiast. She grew up surrounded by constant home improvement projects and owes most of what she knows to helping her dad renovate her childhood home. Being a Los Angeles resident, Jessica spends a lot of her time looking for her next DIY project and sharing her love for home design.
More by Jessica Stone
Published October 19th, 2021 8:27 PM