211 Views
What Is The Cheapest Type Of House To Build?
August 27th, 2021 2:53 PM
Share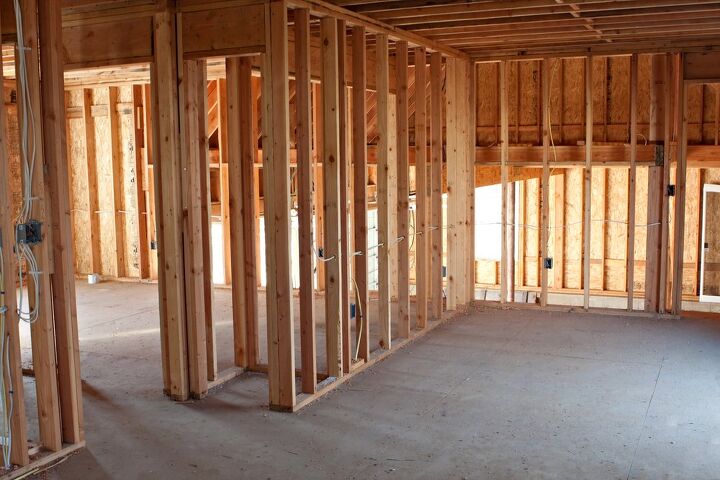 If you dream of being a homeowner but have nightmares about how expensive homes can be, that's understandable. While buying a home is likely one of the biggest purchases you will make, there are some cost-effective options. You might be able to spend less than you think if you're willing to choose certain alternatives.
Manufactured homes are the cheapest type of house you can build, and they cost $45,000-$125,000. Mobile homes cost $57,000, on average, and they're one of the cheapest types of houses. Modular homes are similar to manufactured homes they cost $30-$100 per square foot to build.
There are other options for more cost-effective homes, such as tiny homes and quirky alternatives like yurts. However, these styles of homes often come with more hoops to jump through. Your best bet is to know your options and decide which works best for you and your lifestyle.
Do You Need to Hire an Architect or a Builder?
Get free, zero-commitment quotes from pro contractors near you.
The Cheapest House to Build: Manufactured Home
Manufactured homes provide people with an opportunity to own comfortable homes at a lower cost than a standard build. These homes are built assembly-line style in a special facility, making the whole process very efficient.
Plus, builders must follow federal regulations and building codes imposed by the US Department of Housing and Urban Development (HUD). Once completed, the fully assembled home is transported to its new location. Builders set up the home onsite by placing it on metal piers, wooden pillars, a basement, or another solid foundation.
How Does the Price Compare to Traditionally Built Homes?
Prices for manufactured homes vary depending on the size and how custom you make it. However, due to the building process's efficiency and materials, the cost per square footage rings in lower than standard built homes.
Standard, on-site constructed homes typically range in price from about $150 to $250 per square foot. Manufactured homes come in at about 10% to 20% less than this, mostly due to the build's efficiency. Some manufactured homes can even come in close to $50 per square foot.
A conventional-built home's median price is $320,000, with an average size of 2,400 square feet. With manufactured homes, small size and bare minimum design get you the lowest cost, around $45,000.
Or, you can opt for more space and luxurious amenities, driving the price upward past $125,000. Potentially, if you select high-end add-ons and extras, you could push the cost into the $300,000 range.
Some customization options include hardwood or tile flooring, granite or quartz countertops, dual sinks in bathrooms, and detailed accents. Of course, the more amenities you select, the higher the price will be.
Types of Manufactured Homes
There are three main categories of manufactured homes: Single Wides, Double Wides, and Triple/Multi Wides. The most significant differences between them are the size and the number of bedrooms. Also, the price increases as you move up from one style to the next.
| | | | |
| --- | --- | --- | --- |
| Type of Home | Square Footage | Number of Rooms | Average Price Range |
| Single Wide | 500-1,200 sq ft | 1-2 Bedrooms, 1-2 Bathrooms | $45,000 – 60,000 |
| Double Wide | 1,000-2,200 sq ft | 2-3 Bedrooms, 2 Bathrooms | $50,000 – $100,000 |
| Triple/Multi Wide | 2,000+ sq ft | 3+ Bedrooms, 2+ Bathrooms | $75,000 – $125,000 |
Keep in mind that these prices are only for the build of the home. Often, the home price includes delivery and installation if the travel time is within a certain distance, say 100 miles. If the delivery site is outside the designated mile range, expect to pay additional transport fees.
Pros of Manufactured Homes
Depending on the style and size of your manufactured home, you might be able to take it with you. Basically, most manufactured homes become permanent structures. However, you can opt for specific designs to disassemble and transport to someplace new when you move.
Manufactured homes take less time to build than traditionally built houses because of the construction conditions. Builders manufacture these homes in a secure factory setting, assembly-line style.
This method has many benefits, including no weather interruptions or construction sites that can fall prey to vandals and thieves. There is also less waste removal to deal with. Finally, as already mentioned, manufactured homes have a significantly lower cost than standard builds. Also, property taxes on these homes are generally lower as well.
Cons of Manufactured Homes
Everything has ups and downs. When it comes to manufactured homes, there are still downsides to consider.
To maximize your savings, you should really find a factory that is near the site of your future home. If you live too far, hefty transport fees and extra permits can negate much of your savings.
Plus, you could potentially run into more zoning issues with a manufactured home, decreasing your options for available land.
Lastly, although you can customize aspects of a manufactured home, you're limited. You won't be able to do as much as you would with a standard build.
Are Manufactured Homes the Same as Mobile Homes and Modular Homes?
All three of these homes share many similarities, but they also have a few differences worth noting. You've already had an up-close look at manufactured homes, so here's a look at mobile homes and modular homes.
What Is a Mobile Home?
Basically, when it comes to a mobile home and a manufactured home, the biggest difference is the name. Before 1976, you could easily move mobile homes without much supervision or specific building codes.
Therefore, if you come across a mobile home for sale, keep in mind that many things might not be "up to code." However, in 1976, the Mobile Home Construction and Safety Act was born.
This HUD code regulated mobile home production, with higher standards for safety and quality. It also decreed that these homes would henceforth be called manufactured homes on all official documentation.
What Is a Modular Home?
A modular home is close to a manufactured home in almost every way. They are cost-effective and offer many people with tight budgets a way into homeownership. Modular homes also provide customization options and can come in various sizes.
The most substantial difference between modular homes and manufactured homes is the build process. While manufactured homes are built in one piece, then transported to the site, modular homes are like giant 3D-jigsaw puzzles.
Workers construct modular homes in a home-building facility in several pieces. These pieces are then transported and assembled at the site on top of a solid foundation. These homes must also adhere to local and state codes.
Can Buying a House Be Cheaper Than Building?
Although building a manufactured house can be a cost-effective way to enter homeownership, consider the big picture.
Depending on what you're looking for, sometimes buying an existing house can be cheaper than building new. Of course, this hinges on several factors. For example, the location, development, inspections, permits, and how much time you have.
Location
For example, if the area you want to live in already has many homes, then available lots are likely in demand. If you save money by building a manufactured home, you could potentially pay big time for the land. Therefore, location is a big consideration when deciding on your final home decision.
Development
In addition to purchasing the land itself, there is also the matter of development. If the lot you buy isn't prepped and ready for a home, you need to pay to get it ready.
You might need to grade the land, lay a foundation, rent special equipment, and so forth. There is also the matter of setting up hookups for electrical, sewer, water, cable, and phone.
Generally speaking, if you are trying to calculate the approximate cost of utilities on vacant land, keep in mind some key factors that will affect the pricing. Consider the location, that is the distance between the land and the public utility connections. Lower the difference, cheaper will be to cover utility costs.
Otherwise, you will need to pay extra for the line extension. Finally, consider Governmental regulations. Take note that according to some regions' regulations, it is forbidden to have off-grid power sources. In turn, it may also affect the cost of utilities.
Therefore, on top of the purchase price of the land, you could pay another $25,000 or more for development. In some cases, if there are exceptional circumstances, like needing a well, you could pay another $10,000 or higher.
Inspections and Permits
Often, when you buy a manufactured home, the cost will include things like basic inspections and permits. However, if the inspection returns any red flags, you'll need to pay more to resolve these issues.
If you have to buy the permits yourself, you could pay another $2,000. Also, don't forget about transportation costs. If you move the home beyond the included distance, you'll likely have additional permits on top of extra transport fees.
It is ultimately your responsibility to make sure you have all the necessary inspections and permits in place. Therefore, check with the city and state where you plan to set up your manufactured home.
Time Is Money
It's also important to consider the cost of your time. How much of your time will you need to give up if you're building a home? Even if you have a contractor with a whole crew doing the actual physical work, you still have to consider the time spent.
It's essential to take into account how long the entire building process will last. Some homes, like a single wide mobile home, can be built in as little as two weeks. However, others, like a double-wide mobile home, can take a couple of months.
The Unexpected Can Add Costs to Your Build
Sometimes, even though the house might only take minimal time to build, other things add to the timeline. For example, unexpected inspection and permit issues can add red tape to the whole process.
You could get a build time of two months from your contractor. However, the whole project could come screeching to a halt because of a missing permit. This could add weeks or even months to your timeline.
When the timeline drags out, so do your costs. This is why it's good practice to budget an extra 15%. For example, if you estimate your build to cost $45,000, budget for $51,750. Likewise, budget extra time; if your build is estimated to take 6 weeks, plan on 12.
In the best-case scenario, you'll end up with money and time leftover when all is said and done. However, at least you can be better prepared for the unexpected.
When you purchase an existing home, granted, you still have to get through things like an appraisal and home inspection. However, the odds are in your favor. On average, when purchasing a home in the US, you can expect to close on the deal within 35-47 days.
A Cheaper House Doesn't Mean Cheap Building Materials
It's essential to note that looking for the cheapest home to build doesn't mean you should opt for cheap materials. Remember, your home is likely one of the largest investments and purchases you will make in your lifetime.
Opting for a manufactured home does not mean you are skimping on materials. Once assembled and set up on-site, many of these homes look and perform like a traditional home.
According to the Manufactured Housing Institute, "properly installed manufactured homes are as safe as traditional homes in a storm." Plus, in specific areas, like hurricane zones, building standards are stricter for manufactured homes than site-built homes.
---
Related Questions
What are Accessory Dwelling Units (ADUs)? Can they be my permanent residence?
Accessory dwelling units are structures you build on the same property as a primary residence. These buildings can be a tiny house, guest cottage, mother-in-law suite, secondary suite, or other similar places. If you plan to live in an ADU, you need to make sure local codes allow you to reside there. Additionally, you will likely have to pay rent. (Unless you have a very nice family member or friend letting you live there for free). However, this option does take away the cost of purchasing land. If you live in an ADU, you will have the same address as the primary residence. In some states, you can apply for a 1/2 address (i.e., 451 1/2). If the ADU has separate street access or its own driveway, a separate address is typically required. There are also many other guidelines and restrictions to follow when building an ADU. You must also follow these guidelines when converting an existing space, like a garage, into an accessory dwelling unit. 
What are some other options for less-expensive, non-traditional homes?
If you really want to save some money, you could go with a very non-traditional home like a yurt. These tepee style homes can range from 100 to 700 square feet and can be wholly primitive or feature indoor plumbing. A yurt can cost as little as $5,000, although, at this price-point, it's likely not suitable for year-round use. Other yurts can cost anywhere from $15,000 to $35,000. There's also the tiny house movement, featuring homes that are 400 square feet or less. These homes are mobile or permanent structures and can cost anywhere from $15,000 to over $100,000 or more. The price depends on how rustic (or not) you want to go. Some people even convert shipping containers into tiny houses. Of course, with these types of homes, you have to look at many regulations and codes. You can't just build a tiny house or a yurt anywhere. In some cities, like New York, these alternative home styles are not allowed as full-time residences.Still, if you really want to go for a different way of living, you can buy an RV and live life on the road. You'll have to purchase the RV plus rent space wherever it is you're staying. 
Do You Need to Hire an Architect or a Builder?
Get free, zero-commitment quotes from pro contractors near you.
Your (Manufactured) Home Can Be Your Castle
Ultimately, where you decide to live is a personal choice, and cost is always a big factor. For a home that offers comfort and security without breaking the bank, a manufactured home could be the solution for you!

Stacy Randall
Stacy Randall is a wife, mother, and freelance writer from NOLA that has always had a love for DIY projects, home organization, and making spaces beautiful. Together with her husband, she has been spending the last several years lovingly renovating her grandparent's former home, making it their own and learning a lot about life along the way.
More by Stacy Randall
Published October 8th, 2020 6:04 PM