142 Views
What Color Should I Paint My Picnic Table? (Find Out Now!)
August 17th, 2022 4:58 PM
Share
We're committed to finding, researching, and recommending the best products. We earn commissions from purchases you make using links in our articles. Learn more here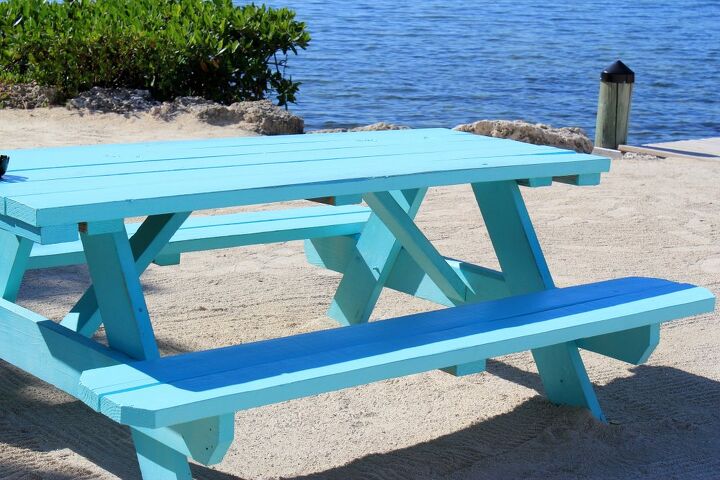 A picnic table is a summer staple and a great way to enjoy the gorgeous outdoors. Whether your table is next to your barbecue or garden, a picnic table is a great home accessory. Additionally, picnic tables offer outdoor dining, which can be a game-changer for homes or rentals.
When choosing a color for your picnic table, take your home's color scheme, foliage, and personal taste into account. Most importantly, choose a hue that you enjoy and will not grow tired of. Colors like natural wood, bright white, or a two-toned look are popular choices.
When it comes to color options for picnic tables, the sky's the limit! Find one that suits your life and home. Knowing how you'll use your picnic table can help inform your color choice.
Do You Need Painting or Staining Services?
Get free, zero-commitment quotes from pro contractors near you.
Selecting A Picnic Table Paint Color
Work With Your Home's Color Scheme
A picnic table that clashes with your house will not be appealing to the eye. Instead, tie in a highlight color from your home.
You may also paint your picnic table the darkest color from your house's color scheme. Then, add the lightest color from your house's color scheme to the benches.
Even choosing a less obvious, more muted color from your home adds to the cohesiveness. Your picnic table will fit right in!
Natural Wood
There's nothing more gorgeous than natural wood, especially when it comes to a picnic table. As picnic tables are summer staples, bare wood adds a rustic touch. Reminiscent of a camping trip, natural wood picnic tables are great for cookouts.
Unfortunately, the sun's rays will strip the color of your natural table so this option still requires a coat of sealant or a stain.
You can also opt to paint the top a darker stain for another rustic option. If you leave the bottom natural, it creates a nice contrast between the colors of wood. You can also use a coarse brush to add more texture.
Bright White
Crisp white picnic tables are quite popular and go with everything. They give a country feel, but also add a classy element perfect for formal dinner parties, or even backyard weddings!
For white and all other bright colors, use a water-based latex to achieve a vibrant look. Keep in mind that your white picnic table may need touch-up coats to maintain its brilliance.
Match Your Flowers
There's nothing more eye-catching than a bright picnic table that matches a home's flowers. This is an easy and inexpensive way to play with color boldly.
If you haven't chosen flowers for the season, opt for some bright hanging baskets. Pick a color that's complementary to the color of your home. For example, if your house is bright cerulean, pick out a basket of orange daisies. Below, the colors listed on the same row are basic complementary colors.
| | |
| --- | --- |
| Blue | Orange |
| Red | Green |
| Purple | Yellow |
Once you've selected your flowers, paint your picnic table to match. This will be a beautiful touch to an eye-catching home.
Create A Design
As picnic tables are an important part of outdoor holidays, painting a design is a great opportunity to be festive. With some painter's tape, coordinating colors, and an idea in mind, you can create a custom masterpiece.
Stencils are also a foolproof way to create the design you want. Not only that, picnic tables have built-in stripes! Choose two colors that work together and alternate painting slats. Make sure to still use painter's tape to avoid unwanted splattering.
You can design anything from a funky sunburst on your table-top, to a vintage black-and-white checkerboard look. Decals can be purchased at your local hardware store to add some decorative flair.
Two-Toned
If you're planning on throwing upscale events in your backyard, consider a two-toned look for your picnic table. Paint the legs and support beams a bright white. Then, use a rich natural wood stain for the table-top and seats.
If you want to experiment with a mod look, try a light turquoise on the legs and support beams, and a darker shade for the top and legs.
If you're okay with a crafting challenge, pick a deep hue for a slat on one side of the picnic table. With each next slat, mix the shade with white paint, resulting in lighter hues. This creates a trendy gradient effect.
Pastel
Since we mostly use picnic tables in Summer and Spring, pastels are a fresh addition to any backyard or patio. Plus, pastels tend to be cousins of gorgeous natural shades. Perhaps light aqua ties in with the color of your swimming pool. Or maybe light periwinkle draws attention to your lilac bushes.
Consider Your Favorite Vacation Spot
At home, our "vacation spot" is often our backyard. So why not infuse the vibe of an actual vacation into your picnic table?
Is a tropical island your vacation of choice? If so, consider choosing a rich blue, seafoam green, or sunset orange for your table. Or, if you enjoy visiting England, use painter's tape to create an English flag on the tabletop. Your picnic table can be more than décor. It can be an expression of your personality.
Green Tones
Since picnic tables are usually surrounded by lush greenery, you really can't go wrong with a green shade of paint. Green is also the most pleasing color to the human eye!
Choose a bright lime for a summertime paradise, or hunter green for an understated shade, reminiscent of summer camp. Lastly, green is one of the most popular colors for picnic tables. A classic choice is always a good idea.
---
Related Questions
What kind of paint or stain should I choose?
There are several types of products that will give your table a great finish.Clear Sealant: If you'd like to maintain your table's natural hue or protect a table that's already been painted, try a clear sealant. Not only will a clear sealant protect your table from snow, but you'll also be safe from liquids that stain, like wine.Look for an oil-based sealant, as a water-based sealant will cause the wood grain to rise and require sanding. You may need to repeat this process in 3-5 years.Semi-Transparent Stain: This is a great option if you want to enhance the natural wood of your table. You can find a stain that has a light pigment, or one that closely matches your table. Your table will have a slight stain, but you'll still see most of the natural color and wood grain.Solid-Color Stain: A solid-color stain covers the color variations of the wood, but maintains the wood's texture. There are numerous wood shades available, as well as grey options.Acrylic Latex Paint: This paint seals your picnic table against sunlight and harsh weather. There are endless colors available and this paint will ensure your table won't flake or chip. This paint will typically last 10-15 years.
Do You Need Painting or Staining Services?
Get free, zero-commitment quotes from pro contractors near you.
Summing It Up
A picnic table is a chance to add some color and some comfort to your yard. Natural tones offer a rustic and homey vibe, where white is classic and crisp. Vibrant colors can be the perfect accessory to your yard, where a custom design can be an unforgettable statement piece!
With a high-quality brand of sealant, stain, or paint, your paint job will endure all sorts of weather. Most importantly, find a color you love! However, if you ever change your mind, you can always sand and re-paint your table.
Related Articles

Upgraded Home Team
We are a team of passionate homeowners, home improvement pros, and DIY enthusiasts who enjoy sharing home improvement, housekeeping, decorating, and more with other homeowners! Whether you're looking for a step-by-step guide on fixing an appliance or the cost of installing a fence, we've here to help.
More by Upgraded Home Team
Published June 24th, 2021 9:00 AM