363 Views
What Color Should I Paint My Back Door? (Find Out Now!)
March 2nd, 2022 3:43 PM
Share
We're committed to finding, researching, and recommending the best products. We earn commissions from purchases you make using links in our articles. Learn more here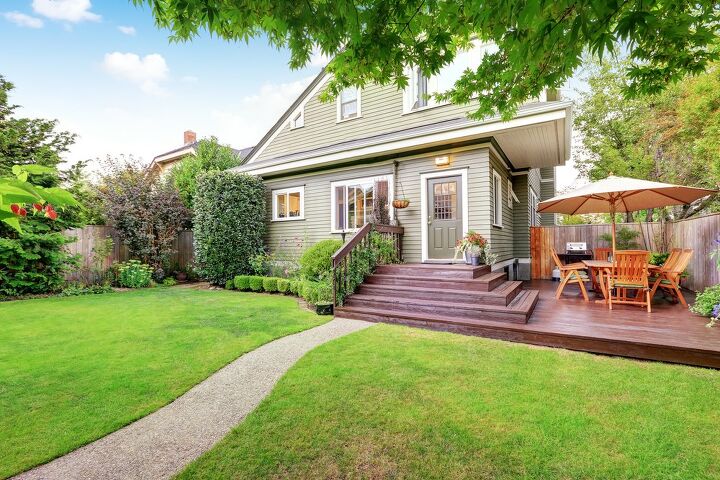 The back door is not usually given a second thought. Most people think of it as strictly a means to the outdoor or back yard. And rarely is it considered a design component of a room.
But whether it leads to your trash bins or a magical backyard Eden with lush gardens and a sparkling pool, the back door deserves a little love — and maybe a fresh coat of paint. It may not contribute to curb appeal, but a colorful back door can cheer you up when you're sitting on the back patio or even taking out the garbage after dinner.
Most homeowners opt for vibrant back door colors like red or even a dark brown. Follow feng shui colors and meanings for your intended look and feel. Fiery red means courage, energy, and abundance. Orange is welcoming, green is balancing and healing, and blue is calm and peaceful. White marks freedom, while brown is grounded.
Do You Need Exterior Home Paint or Stain Services?
Get free, zero-commitment quotes from pro contractors near you.
Different Colors and Their Meaning
Classic:

white house, charcoal trim, charcoal, or shiny black exterior door.

Contrasting Colors: (such as)

Orangish brick home with a brilliant plum colored door.

Nature inspired colors:

soft sage, pastel bluebell, gray thistle, and heather

Bold Colors:

Chartreuse is unexpected and invigorating.Tropical pink is jazzy and Caribbean.Grape is festive

Feng Shui Colors and meaning

Fiery red = courage, high energy, and abundanceOrange = extroverted, exuberant, and welcomingGreen = balancing, healing and young-at-heartBlue = calm, peaceful and expansiveWhite = Freedom and New beginningsBlack = Alluring and mysteriousBrown = grounded

Keep in mind that darker colors or lighter colors are going to have more eye-catching appeal than the medium shades. Light colors will pop on darker colored homes, and dark colors will pop on lighter colored homes.
Color and Style
To keep balance and symmetry of the house you should paint all the exterior doors the same color. For a more interesting look you can opt to paint the back door a different color either which either complimentary or a contrasting paint color to make the door pop. A white clapboard home with charcoal trim and a black roof stays neat-looking with a door in charcoal or shiny black. However, a staid orange brick home can look brilliant with a plum colored door.
Colors of the Garden
The garden should be considered an extension of your home. And thus, should be decorated with the same consideration given to interior spaces. Interior doors are usually painted the trim or wall color, so you don't notice them as much, whereas the back door can be a design statement on its own.
If you want to merge the back-door decor with colors in nature you should use a soft sage, pastel bluebell, gray thistle or heather which will reflect the deep greens of plants and lawn. The back door could also be a bright extension of the pumpkin patch in autumn or the vivid yellow of sunflowers in the summer.
If you're feeling artistic, you can paint a faux finish to make the door like old copper that's going to verdigris. Or if you are hippie, paint the door in a rainbow of colors and then paint each of your patio chairs in a different rainbow color.
Mood and Use of the Garden
If your exterior space is used for entertaining, you might want to create a party vibe on the back door with a slash of vivid color that electrifies the backyard. Chartreuse is unexpected and invigorating. Hot tropical pink is jazzy and Caribbean.
Grape — pure reddish grape — is as festive as a punchbowl and exotic as orchids. However, you don't want that blast of color to come out of nowhere, so make your choice based on the soberer colors of the house and yard.
Try a brilliant teal door for a gray house with white trim; hot pink for your yellow house with blue shutters; tangerine against a cream-colored house with charcoal or slate blue trim; chartreuse against stained wood shingles and red trim.
Sheen
The sheen of the paint should also be considered A high gloss finish is very traditional especially in black. A matte door has a very distinctive understated allure.
It is more casual and provides a more arts and craft look. Semi-gloss or satin adds just enough shine without too much pop. And definitely make sure you buy exterior and not interior paint.
Dressing your Door
Paint is not the only thing you need to consider when revamping your back door. The door hardware is just as important. It is critical that the door work properly and is easy to use. Any hinderance to your entrance will affect your mood in the house especially if you use it daily.
So, don't forget to get proper door hardware and have it installed correctly so there are no issues.
If your back door features a storm door or screen door, you can paint it's frame a contrasting hue for a second punch of color.
Feng Shui Color Palette
If you are either casually interested in or an avid follower of feng shui, you may want to consider certain colors to bring a certain energy (chi) into your house. The main or front door is the mouth through which good chi enters the home.
When you use the back door for most entries and exits, it takes on the role of the front entrance welcoming and attracting strong positive chi. Feng shui provides clues to the best color for a frequently used back door. Fiery red stands for courage, high energy and abundance; orange is extroverted, exuberant and welcoming; green is a balancing, healing and young-at-heart color; blue is calm, peaceful and as expansive as the sky.
A yellow door signifies good cheer, positive energy and sharp intelligence; purple means wealth, powerful position and high spirituality. White doors are about freedom, cleansing and new beginnings. Black is protective but has an air of mystery and unexpected possibilities; and brown attracts a grounded, nurturing, rooted energy for maintaining the status quo.
How to Paint Your Back Door
Now that you have carefully considered the color for your back door you can easily paint the door yourself. There are 3 easy steps of painting your back door, Prepare, Paint, Perfect. And you don't even need to take the door off the hinges.
Step 1: Prep the Door to Be Painted
First you need to prepare your door for the paint. Scrub the door thoroughly with a liquid sandpaper cleaning product. This will remove all dirt and give the door a rough surface to take on the new paint.
Step 2: Prime the Door and Fix Imperfections
Fix any imperfections, i.e., fill holes, sand out divots, and dry the door completely. Depending on the original color of the door and the new paint color you may want to prime the door first. If you are going from a light color to dark paint, it may not be necessary to prime the door but if you have a dark door and what to lighten it up. In that case, you should definitely prime.
Step 3: Paint the Door
Use a small foam roller and a high-quality angled paintbrush to paint all aspects of the door. Let dry. Sand down all imperfections and paint second coat. Lighter colors need less coats, but a bold red make take 3-4 coats.
Do You Need Exterior Home Paint or Stain Services?
Get free, zero-commitment quotes from pro contractors near you.
---
Related Questions
Should the back door and front door be the same color?
The simple answer is no, you can paint them two different colors if that's what works best for your needs and design style. It is more important that the color compliments the house. Keep in mind that darker colors or lighter colors are going to have more eye-catching appeal than the medium shades. Light colors will pop on darker colored homes, and dark colors will pop on lighter colored homes.
Does the interior color of the door have to match the exterior color?
Again, the simple answer is no. You don't see duo-colored interior doors so much unless the attached rooms are a complete contrast. However, in cases where the exterior side color choice clashes with your inside décor it's best to paint the interior side to work with the room décor.
What is the most popular back door color?
Most homeowners opt for factory painted white. But people are getting more adventurous with color for the backdoor. Just like the powder room inside, the door is not seen that often, so you can go wild and experiment with different colors.

Upgraded Home Team
We are a team of passionate homeowners, home improvement pros, and DIY enthusiasts who enjoy sharing home improvement, housekeeping, decorating, and more with other homeowners! Whether you're looking for a step-by-step guide on fixing an appliance or the cost of installing a fence, we've here to help.
More by Upgraded Home Team
Published December 6th, 2021 12:09 PM