172 Views
What Color Cabinets Go With Butcher Block Countertops?
October 20th, 2022 3:57 PM
Share
We're committed to finding, researching, and recommending the best products. We earn commissions from purchases you make using links in our articles. Learn more here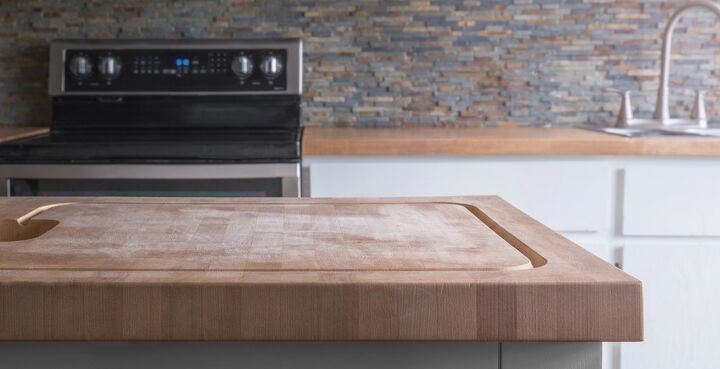 With everything going on in the world right now, most of us are finding more time on our hands. Home renovations are at an all-time high and the cost of materials is climbing every day. Butcher block counters are very on-trend right now, so what color cabinets go with butcher block countertops?
Butcher block counters can go with any color cabinet: white, black, gray, green, and many more. Currently, the most popular cabinet colors that go with butcher block countertops are white, gray, green, navy, cream, and black. Skip natural or unfinished wooden cabinets to avoid a wood-on-wood look.
Natural materials never go out of style, so investing in a timeless countertop, like butcher block, will always pay off. You can incorporate butcher block into virtually every interior design style, allowing it to transition from style to style seamlessly.
Do You Need to Hire Cabinet Installers?
Get free, zero-commitment quotes from pro contractors near you.
What Color Cabinets Go With Butcher Block Countertops?
One of the most trendy countertops on the market today is the butcher block counter, and for good reason. Butcher block is a heavy-duty wood surface made from strips of wood bonded together and laminated. It is known for its long-lasting quality and colorful, natural pattern.
One reason butcher block is so popular is that it is the only countertop that you can chop directly on. Due to the natural material, butcher block will never really go out of style, making it a timeless piece. While leaning towards the pricy side, the investment will pay off for years to come.
Butcher block isn't for everyone, though. If you are someone who can't relax until your kitchen is sparkling and perfect, you should avoid butcher block. This is because it will show wear and tear much more than other materials, like granite.
However, if you enjoy a lived-in, vintage feel, butcher block is the move. For some of us, wear and tear on our belongings can feel comforting.
1. White Cabinets Go With Butcher Block Countertops
Let's be honest, what doesn't go with white? Universally loved and the most versatile of all colors, white will keep your kitchen on trend for years to come.
DIY culture loves a good cabinet flip; after all, new cabinets are a huge investment. Painting cabinets is certainly the cheapest way to update your cabinets but is not for the faint of heart. Cabinets go through an incredible amount of wear and tear daily, so many opt for hiring a professional painter.
Shellac white cabinets are a popular option if you are looking to purchase new cabinets. Tall, sleek cabinets are the most popular style by far. However, rounded cabinets are predicted to be the newest trend.
2. Black Cabinets Make A Statement
Black in the kitchen is always a power play. Black kitchens can get a bad rap because they are known to make your space appear smaller. However, black can transform your kitchen into an unexpected, luxurious, and modern space if you do it strategically.
With people flocking to estate sales, thrift stores, and dumpster diving, second-hand items or ones that look second-hand are king. This has led to more unique design trends, shying away from minimalism, and leading into an eclectic, vintage, maximalist style. With gothic and Victorian styles rising in popularity, we will see a lot more moody spaces with dark colors.
3. Gray Color Cabinets Go With Butcher Block Countertops
Gray is one of the most versatile colors out there today. It matches with nearly everything and comes in such a wide spectrum of shades and undertones.
For the past few seasons, cool grays have been taking over the market. Gray is still on-trend but has transitioned from cool, blue undertones to warm green undertones. Nature-inspired spaces are very hot this year so bringing more natural tones into the kitchen is right on the money.
For a more industrial look, try medium gray cabinets. This can be paired with a lighter or medium walnut-toned butcher block. If your space is small, don't overwhelm it with too much darkness or it will appear smaller and more cramped.
Light grays look super romantic when paired with a richer colored butcher block, leaning a hair towards red. Warmer grays tend to complement butcher block more than cool grays due to the warm nature of wood. This combination will make your space feel more relaxing and cozy.
4. Navy Color Cabinets Go With Butcher Block Countertops
If you want a more modern coastal or mid-century style, opt for navy cabinets. To avoid the counter and cabinets clashing, you will want to choose a navy with warm undertones.
Light-colored butcher block can look good, but walnut-colored butcher block is where the money is at. For a modern coastal style, opt for a light color butcher block. This will bring that beachy brightness in without overwhelming the space.
A medium-stained wood, like walnut, will look best for a mid-century style space. Walnut wood is iconic of the mid-century movement, so try pairing that richness of that wood with a warm navy.
5. Green Cabinets Work With Many Styles
It may not be easy being green, but pairing green cabinets with butcher block countertops sure is. Green kitchens are the newest craze, really leaning into the naturalist movement. Using green in the kitchen can work with a plethora of styles; cottagecore, midcentury, naturalist, maximalist, eclectic, you name it.
If you are leaning toward a lighter green, think moss, both light and medium warm butcher block will look good. Light butcher block will work better for naturalist and cottagecore-styled homes. This choice will make your kitchen appear a bit softer and brighter.
Darker greens, like emerald or forest green, look best with walnut-colored butcher block, especially if the green is warm. This combo looks best for midcentury, maximalist, and eclectic style kitchens, amongst others.
6. Cream Cabinets Go With Butcher Block Countertops
Cream for cabinets is universally loved; it's warm, it's bright, and it is the definition of coziness. Soft, warm cream cabinets really pop with a medium-colored butcher block counter. This lets the counters be the main event, really highlighting the natural beauty of the wood.
Lighter butcher block counters also look fantastic with cream cabinets, providing a Scandinavian or transitional vibe. Darker butcher block will give more of a contemporary or new Mediterranean feel.
7. Powder Blue Cabinets Go With Butcher Block Countertops
Powder blue is an up-and-coming color for this season. Reflective of the English countryside style, powder blue gives a sense of peace and tranquility. Modern coastal is also a popular design choice for this color.
A light-colored butcher block is the way to go with powder blue. While this blue can lean slightly warm, it tends to come across as a cooler tone. By using a lighter-colored wood, you are minimizing the warmth from the counters.
Do You Need to Hire Cabinet Installers?
Get free, zero-commitment quotes from pro contractors near you.
---
Related Questions
How do you take care of butcher block countertops?
If taken care of properly, butcher block countertops can last you decades. Actually, taking care of butcher block is essentially large-scale cutting board care. However, if you fail to properly maintain your counters, you'll significantly decrease their lifespan. One of the advantages of having butcher block is that you are able to chop foods directly on the counters. This makes butcher block extra unique because it is actually the only countertop material you can chop on directly.There are only two natural ways that butcher block counters can go in: moisture getting in or moisture getting out. The only way to stop moisture from getting in or out is to use oil as a moisture barrier. Food-grade mineral oil has no odor, color, or taste and is the best choice for sealing your counters.  To seal the wood, all you will need to do is clean them deeply, sand down any stains, and apply oil. Try applying the oil before bed and let it sit overnight. Wipe away excess oil in the morning.
Are butcher block countertops cheaper than granite countertops?
Butcher block and granite are both popular choices for countertops. Replacing or installing countertops is an expensive undertaking, even if you do the work yourself. Granite is more expensive than butcher block, but not by as much as you would think. On average, granite costs between $50-$100 per square foot, and butcher block is between $40-$100 per square foot.One way that people keep the price down for butcher block is by making it themselves. It can be a bit tedious to cut and glue together, but it could save you thousands of dollars. 
What style sink goes best with butcher block countertops?
Undermount sinks work the best for butcher block countertops; they give you more counter space and they're sleeker. Stainless steel is by far the most popular type of sink due to its durability and sleek look.White farmhouse sinks are also a popular look with butcher block, and you can even install them over an existing countertop. This pairing is a great combination for a cottage-style kitchen or modern farmhouse look. Another popular option is a black undermount sink, which looks best when paired with dark cabinets, like black. 

Stacy Randall
Stacy Randall is a wife, mother, and freelance writer from NOLA that has always had a love for DIY projects, home organization, and making spaces beautiful. Together with her husband, she has been spending the last several years lovingly renovating her grandparent's former home, making it their own and learning a lot about life along the way.
More by Stacy Randall
Published January 19th, 2022 5:22 PM