349 Views
What Cabinet Color Goes Best With Taj Mahal Quartzite? (Find Out Now!)
April 1st, 2022 3:04 PM
Share
We're committed to finding, researching, and recommending the best products. We earn commissions from purchases you make using links in our articles. Learn more here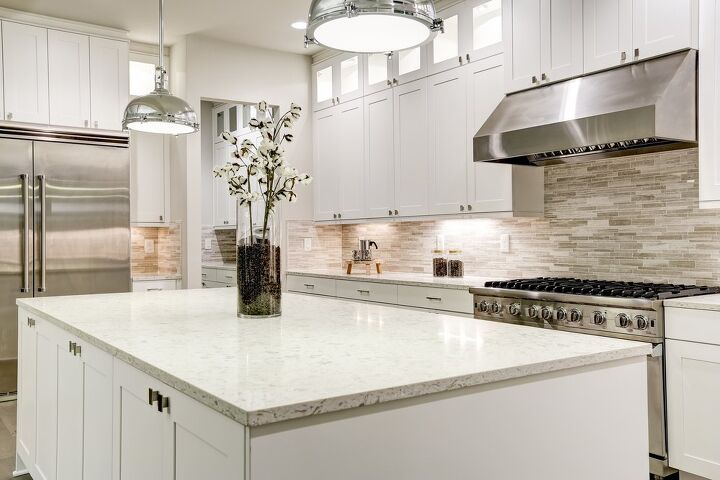 Taj Mahal quartzite is as elegant and regal as its namesake historical location. The light tones and marble-like appearance make it difficult to pair cabinets with Taj Mahal quartzite. So, what cabinet color goes best with Taj Mahal quartzite?
White lacquer, light grey lacquer, dark grey lacquer, and light ash wood stain are the cabinet colors that go best with Taj Mahal quartzite. Darker tones like deep chestnut brown and chocolate wood stain create a great contrast to Taj Mahal quartzite. Otherwise, lighter tones like grey, beige, and sandy grey cabinets go best with Taj Mahal quartzite.
Each of these cabinet color options is unique and distinctly compliments Taj Mahal quartzite. Whether you want to match with light tones or contrast with a dark stain, there is no shortage of options. Follow along as we explore what cabinet color goes best with Taj Mahal quartzite.
Do You Need an Interior Decorator?
Get free, zero-commitment quotes from pro contractors near you.
What Cabinet Color Goes Best With Taj Mahal Quartzite?
Who doesn't love the heavily textured look of Taj Mahal quartzite? It's white and has grey streaks in it, often with a hint of beige. The look of Taj Mahal is beautiful, but it still has to be paired with the right looks. Let's examine what the best colors are for a modern, open kitchen.
1. White Lacquer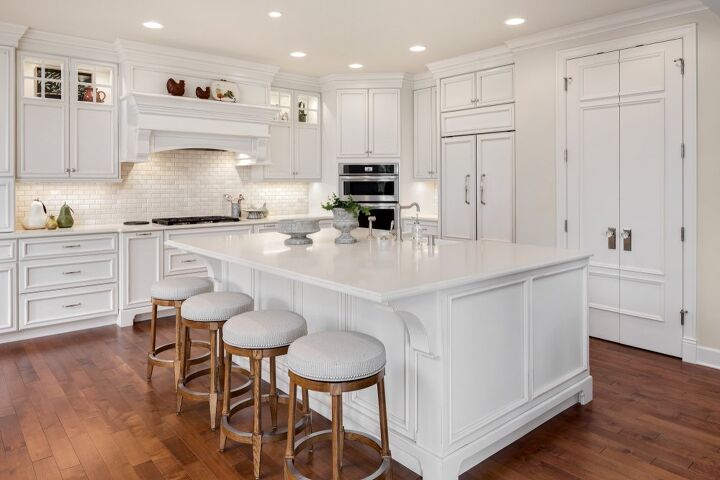 White lacquer is the first choice for many homeowners looking to pair cabinets with Taj Mahal quartzite. The crisp look of white lacquer goes well with the marble-like appearance of Taj Mahal Quartzite whether you have a rustic or modern space.
Of course, you don't have to stick to a rustic look to make this work. White on white is a timeless look that also happens to offer up a modern edge. You will need to regularly clean white lacquer cabinets because the white appearance isn't forgiving, but it's worth it.
2. Light Grey Lacquer
Taj Mahal is not just a good quartzite countertop for your kitchen. It's also great for bathrooms, too. Here, we see a modern bathroom that has a grey laquer cabinet underneath a Taj Mahal countertop with sink. As you can see, the light grey lacquer helps add a slightly nautical and contemporary touch to the home.
If you love the current trend of adding grey as the "new neutral," then you're going to appreciate the look that a nice coat of grey paint can offer countertops. It's stylish and fairly elegant, and keeps things looking modern without making you feel claustrophobic.
3. Dark Grey Lacquer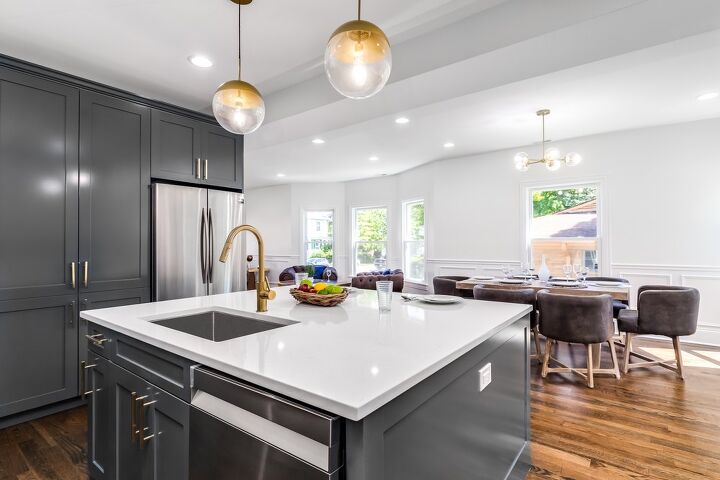 A deeper grey may seem like it would clash with Taj Mahal quartzite, but it compliments anything with lighter tones. Grey is still a neutral color, which means that it'll match whatever flooring, countertops, or accessories you have in the room.
Dark grey lacquer cabinets are ideal for a large room because they can sometimes make the space feel cramped. However, dark grey lacquer can create a great contrast to the light Taj Mahal quartzite which will compliment a bigger space.
4. Light Ash Wood Stain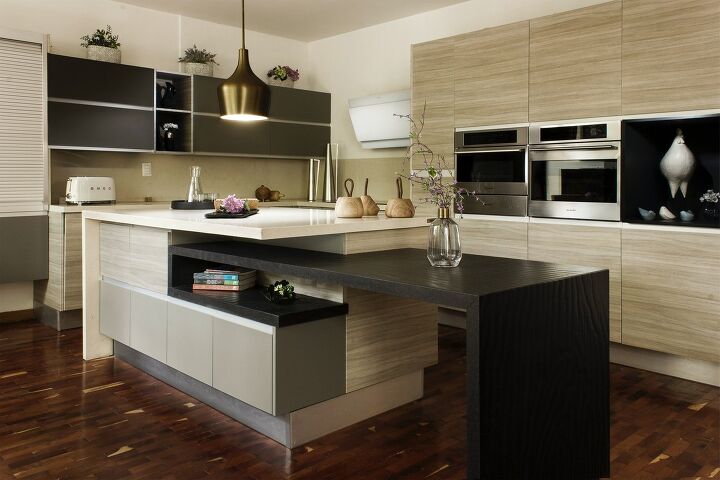 The trend of having ultra-light wood in a kitchen is still hot AF, and it works well with all sorts of quartzite. This includes Taj Mahal quartzite. Here, we see a cool modern kitchen that has a ton of light ash (or birch?) wood cabinetry against a quartzite countertop.
To add a splash of action and a unique take on it all, they worked in woods and paints of different colors. This gives the home a deeply geometric, striking take that almost looks like it belongs in a space station. Chic! Of course, you don't have to go this route. Having lighter Taj Mahal against birch looks fine enough.
5. Chocolate Wood Stain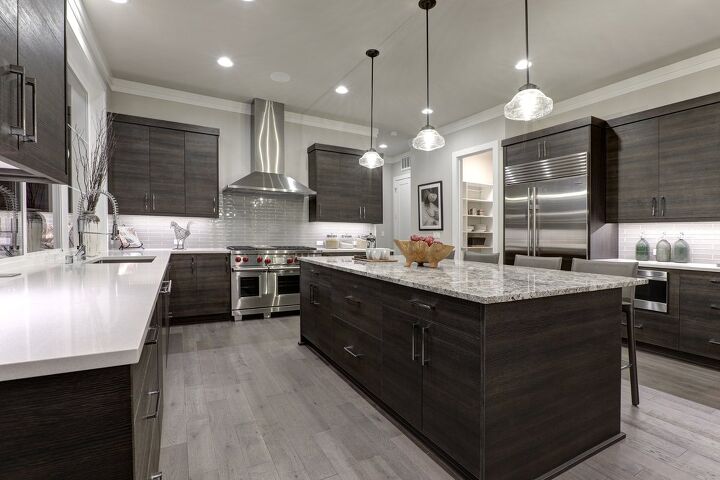 Chocolate wood stain cabinets create a contrast to Taj Mahal quartzite and also create a woody veneer vibe. The textured look of chocolate wood stain cabinets can contribute to a rustic look or simply contrast the rest of the space. This is a great way to add dynamics to the room and make a statement with your cabinets.
Needless to say, this trend would give most people the dash of contrast that people want for a more involved, complex look. Even so, chocolate brown offers a good contrast without the issue of having too much contrast. After all, black can be a bit overwhelming in most kitchens.
6. Beige Lacquer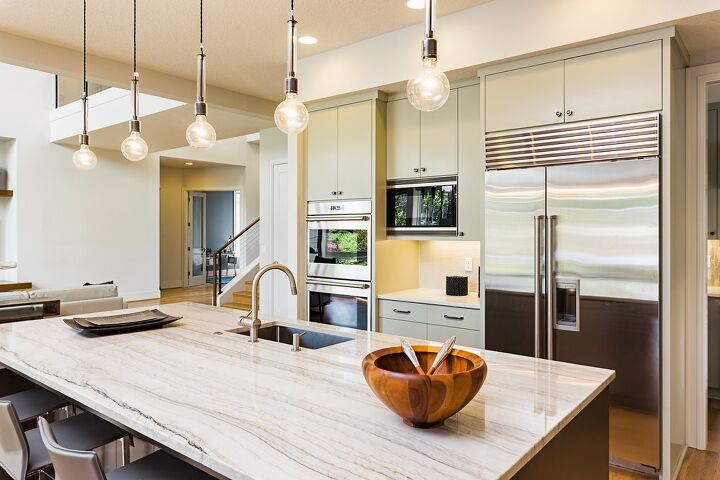 As you can see from the photo above, there is something really attractive about the striations found on Taj Mahal quartzite. This is one of those materials that can act as a contrast in both color and texture. Having painted cabinets is a good way to emphasize the streaks in the countertop.
Believe it or not, beige can work out pretty well here. Most Taj Mahal will have a slightly beige undertone, so it syncs up in terms of colors. Without the streaks and striping that comes with the quartzite, the flat paint of the cabinetry looks blase. This combo, though, helps make the streaks pop out more.
7. Deep Chestnut Brown Stain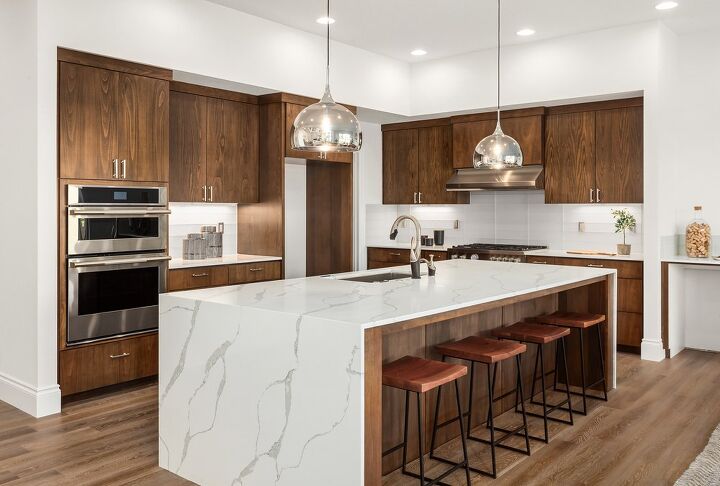 Choose a deep chestnut brown stain for your cabinets if you want to instill a midcentury modern vibe. The dark tones of chestnut brown can both contrast and compliment Taj Mahal quartzite. It is lighter than a deep chocolate stain but dark enough to add depth to the space.
As you can see from the sample render above, this is a good way to get a nice contrast that has both a classic feel and a modern touch. It isn't the obvious choice for many homeowners, but it is hard to deny that deep chestnut brown stain cabinets are a perfect fit for Taj Mahal quartzite once you see them.
8. Weathered Cream Beige Stain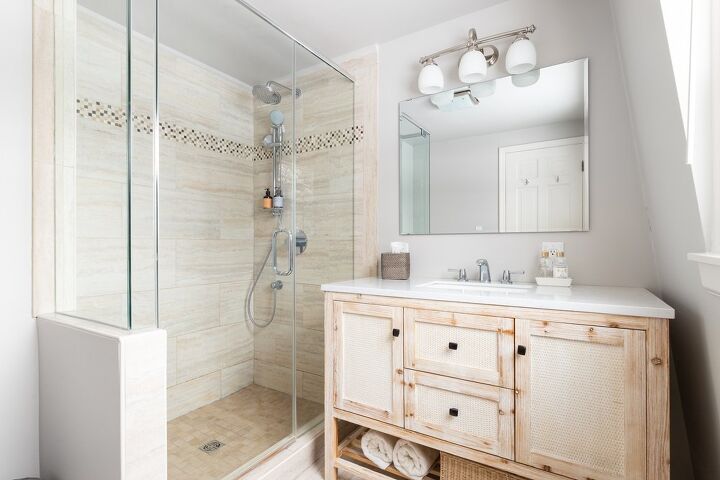 So, this is another bathroom that happens to have a sink vanity that involves a light marble top that looks similar to Taj Mahal. It has a remarkably coastal look, don't you think? Here, we see a wood stain color that is similar to ash in terms of cabinetry. The difference, though subtle, makes a world of difference to people with a keen eye for style.
This type of wood stain has a slightly rosy appearance that adds a pop of color to your kitchen or bathroom setup. If you want to have a "warmer" color scheme, then you definitely need to take a closer look at this family of cabinet colors. Chances are that you'll find a shade that works with your room and also helps open it up.
Do You Need an Interior Decorator?
Get free, zero-commitment quotes from pro contractors near you.
9. Blue White Lacquer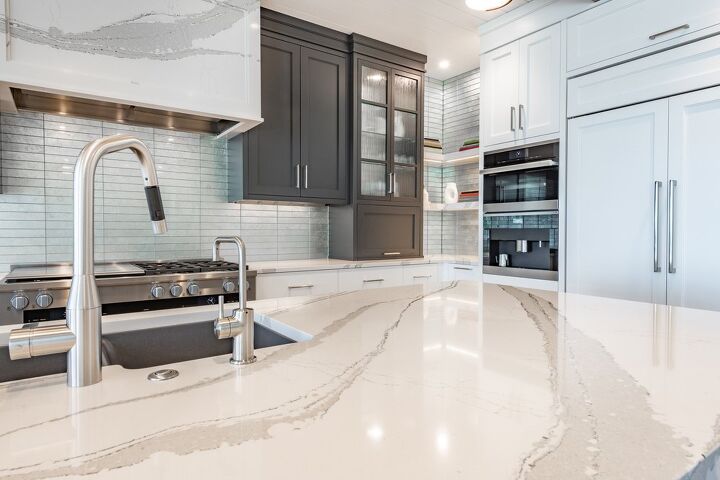 So, this is a color that you might not have expected to see. Here, we see Taj Mahal quartzite-like counters with blue white cabinetry in the background. Honestly, it works out pretty well. The grey (and ever so slightly beige) look of the counters actually contrasts with the ultra light blue cabinet paint color beautifully.
Blue-white still gives your kitchen the "wide open spaces" vibe that is perennially popular. However, it also has another benefit few of the other shades on this list boast: it gives you a dose of legitimate color. And let's face it, a little bit of color always adds a lot of personality. That's important when you're making your home yours.
Admittedly, painting your cabinets is a trend that is hard to come back from. However, if it looks as good as the paint job that is here, it's safe to say that you're going to love the way that it looks.

Ossiana Tepfenhart
Ossiana Tepfenhart is an expert writer, focusing on interior design and general home tips. Writing is her life, and it's what she does best. Her interests include art and real estate investments.
More by Ossiana Tepfenhart
Published October 3rd, 2021 8:02 PM