110 Views
Valor Gutter Guards Review: How Do These Leaf Guards Stack Up?
August 7th, 2021 4:11 AM
Share
We're committed to finding, researching, and recommending the best products. We earn commissions from purchases you make using links in our articles. Learn more here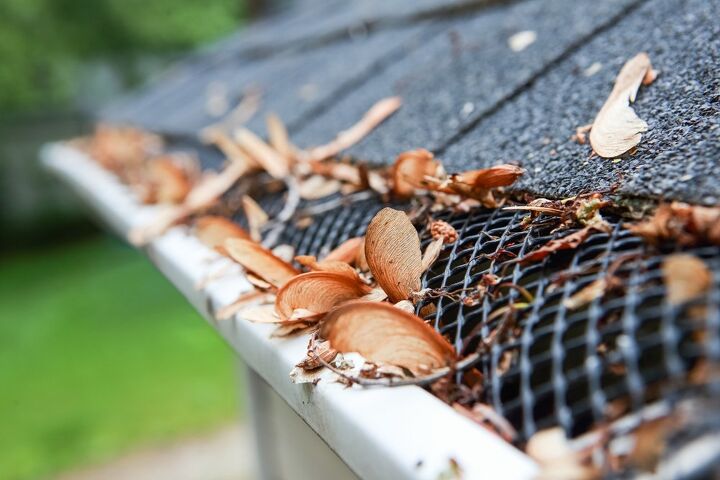 Cleaning your gutters regularly of twigs, leaves and other seasonal debris is a stinky, miserable, and messy task that almost nobody looks forward to doing. Thankfully, you can reduce this headache by installing gutter guards. Implementing gutter guards into your rain gutter system is a great way to avoid having to clean your gutters on a regular basis.
While there are many different types of gutter guards, they all serve the same purpose: to keep dirt and debris from building up in your gutters. Various types of gutter guards involve foams, downpipe guards, reverse curves, inserts, and mesh screens just to name a few.
Although there are a large number of gutter guards on the market today with their own unique features and functions, one of the best and most popular options is the Valor gutter guard. Valor's gutter guard product is one of their most innovative creations to date. Their unparalleled, patented design prevents the collection of debris in your gutter while simultaneously directing water off of your roof.
Whether you're looking for a solution to your frequently messy gutters or just want more information about Valor gutter guards, you've come to the right place. We'll explore the characteristics, benefits, and downsides of Valor gutter guards to help understand what sets this product apart from other gutter guards available.
What Are Valor Gutter Guards?
Valor gutter guards claim to be an affordable and effective gutter protection system. Standard mesh gutter guards are designed poorly and often cause damage to the fascia and foundation due to improper water flow diversion.
While traditional curved gutter guards do not break up water tension during heavy rains, valor offers products that can accommodate heavy rain flow. Their sleek design and elevated pressure mesh pattern effectively cuts off water tension, regardless of the water flow intensity. They can withstand even the heaviest of rainstorms.
These gutter guards are suitable for installation in seamless gutters and offer the ultimate drainage solution for homeowners. Valor boasts the following when you have their gutter guards installed on your home:
Manage heavy flow water conditions
Prevents pests and bugs
Protect your home from water damage
Clean and smooth flowing gutter system
Prolong the life of your gutters
Year-round peace of mind
Eradicate algae and moss build-up
Valor Gutter Guard Products
Valor offers a number of gutter guard products to fit the specific needs of your gutter system. While Valor gutter guards on their own are very effective at keeping gutters free of debris and managing heavy water flow, you have other options that serve as an upgrade to their standard product.
Standard Valor Gutter Guards: With Valor's standard gutter protection product, your gutters remain debris-free and are able to function at full capacity. Their patented design involves a wide mesh to catch debris, prevent clogging in your gutters, and help break up water's surface tension. This product is constructed of a painted steel frame and a normal quality interior-grade stainless steel screen. Frame options include under shingle (flat wing) and fascia mount (bent wing) styles, whereas, the screen sizes come in fine, medium, and large mesh. The colors offered are charcoal, white, brown, and mill-finish aluminum.
Valor Melt-Away: This product effectively converts any traditional Valor gutter guard into an ice melting system. It is essentially a heated gutter guard for melting ice dams and icicles that accumulate on your roof. Heat is provided through a standard heated cable installed by an electrician. While still handling high flow water conditions, this product uses both conductive and radiant heating methods to melt away ice.
Valor Moss-Away: Valor's Moss-Away system uses a specialized zinc strip to prevent moss and fungi growth in your gutters. This serves as an additional feature that, when purchased, is factory installed onto any Valor Gutter Guard system. These zinc strips are EPA approved and entirely safe for use on any roof. In fact, using zinc to retard and deter fungi and moss is safer and more effective than cleaning your gutters with standard household chemicals. This product comes in all the standard Valor colors.
Valor Copper Frames: For a different look on your gutters, you can have any Valor gutter guard specially ordered with a copper frame. This aesthetically pleasing choice patinas over time, while still withstanding high water flow conditions. They are also very simple to install and maintain.
Advantages of Valor Gutter Guards
In recent years, Valor Gutter Guard was announced by NCR Consumer Reports and Advocacy Group to be America's best gutter guard. So, what makes them so great?
In order to be awarded this testament, their guards had to go through the industry's most rugged and respected tests. The outcome was that their superior and advanced gutter guard design is absolutely ideal for preventing clogs caused by runoff and debris. Valor Gutter Guards are known as the industry gold standard for averting water damage related to high flow runoff.
Here are some advantages that you can expect from your Valor gutter guard system:
Easy installation. Valor gutter guards are very simple to install by either yourself or a professional. They also have an extensive dealer network that has been trained and tested to meet the highest standards for both quality and pricing.
Lifetime warranty. Valor offers a Lifetime warranty from the original date of purchase when an Authorized Installer performs the installation. Otherwise, the products have a 25-year warranty.
Made in the United States. This can be an advantage for many people who want to source their home materials in the US. Valor gutter guards are 100% made in the USA of high-quality materials.
Keeps birds, rodents, and pests away. Installing Valor gutter guards is a great way to keep pests out of your gutters. In many cases, birds build nests in gutters that cause them to become filled with debris and clogged. The Valor design works to deter any sort of pest from getting into the gutters.
Eliminates the need for constant cleaning. No one likes having to clean out their gutters annually. With valor gutter guards you don't have to, as they keep your gutters naturally free of build-up and clogs. Any small amount of debris that collects on top of the guards can be easily wiped off.
Handles heavy rain and snow. One of the major advantages of these types of gutter guards is their ability to disrupt water's surface tension, even in the heaviest of flows. Opting for their melt-away model further protects against freezing, ice dams and icicles by simply melting them away. These gutter guards are the ideal choice for homeowners who live in areas that experience a lot of rain or snow.
Prolongs the life of your gutter system. When you install Valor gutter guards, you are effectively prolonging the life of your entire gutter system. Since your gutters will remain clean they are able to last longer and work more efficiently.
Unique S-pattern design. Their sophisticated s-pattern design prevents bending or breaking when heavy rainfall occurs.
Comes in a variety of colors. With Valor gutter guards, you aren't limited in the color options you have. The frame comes in white, charcoal, brown, galvanized, and even copper.
The Truth About Valor Gutter Guards
With so many advantages, it's hard to deny why so many homeowners choose to install Valor gutter guards on their home. However, is there a catch here and do Valor gutter guards really perform as well as they say they do?
Valor asserts that other gutter guard designs lake their wavy "S" pattern, which is responsible for breaking up water's surface tension better. Some experts claim that the wavy pattern simply does not do enough to disrupt heavy water flow. Valor gutter guards must be installed nearly flat and this is too shallow a slope to slow down water enough.
Of course, whenever you place a filter flat, you are literally forming a shelf for debris to settle. While Valor gutter guards do keep debris out of your gutters, this system is not as effective in corners. Technically your gutters will not be clogged but a large amount of debris can collect on top and reduce the effectiveness of your gutter.
Another important thing to note about Valor gutter guards is their painted steel frame and interior-grade 304 stainless steel screen. This type of stainless steel is designed for interior locations such as hospitals and kitchens, not corrosive exterior settings. It is cheaper to use this type of stainless steel over a higher quality one and is, as a result, much lower quality. They have the potential to get into issues with acid rain and galvanic corrosion.
---
Related Questions
Do you still have to clean your gutters with Valor gutter guards?
It is often a common misconception that after installing gutter guards you can forego cleaning your gutters altogether. Although they eliminate the need for constant cleanings, even the best gutter guard systems do require cleaning from time to time. However, cleaning your gutters is a much easier process when you have gutter guards installed.

Jessica Stone
Jessica considers herself a home improvement and design enthusiast. She grew up surrounded by constant home improvement projects and owes most of what she knows to helping her dad renovate her childhood home. Being a Los Angeles resident, Jessica spends a lot of her time looking for her next DIY project and sharing her love for home design.
More by Jessica Stone
Published October 8th, 2020 11:41 PM