716 Views
Upright Piano Dimensions (with Drawings)
December 22nd, 2021 10:41 AM
Share
We're committed to finding, researching, and recommending the best products. We earn commissions from purchases you make using links in our articles. Learn more here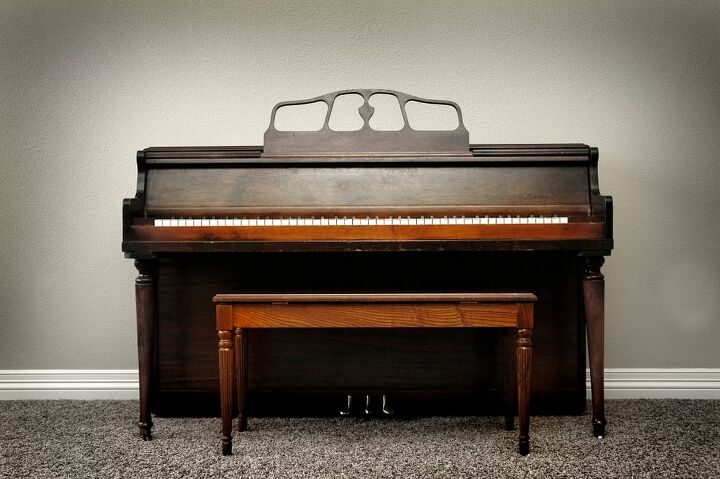 Parents everywhere try to get their children to do one thing at some point in their life: play the piano. The piano is a magnet for friends to gather around to drink, sing, laugh, and live out life's memorable moments. It sits in a music lover's house and heart the same way the kitchen stove does for a chef.
There are four types of upright pianos, all ranging in a variety of sizes and styles. A standard upright piano would stand 48-60 inches tall, while the smallest type, the spinet, would be 36-39 inches tall. The studio and console-type upright pianos can range anywhere from 40-49 inches tall.
Before investing in a piano, keep in mind what you want it for and also who will be playing it. Is it for your five-year-old who displays a keen interest when hearing piano music from a radio? Or perhaps it is for you to pick up a new skill as you venture into retirement.
Types Of Upright Pianos
Whatever your reasons for getting a piano, one vital factor is the necessary room dimensions for such a sizable instrument.
After assessing the area and determining that there is enough space, consider which type of upright piano to procure. That is if you haven't already acquired a secondhand instrument from a well-meaning relative or friend.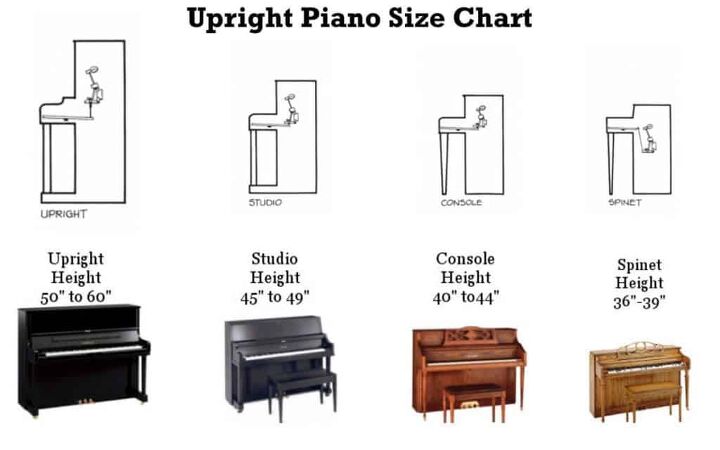 Full / Professional Upright Piano
The full, or professional, upright piano measures anywhere from 48-60 inches in height and is 58 inches wide. It is about 24 inches deep. A standard-sized piano bench that comes with it is generally 30 inches wide and 19 inches high.
Remember to take into account the piano bench as you contemplate the size of the space you need. You can use these typical piano benches with all types of upright pianos. However, you may want to consider a piano stool or a smaller bench if you have a spinet upright piano.
The full upright piano is the largest upright piano of them all. You will find full uprights in recital halls, performance stages, and many old homes. An upright piano in your grandparents' house is most likely a full upright, rightfully earning itself the moniker, "Grandma's Piano."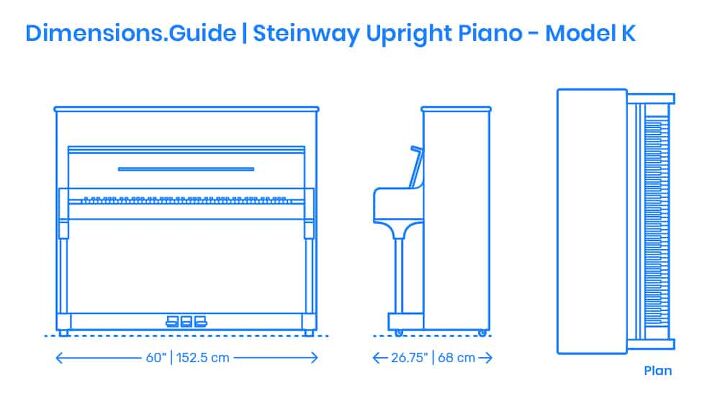 Studio Upright Piano
The studio upright piano measures about 44-49 inches in height and is 58 inches wide. It is about 24 inches deep, not counting the piano bench.
The studio upright piano is one you will also find in many homes and music studios, schools, and churches. Studio pianos are more utilitarian and plainer than their counterparts without sacrificing sound quality. A studio piano would be perfect for a student just starting to learn the instrument.
Console Upright Piano
The console upright piano measures about 40-44 inches in height and is 58 inches wide. It is about 24 inches deep, not counting the piano bench.
The console upright piano is the most common of the upright pianos. Unlike the other upright pianos, the console upright piano action lies squarely on top of the keys. This direct pounding action makes the console upright more responsive to a player's touch.
The variety of housing designs and shades also makes the console upright a popular choice from an interior designer's perspective.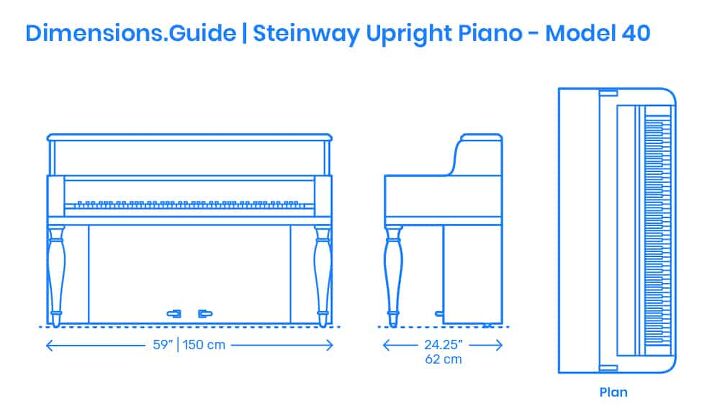 Spinet Upright Piano
The spinet upright piano measures about 36-39 inches in height and is 58 inches wide. It is about 24 inches deep. A spinet piano bench is usually smaller at about 25 inches wide and 19 inches high.
The spinet upright piano is, more often than not, an accessory piece. Due to its shorter stature, a spinet's sound quality is inherently weaker than the taller uprights. Spinet pianos are also harder and cost more, to tune due to the placement of the hammer and strings.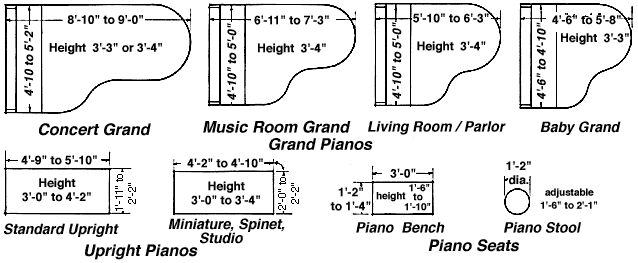 How To Set Up Your Piano
Now that you know the varying sizes of upright pianos, it's time to survey the room you want it in. Making space for a piano in your home is not as easy as bringing in a recliner or a futon. You have to take into consideration doorway space, the weight of the instrument, even floor material, among other things.
Upright pianos range from 200 lbs for a spinet to a staggering 1,000 lbs for a decades-old full upright. Check to see the type of piano you have and plan accordingly. You may need two people to move a 200 lb spinet, but four or more for a full upright.
What Should I Consider When Placing An Upright Piano?
There are several things you need to consider when placing your piano. We've included those points below.
Floor Space
To fit an upright piano in a room, the room has to be 6 feet wide and 4 feet deep. This space is the size of a small closet with barely enough room to sit and play. An area this size may be ideal for storing a piano but not actually playing it.
To experience utmost enjoyment from your piano, a room 10 feet wide and 10 feet deep would be ideal. To prevent sound from bouncing around the room, employ fabrics such as curtains and rugs to absorb unnecessary sound.
Ceiling Height
The ceiling height plays into how well your piano will sound in the room you want it in. A typical room with a ceiling height of 8 feet is more than adequate for piano playing. Old houses with rooms that have 12-foot ceilings are even better, acoustically, for piano sounds to waft through.
Wall Space
Upright pianos take up significant wall space, unlike grand pianos that can be angled to fit a room. Due to the unattractive, raw finish on a piano's back, you typically place it with its back against a wall. This means you will need at least 60 inches of wall space for your piano to fit.
One common trait that all upright pianos share is that each one, regardless of type, holds 88 keys. This makes them all almost the same width, allowing for slight differences in housing thickness and design. A depth of 24 inches or so is also another trait all uprights share, taking into consideration feet placement and shape.
Window Placement
Pianos need stability and a temperature-controlled environment in order to thrive. Placing a piano in front of a window and exposing it to direct sunlight and strong wind movements is inadvisable. Fluctuating heat and cold generates rapid string compression and expansion, causing constant re-tuning.
The same goes for fireplaces, vents, and open doorways where low or high temperatures can adversely affect a piano's performance.
Floor Material
Pianos need to be placed in a room with sturdy and stable flooring like hardwood or polished stone such as granite. However, it would now be a matter of protecting your floor against the movement and significant weight of a piano. There are specialized caster cups you can purchase online to put on piano feet to protect floors.
Vinyl plank or laminate flooring works under a piano as long as your piano does not weigh over 500 lbs. You may place a rug under a piano, but this may affect the sound quality coming from the instrument.
Do not place your piano over rough concrete or stone floors. All four feet must be on the ground and stable. A rocking piano not only affects its sound quality but may pose a dangerous hazard in your home.
---
Related Questions
How big of a room do you need for an upright piano?
According to empirical statistics, the combined length of a room's walls should be at least 10 times the length of a grand or the height of a vertical piano (assuming the room's ceiling is 8 feet high). For example, a 7-foot grand should fit in a 15 by 20-foot room (15+15+20+20=70 feet).
How wide is a full-size piano?
Pianos vary greatly in height and length, but they are all around the same width: 150cm, 59in, or little under 5ft.
You'll be relieved to learn that any piano you purchase will be around the same width. Grand pianos, upright pianos, and some digital pianos are all affected.
Can a piano be too big for a room?
In a small room, a huge grand piano is not an issue. Because their activities are more controllable, a larger grand can be palyed with more sensitivity in terms of dynamics. The piano may be spoken for the room, and the room can be voiced for the piano.
Summing It Up
Owning a piano is a dream to some but a burden to a few. Not knowing what to do with grandma's ponderous old piano? Post it online and be surprised at the many folks who would be happy to take it off your hands.
A piano is truly one of the most beautiful and gloriously sounding instruments ever created. Granted, it can be as heavy as an elephant, but playing one makes your heart feel light as a feather. There aren't too many things in the world that can do that these days.
More Related Guides

Stacy Randall
Stacy Randall is a wife, mother, and freelance writer from NOLA that has always had a love for DIY projects, home organization, and making spaces beautiful. Together with her husband, she has been spending the last several years lovingly renovating her grandparent's former home, making it their own and learning a lot about life along the way.
More by Stacy Randall
Published April 10th, 2021 2:58 AM