76 Views
21+ Different Types of Shutters (for Home Interior & Exterior)
December 19th, 2021 5:03 PM
Share
We're committed to finding, researching, and recommending the best products. We earn commissions from purchases you make using links in our articles. Learn more here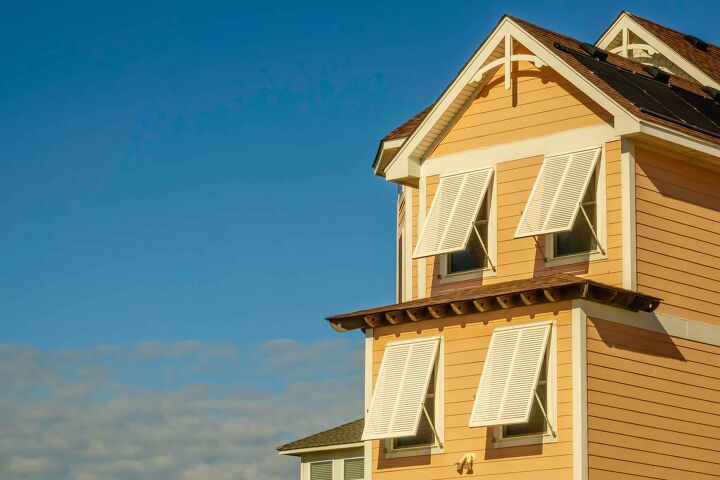 If you've decided that you want to add shutters to your home but aren't sure where to begin, you've come to the right place. Shopping for shutters can be a more complicated process than you might assume. It is crucial that you get the right window shutters the first time around, as they can be a major investment.
Just like every room in your home serves a distinct purpose, there are a wide array of shutter options that serve different purposes. In addition to improving the appearance of your home, shutters can also offer a range of benefits, such as keeping your home safer during storms and providing an additional barrier against intruders. Whereas, interior shutters offer ventilation and privacy for your living spaces.
Other types of shutters can be broken down based on material, style, and function – with some serving more of a decorative purpose than a functional one. With that said, let's take a look at some of the various types of shutters available so you can make an informed decision on which variation is right for you and your home.
Do You Need Exterior Shutter Installation or Replacement?
Get free, zero-commitment quotes from pro contractors near you.
Functional Shutters vs. Decorative Shutters
The first step in determining which type of shutters to buy is to decide whether you want them more for aesthetics or protection. Although many love the look of shutters, their functional benefits have been forgotten over the years. Originally, shutters were designed to protect homes from intruders and inclement weather. Nowadays, function isn't as necessary due to glass window panes.
Though, if you want additional protection for your home, functional exterior shutters can be a great way to add both curb appeal and traditional functionality. Some of the benefits that come with functional shutters include:
Protect your home during inclement weather, especially hurricanes when using hurricane shutters.
Deliver added security to your home from theft.
Keep your home warmer in the winter with an additional layer of insulation.
Keep your home cooler during the summer months by providing shade from the sun, while still allowing proper ventilation.
Allows the flexibility to darken a room while watching TV or when going to sleep.
Creates instate curb appeal
Offers privacy from passersby outside.
On the other hand, if you're considering shutters more for that old-world appeal and want them to be as low maintenance as possible, the decorative variety may be the best choice for you. Decorative shutters are also more common in today's world. So long as they are properly sized, placed, and have the appropriate hardware, it will be virtually impossible to detect that they are faux shutters.
However, when decorative, or faux, shutters are poorly built and improperly installed, they can actually decrease your home's value by looking cheap, disproportionate, and lacking depth. Therefore, functional shutters are often considered the better choice and you also get the added benefits of temperature control, privacy, protection, and so much more.
Interior Shutters vs. Exterior Shutters
Understanding the difference between interior and exterior shutters is crucial to your overall understanding of the types of shutters available. Aside from simply being counted on the outside or inside of your home, these two categories have other distinct differences which we will describe in detail below.
Interior Shutters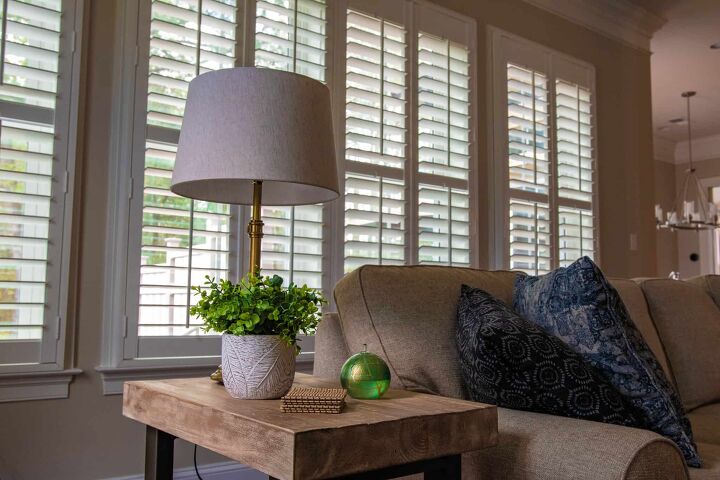 Interior shutters are primarily used for privacy purposes within a home. Though, they can offer privacy with either partial or full coverage of your windows. They allow for versatility as you can choose exactly how much of your window you want covered from the inside. Interior shutters typically have more options available, offer more flexibility, and are more affordable than exterior varieties.
However, they don't offer the same level of protection and curb appeal. Interior shutters are also typically made of less-durable materials, such as PVC. PVC and other similar materials can degrade over time from long-term exposure to sunlight. Finally, interior shutters don't provide the same amount of insulation as exterior shutters do. Though, if you're only using them for aesthetics or privacy reasons, this won't be an issue.
Exterior Shutters
Exterior shutters are, as the name suggests, designed for the exterior of your home. They are primarily used for full privacy, protection from weather and intruders, and to improve the look of your home – offering instant curb appeal. Additionally, some other advantages to exterior shutters include light control and ventilation.
When compared to interior shutters, exterior shutters are often more complicated to adjust due to their location outdoors and the mechanisms involved. Also, the level of security that they provide will solely depend on the shutter style that you choose.
Related Guide: Are Exterior Shutters Going Out Of Style?
Shutter Materials
When it comes to choosing the right type of shutters, it's incredibly helpful to understand the different materials that are available. Each material comes with its own set of advantages and disadvantages, and the best option will depend on your individual reason for needing shutters.
1. Wood Shutters
Wood is the original material used in the construction of shutters and it has a longstanding reputation for being durable, when treated and stained appropriately. Aside from being durable, traditional wood shutters are aesthetically pleasing and highly customizable. They can be painted and stained to fit a range of exterior décor and there are many different types of wood to choose from.
Pine shutters, mahogany shutters, and cedar shutters are considered the most popular types of wood shutters for exterior purposes, while basswood shutters are the ideal choice for interior shutters. There are some drawbacks to wood shutters, especially for those who live in areas that experience a lot of moisture.
Wood shutters are susceptible to becoming warped or distorted and will need to be replaced if they don't receive the proper care and regular sealing. Since wood can be easily damaged, these types of shutters must undergo consistent maintenance. They are also one of the more expensive shutter material options available.
2. Vinyl Shutters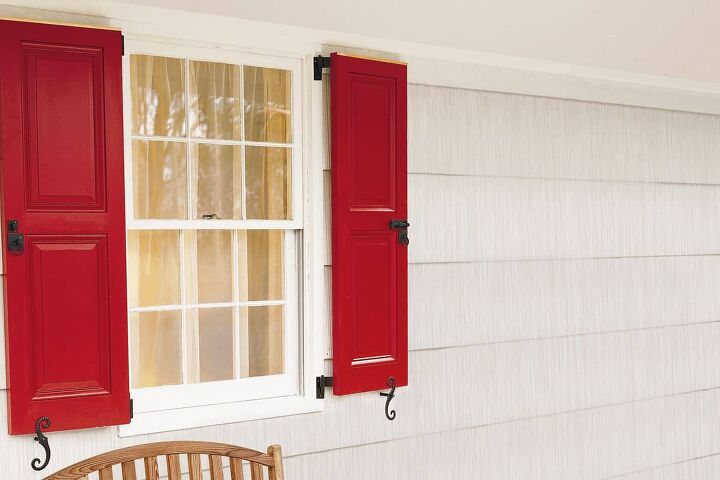 When compared to traditional wood shutters, vinyl shutters are considered less authentic, yet less expensive. Most vinyl shutters feature a molded wood grain surface to give the design depth and texture. Though, the material is synthetic and has a plastic-like look when viewed up close. The design of vinyl shutters makes them lightweight and very economical.
However, they tend to need replacing more often than other alternatives and can be difficult to clean. Vinyl shutters are also not suitable as functional shutters and are only used for decorative purposes. They are not heavy enough to provide much protection for your home.
Therefore, vinyl shutters are ideal for use as a cosmetic architectural element where it's not necessary or economically feasible to opt for wooden shutters.
3. PVC Shutters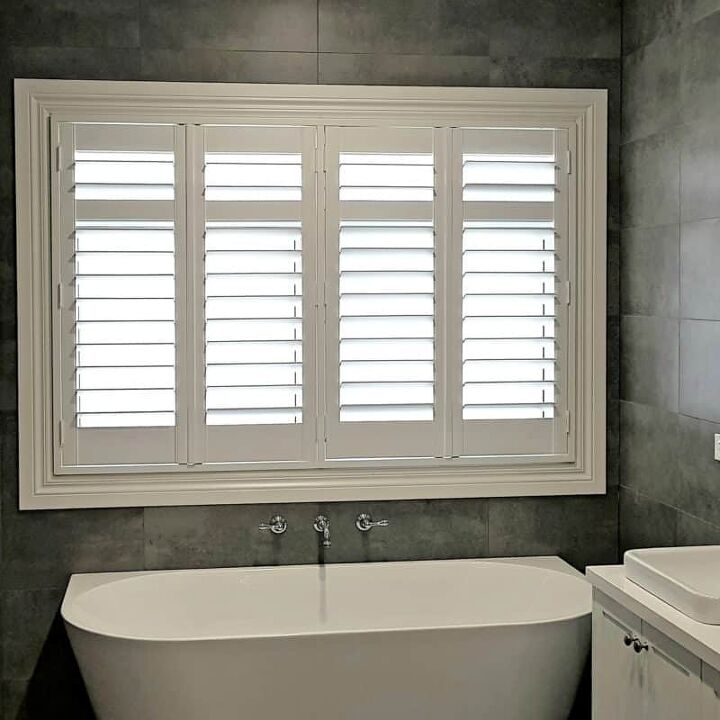 PVC, or polyvinyl chloride, is a synthetic plastic polymer that is exceptionally hard and durable. It is also very lightweight, which creates an appealing material for shutters. PVC shutters are the ideal choice for areas that experience a lot of moisture throughout the year or places that come into direct contact with water, such as the exterior of a building or even the shower indoors.
The major drawback to PVC shutters is the fact that you are pretty much limited to some sort of white shade. They don't offer as much flexibility as other alternatives. Although PVC shutters aren't the most visually attractive option, if durability is what you're looking for, very few materials will match up. They also offer the benefit of being virtually maintenance-free.
4. Metal Shutters
Metal shutters, often referred to as roller shutters, sectional overhead doors, or coiling doors, are almost always found on the exterior of homes. They are comprised of multiple metal – usually steel or aluminum – slats that can either fold or roll up to out of sight and then rolled out when needed.
These types of shutters do not serve a decorative purpose and are more functional. They are often found used for doors, windows, and garages, though they can also be used for commercial buildings and schools where needed. Metal shutters are the ideal choice for protecting your home against theft and inclement weather such as wind, hail, and especially hurricanes.
As you might expect, metal is the most common material used in the construction of hurricane shutters.
5. Composite Shutters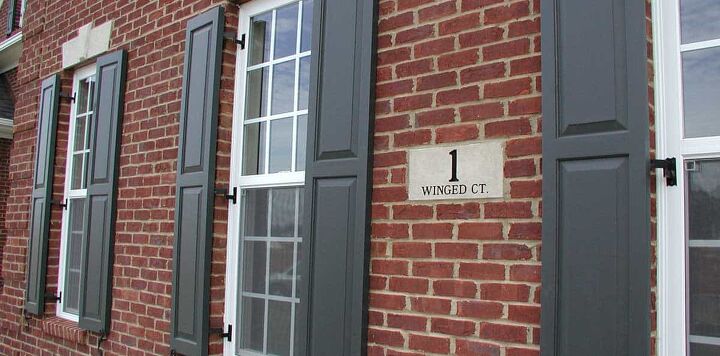 Composite shutters are the best of both worlds – a combination of wood and PVC. The core of the shutter is comprised of wood, while the exterior is made out of a PVC or a vinyl material. They feel and look like actual wood, with some advantages over the real thing. Composite shutters don't absorb moisture, making them rot and mold resistant.
These types of shutters are also not susceptible to termites and other pests commonly associated with wood. As a result, composite has double the life expectancy of their traditional wood counterpart, while still maintaining that appealing wooden appearance.
Although composite shutters won't take wood stain, they offer the ability to be painted. Additionally, manufactured wood shutters tend to be more affordable than the alternative and require much less maintenance. They can also be used for both interior and exterior applications.
6. Fiberglass Shutters
Although less common, fiberglass is another material used in the construction of shutters. In most cases, these types of shutters are built to order which allows full customization. They come in a range of styles and colors and can be used for both interior and exterior applications. Although, exterior fiberglass shutters tend to be more common than the former
The main benefit to fiberglass shutters is that they are virtually maintenance-free, and will not rot, split, or crack like other materials. They offer long-lasting durability and many manufacturers provide a lifetime warranty. Fiberglass shutters are best suited for areas that experience high moisture levels and variation in temperature, as they will be minimally affected.
Shutter Styles
Once you've determined where your shutters are going to go, what purpose they will serve, and your desired material, you'll want to start thinking about a style. There are numerous shutter styles to choose from, and you also have the option of having them custom-designed to fit your specifications. With that said, let's examine some of the most common shutter styles and their characteristics:
1. Traditional Shutters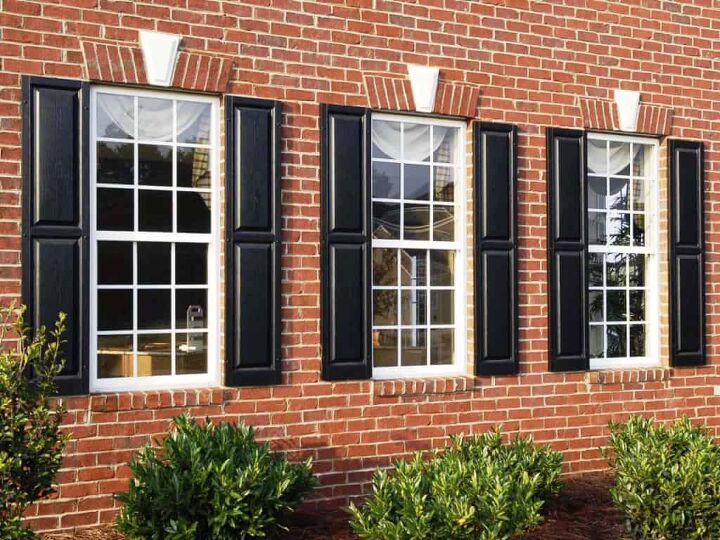 Also referred to as New England shutters, traditional shutters are one style that has been in circulation since shutters first came about. These types of shutters are mounted onto the exterior of the home, consisting of a thick frame that holds multiple slats close together. Traditional shutters can be either the full or partial height of your windows, depending on your preference.
These shutters are mainly designed for enhancing the exterior appearance of your home, rather than adding protection. In most cases, they stay in a fixed position and cannot be opened or closed. Since they cannot be opened or closed, traditional shutters typically don't help with temperature regulation, insulation, or interior lighting. As such, they are primarily used for decorative purposes.
Also, depending on where your traditional shutters are located, they can be challenging to clean.
2. Louvered Shutters
Louvered shutters usually feature two sets of slats that are separated by a center rail. These horizontal slats can be angled in such a way to allow sunlight into your home, while keeping the elements out. Although they are often considered similar to plantation shutters, louvered shutters are mounted on the exterior rather than the interior.
The slats are the major benefit, as they allow air to filter through the shutters which can be especially desired in areas with warm climates. One of the chief downsides to these types of shutters is that they may be difficult to adjust since they are mounted on the outside. It may be a nuisance to have to open the windows to adjust them or access them from the exterior of your home.
3. Plantation Shutters
Plantation shutters, on the other hand, have slates that are spaced apart more widely which allows more light to enter. In most cases, plantation shutters are found on the interior of a home rather than the exterior. They are a flexible type of shutter style, allowing you to use multiple for a single-window which gives you the ability to close all or some of the slats.
These types of shutters are ideal for those who want to regularly adjust the lighting in their home. This feature of plantation shutters can also help improve temperature regulation.
4. Café Shutters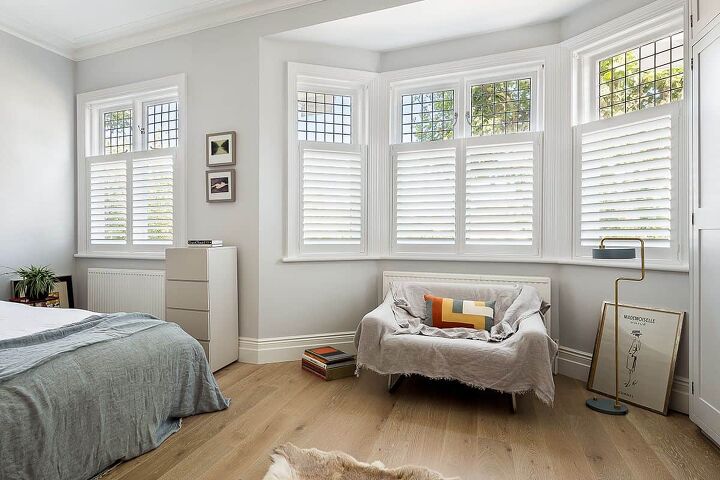 Café shutters are characterized by the fact that they only cover a section of the window – usually the bottom. They are also traditionally mounted on the interior rather than the exterior of a home. Their name comes from the shutter style that was found in French cafés for providing patrons with privacy, while still allowing natural light in. These cafés would install shutters to cover only the bottom of the window, leaving the top open.
This shutter style works great in exposed rooms like the living room or kitchen. It lets you enjoy open windows while still maintaining some privacy from your neighbors. The main benefit of café shutters is privacy, paired with the ability to adjust lighting. Whereas, the drawback to this style is that it won't provide much interior climate control since it is installed on the inside.
5. Board & Batten Shutters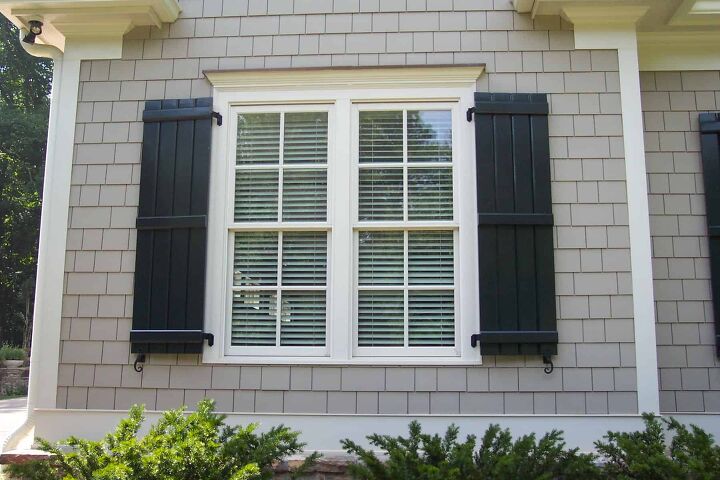 Board and batten style shutters are traditionally used for decorative purposes, to enhance the curb appeal of your home. As such, they are installed on the exterior, on either side of the window. These shutters open and close similarly to the way French doors are operated. Although board and batten shutters are often constructed out of custom wood or have an appearance similar to wood, they can be cut in a range of shapes and sizes to achieve the best fit.
This shutter style offers some reprieve from harsh sunlight, but can be challenging to adjust on the exterior of the house. If you want a shutter that allows you to make natural lighting adjustments, you'd likely want to consider going with an alternative option. Though, board and batten style shutters are great for achieving that distinct, rustic look.
6. French Door Shutters
In recent years, shutters have grown in popularity for use on French doors instead of curtains. You can purchase both interior and exterior shutters specifically designed to fit your French doors and home décor. The main benefit of French door shutters is that they are much more visually appealing than traditional curtains.
They also allow more natural light into your living spaces and let you adjust the light accordingly. However, the drawback to this style of shutter is that they offer no insulation or temperature regulation.
7. Multi-Tier Shutters
Sometimes referred to as tier-on-tier shutters, multi-tier shutters were most likely inspired by café style shutters. They are a type of interior shutter that has a similar function and design to their café counterparts. However, instead of an all-or-nothing approach, multi-tier shutters allow you to keep some areas of a window private and concealed and others open and exposed.
These types of shutters are most suitable for large bay windows and any other extensive type of window. If you want interior shutters that offer the flexibility of keeping one side open and the other closed, multi-tier shutters may be the best choice for you!
8. Arched Shutters
For windows or doors that are arched, you may need to have custom-designed arched shutters. These types of shutters are mounted on the exterior of your home, adding curb appeal and enhancing the overall appearance. In most cases, arched shutters are measured and cut to the unique specifications of your home.
As a result, these shutters are not designed for providing protection, privacy, or allowing you to adjust natural lighting. They serve more of a decorative purpose than a functional purpose. Though, they can be custom-made to fit your design preferences. With that said, if decorative is not what you're looking for, you'll want to consider an alternative shutter-style on this list.
9. Raised Panel Shutters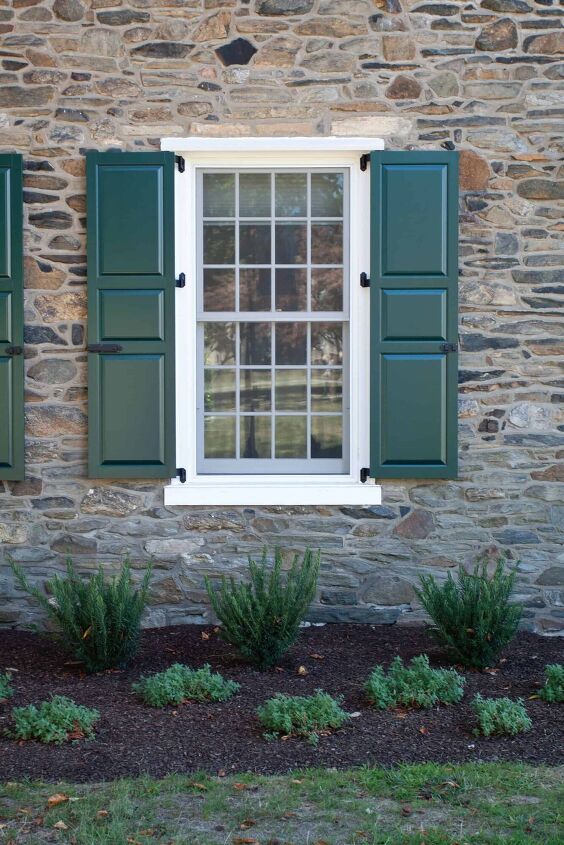 Another exterior shutter style, raised panel shutters are characterized by their unique three-dimensional design. Instead of a series of horizontal slats, this style is made out of large rectangular sections which appear similar to a picture frame.
Raised panel shutters can add style and dimension to the exterior of your home, a great choice if you're looking to add curb appeal. Like many other options on this list, this style is purely for appearance. They don't improve temperature regulation, offer protection from the elements, or allow you to adjust natural lighting,
10. Barn Door Shutters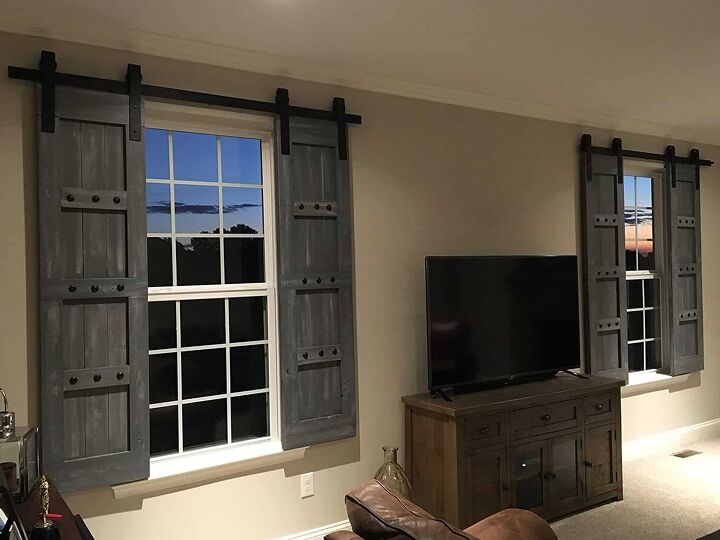 If you're looking for a rustic-style interior shutter, barn door shutters are an excellent choice. As the name suggests, this style resembles barn doors and usually operates using a wheel and pulley system at the top. This allows you to open and close your barn door shutters to your liking.
These types of shutters operate almost identical to sliding barn doors, which have increased in popularity in recent years for rustic décor. They are a very unique style of shutter and although they are most commonly used for interior applications, you can also find exterior barn door shutter options.
11. Scandinavian Shutters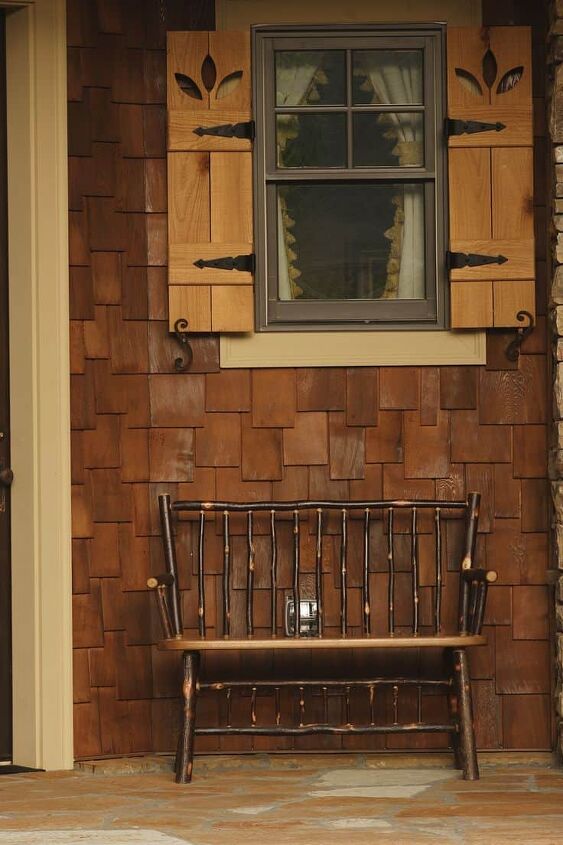 Also known as cut-out shutters, Scandinavian shutters express a strong emphasis on custom wood design. Commonly found on the exterior of homes, this style of shutter features cut-outs of a certain design. They are similar to what you might find on a traditional gingerbread house or on a home in an alpine village in Europe.
Scandinavian shutters primarily serve a decorative purpose, and don't provide any other functions other than enhancing the exterior appearance of your home. With these shutters, you won't enjoy benefits related to weather protection, temperature regulation, or lighting adjustment. Though, if you want custom shutters for your home, Scandinavian shutters are a great choice!
12. Exterior Rolling Shutters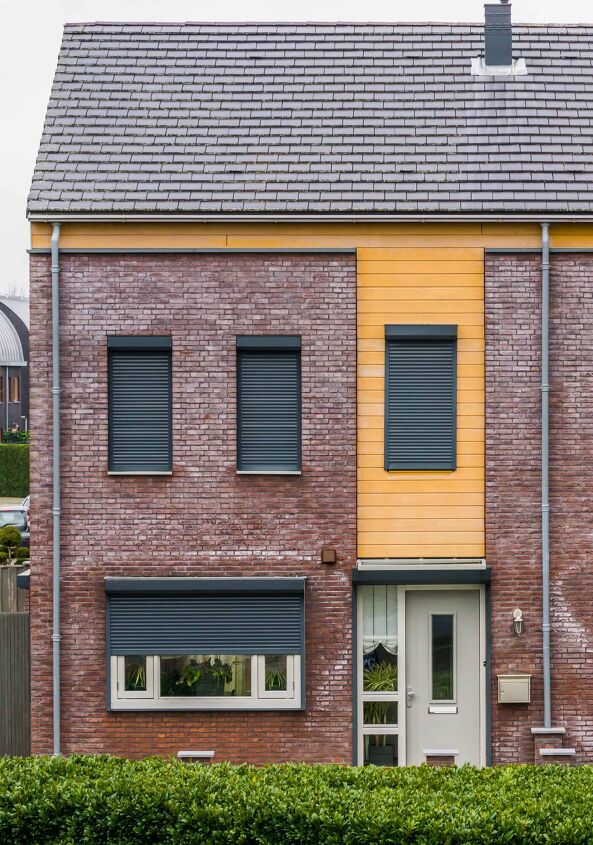 As the name suggests, exterior rolling shutters allow you to roll them in and out to adjust the covering of your windows and doors. This style of shutter is a great option for a variety of reasons. First, they offer versatility, protection, and ease of operation. Depending on the design, they can also make a great addition to the exterior appearance of your home.
Exterior rolling shutters tend to strike a nice balance between improved curb appeal and home security. However, one of the major downsides to this type of shutter is that they don't offer the same level of customizations as other alternatives on this list. Although they are most often seen on commercial properties, residential models are increasing in popularity.
Storm Shutters
Storm shutters, or sometimes called hurricane shutters, are used to limit the risk of broken windows in the event of a hurricane or extreme weather conditions. These shutters serve more of a functional purpose than decorative. They are typically made out of steel, fabric, or aluminum, though plywood panels are sometimes used to shield windows in a pinch. Hurricane shutters are common in areas that are prone to rough weather.
These types of shutters can be found in a couple of different styles, including Bahama, solid panel (shaker), and accordion hurricane shutters.
Bahama Shutters
Also referred to as Bermuda shutters, Bahama shutters are a form of louvered shutters that are mounted on the top of a window rather than on the sides. They are traditionally used for protecting windows against storms and are most often seen in tropical areas. Though, Bahama shutters can match virtually any style of home or commercial property.
They can help to shade your living spaces from hard direct sunlight, while also providing privacy and protection against strong winds. Bahama shutters are permanently installed on the exterior of the home and can be easily propped open or pulled shut as needed. Although most common in tropical and subtropical locations, this style can be used anywhere.
Solid Panel/ Shaker Style Storm Shutters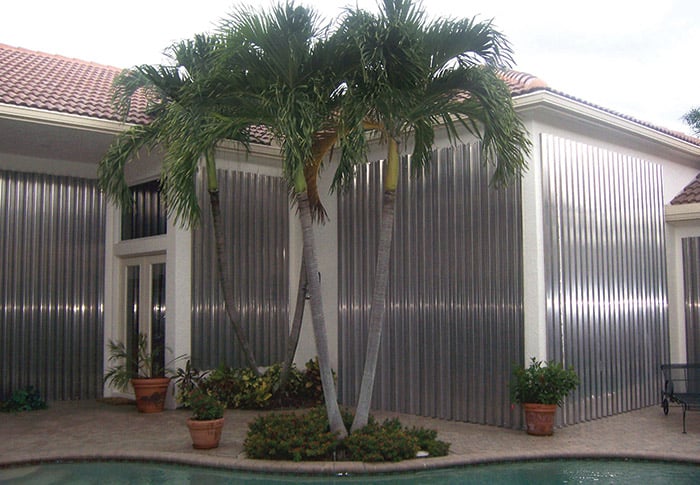 These types of shutters are directly attached to doors, windows, and buildings with either bolts or tracks. They are intended for use under extreme weather conditions and are crucial for protecting your home against a tropical storm or hurricane. Although installing these types of shutters can be complicated and annoying, they are removable and relatively inexpensive.
Accordion Hurricane Shutters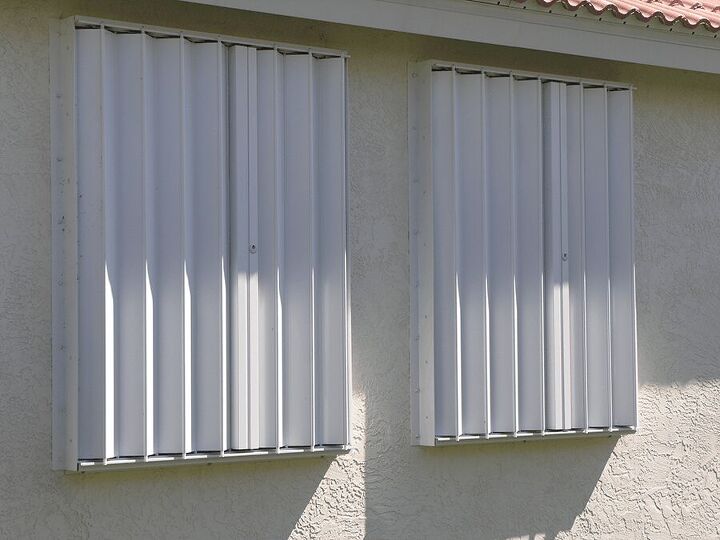 Accordion hurricane shutters are common in areas where tropical storms and hurricanes are a regular occurrence. They operate similar to an accordion and can be easily folded down and stored for the next hurricane season. This style of shutter serves no decorative purpose, with the primary function to protect your home from inclement weather.
Unlike the solid panel variety of storm shutters, these shutters are much easier to install and take down – though less durable. Regardless, accordion hurricane shutters are considered an affordable choice when compared to other storm shutter options.
Do You Need Exterior Shutter Installation or Replacement?
Get free, zero-commitment quotes from pro contractors near you.
Shutter Hardware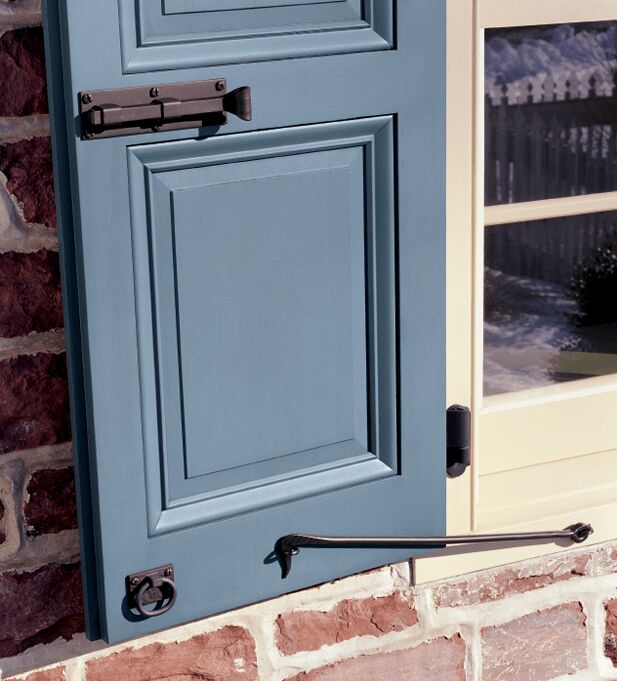 There are a variety of shutter hardware options to choose from to help increase the effectiveness of your shutters, including, but not limited to:
Shutter hinges offer functionality and come in sturdy, weatherproof options for exterior shutters.
Choose weather-resistant shutter caps to increase the lifespan of your shutters by protecting them from moisture.
Shutter bolts will guarantee that your shutters stay closed even in cases of extreme winds, which is an important feature to have if your shutters are functional.
Shutter dogs, or "tie-backs," help secure shutters in place while they are open. 
Regardless of the material, style, or function of your shutters, adding additional hardware can make your home stand out and enhance the appearance of your shutters.

Jessica Stone
Jessica considers herself a home improvement and design enthusiast. She grew up surrounded by constant home improvement projects and owes most of what she knows to helping her dad renovate her childhood home. Being a Los Angeles resident, Jessica spends a lot of her time looking for her next DIY project and sharing her love for home design.
More by Jessica Stone
Published March 11th, 2021 4:23 PM