166 Views
45+ Different Types of Sheds (with Photos)
May 30th, 2021 1:18 AM
Share
We're committed to finding, researching, and recommending the best products. We earn commissions from purchases you make using links in our articles. Learn more here
As you grow and expand your property, an outdoor shed can become a wonderful backyard addition. In today's world, with the rise of minimalistic culture and tiny living, sheds are much more than a place for storing various items. They can be a place to relax, work, cultivate plants, and may even serve as a second home. Fortunately, you aren't limited to traditional a-frame or barn designs, as there are many different types of sheds to choose from.
Some of the most common types of sheds include gambrel, gable, craftsman, a-frame, lean-to, studio, and flat roof. If you're in the market for an outdoor shed but are unsure of where to begin, you've come to the right place. We've broken down some of the many types of sheds available categorized based on type, exterior wall material, roofing, flooring, foundation, use, and more.
We'll explore each in detail to help you make an informed decision about what type of shed is perfect for you and your property.
Once you have decided on the right shed for you, you may be wondering: Do I Need To Anchor My Backyard Shed?
Types of Sheds
There are numerous shed types to choose from for your landscape. Although they may vary based on function, style, construction material, and more, they typically serve the same purpose – to provide outdoor storage space. With that said, here are some of the most popular types of shed styles on the market today.
1. A-Frame
Affordability and simplicity are what make a-frame sheds one of the most popular designs. A-frame sheds have a very traditional roofline, meaning they complement many home styles and be ideal for those looking to achieve a more refined look. This design also makes it easy to add shelving or a storage loft at the top to keep clear up space on the floor. However, due to the narrow nature of the design, a-frames typically offer less storage space than other alternative options.
2. Barn (Gambrel Style)
Another popular style, barn or gambrel sheds are visually appealing for virtually any outdoor area. This design features a roof with two different slopes, giving that quintessential old-fashioned barn look. Although they're not as big as a traditional barn, these types of sheds provide plenty of storage space.
Fortunately, modern engineering has tremendously enhanced the quality of wood barns. There is now wood siding available that is resistant to insects, decay, and rot. Barn sheds are ideal for anyone who loves the country-style aesthetic. Like a-frame sheds, the gambrel style is also well-suited for a storage loft.
3. Gable Style
Gable sheds are, arguably, the most common variety that you can purchase. They are characterized by clean lines, ample storage space, and a gently sloping roof that peaks in the center of the shed. No matter what style home you have, a gable shed will look classic and traditional. You can also use the attic space for some additional storage, although not as much as the gambrel style.
These types of sheds are wildly popular among homeowners for storing their garden tools, motorcycles, lawn equipment, and potting materials. Gable-style sheds can be purchased in a variety of sizes to fit your storage needs.
4. Craftsman
Dating back to late-nineteenth-century England, the craftsman style has a very vibrant history. It is commonly confused with gable style, as these buildings feature a gable roof. This style is characterized by smooth roof lines and appealing trim accents to offer a sophisticated flair to your backyard space. Windows are a crucial part of the functionality and visual aesthetics of the craftsman style.
As the name suggests, this type of shed is often used to create a workshop for craftsmen. In fact, if you want a functional workshop shed with an appealing exterior, the craftsman style is an excellent choice.
5. Saltbox
This style began back in the sixteenth century when homeowners would add on a one-story addition to the rear of their homes. Because of its unique shape, it is easy to scale saltbox, or quaker, sheds larger or smaller depending on the needs of your application. Oftentimes, you'll see this style being used as a playhouse for children as it is both stylish and functional.
The key to this design is that the entryway is taller than the backside, meaning one side of the roof is shorter than the other. This yields a very attractive design, but one that is often difficult to build as a DIY project.
6. Modern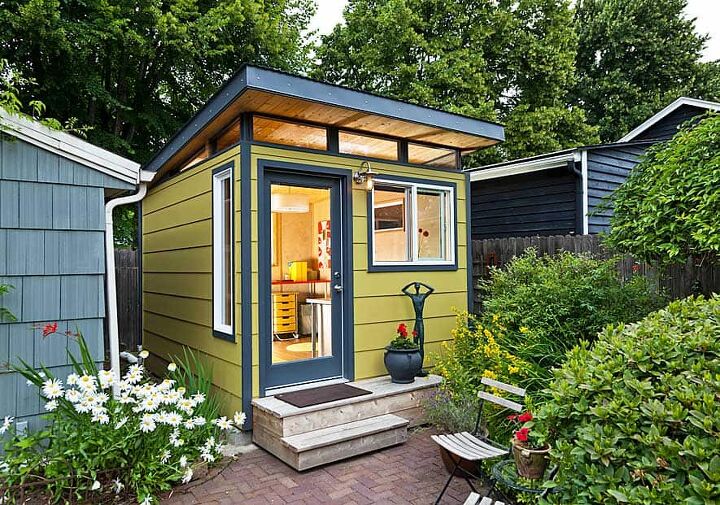 The name of this type of shed tells you almost everything you need to know. As you might expect, modern sheds are reminiscent of that inspirational HGTV look. This style is characterized by clean, sleek lines, a muted color palette, and ample natural light inside. Modern sheds make wonderful backyard oasis', artist studios, man caves, and she sheds.
Wood is the ideal material to use for these types of sheds, since they provide easy customization with workbenches, shelves, and hooks. If you're looking for a type of shed that adheres to the latest architectural styling, modern sheds are the way to go!
7. Lean-To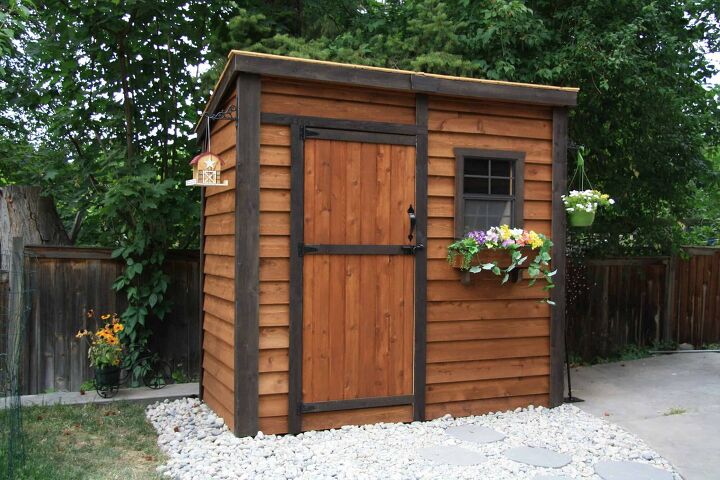 A lean-to, or often referred to as mono-slope, shed is one of the most unique shed designs. As the name indicates, lean-to sheds feature only one slope on the roof. This permits more head and storage space at one side of the building, while also ensuring that the roof is shielded from inclement weather conditions.
Lean-to sheds are incredibly easy to construct and are a great DIY project for the average homeowner. Their ease has to do with the fact that they can be built on a pre-existing wall of your home. That way, you don't have to worry about performing a complete construction project to enjoy the benefits of a backyard shed. Storage space in lean-to sheds typically ranges from 25 to 60 square feet.
8. Studio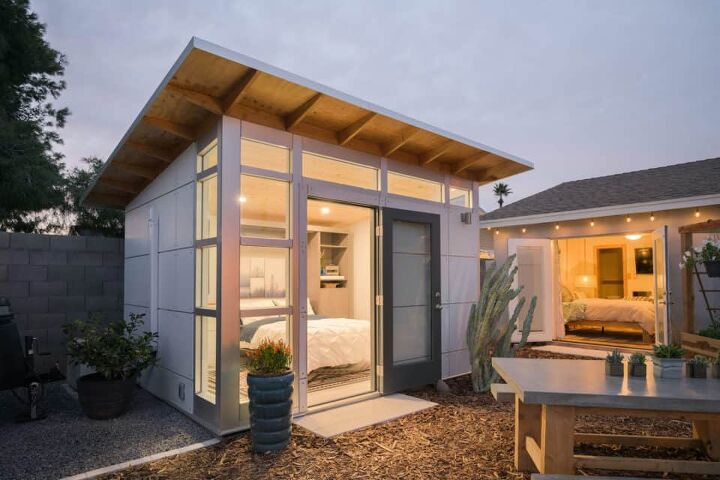 Studio style sheds are high-quality options that are specially designed to be used as a backyard retreat, art studio, yoga studio, writer's shed, home office, or even an extra bedroom. These types of sheds typically offer a welcoming open floor plan, sufficient natural lighting, and lovely French doors to create a stress-free and inspiring space. Some might also include a bathroom for added convenience.
Studio sheds are ideal for dreamers, musicians, writers, artists, or anyone seeking inspiration out of their outbuilding.
9. Flat Roof
As the name implies, this design refers to sheds with little to no roof slope. In most cases, flat roof sheds are the simplest type to install and also the most economical. A flat roof is often paired with the lean-to style to create a very visually appealing outdoor shed.
Of course, this style won't be ideal for areas of the world that experience heavy snow or rainfall, as there isn't a natural slope for the water to drain off of the roof. However, even the tiniest slope can remedy this problem and you'll still be able to achieve a flat roof design.
10. New England
Although these types of sheds tend to vary widely in terms of size, they are often bigger than most other options on this list. New England sheds offer a blend of traditional architectural elements, with sufficient storage space and clean lines. If you're looking for plenty of storage and a visually appealing design, a New England shed will make a wonderful addition to your property.
Exterior Shed Wall Material
When it comes to the construction of a shed, it can be challenging to determine the right exterior wall material. While you may want to save money, it's important that you don't end up with a building that won't stand up to heavy regular use. As such, quality matters when you're looking for the right exterior shed wall material.
With that said, here are some of the most common exterior shed wall materials that you have to choose from, along with their advantages and disadvantages.
1. Metal Shed Siding
When compared to the other options on this list, metal siding will give you the most industrial look. The appealing paint finish is guaranteed to last you between 20 and 50 years without peeling, chalking, or fading. With metal siding, you also won't have to worry about rotting or warped boards.
Metal siding is weather-resistant, fire-resistant, pest-resistant, low maintenance, and easy to keep clean. Since the metal is 67% recyclable, this siding is also an environmentally friendly option. Not to mention, it's nearly effortless to install and the siding itself should last you over a century.
2. T1-11
T1-11 is available in two grades: OSB or plywood. Plywood is considered the better-quality option of the two, but is also more expensive. OSB, or oriented strand board, is essentially wood chips that are adhered together. It is also more prone to moisture, meaning it's very likely to experience rotting, expansion, and warping over time. Plywood, on the other hand, is much more durable, and considered more economical long-term.
This type of siding adds structural strength to shed walls and, with plywood, no sheathing is required. Generally speaking, plywood is easier to deal with but it has a rougher texture and does not come primed. Therefore, in order to keep T1-11 siding in good condition, you'll need to repaint or refinish approximately every three to five years. This will prevent rot, warping, and insect infestations.
3. Engineered Wood Siding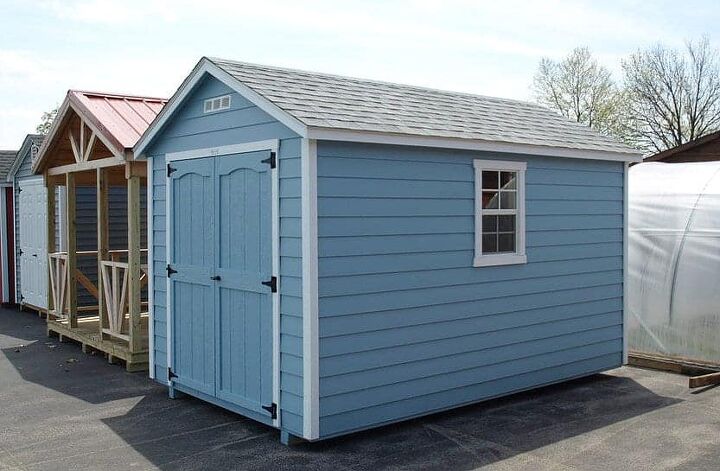 Engineered wood consists of composite wood, which is a blend of wood fibers and other types of wood. Designed to mimic real wood, this type of siding is much more durable. Although it isn't real wood, it still has a very natural, appealing look to it. LP Smartside is one brand of engineered wood siding that comes highly recommended and is wildly popular. The manufacturer offers a 50-year warranty for the wood and it also comes pre-primed for your convenience.
Unlike natural wood, engineered wood can stand against rot, decay, termites, and other pests. It's also environmentally friendly, low maintenance, impressively durable, and easy to install.
4. Vinyl Shed Siding
Made from polyvinyl chloride (PVC), vinyl siding is available in a wide array of textures and colors to fit your needs. Because it is an artificial product, you can customize the look and finish of your vinyl shed siding. The vinyl itself is incredibly durable, isn't prone to fading or dents, and can last over 30 years depending on the type of vinyl you choose.
To enjoy moisture resistance and a long lifespan, your vinyl siding must be properly installed. Vinyl is also naturally resistant to insects, such as termites, and rot. Another benefit of this type of siding is that the color is impended deep in the material, meaning scratches and small damage are largely unnoticeable. If you're concerned about maintenance, vinyl siding may be the best choice for you as it requires little to no regular maintenance.
5. Fiber-cement
Fiber-cement siding consists of a combination of sand, cement, and cellulose fiber. This material is rolled out into sheets and then pressed to achieve a particular pattern. Although it is synthetic, fiber-cement can take on the appearance of natural wood. Fiber-cement siding is a durable choice, and most manufacturers offer a 30-year warranty.
It Is insect, fire, and water-resistant. However, fiber-cement tends to be somewhat challenging to work with so, for best results, consider hiring a professional to install this type of siding on your shed.
Shed Roofing Materials
Another way to categorize sheds is based on the roofing material. The roof of your shed is the greatest line of defense against inclement weather – especially moisture. All of the below roofing materials are designed to repel moisture. Though, the temperature, sunlight, and wind that is specific to your area will often dictate which type of shed roofing material is best.
1. Asphalt Shingles
Asphalt roof shingles are the most popular roofing material for pretty much any structure. They are inexpensive, incredibly durable, and easy to install. All the installation requires is a hammer, some roofing nails, and shingles. Asphalt shingles come in two main forms: 3-tab and architectural.
Standard 3-tab asphalt shingles will last you between 20 years, while architectural shingles can last over 30 years and often have a lifetime warranty. The drawbacks to this type of shed roofing material are that it tends to be visually unappealing, absorbs heat, is not the ideal choice for a flat roof.
2. Cedar Shingles
Cedar shingles can turn an otherwise plain shed into the focal point of your backyard. The greatest advantage to these shingles is that they are very durable and offer a natural alternative to their asphalt counterparts. How long cedar shingles last solely depends on how well you maintain them.
Generally speaking, they require minimal maintenance, though if you live in a very cold, wet, or hot climate cedar shingles will require more attention. Cedar shingles that are stained and cleaned regularly will last you approximately 24 years while untreated shingles will only last around 15 years. The downside to this shed roofing material is that it is not waterproof and can be highly susceptible to UV damage from direct exposure to sunlight.
3. Metal Shingles
In terms of price and durability, metal shingles are relatively similar to metal roofing sheets. However, appearance is the main difference as metal shingles are made to appear like traditional shingles. They usually are available for purchase in packs of 10 or more and feature interlocking edges for an easy install.
When it comes to durability, metal shingles are at the top of the list. If you choose to use metal shingles on your shed you likely will never have to replace them. Aside from being durable, these shingles are very visually appealing and heat reflective, which makes them ideal for hot climates. However, metal shingles tend to be pretty expensive and may require installation by a professional.
4. Clay Tiles
For some serious curb appeal, consider choosing clay tiles for your shed roofing material. These are the same types of tiles that you see on old-world-style buildings and gorgeous Italian villas. They've held up for centuries, a testament to their durability. In fact, it's not unusual to have a clay tile roof last over 75 years.
However, clay tiles are not impact resistant, meaning they can't be walked on and fallen branches can easily crack a tile. Despite them being long-lasting and visually appealing, clay tiles require heavy-duty underlayment, are very heavy, and tend to be on the pricier side.
5. Wood Shakes
Arguably, one of the most visually appealing shed roofing options is wood shakes. When compared to shingles, shakes are thicker, hand-cut, and have a rougher surface texture. The sides of wood shakes aren't perfectly straight, which adds to the appeal. However, it also means that they are less water-resistant than traditional cedar shingles.
This roofing material also tends to be one of the more expensive options available. Though, its gorgeous rustic look will add value to your property. Wood shakes can be made out of cypress, cedar, redwood, and pretty much any other type of wood. If treated regularly they can last up to 40 years, and only 30 years if left untreated.
6. Board-and-Batten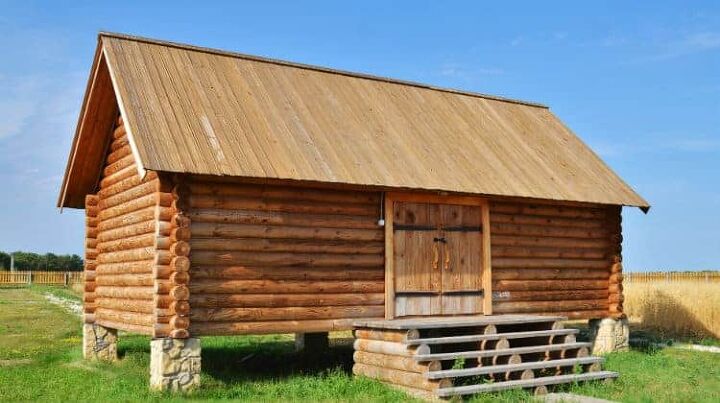 Another rustic style, board-and-batten consists of solid wood boards with gaps that are covered with thin strips of wood referred to as battens. Generally speaking, redwood, cedar, and some species of pine are used in the construction of board and batten roofing. The lifespan of this style of roofing is usually between 20 and 30 years, however, regular cleaning can extend the life by years.
Just like any other wood roof, board-and-batten roofing is highly susceptible to UV damage, and damage caused by dead leaves and other debris. However, it is very appealing, impact-resistant, and offers a range of installation options.
7. Asphalt Roofing Felt
This style of roofing is not to be confused with conventional roofing felt that serves as an underlayment for shingles. Instead, asphalt roofing felt is a felt material with asphalt coating on both sides. For added protection, each side is also given a granular coating. Asphalt roofing felt comes in rolls, which makes installation easy, and it can either be installed via torch-on or adhesive.
The lifespan of this roofing material is approximately 15 years, though the correct application is absolutely crucial to longevity. Like traditional asphalt shingles, asphalt roofing felt absorbs heat which may be an undesirable trait if you live in a hot climate. The main reason that people would choose asphalt roofing felt is for the low price tag, as it isn't very visually appealing.
8. Polycarbonate Roofing Panel
Polycarbonate roofing is an incredibly strong plastic roofing material that is designed to stand up to harsh outdoor conditions. It is typically used for greenhouses or any other building that requires a transparent roof. Though, nowadays, you can find polycarbonate in a range of colors.
It has a lifespan of between 10 and 20 years and is prone to surface wear and scratching. As such, an area with a lot of trees and branches is generally not recommended for this type of roofing material. While polycarbonate is not as durable as many other alternatives, it is easy to install, blocks UV rays, and highly resistant to extreme temperatures.
9. Corrugated Roofing Panels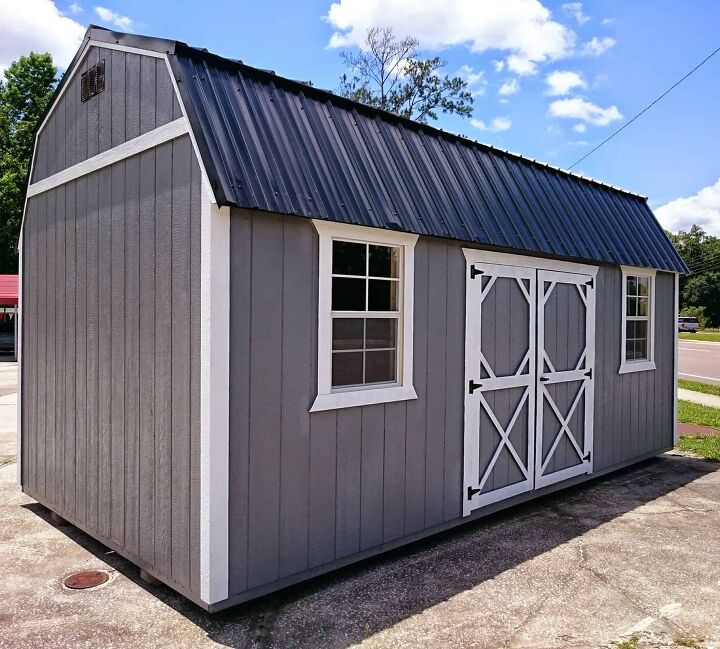 Corrugated metal roofing panels are one of the strongest options you can choose for your shed. The lifespan of a roof constructed with this material is roughly 50 years, though, metal roofs are known to last even longer. Metal roofing is also available in a variety of gauges – the lower the gauge, the thicker, more expensive, and more durable the panel is.
Of all the corrugated metal panels to choose from, steel and metal are the most affordable. However, you can expect to spend an average of $200 for 100 square feet of aluminum or steel panels. Tin, zine, and stainless steel, on the other hand, will cost you much more.
10. EPDM Rubber Roofing Membrane
Typically found on commercial buildings with flat or low roofs, EPDM rubber roofing is made out of recycled rubber and is purchased in large rolls. Installing this product to your shed roof I as easy as applying adhesive to sheathing and rolling it out. EPDM is relatively affordable, costing about $80 for 100 square feet, and the adhesive costs roughly $25 for a roll. When properly installed, EPDM roofs can last a long time – 50 years or more, if kept free from punctures.
11. Green Roofs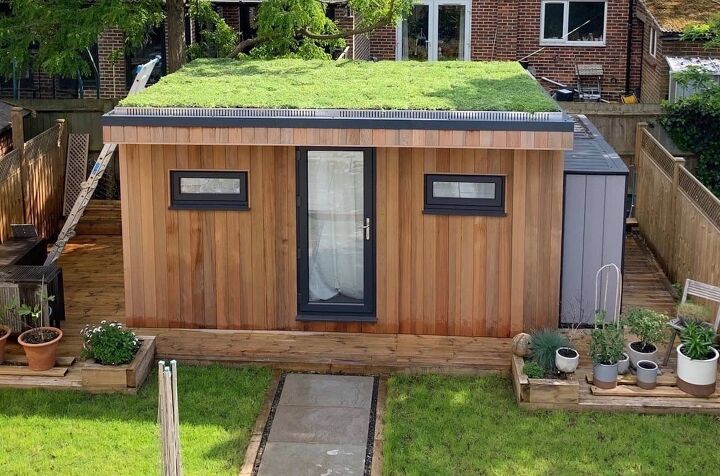 If you're looking to achieve a roof that blends seamlessly into your landscape, you can never go wrong with a green roof. These roofs start out with a water-resistant membrane, which keeps water from soaking into the shed and causing moisture damage. On top of that, a growing medium ensures that the mosses that grow will thrive. Although this may not be the ideal roofing material for every homeowner, it creates a very unique, fairytale-like appeal that looks breathtaking in a backyard garden space.
Shed Foundation Options
Whether you decide to build or buy your shed, the proper foundation will provide ample support. The foundation will lift your shed off of the ground, provide a stable, level base, and extend the lifespan of your shed. All of the foundation options can be broken down into two categories: on-grade and permanent.
An on-grade foundation is one that sits on top of the ground and allows you to remove your shade later on, while a permanent foundation is just that, permanent. While you may be able to move it 20 years down the line, it will require a lot of work. With that said, let's take a look at your shed foundation options:
1. Concrete Pavers
An on-grade foundation option, concrete pavers are the ideal choice for the beginner and sheds that are either prebuilt or home built. A foundation made out of pavers will rest on either leveled exposed ground or a sand base. They provide a solid, level space for a shed to be built or set on and evenly support the flooring. Once the ground is flat, concrete pavers are very easy to install. If placed on sand, there will be an additional level step first but it's usually much easier to level pavers with sand.
However, there are some drawbacks to using concrete pavers for your shed foundation. For example, they can settle into the soil over time, may crack underneath heavy loads, and are generally not suitable for large sheds.
2. Solid Concrete Blocks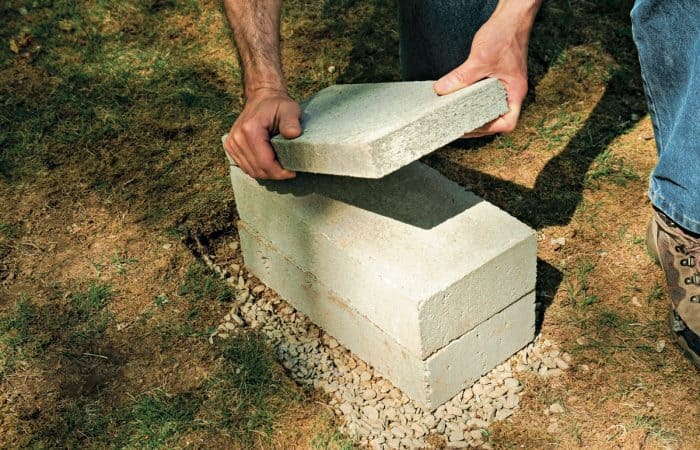 Another relatively simple on-grade foundation option, solid concrete blocks will provide an excellent base for virtually any size shed. They are either square or rectangular in shape, sit on the ground, and must be level with both the ground and each other. The only challenging part about installing this type of foundation is leveling the blocks with each other and squaring up the corners.
However, the difficulty will increase on sloped ground and concrete block foundations won't work for slopes that are greater than 24 inches. When you choose this foundation option, it's highly recommended that you only use solid concrete blocks as any other type of concrete block will not be effective.
3. Deck Blocks
Deck blocks are an on-grade foundation option that will work for any size shed. It is also relatively easy to install for the average DIYer. Deck blocks have a square base and a pyramidal shape, with channels in the top for woo framing to attach. They rest on the ground and, like concrete blocks, need to be level with both the ground and each other. Due to the design, the distance between the blocks is not supported. This means that deck blocks are not recommended for heavy machinery.
4. Timber Frame and Gravel Pad
A timber frame and gravel pad are a relatively easy foundation option that will work for any size shed. For best results, pit-run or 1" crusher run gravel is recommended since they have smaller particles and will create a more stable base. A gas-powered compactor should be used to compact the gravel, creating a level surface. This foundation allows for the shed to be either on or close to ground level. It can be used for sheds, with or without a floor.
Due to the low profile, timber and gravel pad foundations have a higher risk of ground contact and rot, may sink into the wet soil over time, and might require a draining ditch or retaining wall.
5. Skid Foundation
A skid foundation is, arguably, one of the quickest and easiest ways to support a shed. It features two or more pressure-treated wood planks or logs that are laid out parallel to hold up the length of the structure. The shed rests on and is evenly supported by the "skids," also referred to as runners. These skids rest directly on the ground, meaning a relatively flat terrain is required. This option makes moving your shed to another location nearly effortless.
6. Plastic Foundation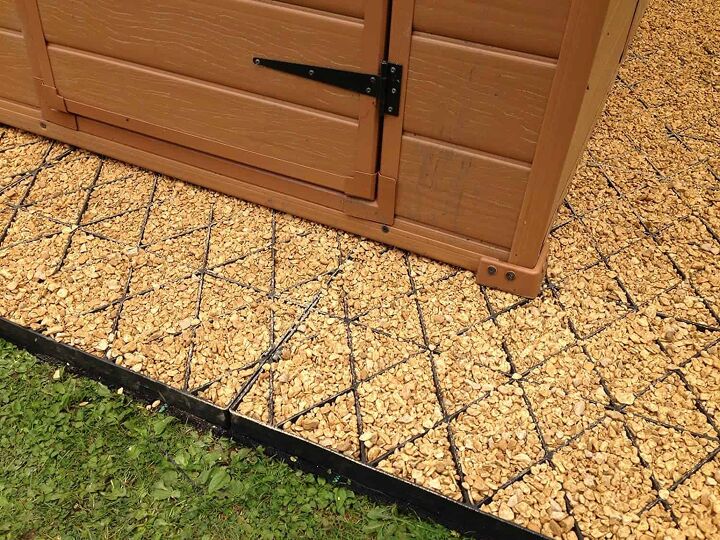 A relatively new type of foundation, plastic foundations are made out of recycled materials. They are easy for beginners to assemble and work well for both prebuilt and home-built sheds. Like skid foundations, plastic foundations sit right on the ground and perform best with flat terrain.
Once the ground is level, a garden cloth is rolled out and the plastic interlocking grid blocks are positioned, connected, and leveled. Once the plastic base is completely level, the open grids are filled with pea gravel. This grid holds the gravel in place and also allows moisture to pass through. The base can be either the same dimensions of your shed or slightly wider and it can be used with or with a floor.
7. Concrete Piers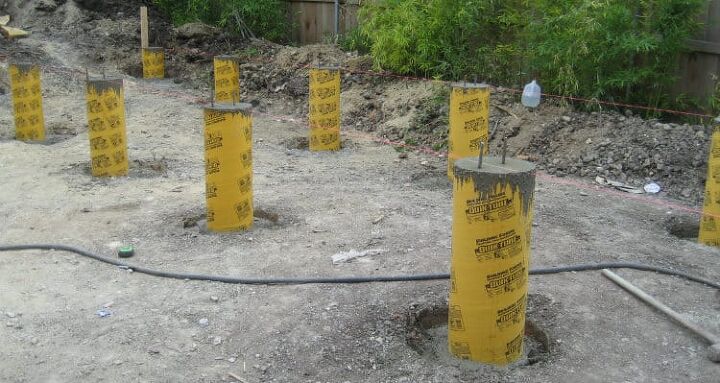 Though more difficult to build and permanent, concrete piers are a wonderful foundation for any size shed. Holes are drilled or dug into the ground to the frost line and concrete is poured into the holes to create piers. For drainage, the holes need about six inches of gravel. Both plastic and cardboard forms are available to be set into the hole and then filled with concrete.
Once the piers have cured, beams are positioned onto them and leveled using shims. This type of foundation is suitable for both flat and sloped terrain. Generally speaking, concrete pier foundations are pretty difficult for the average homeowner and may require the assistance of a professional.
8. Post-and-Beam
Another permanent option, post and beam foundations involves placing pressure-treated wood posts into holes below the frost line, leveled, secured, and then held in place with concrete. For lateral support, diagonal braces must be attached between the posts. Since you don't have to level the ground, only the posts that extend above it, this foundation is only moderately difficult. Post-and-beam foundations are ideal for most soil conditions, areas that experience frost, and small or large sheds.
Shed Flooring Types
Shed flooring is crucial to be able to have a stable walking and storage surface. With that in mind, the floors can be very utilitarian. However, many people want something a little more exciting than simply functional flooring. Whether you want your flooring to be comfortable for a home office or durable for storing your heavy equipment, let's take a look at the options you have for shed flooring materials.
1. Concrete Slab
Concrete is the most durable option for your shed flooring, as it will hold up to pretty much anything. With concrete, you won't have to worry about moisture damage, insect infestations, or rot. Of all the other options out there, concrete also requires the least amount of maintenance. However, it does come with some drawbacks.
It is unappealing visually, cold, hard, and can take a toll on your feet when standing or working on your feet for a long period of time. Also, since it's porous, unsealed concrete floors will stain somewhat easily.
2. Pressure-Treated Plywood
Opting for pressure-treated plywood gets you off the cold and is much more forgiving on your body than concrete slabs. Unlike concrete, this flooring option will give when you walk on it. Although plywood is a more appealing option than concrete, it is prone to rot, wear and tear, and will succumb to the elements eventually. Also, if you plan on moving heavy plywood back and forth across your shed flooring, a plywood floor will easily get chipped and damaged, requiring frequent repair and, ultimately, replacement.
3. Plastic
Most plastic sheds come outfitted with plastic flooring. This material is impervious to moisture damage and resists stains better than both concrete and wood. However, like all other shed flooring types, plastic comes with some drawbacks. For starters, it is not a good choice for those who plan on storing heavy lawn equipment. It also may not provide sufficient support for a riding lawn mower and, like wood, is highly susceptible to be scratched or damaged from heavy equipment.
4. Wood Tongue and Groove Planks
Tongue and groove wood planks are another flooring option available for your shed. When compared to plywood and concrete, timber is much more durable, visually appealing, and forgiving on the feet. However, these planks come with similar disadvantages to pressure-treated plywood. The timbers are susceptible to rot and may attract wood-damaging pests. When exposed to water, the planks can also warp, rot, or stain. They are also susceptible to damage from heavy objects being dragged across them.
5. Pavers
When compared to concrete slabs, pavers provide similar strength capabilities and a much more visually appealing aesthetic. However, like concrete, pavers are cold, hard, and unforgiving on your knees and feet. If not properly installed, they also tend to be prone to sinking or moving out of place – especially if you're going to be moving heavy equipment in and out of the shed.
6. Oriented Strand Board (OSB)
OSB, or oriented strand board, is standard flooring. It is affordable, strong, and most likely what you have as the subfloor in your home. If you're looking for a durable flooring choice that will be comfortable underfoot, OSB is an excellent choice. However, if you want flooring that's going to improve the aesthetics of your shed, you may want to consider a different option. Also, like plywood, OSB will eventually rot and break down.
Shed Uses
Aside from simply extra storage space, sheds can serve many purposes. The best type of shed will ultimately depend on how you want to use it. To inspire your shed install, here are some of the most common uses for sheds:
1. Workshop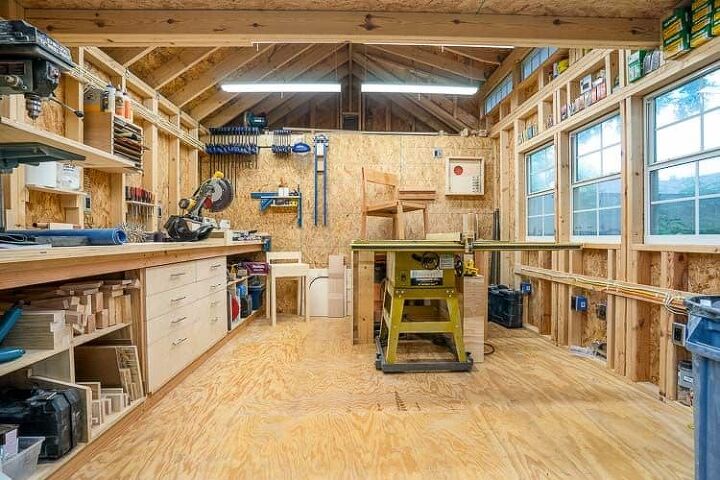 If you're limited on space in your home and garage for a workshop, you can construct a shed for this purpose. For best results, you'll want to opt for a shed that is insulated and electrically fitted. Customize your shed with workbenches, shelves, and cabinetry to increase the functionality of the space. Before you turn your shed into a workshop, it's also recommended to consult a professional.
2. Storage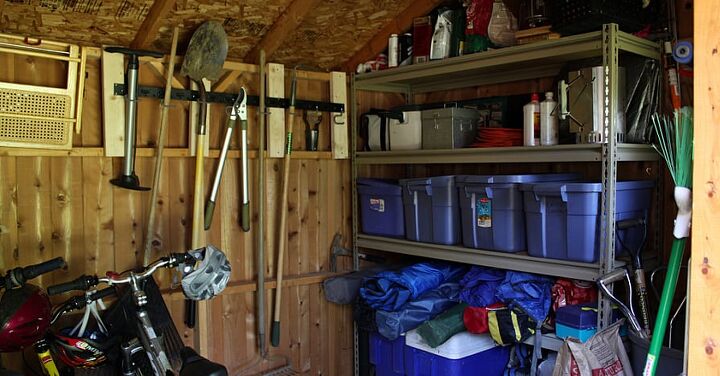 Of course, storage is probably the most common reason that people purchase sheds. Having outdoor storage offers an easy and accessible way to store items you need but simply don't have space for anymore. It allows you to free up space in your garage and is perfect for when you're trying to declutter your living spaces. You can also use your shed to keep your lawn clutter-free and store all of the backyard equipment you use on a daily basis, such as your mower, pool toys, lawn equipment, and grill.
3. Garden Shed
Want a place to store your gardening tools, fertilizer, pots, plants, and other garden supplies, a backyard shed is perfect for you! While you may not need a ton of space, you likely will want a shed that is durable.
4. She Shed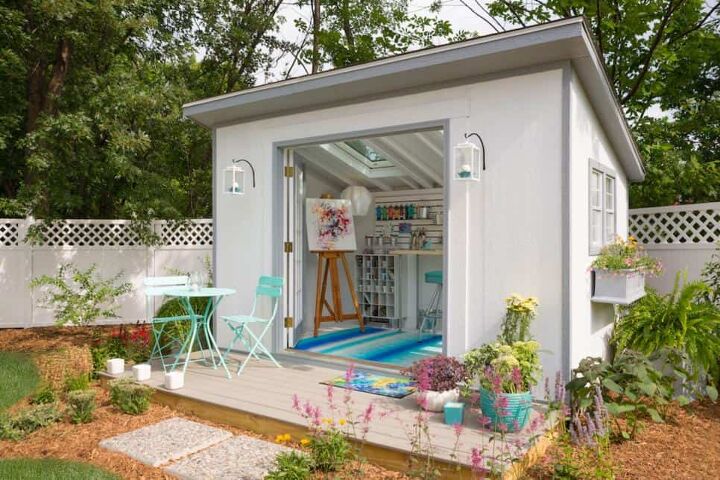 You've likely heard of man caves, but have you heard about the latest "she shed" trend? In recent years, women have been transforming their standard garden sheds into gorgeous hideaways. What you place inside is totally up to you, but many turn these sheds into their own reading nook, artist retreat, crafting corner, or even a home office.
5. Greenhouse
A greenhouse is a much more specialized and functional version of a traditional garden shed. Instead of its main purpose being to simply store things inside, it's designed to keep out the harsh outdoor conditions and inclement weather. These greenhouses also retain moisture and heat so that your plants can thrive. It's the perfect place for growing plants year-round that cannot be exposed to extreme temperatures.

Jessica Stone
Jessica considers herself a home improvement and design enthusiast. She grew up surrounded by constant home improvement projects and owes most of what she knows to helping her dad renovate her childhood home. Being a Los Angeles resident, Jessica spends a lot of her time looking for her next DIY project and sharing her love for home design.
More by Jessica Stone
Published April 23rd, 2021 1:13 AM