432 Views
30+ Different Types of Refrigerators (with Photos)
December 27th, 2021 1:44 PM
Share
We're committed to finding, researching, and recommending the best products. We earn commissions from purchases you make using links in our articles. Learn more here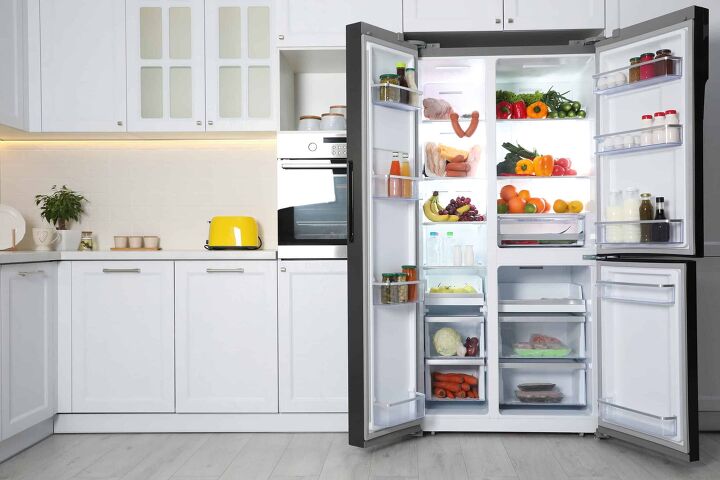 A refrigerator is a major investment, especially since it's something that you will likely use every day for at least the next 10 years of your life. Nowadays, the refrigerator options that you have to choose from go far beyond simply pouring a glass of ice water without opening up the door. With dozens of manufacturers, hundreds of models, a range of finishes, and nearly endless additional features, the refrigerator buying process can get overwhelming.
It can be difficult to find out exactly the right refrigerator arrangement that suits you and your family's needs best. Fortunately, we've put together a comprehensive guide to shed some light on your options and to understand what exactly sets one fridge apart from another.
While the most common types of refrigerators tend to be the top freezer refrigerator, side-by-side refrigerator, bottom freezer refrigerator, mini-fridge, French door refrigerator, and the counter-depth refrigerator, your options are not limited to these styles.
We'll guide you through the different types of refrigerators available, categorized by door design, finish options, installation style, features, and specialty models. That way, you can make an informed decision on which type of fridge is worth your investment.
Refrigerator Types by Door Design
As I'm sure you're already aware, not all refrigerators are designed the same. Even if you've had the same top freezer model for decades, you've likely come across a range of other types in appliance stores, showrooms, or even your friend's house. From French doors to side-by-side models, and top freezer to bottom-freezer models, there are a number of options to choose from based on door design.
With that said, let's take a look at some of the most common refrigerator door arrangements and how they'll impact your experience as a user.
1. Side-by-Side Refrigerators
The side-by-side refrigerator design has grown in popularity in recent years because of the convenience that they offer. They're ideal for those who desire a slim design, as these models consist of a vertical refrigerator and freezer that are positioned directly next to each other. In most cases, the freezer is situated on the left. This design makes it easy to access both compartments at the same time.
Fortunately, the thin profile of side-by-side refrigerators does not reduce the size of the items that can be stored. However, they do tend to have slightly less capacity than their French door counterparts. That said, it ultimately depends on the model that you choose, as there are some large side-by-side refrigerators that have more capacity than small French door refrigerators.
The relatively low cost of side-by-side refrigerators makes it a budget-friendly option. As an added benefit, these fridges require a small door swing which makes them work well in kitchens that have limited space. Most models also have an external water and ice dispenser on the freezer side door.
2. French Door Refrigerators
A French door refrigerator consists of a top refrigerator section with two doors that swing outward from the center – similar to traditional French doors. Underneath these two doors is a sliding freezer door. These fridge models are often associated with luxury and sophistication, and they look as such in kitchens. They offer ample refrigerator and freezer storage space, both of which are easy to access.
These models also typically have larger shelves, adjustable top shelves, large door compartments, and exceptionally deep freezer sections, making it easy to store all sorts of items. Generally speaking, there are four main types of French door refrigerator designs: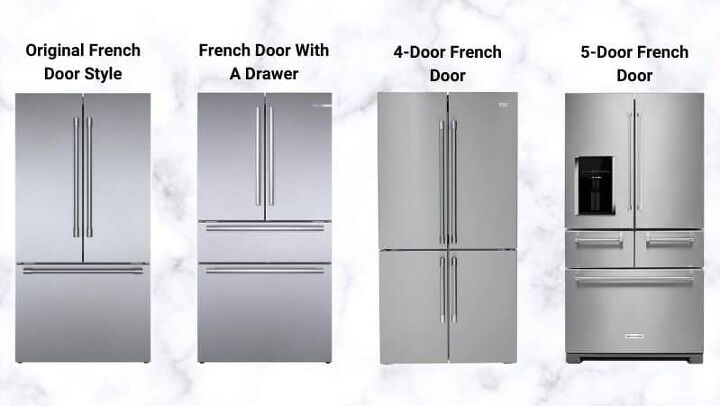 Traditional French Drawer Style: This is the traditional French door fridge model that consists of a freezer drawer underneath two doors that open up into the refrigerator section.
French Door with Freezer Drawer: This model features an additional drawer above the pull-out freezer section, which can either be a freezer or refrigerator.
Four-Door French Door: This is a newer style of French door refrigerator that features two upper doors and two lower doors. The bottom-right door may be a freezer or refrigerator depending on the manufacturer.
Five-Door French Door: This French door model has five compartments in total – two upper refrigerator doors, and three lower freezer drawers. Though, depending on the manufacturer, some of the lower drawers may be refrigerators.
3. Top Freezer Refrigerators
The top freezer design is likely the refrigerator type that you are most familiar with, and one that is commonly seen in garages and apartments. They tend to be slightly smaller than other models, which makes them great for those who live alone or for small families. Top freezer refrigerators typically don't come with many, if any, additional features. You will not get to enjoy the benefit of a water or ice dispenser in the door. Top freezer refrigerators serve their purpose but are essentially a very basic appliance.
Fortunately, these models are widely available so you have plenty of finish options to choose from. You can also typically find them refurbished for an even lower price than newer models. Because of their small size, top freezer refrigerators tend to be more energy-efficient than other styles and they take up less space.
4. Bottom Freezer Refrigerators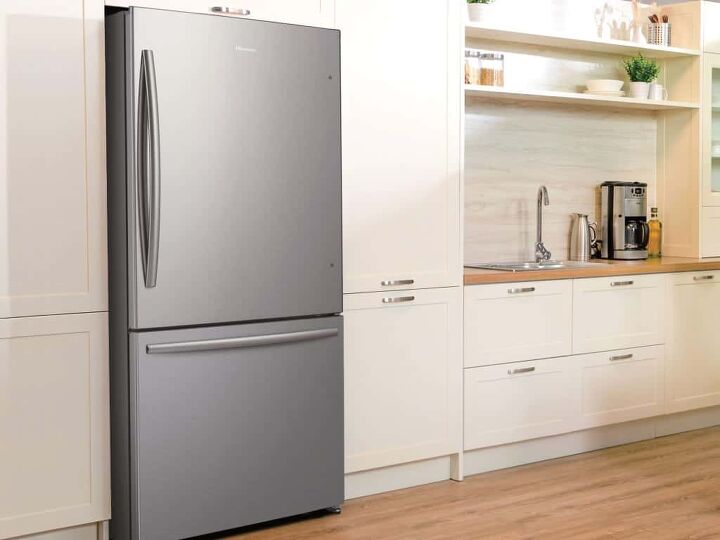 Refrigerators also come in arrangements that have the freezer portion on the bottom. Of course, the more budget-friendly option tends to have the freezer on top. Whereas, higher-end fridge models have started to place the freezer on the bottom, accessed via a slide-out drawer. This design is similar to that of the French door models, with just a single traditional swing-out door on top.
The freezers in bottom freezer refrigerators a typically slightly wider and more spacious than other models, making this design ideal for large families. Accessing the freezer via drawers rather than shelves offers the benefit of having the contents within view so nothing gets forgotten at the back. These models typically have a number of additional features, such as water and ice dispensers.
Although you'll pay more for a bottom freezer refrigerator than a top freezer model, the extra options make it well worth the higher price tag.
5. Freezerless Refrigerators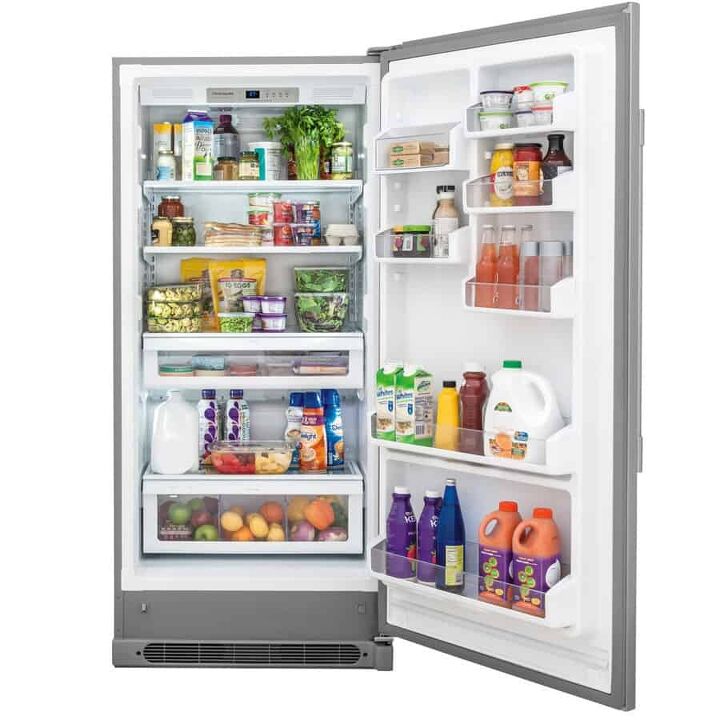 Freezerless refrigerators are exactly as the name suggests – a fridge without a freezer. Their thin profile makes them great for those who are trying to save space in their kitchen. Or, if you want to save money on your electric bills or your refrigerator purchase, you may consider opting for a freezerless model. However, it's typically only intended for people who don't eat a lot of frozen food, stick to fresh produce, or are simply trying to design a kitchen that has a separate freezer and fridge.
In fact, you can create a visually appealing kitchen when you design to use two different appliances instead of the two together in one unit. Alternatively, you can move your freezer space to your basement or garage to open up space in your kitchen. There are a number of reasons why someone might want to use a freezerless refrigerator over any style. They are also commonly found in industrial or commercial settings.
Refrigerator Finish Options
While it may seem like stainless steel is the go-to choice for refrigerator finish by homeowners and designers alike, there are many other options to choose from. Let's take a look at some of the most popular refrigerator finishes to complement the style of your kitchen.
6. Stainless Steel
Stainless steel has remained a popular appliance finish option for many years and there's no denying that it looks great. Since it's a metal that's more of a mid-tone between dark and light, stainless steel can be a great neutral option that'll match nearly any color palette. Its appearance exudes quality and luxury, which typically comes at a higher price tag than other finish options.
Although stainless steel refrigerators used to be notorious for showing fingerprints, recent innovations have eliminated this problem. This finish will look great in spaces that are modern, futuristic, and even minimalist. Or, if your style is more transitional (halfway between contemporary and traditional) a stainless-steel fridge will fit perfectly. For those with wood cabinets, stainless-style appliances can help offer a visual pause, accentuating the richness of the wood's organic grain and texturing.
One of the major drawbacks to stainless steel refrigerators is that they do not hold magnets.
7. Black Stainless Steel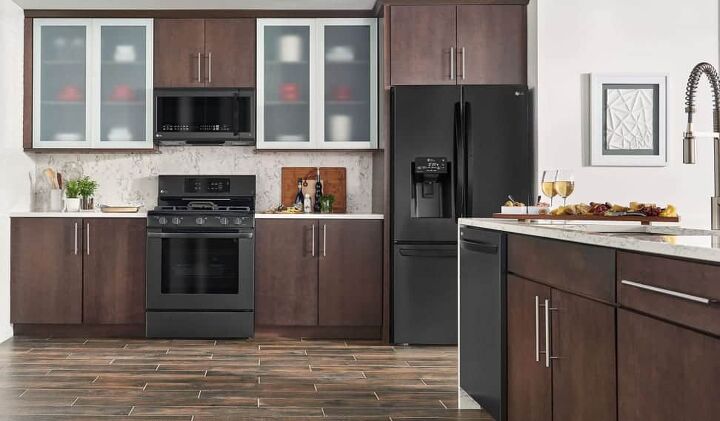 Combining the benefits of both black and stainless steel finishes, black stainless steel is a newer option available from many refrigerator manufacturers. Black stainless steel refrigerators often serve as statement pieces, making virtually any kitchen look sleek and modern. Instead of blending into the background like black or white fridges do, black stainless steel appliances command attention and will certainly impress your guests.
Like modern stainless steel models, they are easy to clean. The design blends the smudge-hiding ability that comes with black refrigerators and the ease of maintenance that stainless steel offers. LG now offers a matte black stainless steel model (pictured above) that is sure to make a statement in your kitchen.
8. Slate
Stone-inspired, slate is another newer finish that has a similar metal appearance to stainless steel, with its own set of benefits. Its' rich, elegant, charcoal-colored look will blend effortlessly into any kitchen design. The matte finish of slate refrigerators naturally conceals fingerprints, dirt, and smudges. Unlike stainless steel, slate fridges have the ability to hold magnets.
If you're looking for an alternative to stainless steel that adds visual interest and is easy to clean, slate might be the way to go. It's likely that we're going to see this finish continue to grow in popularity over the course of the coming years.
9. Black
Black, the absence of color, can serve as both a neutral or a bold choice since it's so drastically dark. It can either be a risky or a safe choice, depending on the kitchen that you are pairing it with. If you're looking for something vivid and dramatic, you can't go wrong with combining a black refrigerator with white cabinets. This black and white color scheme offers just enough boldness without being too overbearing. Though, it's important to note that if you plan to have all your appliances be a black finish, you should spread them out in the space so they don't look it's too heavy.
However black refrigerators can even look great if the rest of the appliances in your kitchen are white, or another finish. One of the main benefits of black refrigerators is that they are very forgiving, and will look amazing even if they haven't been cleaned in a while. For this reason, a black finish can be ideal for families as the sticky fingerprints leftover from your children will be hidden.
10. White
When it comes to designer kitchens, white refrigerators tend to be less common. This likely has to do with the fact that the classic white fridge that many of us had in our kitchens growing up seems so ordinary and outdated today. However, white is often underrated and there are many situations where a white refrigerator can look exceptional. If you want to achieve a kitchen design that always looks bright and clean, a white refrigerator will do the job.
The finish creates the perfect backdrop for your kid's artwork and can really brighten up a dark or small kitchen space. If your kitchen lacks natural light, a white fridge is the ideal choice as it will reflect light instead of making the area look darker like a stainless steel or black refrigerator would. Although white fridges tend to be more difficult to clean and will show staining and marks, they can be quickly and easily wiped down with a sponge.
11. Color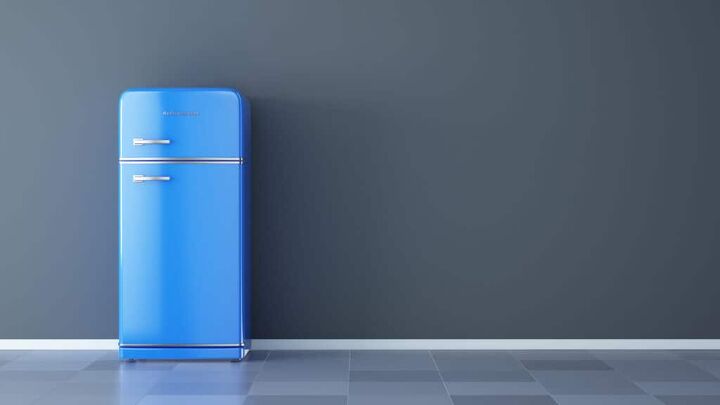 While many of the above finish options will blend into a color palette, you can opt for a refrigerator that actually defines your color palette. If you want to create a statement piece out of your refrigerator then you may want to consider opting for a colorful refrigerator. It's very common to find retro-style refrigerators in a range of colors that include pastels, bold reds, sunshine yellows, and so much more!
Pair a pale blue refrigerator with diner-inspired décor to put a unique, retro twist on your kitchen space. Alternatively, a firey red refrigerator can add some pizazz to a kitchen's classic white cabinets, subtle tile, a functional lighting.
12. Paneled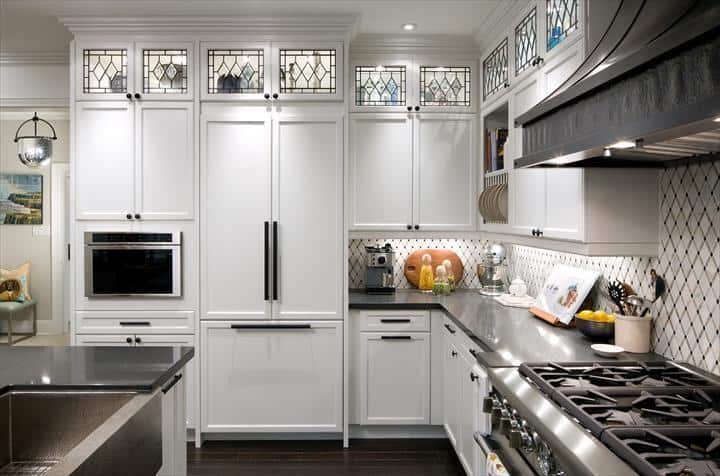 Paneled, or panel-ready, refrigerators are designed to completely blend into the surrounding cabinetry, instead of having their own distinctive front finish. This type of "finish" essentially camouflages your refrigerator. Aside from allowing you to match your cabinets, you can also match the door profile and hardware for complete consistency in your kitchen space.
You can decide to panel multiple kitchen appliances, or just one. Though, it's very common to see paneled refrigerators since they are typically very wide, tall, and dominating. They can help to create a more streamlined look, especially in a compact kitchen.
Refrigerator Types by Installation Style
Another way to categorize refrigerators is by installation style. If you've already decided on the arrangement of the doors and the finish, it's time to determine how you want the refrigerator installed in your kitchen. Here are the options you have to choose from:
13. Counter Depth vs. Standard Depth
All types of refrigerators are either counter depth or standard depth (full depth). With counter-depth refrigerators, the box is designed to be flush with the front edge of your cabinets. The door is the only thing that will jut out from the cabinets, creating a custom, streamlined look in your kitchen. Counter-depth fridges are typically less spacious and more expensive than standard depth models.
Standard depth refrigerators, on the other hand, are more affordable and can fit more items inside. However, they don't provide the same custom, built-in appearance that comes with their counter-depth counterparts. With this design, the box of the fridge will protrude out of the cabinets.
Both of these depths are considered to be freestanding refrigerators, which just means that the refrigerator is a separate unit. It is not installed or attached to your cabinetry, yielding benefits such as increased depth, enhanced flexibility, lower costs, and easier movement and placement. With that said, they aren't as expensive as built-in types and have finished sides since they are often visible.
14. Built-In Refrigerators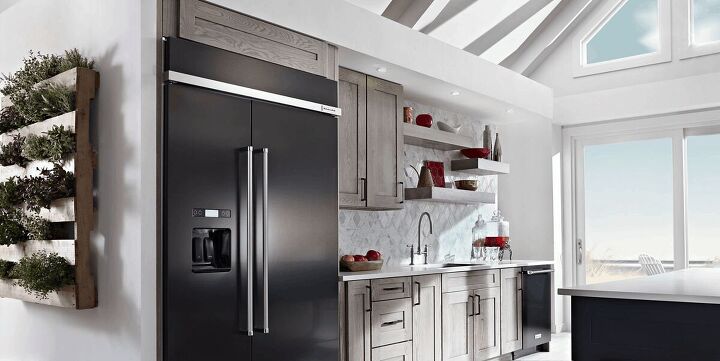 Built-in refrigerators, as the name indicates, are installed into your cabinetry which offers a seamless custom appearance for your kitchen design. They are incredibly popular in high-end kitchens and range in widths up to 48", though they can go even wider if you have two built-ins placed next to each other.
However, built-in refrigerators are typically constrained to cabinet depth – approximately 24". This has to do with the fact that if a built-in fridge extends beyond the cabinet, the look isn't built-in at all. While the look is very high-end, you won't have as much depth and you'll have to pay more for a built-in refrigerator.
Related Guide: Why Are Built-In Refrigerators So Expensive?
15. Column Refrigerators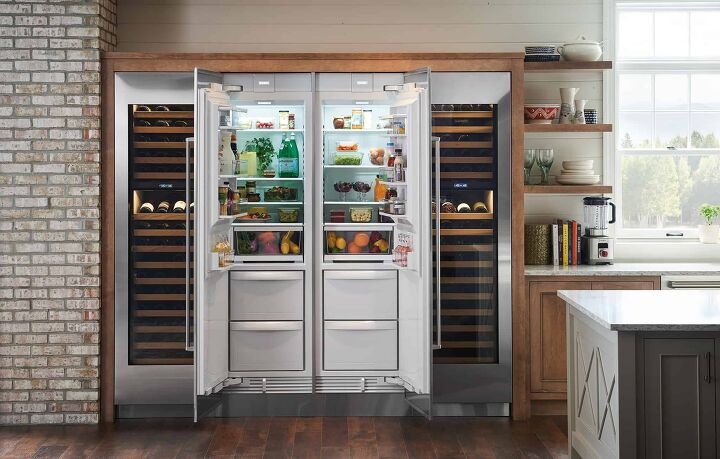 Column refrigerators, or integrated refrigerators, are slowly growing in popularity. They are characterized by featuring a tall, separate built-in fridge and freezer. With the two individual units, you are given more options when it comes to arrangements. In some cases, the fridge and freezer may be positioned next to each other, and other arrangements involve them in separate areas of the kitchen.
Another common arrangement is the fridge and freezer placed next to each other and then surrounded on either side by wine fridges. These refrigerators operate based on an "articulating hinge system," meaning the installation is completely flush with the cabinets and there are no gaps between the cabinets and the fridge.
Refrigerator Features
Gone are the days of basic refrigerators that did nothing more than keep your food cold. Advances in technology have evolved the food storage industry, resulting in many options with regard to additional features. Here are just some of the many options you may come across in your search:
16. LED Touch Displays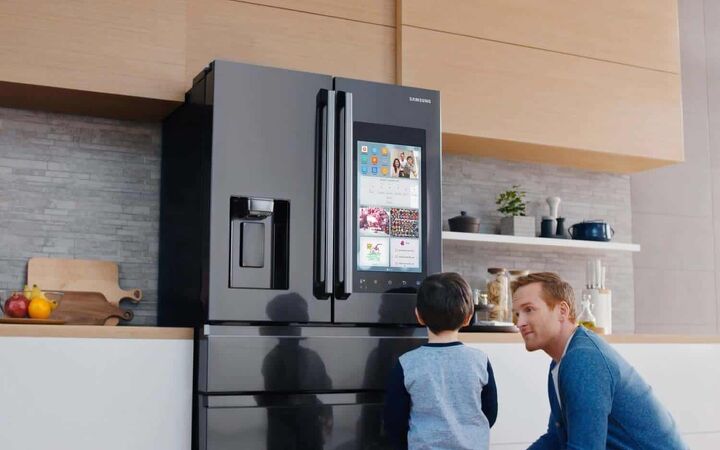 For smart operations, many modern refrigerators are outfitted with LED touch displays on the front of the unit. Many of these displays allow you to make shopping lists, browse recipes, display photos, adjust temperatures, leave reminders, get weather updates, and even play music. With the touch of a button, you can even tell your fridge to make more ice.
LED touch displays are very typical of smart refrigerators. Although many refrigerators have become energy efficient in recent years, smart fridges tend to use up a lot of energy. Although, you can program it to only run defrost cycles during particular times throughout the day to save money and energy.
17. Temperature Controls
With fridges that electronically maintain temperature and humidity, you can guarantee the freshness of the food inside. Some models may have very basic temperature controls that are operated by turning a knob or dial, while other more advanced refrigerators allow you to change temperatures using an app, digital control panel, or LED screen on the front of the unit.
18. Door Locks and Alarms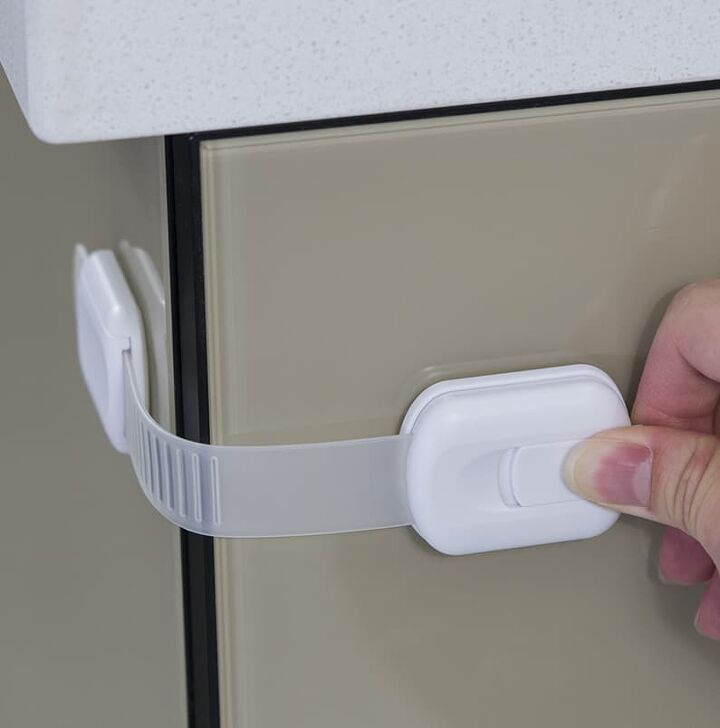 Aside from style, another excellent refrigerator feature has to do with safety – which is likely an important factor in your purchase if you have young children or toddlers. Some refrigerators come with a child lock so that you can ensure that your kids aren't rummaging through the food when you're not around. You can even purchase fridge-specific child safety locks from a variety of retailers such as Home Depot, Walmart, and Amazon.
Although this may not seem like a feature that you use on a regular basis, it can offer some peace of mind. For example, if you're having a dinner party and you want to keep your children out of the snacks or alcohol you have in the fridge, a lock can come in handy.
Another excellent safety feature for those with kids is an alarm. Some refrigerators are outfitted with an alarm system that goes off when the doors have been open for a specific period of time. This alerts you that your child has been playing with the fridge door, or it can simply tell you that you've accidentally left the door open. That way, you never have to worry about the items in your fridge getting warm or your freezer contents melting.
19. Door-in-Door Design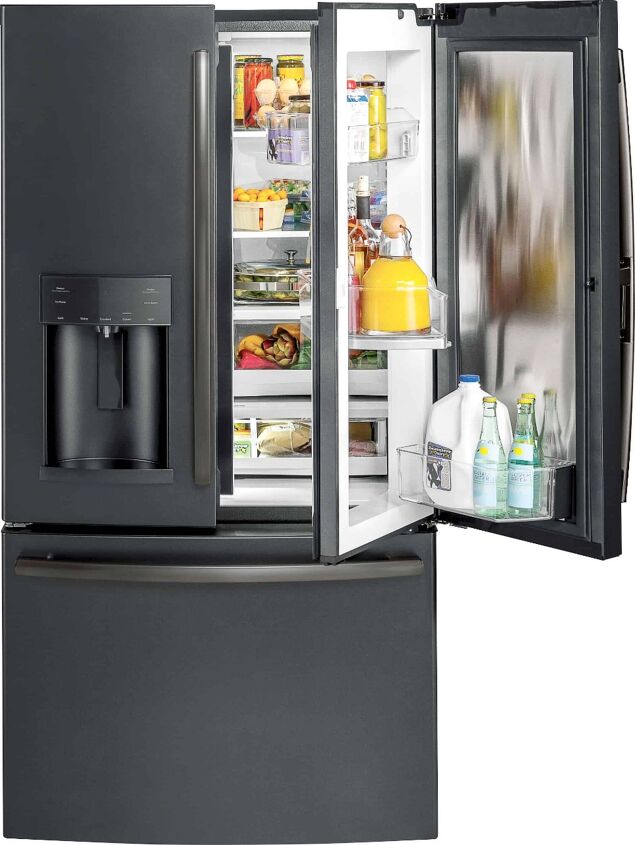 The door-in-door design allows you to store high-use items in a panel in the fridge door. Upon opening the door, you simply hold down a button on the handle to reveal only the front row. This allows you to grab the items you need quickly without releasing cold air from the inside of the fridge. The door-in-door design not only keeps your utility bills low, it ensures that your food doesn't accidentally warm up while you're searching around inside the refrigerator. This feature has become incredibly popular in recent years, especially for those with kids.
20. InstaView Door Design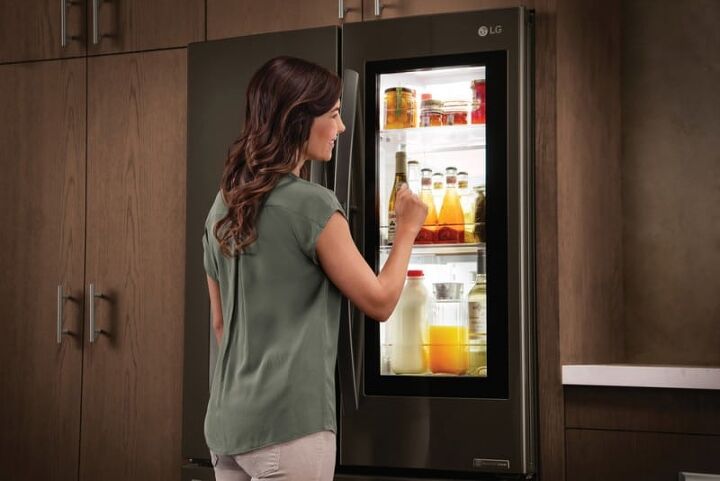 The InstaView Door Design was created by LG and features a door with a large window for viewing the contents of the fridge. This window is generally dark, but by knocking twice on the surface it becomes transparent and illuminates the inside of the fridge. It's a very convenient feature that lets you easily see everything inside of your refrigerator without having to open the door and release any cold air.
This refrigerator is a variation on the door-in-door design that has a number of additional features as well. It lets you control the fridge from an app on your phone, has five different settings for the freezer drawer, and is more spacious than many other models.
21. Wi-Fi Connectivity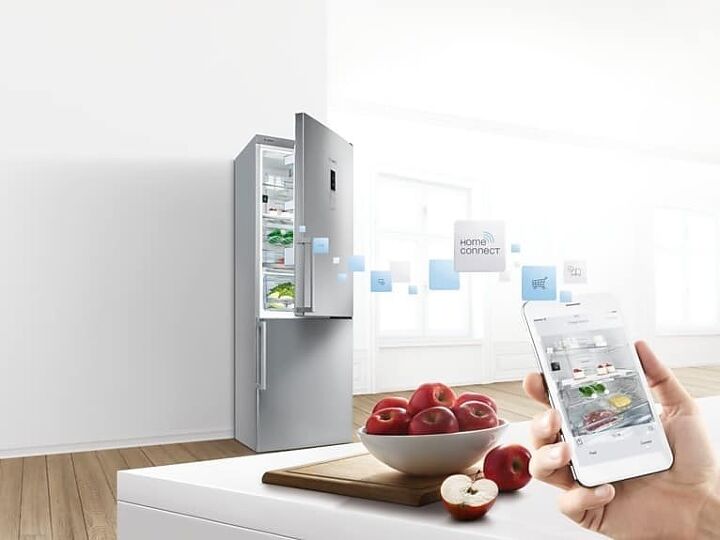 Smart fridges that are WiFi-enabled allow you to keep track of the groceries you have and what you need to buy, as well as monitor the temperatures inside the refrigerator. You can make adjustments and monitor using an LED screen, an app on your phone or both, depending on the model you have.
22. Drawers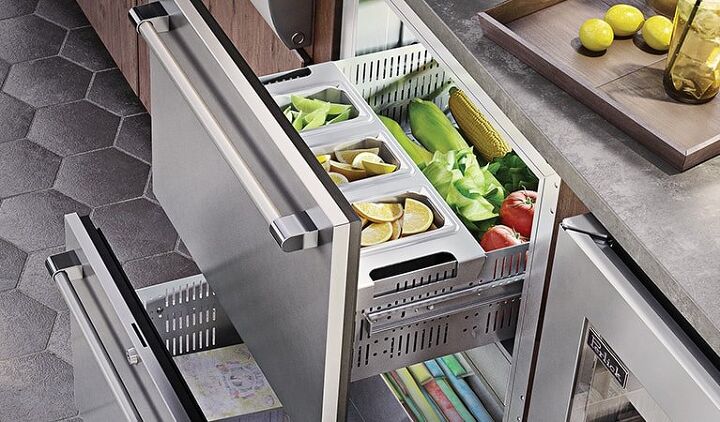 Drawers that fully extend means easier access when you need to reach various food items. With full-width drawers, you get ample space for storing entire trays of food which is ideal for entertaining guests. When you have leftover hors d'oeuvres from a party, these drawers offer excellent storage capabilities.
Some refrigerator models even have transparent drawers where you can easily view the contents without opening everything. This saves time and energy, as there is no need to rummage through the drawers to locate items. Climate-controlled drawers are another useful drawer feature that allows you to adjust the humidity and temperature of each one to suit the needs of the specific food you are storing.
23. In-The-Door Ice and Water Dispensers
There are fewer things more convenient than being able to enjoy ice cold water by dispensing it from your fridge. Fortunately, with a built-in dispenser, this is possible whenever you are thirsty. This feature does require plumbing installation and reduces the freezer capacity of your fridge. However, the trade-off is that you won't have to store large bags of ice in your freezer anymore as you'll be able to make ice on demand.
Water dispensing is not only convenient, it can encourage you and your family to drink more water. Though, you also may want to consider a water dispensing refrigerator that has an additional filtration feature, depending on the quality of your home's water supply.
Specialty Refrigerators
Aside from the main, full-size refrigerator models that you are likely most familiar with, there are a number of specialty fridges to consider while you're out shopping. Although these types may not apply to everyone, it's worth understanding your options and what to look for. Oftentimes, specialty fridges can be used in both interior and exterior applications.
24. Mini-Fridges
The quintessential refrigerator found in nearly every dorm room across the world, the mini-fridge has uses beyond college. They offer an excellent solution for additional cold storage in your home without committing to a full standard-sized refrigerator. Because of their size, they take up less space in the home and cost less to purchase and operate. You'll often find mini-refrigerators in home bars, garages, home theater, or dedicated "man caves" for stocking drinks and snacks.
Mini fridges range in size and capacity, but can be a wonder low-cost option. They are designed to either fit underneath a desk or on a countertop. A very recent trend sees exceptionally small mini fridges being used for storing skincare products. Like their standard-sized cousins, mini-refrigerators can come as freestanding units or built-in models.
25. Wine Refrigerators
If your purpose for buying a refrigerator is to keep your wine accessible, chilled, and fresh, you may consider a wine fridge. There are many different types of wine refrigerators, including under counter designs and full-size models that can hold up to 180 bottles. These types of refrigerators are great for showcasing your prized wine collection and entertaining.
You'll often find wine refrigerators installed alongside full-size standard refrigerators in kitchens. Whereas, undercounter wine fridges are often referred to as beverage centers. They have racks that are designed for holding both cans and beer bottles, and may also have a wide rack as well. The temperature in beverage centers is typically set much colder than it is in wine fridges.
26. Undercounter Refrigerators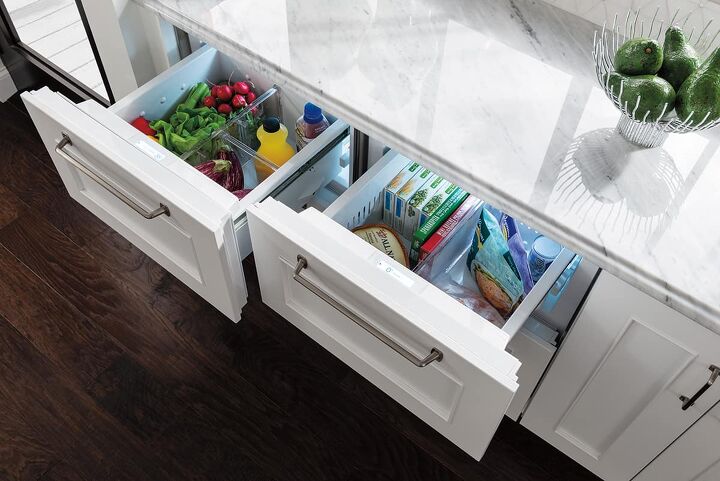 Undercounter refrigerators are exactly as the name suggests – fridges that are designed to be installed underneath your countertops. In most cases, these specialty models are used for overflow purposes. Alternatively, you can use your main fridge for overstock and these drawers as the go-to place for prep ingredients. This keeps all of the food that you need for recipes on hand and easily accessible.
In fact, accessibility is one of the major benefits of this type of fridge. They are more accessible for kids and those who use wheelchairs. Not to mention, if you're designing a small kitchen, undercounter refrigerators give you more room for essential cabinet and countertop storage. The main drawbacks to these specialty fridges are that they are on the pricier side and they don't serve as a substitute for a full-size refrigerator.
27. Ice Makers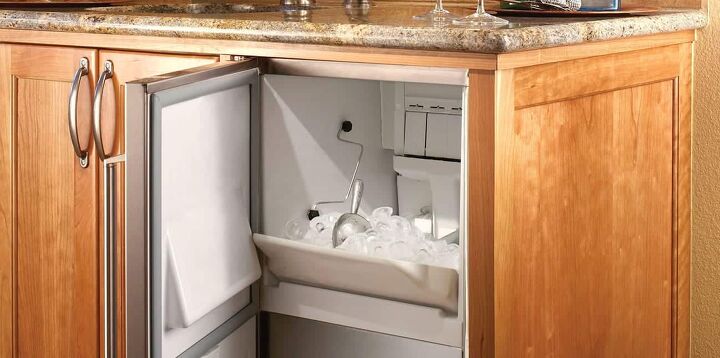 A standalone ice maker unit, though not technically a refrigerator, may be a desirable appliance to have. Depending on the specific ice maker you purchase, it may create nugget ice, clear-ice, or crescent-shaped ice. Nugget ice and clear ice machines require a gravity or pump drain under the unit in order to operate. There are a number of residential ice makers to choose from, based on your needs.
28. Chest Freezers or Upright Freezers
Freezer-only appliances can be found arranged in either an upright or chest design. They are often purchased as a second freezer for additional storage, and then programmed to very low temperatures for deep-freezing foods in order to preserve them for long periods of time. You'll typically find these appliances in basements, garages, or a storage space.
Although you may see them appear similar to a conventional refrigerator with a single, swing-open door, they also come in a range of chest-shaped models with a door that is hinged along the top.
29. Commercial Refrigerators
If you are considering a commercial refrigerator, you're likely a business individual who needs to keep food cold for your customers. Before you decide on which model to go with, you'll want to consider whether or not your customers will actually see the unit. Are you planning on using it to display food items or simply as cold food storage? How you plan to use your commercial fridge makes a huge impact on the style you select.
You should also consider energy usage and size, in addition to temperature zones that the food you will be storing requires. All of these factors will help narrow down your choices and ensure that you purchase the right commercial fridge that fits your needs.
30. Compact Refrigerators
Compact refrigerators are smaller than standard-sized refrigerators but larger than mini-fridges. They are ideal for small spaces, like apartments, or if you are custom designing your kitchen. These appliances are very easy to build into a kitchen design and fit into cabinets, resulting in a very streamlined look.
However, if you're considering a compact refrigerator, make sure that you choose one that is large enough to fit your needs, as they can be very limited on space.
31. Beer Keg Refrigerators
A beer keg refrigerator, or kegerator as they are often called, is designed to pressurize a keg and circulate suds through a draft line, into a tap, and finally, your glass. They offer convenience, as no hand pumping is required to operate them. Whether you consider yourself a beer connoisseur or someone who enjoys their favorite brews on occasion, there's nothing like drinking from a tap. In fact, a kegerator can allow you to enjoy a glass of cold beer out of the tap from the comfort of your home.
Is beer not your thing? No problem. These beer keg refrigerators can also work with cider, kombucha, and even cocktails and cold brew coffee. There are a number of kegerator options and sizes to choose from to fit your needs and your budget. From small countertop kegerators just over $100 to large commercial keg dispensers that can be installed in your home bar, the options are endless.

Jessica Stone
Jessica considers herself a home improvement and design enthusiast. She grew up surrounded by constant home improvement projects and owes most of what she knows to helping her dad renovate her childhood home. Being a Los Angeles resident, Jessica spends a lot of her time looking for her next DIY project and sharing her love for home design.
More by Jessica Stone
Published March 25th, 2021 8:49 PM