70 Views
Standard Nightstand Dimensions (with Drawings)
February 15th, 2022 1:47 PM
Share
We're committed to finding, researching, and recommending the best products. We earn commissions from purchases you make using links in our articles. Learn more here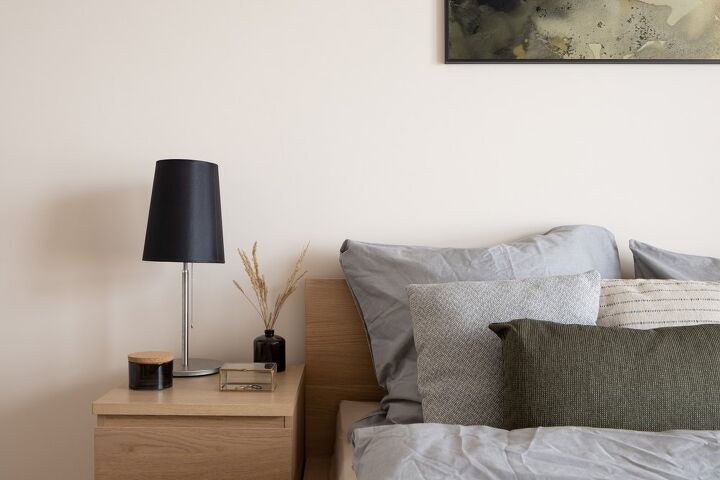 People keep a lamp, clock, books, medicine, glasses, and other odds and ends at their bedside. You don't realize how many things you need during the night until your nightstand has a mountain of things toppling from it. So, it's worth knowing some typical nightstand dimensions so you can get one that's practical for your space.
Standard nightstands are between 21 and 29 inches wide, but you can get narrower sizes that are 18 inches. The nightstand depth is between 14 and 24 inches, and the usual height is 25 to 29 inches. Your nightstand's height should be level with your bed or at least within five inches of the top of the mattress.
You don't want a nightstand to overpower your space, but you don't want to get one too small either. Consider what you absolutely must have at your fingertips and get a nightstand with a surface area that will accommodate it. If you have limited space, you can find many nightstand styles with storage to make them more functional.
Standard Nightstand Dimensions
Typically, most nightstands fall within a general size range, but you can still find many different styles and sizes. There are smaller nightstands ideal for tiny spaces and oversized versions for grand bedrooms. But, primarily, most nightstand dimensions will fall within a standard range.
Nightstand Dimensions: Height
Most nightstands are between 25 and 29 inches tall, which coincides nicely with an average bed height of 24 inches. The ideal is for your nightstand height to be level with the mattress. But, just like nightstands, beds can also vary significantly in height.
For example, some low platform beds are only about 18 inches tall. But others with cushy pillow-top mattresses and built-in under-bed storage can be 36 inches tall. Therefore, when choosing a nightstand, opt for one that is within a few inches of the height of your bed.
The rule of thumb is to get a nightstand within 5 inches of your mattress height, whether it's shorter or taller. However, keep in mind if your nightstand is too much lower than your bed, it can become uncomfortable to reach for things. It's typically easier for most people to reach up a bit when they are in bed.
So, the best height is one that is even with your bed. But a nightstand about two inches lower or taller than your mattress would also still work well.
Going taller is more ideal than going too much lower. It's best to stick with a nightstand that doesn't go any higher than 5 inches above the top of your mattress.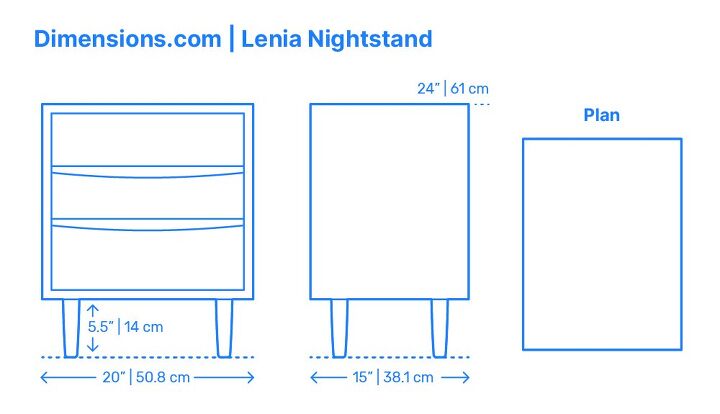 Nightstand Width
On average, nightstands are about 21 to 29 inches wide, but you can find ones smaller and larger. The most important things to consider when deciding on width are available space, bed size, and intended use. If you tend to need a lot of things at your bedside, you'll want the widest nightstand you can get.
But, make sure the scale of your nightstand doesn't seem off compared to your bed. For example, if you have a twin size or full bed, getting an oversized nightstand might look a bit odd.
But, if you have a king bed, using a tiny nightstand can look equally off-kilter. When you have a larger room and big bed, you can get away with a larger nightstand. Some people even convert dressers into bedside tables when storage and larger size are top priorities.
Just make sure that you have enough room to position the table next to your bed without cramming it up against it. It's much more aesthetically pleasing when you have a couple of inches to spare on either side of your nightstand.
Obviously, you don't want it too far away, since you need to reach it easily from bed. But, if it's squished up against it, it looks bad and makes making the bed tough.
Nightstand Depth
The final dimension to consider for your nightstand is the depth. The standard depth for most nightstands is between 14 and 24 inches. However, just like with the width and height, depth can vary.
Select a depth that works with the scale of your bed and affords you the space you need for your belongings. A nightstand that is too deep can make it awkward to get in and out of bed. But if it's too shallow, you could find it difficult to grab things you need.
The nightstand's depth should allow you to position the nightstand a couple of inches from the wall without getting in your way. If you have curtains hanging behind the nightstand make sure to measure from about an inch in front of the curtain.
Doing this will give you the best idea of the depth you need. If you measure from the wall, you'll end up with a nightstand that comes out further than you intended.
This is because you want the furniture to sit in front of your curtains. If you push it back against the wall, flattening the curtains behind it, it looks messy and poorly planned.
Best Nightstand Dimensions For Different Beds
As a general rule, base your nightstand size off of your bed size. It's all about proportions. Once again, the height should equal or fall within a few inches of the bed height.
If you have a twin bed, stick to nightstands between 18 and 22 inches wide and deep. If your bed is full or queen, you can go a little bigger. Choose nightstands that fall within the 23 to 27-inch range for width and between 22 and 24 inches depth.
A king bed can work well with a nightstand that is 23 to 25 inches wide and deep. A California king can accommodate a small chest or dresser doubling as a nightstand.
Of course, it's worth noting that it wouldn't hurt to make sure your bed is also the right size for your space. Trying to squeeze a king bed into a small master bedroom can doom you from the start. Likewise, using a double bed in a spacious room can wreck a master bedroom layout.
Nightstands For Small Spaces
No matter what size bed you have, if you're in a tiny bedroom, space becomes extra valuable. You want to maximize your space and storage, but you don't want things to look busy. Smaller nightstands are a must for small bedrooms.
Consider getting oval or round nightstands that can take up less visual space. You can also opt for slimmer bases, like a pedestal base or open base, as shown in this picture. More open space below the nightstand can help make the room appear larger.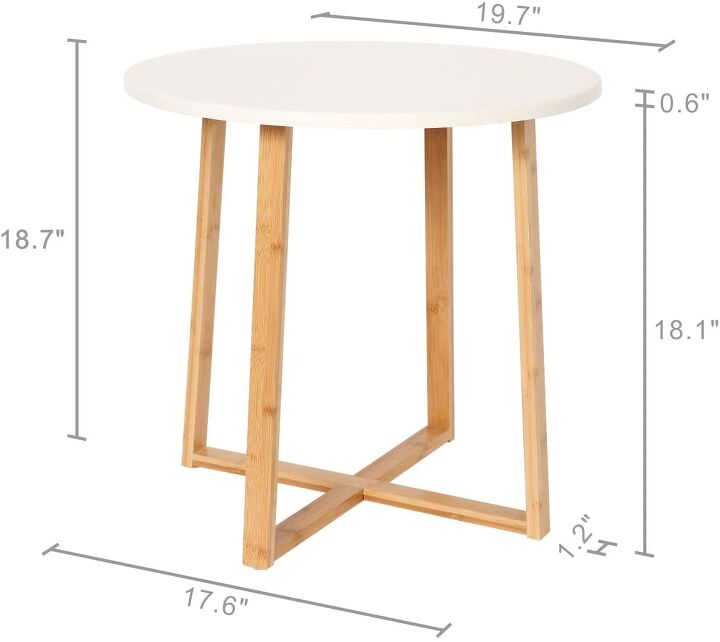 If you don't want to compromise your storage, opt for a smaller nightstand with a single deeper drawer, like this Envelo nightstand. It still has 9 inches of open space below to help make the piece seem not as heavy.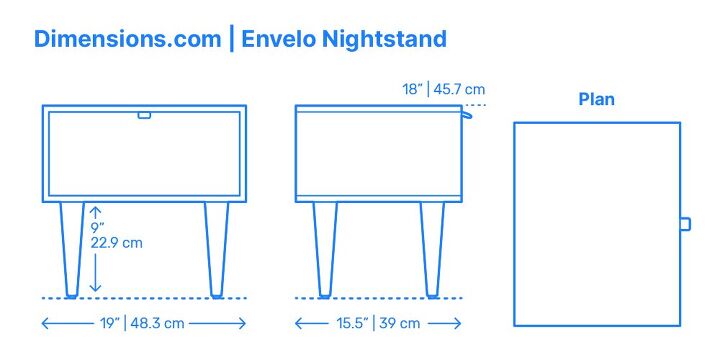 Other options would be using floating nightstands or even installing a floating shelf to double as a bedside table. If a bedroom has two twin beds, consider positioning one large nightstand in between the beds instead of giving each bed its own table.
If you're working in a really tight space, you might want to let a vanity or desk double as a nightstand. Basically, think about how you use the space, what you need out of a nightstand, and plan accordingly. In the end, it has to work for you, both functionally and stylistically.
Considerations When Choosing The Best Nightstand
In addition to nightstand dimensions, make sure the nightstand you select will be functional for you. If it doesn't have the proper storage or space, you'll likely end up with stuff piled high. Therefore, go as big as you can, while still making sure everything looks good together.
Most nightstand tops should accommodate a glass of water, a lamp, a book, maybe a photo, and a pair of reading glasses. If you tend to keep more things at your bedside, you'll want a nightstand with drawers. If you prefer an airier look, opt for at least a single drawer.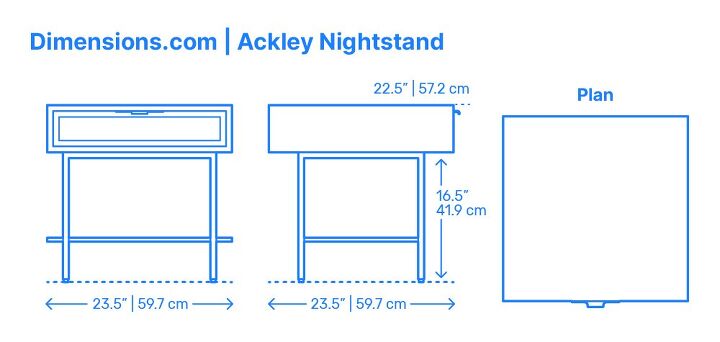 You can stow the book in the drawer leaving room on top for everything else. Or, if you can only fit a small table, you could use a floor lamp positioned behind it. Alternatively, you could hang a wall sconce instead of using a table lamp.
If your space is limited elsewhere, you might decide on a nightstand with two or three drawers. Doing this will give you much more storage in your room. But it takes up the same size footprint as a nightstand with an open bottom.
In Summary
Finding the right size nightstand is all about choosing one that works proportionately with your bed. Standard nightstand dimensions are between 21 and 29 inches wide, 18 and 24 inches deep, and 25 and 29 inches tall. But, if you have a smaller bed, you might need a smaller nightstand.
Your nightstand's height should be the same as your bed, or ideally, a few inches taller. If you're working in a small space, consider a floating nightstand or one with an open bottom. For larger rooms and beds, using a small dresser as a nightstand can work well.

Stacy Randall
Stacy Randall is a wife, mother, and freelance writer from NOLA that has always had a love for DIY projects, home organization, and making spaces beautiful. Together with her husband, she has been spending the last several years lovingly renovating her grandparent's former home, making it their own and learning a lot about life along the way.
More by Stacy Randall
Published February 15th, 2022 1:47 PM