368 Views
The Safest Neighborhoods In Norfolk, VA: 2022's Ultimate List
June 3rd, 2022 3:39 PM
Share
We're committed to finding, researching, and recommending the best products. We earn commissions from purchases you make using links in our articles. Learn more here
Norfolk, Virginia is a charming, beautiful, and most importantly safe place to live. There are many safe neighborhoods in Norfolk, but 8 in particular such as Colonial Place and Talbot Park are the safest places to live. Let's take a look at the 8 safest neighborhoods in Norfolk and see how their low crime rates make them the ideal place to live.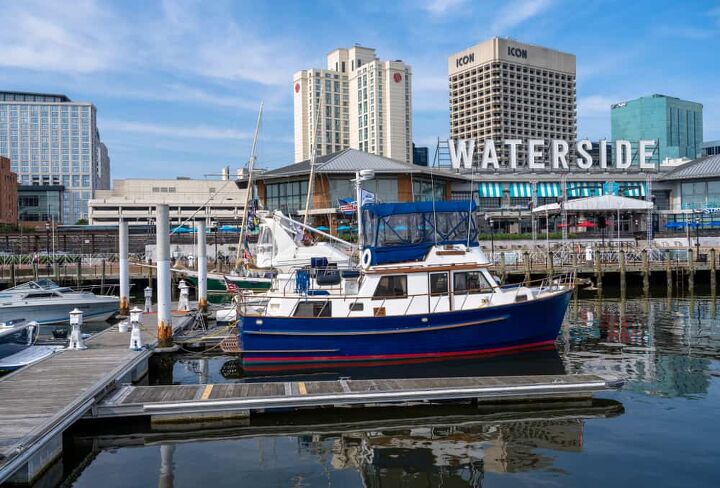 Norfolk is a mid-sized city in southeastern Virginia. The city lies between the Chesapeake Bay and the Elizabeth River. With a population of almost 245,000, Norfolk is one of the most populated cities in the country – but is it safe?
With a crime rate of 41 per one thousand residents, Norfolk has one of the highest crime rates in the country by city. But this doesn't mean that it's a dangerous place – you just have to be smart and know where to go.
The safest neighborhoods in Norfolk, VA are Ghent, West Ghent, and Edgewater-Larchmont near the riverfront. Downtown Norfolk also has a low crime rate, and North Shore and Talbot Park are also among the safest neighborhoods. Colonial Place and Roland Park are also some of the safest and nicest neighborhoods in Norfolk, VA as well.
Once you find the right place, Norfolk can offer a little bit of everything – from city life to beach life and all things in between. Whether you're a young couple or a family with kids, this city a good place to live.
Do You Need to Hire Movers?
Get free, zero-commitment quotes from pro contractors near you.
Top 8 Safest Neighborhoods in Norfolk, VA
| | |
| --- | --- |
| Rank | Neighborhood |
| 1 | Ghent |
| 2 | West Ghent |
| 3 | Edgewater-Larchmont |
| 4 | Downtown |
| 5 | North Shore |
| 6 | Talbot Park |
| 7 | Colonial Palace |
| 8 | Roland Park |
Now, let's get deeper into the safest neighborhood in Norfolk. To come up with this list, we considered the crime rate or each neighborhood in the city. Here are 8 neighborhoods that got the lowest crime rate in the city.
1. Ghent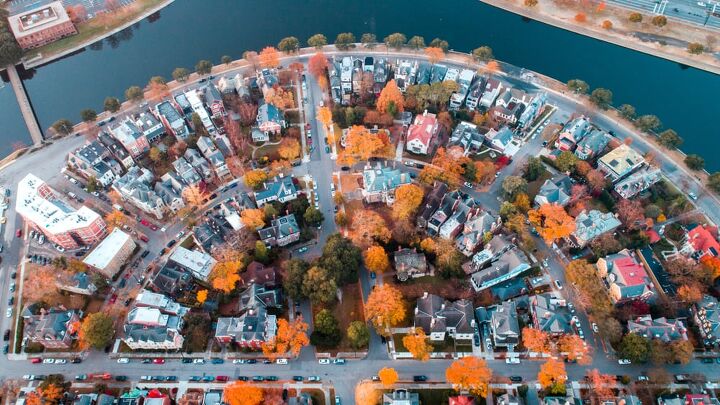 Population: 3,943
Median Home Price: $278,195
Average Monthly Rent: $775
The first one on our list is Ghent. Many homebuyers choose to live in this place not only for its safety but also for its historic character and diverse dining and entertainment options.
This neighborhood is home to many restaurants from an old-school drive-in to Norfolk's local craft brewery. There are also a lot of family-owned shops in this neighborhood – from antique stores to specialty shops.
If you love art, you'd love living in this neighborhood. Living here will give you a chance to see performances from the Virginia Symphony and visit the Chrysler Museum of Art.
Other attractions in Ghent include Weyanoke Wildlife Sanctuary, Botetourt Gardens, and Van Wyck Mews Park. This neighborhood also has a lot of trees and green spaces and areas perfect for families and even dogs.
2. West Ghent
Population: 2,699
Median Home Price: $384,909
Average Monthly Rent: $875
The West Ghent neighborhood is one of the safest areas in Norfolk and it also has one of the friendliest communities in the city. This neighborhood is located off Hampton Blvd in the heart of Norfolk. Compared to Ghent, West Ghent is more residential, with a population of 2,699.
If you have kids, you will love the fact that there are different places for you and kids to get entertained. There are Jeff Robertson Park and a tennis club.
If you love drinking coffee, you'll find small coffee shops on every corner. There are also a lot of restaurants for you to eat at – ideal for couples and families. If you're looking for places to hang out with your friends, there are also breweries for you to go to. When it comes to nightlife, it's considered to be more relaxing.
Because West Ghent is located just north of Eastern Virginia Medical School, it's also a good neighborhood for those who are working in the establishment. And if you are looking to buy a house, you'll be happy to know that you can get a large house with yards here at an affordable rate.
3. Edgewater-Larchmont
Population: 5,370
Median Home Price: $395,000
Average Monthly Rent: $1,076
Edgewater-Larchmont is one of the most popular neighborhoods in Norfolk. This area is bordered by the Elizabeth River and Lafayette River and is only 5 miles away from downtown.
This neighborhood is also one of the most family-friendly neighborhoods in the city. The public spaces like the library, parks, restaurants, and riverfront parks make this a great place to raise a family.
Everyone here is friendly and the sight of kids playing outside is common. Many local businesses are ideal for everyone of all ages, which makes it easy for everyone to make connections.
4. Downtown
Population: 3,126
Median Home Price: $213,777
Average Monthly Rent: $1,447
Downtown Norfolk is a walkable neighborhood that offers a different variety of shops and restaurants to satisfy all your needs. This area of the city is home to Town Point Park, which is a common venue for huge annual festivals. If you love sports, then this place is also close to Norfolk Scope Arena and Harbor Park.
This neighborhood is popular among young professionals who want to live in a central area as it gives easy access to dining, entertainment, and shopping amenities. And Downtown basically has everything you're possibly looking for!
This area offers a lot of employment opportunities to those who are willing to work in city offices, the hospitality industry, and big law firms. In fact, regardless of your expertise, there is probably some related employment opportunity waiting for you in this neighborhood.
Because of its location, a lot of neighborhood homes are small apartments and apartment-sized condominiums. However, you'll still find some homes with yards spread along smaller streets. And even though minimal, there are still green spaces.
5. North Shore
Population: 3,020
Median Home Price: $450,000
Average Monthly Rent: $1,125
If you're moving to Norfolk due to a Naval Station Norfolk transfer, then you'll find that North Shore might be the best place for you to move. Not only safe, but it also offers a lot of conveniences.
North Shore is located just north of Downtown, while the naval base forms North Shore's northern border and to the south is water. On the western border, you'll find Granby Street.
The North Shore is considered as a family-friendly neighborhood and a great place to raise kids – but also a preferred place among young professionals. It will provide you with a suburban atmosphere with streets that are very safe and quiet.
Since this is mainly a residential area, there are not a lot of employment options available. However, a lot of residents are working on the base. This neighborhood is composed of small restaurants and household shops. However, major shopping areas and almost any recreational activities will require a drive.
6. Talbot Park
Population: 1998
Median Home Price: $357,000
Average Monthly Rent: $1,100
Another Norfolk neighborhood that will make you feel safe is Talbot Park. This neighborhood has hardly seen any crime. Police patrol the area regularly, but you're less likely to have to call upon them for help.
This area is also close to everything. Living here will make you enjoy seeing big old trees, a friendly community, quiet streets, decent schools, and several churches and shopping areas within good proximity.
Exploring the neighborhood, you'll see a lot of joggers, dog walkers, and kids playing basketball. It's also a good place if you are into water activities. You can enjoy kayaking, canoeing, or motorboat.
7. Colonial Place
Population: 3,958
Median Home Price: $298,616
Average Monthly Rent: $1,265
A historic neighborhood with a very friendly vibe, Colonial Place is another area in Norfolk that is worth checking out. A lot of college students choose to live here for its walkability, affordability, and of course, low crime rate.
Aside from students, this neighborhood is also popular among families looking to move to a place that offers a diverse community. If you are a family with a dog or someone who loves to go for a run, this neighborhood might be a perfect place for you.
Living here will get you close to Colonial Place Greenway, which is a long, narrow park with a dog run at one end – there are also many small parks within the traffic circles.
The neighborhood also offers employment opportunities to those who need it, Consulate Care of Norfolk, and a nursing home being two of the larger employers. There are a lot of shops and restaurants along Granby Street plus the Longshoreman's Union Hall and a magic theatre are additional features of the neighborhood.
8. Roland Park
Population: 1,216
Median Home Price: $219,000
Average Monthly Rent: $1,334
The last, but not the least, is Roland Park. This is where Norview Avenue dead-ends into Tidewater Drive. Wayne Creek surrounds most of this neighborhood.
Known as a quiet neighborhood, there are not a lot of things to go here. However, that's a good thing in a city that tends towards a higher property crime rate.
Living here will require you to commute to go shopping, and experience recreation. This doesn't mean, however, that this is a boring community. There is a playground for the kids and other businesses where you can get what you need
Since it's a bit far from downtown, you can expect this neighborhood to be very peaceful. With well-maintained mid-century prefabricated houses, Roland Park is an economical choice, while still being a safe neighborhood for your family. There is a single, pretty large apartment building just next to Tidewater Drive, but other housing consists primarily of small to medium-sized single-family residences.
Is Norfolk VA a Safe Place to Live?
Based on annual FBI reports, Norfolk is considered as one of the most dangerous cities in Virginia, together with Portsmouth, Richmond, South Boston, and others. Generally speaking, however, Virginia is considered one of the safest states in the country.
What Is the Crime Rate in Norfolk VA?
Norfolk has a lot of amazing things to offer, but unfortunately, total safety is not one of them.
Based on statistics, Norfolk is safer than only 7% of cities in the nation. Even though that's still a lot safer than the infamous cities like Detroit and even New York City, that's still not a good rating.
The violent crime index of Norfolk is 24.5, only moderately higher than the US average of 22.7. Property crime is a much bigger issue: the index is 55.5 compared to the US average of 35.4.
All in all, this means that Norfolk has fairly the same number of rapes, assaults, and murders as other cities.
| | | |
| --- | --- | --- |
| | Violent | Property |
| Norfolk, Virginia | 24.5 | 55.5 |
| US National Average | 22.7 | 35.4 |
*Crime report above is ranked on a scale of 1 (low crime) to 100 (high crime).
Norfolk Annual Crimes
| | | | |
| --- | --- | --- | --- |
| | Violent | Property | Total |
| Number of Crimes | 1,175 | 8,900 | 10,075 |
| Crime Rate (per 1,000 residents) | 4.81 | 36.46 | 41.28 |
Worst Neighborhoods in Norfolk, VA
When choosing a neighborhood to live in Norfolk, you must keep in mind that some areas are better than others. Crime is concentrated in the following:
Oceanview
South Norfolk
Crestwood
Deep Creek
Western Branch
Is it Expensive to Live in Norfolk?
Generally, the cost of living in Norfolk is around average. This cost of living statistics is based on a US average of 100. A score below 100 means the city is cheaper than the US average. A cost of living index above 100 means it is more expensive.
| | | | |
| --- | --- | --- | --- |
| Cost of Living | Norfolk | Virginia | US National Average |
| Grocery | 97.8 | 99.6 | 100 |
| Health | 109 | 102.4 | 100 |
| Housing | 80.4 | 111.8 | 100 |
| Utilities | 96.7 | 99.3 | 100 |
| Transportation | 82.4 | 99.4 | 100 |
| Miscellaneous | 104.2 | 100.5 | 100 |
| Overall | 91.8 | 103.7 | 100 |
| Median Home Cost | $185,900 | $258,400 | $231,200 |
Do You Need to Hire Movers?
Get free, zero-commitment quotes from pro contractors near you.
Housing Market
One of the best things about Norfolk is the home price. So, if you're planning to move to Norfolk, you may want to consider buying your own – just like half of the residents living there.
Norfolk's median home value – $189,100
Norfolk's median list price -$200,000
Home values rose 2.4% in 2018-2019 and are expected to go up 1.3% in 2020.
A lot of homes in this city are either waterfront or at least have access to water. Styles vary from small two-bedroom vintage cottages to beautiful two-story Georgian style homes with wide front porches.
A lot of properties feature old trees and lush green settings. Newer stylish apartments and condominiums are also available. On the other hand, if you want to rent, you may expect a median rent price of $1,339 per month compared to the US average of $1,566 per month.
Generally, the cheapest places to live in Norfolk are in Ocean View and near Norfolk State University.
Related Guide
Cyril Balahadia
Coming from a family of woodcarvers, Cyril has always been fascinated with wooden interiors and home decorating. While she followed the path of writing as her career, her interests in home improvements still remain.
More by Cyril Balahadia
Published December 25th, 2020 10:59 AM