30 Views
What Are The Pros And Cons Of Living In Palm Springs?
January 24th, 2022 11:55 AM
Share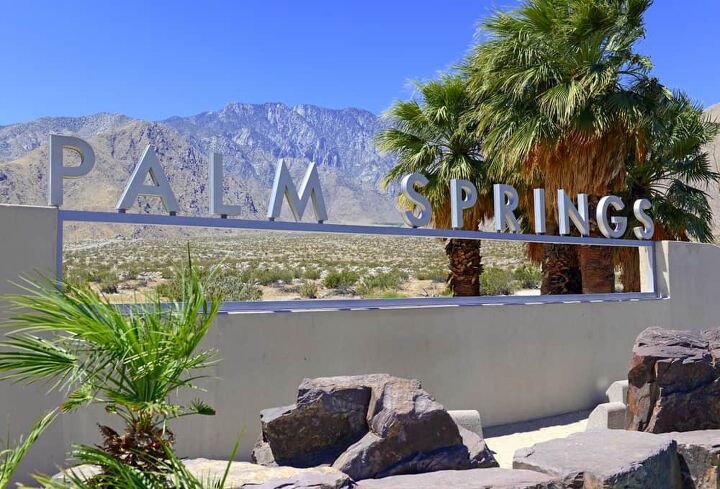 Palm Springs is a resort community nestled in the desert of Southern California. With only 50,000 people, the city has a small-town feel outside of Los Angeles and San Diego. Though a charming place, Palm Springs boasts both pros and cons.
Palm Springs is a friendly and diverse city with people of different backgrounds. There is world-class healthcare, affordable housing options, and many activities and attractions. However, no public transportation, extreme weather, poor water quality, and a high cost of living are downsides of Palm Springs.
If you want to call Palm Springs home, here are the pros and cons to consider before making the move.
What Are The Benefits of Living in Palm Springs?
Palm Springs is perfect if you're looking for a place to retire or if you would like a vacation home. Diversity, affordability, and a host of things to do makes Palms Springs a place you want to be. If you're thinking about moving to Palm Springs, take a look at the benefits the city has to offer.
1. Diversity in Palm Springs
Palm Springs has a reputation for being a friendly and non-discriminatory place to live. Here you will find people of different ethnic and spiritual communities. You will never feel like you don't fit in in Palm Springs.

| | | |
| --- | --- | --- |
| Race and Ethnicity | Population | Percentage |
| White (Non-Hispanic) | 28,900 | 60.7% |
| Hispanic | 13,200 | 27.8% |
| Asian (Non-Hispanic) | 2,250 | 4.73% |
| African-American | 1,982 | 3.96% |
The LGBTQIA+ community is represented well in Palm Springs, having one of the highest concentrations of same-gender couples. Over 10 percent of households in Palm Springs belong to this community, well above the 1 percent national average. This makes Palm Springs the fifth-highest per capita rate in the country.
This laid-back attitude is perfect for those looking for a place to feel comfortable and themselves. You won't find much formality in Palm Springs, especially the way people dress. Even in industries that most would consider formal such as finance or banking, a casual vibe is most prevalent.
2. Palm Springs Has Top of the Line Healthcare Options
Palm Springs is home to some of the best medical facilities. For example, many of the hospitals in the area are ranked and well-known for the care they provide. U.S. News and World Report ranked desert Regional, and Eisenhower Medical Center has also received national rankings.
Palm Springs has several other hospitals in the area, such as JFK Memorial Hospital and San Gorgonio Memorial Hospital. Additionally, Hi-Desert Medical Center is another great option for care for families.
3. Palm Springs Features Affordable Housing Costs
When thinking about affordable housing options in California, it will be more expensive than other parts of the country. Basically, if you're looking for truly affordable, you will have to visit the midwest. However, the cost of living in Palm Springs is 10 percent less than other areas of the state.
Palm Springs is a resort community, but there are affordable housing options available, especially for retirees. There are specific neighborhoods for those 55 years and older with houses starting around $200,000. Plus, most of the communities are gated and have many amenities.
The tax benefits in Palm Springs also add to the affordability of housing. There are reductions in the taxable value of the home and property tax relief considerations. Furthermore, Social Security benefits also aren't subject to income taxes in California.
4. Lots of Attractions and Activities in Palm Springs
No matter the time of year, there is always something to do or something going on in Palm Springs. When the weather is nice, golf, tennis, walking, and fitness studios are popular throughout the area. Neighbors often come together in the afternoons once the sun has gone down to enjoy each other's company.
Modernism Week is an event that takes place every February to admire the architecture of the city. There are many concerts during the spring and summer, and every Veterans Day, there is a parade of lights. The Palm Springs International Film Festival and Short Fest is another event that is a red-carpet affair.
The Movie Colony Neighborhoods also bring value to Palm Springs. In the 1930s, many celebrities moved to the area to get outside of Los Angeles. These neighborhoods now have cultural significance and were home to legends like Frank Sinatra, Bing Crosby, and Bob Hope.
5. Palm Spring Offers Many Job Opportunities
Because of the influx of activities and attractions throughout the year, job opportunities are plentiful. The resort-style atmosphere allows for plenty of employment opportunities in hospitality. The majority of those employed work in accommodation and food services, health care, and retail.
Cons of Living in Palm Springs
Exceptional healthcare, affordable housing, and a booming social scene are great aspects of Palm Springs. However, Palm Springs does come with some flaws. Lack of public transportation, extreme temperatures, poor water quality, and a high cost of living can pose some disadvantages.
1. Lack of Public Transportation in Palm Springs
There are not many public transportation options in Palm Springs. The only options you have are the city bus, a taxi, or an Uber or Lyft if one is available. What's more, Palm Springs is also not a walking town.
For these reasons mentioned above, a vehicle is necessary. Unfortunately, owning a vehicle can often bring other issues like having a place to store it and commute times. Roughly 32% of employees who live in Palm Springs have a 90-minute commute time to Los Angeles.
Most Common Method of Commuter Travel
Method
Percentage
Drive Alone
71.6 %
Work From Home
14.6 %
Carpool
7.11%
2. Palm Springs Has Extreme Temperatures and Weather
Extreme temperatures are very common in Palm Springs throughout the year. During the day, the temperatures are high, and at night, they can drop more than 30 degrees. The summer months are sweltering, with the high not falling below 100 degrees Fahrenheit until October.
The record high temperature is 123 degrees Fahrenheit set in July and August. The record high temperature in June is 122 degrees Fahrenheit and 121 degrees Fahrenheit in September.
Average Temperature in Palm Springs by Month
Month
High (°F)
Low (°F)
January
71°
45°
February
75°
48°
March
81°
52°
April
87°
57°
May
95°
64°
June
104°
71°
July
108°
78°
August
107°
78°
September
102°
72°
October
91°
62°
November
79°
52°
December
70°
54°
These extreme temperatures can sometimes bring excessive rain if there is not currently a drought. It is not uncommon to see flooding, sometimes even a foot of water, in the streets. This is due to there not being many places for it to drain.
In the spring, winds can get up to hurricane speeds at times. When this happens, dust storms can occur, bringing damage to homes and cars, and triggering allergies.
3. Plam Spring Has Poor Water Quality
The water quality in Palm Springs is low. The main issue with the water is it's corrosive due to the high mineral content it contains from the reservoirs.
The water in Palm Springs is safe to drink. However, if you want to prolong the plumbing in your home, it's best to invest in a water softener. You should be proactive about this as it can be detrimental to pipes, appliances, and anything that receives water exposure.
4. There Is a High Cost of Living in Palm Springs
Although housing costs are very affordable, especially for California, the cost of living in Palm Springs is much higher. While the cost of living is better than other places in the state, it is still higher than the national average. The median home price in Palm Springs is $415,000, and transportation costs increase it, as well.
Therefore, if owning a house in Palm Springs is not the best option for you, you will have to rent. Again, though costs are lower than the statewide average, it can sometimes be more than the national average.
Rental Averages Per Month
Rental Property
Palm Springs
California
United States
Studio Apartment
$867
$1,156
$821
One-Bedroom
$1,205
$2,100
$1,216
Two-Bedroom
$1,532
$2,495
$1,343
Three-Bedroom
$1,797
$2,895
$2,000
---
Related Questions
Is there crime in Palms Springs, California?
Like most places, there is crime in Palm Springs, with a crime rate of 49 per one thousand residents. In fact, Palm Springs has one of the highest crime rates in America. Within California, more than 96% of communities have a lower crime rate than Palm Springs.A lot of the crime that takes place in Palms Springs is property crime. This includes burglary, motor vehicle theft, larceny over $50, and arson. Additionally, Palm Springs has one of the highest rates of motor vehicle theft.If you're thinking about moving to Palm Springs, you need to keep in mind the safety of the area. Therefore, search for homes within gated communities that have secure storage for your belongings. 
What is the education system like in Palm Springs, California?
Relative to the rest of the nation, Palm Springs has a well-educated population. 21.84 % of adults in the average community have a 4-year degree. On the contrary, 37.3% of adults in Palm Springs have a bachelor's degree or advanced degree.The Palm Spring Unified School District is above average with grades K-12. It has 22,691 students, and the student to teacher ratio is 23 to 1. According to state test scores, 26% of students are at least proficient in math and 40% in reading.
What Did We Learn?
Palm Springs is a laid-back town for retirees and young people alike. With posh desert concerts, art exhibits, and ample outdoor activities, there's always something for someone to do. The town's blend of nature and modern architecture attracts those looking for a weekend getaway or a new home.
Close enough to the city but far away enough to enjoy the mountains, Palm Springs is a centralized location. It's essential to keep in mind that living in the desert will bring challenges like extreme climate and poor water quality. You should also keep in mind the extra transportation costs you will incur traveling from the desert to the city.
When weighing your options of moving to Palm Springs, California, remember to consider your preferences and needs. If you're a retiree, the great neighborhoods for those 55 and older are a huge benefit. If you're a young person looking for a change, there are numerous opportunities for employment and fun.
All in all, the pros of Palm Springs far outweigh the cons. The desert and mountain views, as well as social activities, will always keep you busy and feeling included. If this appeals to you, Palm Springs is the place to call home.
Related Articles

Stacy Randall
Stacy Randall is a wife, mother, and freelance writer from NOLA that has always had a love for DIY projects, home organization, and making spaces beautiful. Together with her husband, she has been spending the last several years lovingly renovating her grandparent's former home, making it their own and learning a lot about life along the way.
More by Stacy Randall
Published January 1st, 2021 6:00 PM