23 Views
What Are The Pros And Cons Of Living In Cape Coral, FL?
August 24th, 2021 6:03 PM
Share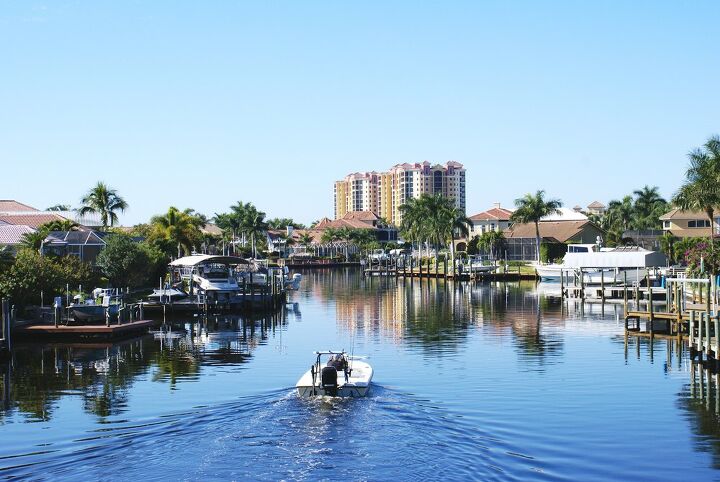 Florida is one of America's top tourist destinations, but many people call it home. Located along the Gulf of Mexico, Cape Coral is an often quiet and peaceful Florida city shrouded in gorgeous scenery. Just like anywhere else, living in Cape Coral comes with both benefits and downsides.
The cost of living in Cape Coral is somewhat high, but housing prices are highly affordable. You are subject to high tax rates in Cape Coral, but there is no state income tax. Cape Coral is highly educated boasting an excellent public education system, and even private tuition is affordable.
Low crime rates, affordable housing, and gorgeous scenery are just a few things Cape Coral has to offer. Follow along, and we will dive into the pros and cons of living in Cape Coral, Florida.
Do You Need to Hire Movers?
Get free, zero-commitment quotes from pro contractors near you.
Benefits of Living In Cape Coral
Florida is a great state to live in, and one of its best cities is Cape Coral. Not only do residents get a free pass on state income taxes, but affordable housing can be found at every turn. Let's take a look at some of the benefits that come along with living in Cape Coral.
1. Low Housing Prices
Cape Coral's housing market is more affordable than other Florida cities, such as Miami and Fort Lauderdale. The overwhelming majority of Cape Coral residents own their homes, at a rate of 74.5%. Renters are in the minority in Cape Coral, and the average cost is $1,244 per month.
Both renting and homeowning are affordable, and the median home value is $229,400. Owning a home in Cape Coral comes long with an average of $1,458 per month between bills and mortgage payments. The average property tax payment in Cape Coral is $1,967, but that varies based on assessed home value.
| | | |
| --- | --- | --- |
| Location | Median Home Value | Median Gross Rent |
| Cape Coral | $229,400 | $1,244 |
| Fort Lauderdale | $334,000 | $1,293 |
| Orlando | $240,000 | $1,196 |
| Miami | $459,000 | $1,396 |
Builder-owners in Cape Coral can walk into equity by choosing the right neighborhood, and $350,000 is the average construction cost. You can rest easy knowing that if homeowning costs are too much, you can save hundreds and thousands by renting.
2. No State Income Tax
One of the key benefits of the cost of living in Florida is that the state doesn't impose an income tax. Cape Coral falls under that umbrella and residents only pay federal income taxes. Both Cape Coral natives and transplant retirees can enjoy knowing that their retirement income isn't taxable either.
The lack of state income tax makes up for some of Cape Coral's steeper tax rates, like the 6.5% sales tax rate. Cape Coral is a part of Lee County which has a 0.95% property tax rate, and that's below the national average. Knowing that you'll save money on income and property taxes in Cape Coral brings peace of mind.
| | |
| --- | --- |
| Cape Coral Taxes | Average Rate & Cost |
| State Income Tax | 0% |
| Sales Tax | 6.5% |
| Gasoline Tax | $0.48 Per Gallon |
| Property Tax | 0.95% |
3. Great Weather
If there's one thing that appeals to most people about Cape Coral, it's the beautiful weather. Temperatures are comfortable throughout the year, and even Cape Coral's coldest months stay above 56°F. Get used to heat, however, because the combination of 85°F -94°F with a high humidity index can make it quite hot.
The warm weather is a blessing even on the hottest days because you can cool off at the beach. Unfortunately, Cape Coral's location makes it vulnerable to hurricanes, and 4 have hit the city since 1960. Hurricane season runs between June and December in Florida, and luckily they often miss Cape Coral.
4. Great Education System
There are several public schools in Cape Coral for both high school and elementary education. Cape Coral boasts four public high schools alone, and the city is known for being well educated. Private schooling is available as well, and costs $7,766-$9,835 per year, on average.
| | |
| --- | --- |
| Cape Coral Education | Average Tuition Cost |
| Private Elementary School | $7,766 |
| Private High School | $9,835 |
| Cape Coral Technical College | $4,509 |
Cape Coral Technical College is the only real college option within city limits, but it is cheap to attend. Tuition at the college costs as low as $4,509 per year, and that's exorbitantly low. The high education standards that are upheld in Cape Coral contribute to bright futures for the cities up and coming students.
5. Low Crime Rate
Some areas in Florida, such as Miami, boast high crime rates, but the same cannot be said for Cape Coral. Violent crimes, such as assault and murder, are extremely rare in Cape Coral and only affect 1 in 709 residents. Property crime is more common but still fairly rare, and it occurs at a rate of 1 in 70 residents.
Crime is primarily centralized to the middle of Cape Coral, and even there it is not terrible. There are only 1.41 violent crimes for every 1,000 Cape Coral residents. Cape Coral sees 26 crimes per square mile, and Florida experiences 55 crimes per square mile.
Some of the safest areas to live in Cape Coral include Matlacha Isles, Bayshore Dr., and Del Prado Boulevard. Cape Coral is currently ranked the safest city in Florida in regard to violent crime, and that trend will hopefully continue.
6. Good Schools
Within the Cape Coral area, you will find four different high schools and multiple elementary and junior high schools. All of these schools rank higher than the national average when it comes to the standards set for education and performance. This is all based on test scores.
So, if you were worried about moving here before your retirement and bringing your children along, there is no need for it. Your children will have access to a top-notch education. Of course, there are options for charter schools depending on what you prefer for your children. Just know, no matter where they go, they will receive only the most exceptional learning experiences available in Florida.
7. Lots of Restaurants
Our favorite thing to look at when it comes to any area is the food! Food speaks a lot about the local cultures and what you can expect when visiting. They are well-known for their Seafood Markets, as well as their bistros and gourmet pub-style options. So, in moving here, maybe you do not have as many choices as, say, Las Vegas, but you still do have an abundance of higher quality food.
When it comes to eating delicious meals, there is something for everyone. If you are looking for a fine dining experience, you will want to visit Italian restaurants or something like Rumrunners. If you want something more casual, there are many different selections to choose from.
Downsides of Living In Cape Coral
Living in Cape Coral is exciting and great, but it is not without its downsides. The cost of living is generally high in Cape Coral, and a lack of effective public transportation can be limiting. There are a few downsides of living in Cape Coral that are worth exploring.
1. High Cost of Living
Similar to the cost of living in Salt Lake City, living in Cape Coral can be somewhat expensive. Housing prices and tax rates are low, but other costs make up for it. For instance, groceries are generally between 5% and 8% more expensive in Cape Coral than the national average.
Driving expenses are also pricey and are 7% higher than the rest of the United States, on average. You can currently find gasoline for as expensive as $3.49 per gallon, and that adds up. The average driver goes through 656 gallons of gas each year, and that could cost up to $2,289.
Low tax rates and housing prices make the expensive aspects of Cape Coral an easier pill to swallow.
2. Too Much Tourism
Cape Coral has been known to attract 4.8 million tourists in a single year, and that gets crowded. Tourists can almost outnumber the 194,495 residents of Cape Coral, but at least they don't all come at once. The benefit of tourism is that it brings money to the city, but it often comes at the expense of annoying the locals.
Besides tourists, you will find what the locals call "snowbirds" in Cape Coral. A snowbird is someone, often a retiree, that travels to Cape Coral in the winter for a change of scenery. Who can blame them, but it's also understandable why that weighs on local Cape Coral residents.
3. Bad Public Transportation
It's not that Cape Coral has no public transportation, because it does, but it's not highly effective. The public transportation in Cape Coral is primarily relegated to trolleys and buses to get around town. Public transit is only useful in Cape Coral if you're traveling within Cape Coral, and less so for commuting between cities.
Using public transportation for your daily commute in Cape Coral is not a very viable option. Door-to-door shuttle services can drop you off right at your door, but only between Monday and Friday. Don't expect to travel from Fort Meyers or other cities to Cape Coral via public transportation.
4. Bug Problem
Bugs and pests are somewhat rampant in Cape Coral, and that creates a problem for many residents. The closer you are to the waterfront in Cape Coral, the more of a problem you may have with bugs. You can find spiders, cockroaches, flies, and even scorpions in Cape Coral, Florida.
Luckily, there are many pest control services in Cape Coral, but the presence of bugs can be a problem. Snakes are another pest to be concerned about in Cape Coral, especially if you have pets. The beauty that living in Cape Coral affords often outshines the annoyance caused by living with pests.
5. Hurricanes Are A Threat
Florida is notorious for hurricanes and gets pummeled nearly every season. Sometimes the effects are not much, while in some, there have been deaths and devastation. For five months out of the year, they have a chance of hurricanes coming directly to their shore.
Now, death is not really a worry as residents are given ample amounts of time to prepare. They typically have a three-to-five-day warning before a hurricane makes landfall, so they can leave if they wish. However, this does not mean that the house is safe from the risk of devastation. And if you do not have the time to get your boat out of the water? It is almost guaranteed that it will sustain some type of damage.
6. Extreme Summer Heat
The heat in Florida is high, and it is very humid. Unlike Las Vegas, where the heat is dry, the heat is moist in the southeast, so your sweat is not going to evaporate. Not to mention, it is hard to breathe because the air is so thick. So, in the summertime, it is best to do morning activities or wait until the evening so that the worst of the heat can pass.
Moreover, the facilities in the area are air-conditioned. If you do want to do an outdoor activity, you can always go to a country club or some sort of establishment that offers refreshments and cool air. That way, you do not have to worry about any heat-related injuries, but you are still able to get out and have fun.
---
Related Questions
Is Cape Coral, FL an excellent place to live?
Cape Coral is a great place to live! The crime rate is exceptionally low; the rent is affordable, and so is housing when you time it right. It is also less than the average cost of living nationally. So, it is not going to cost you an arm and a leg to live in this canal scattered coastal town.
Why are homes in Cape Coral, FL, cheaper than you would expect?
Cheap is not necessarily the word when it comes to Cape Coral's housing market; however, there are times when you can find a house for around $275,000 compared to the $600,000. Sometimes, Cape Coral is seeing a pretty high influx of residents, however, sometimes it is not, and that is when it is best to buy a house there. There are many properties but not enough people to occupy them.
Is Cape Coral expensive to live in?
Cape Coral is more affordable than other areas in Florida. Also, the cost of living here is lower than the national average. There are expensive aspects and affordable aspects. We like to think they sort of meet somewhere in the middle, making Cape Coral affordable.
Do You Need to Hire Movers?
Get free, zero-commitment quotes from pro contractors near you.
What Did We Learn?
Cape Coral is an expensive city, but affordable housing and low property taxes make up for it. There is no state income tax in the state of Florida, and Cape Coral is a great place to retire. Cape Coral is not known for its night-life, but at the very least there is a low crime rate.
Public schools are limited in Cape Coral, but the city is known for its excellent education system. Downsides of living in Cape Coral include the poor public transportation system and a high volume of tourists. Owning a car is a convenience in Cape Coral, but the $3.49 per gallon cost of gasoline is a mild deterrent.
At the end of the day, Cape Coral is a great place to live with an unbeatable charm. It is easy to look past some of the downsides when the benefits of living in Cape Coral are so strong.
Related Articles

Nick Durante
Nick Durante is a professional writer with a primary focus on home improvement. When he is not writing about home improvement or taking on projects around the house, he likes to read and create art. He is always looking towards the newest trends in home improvement.
More by Nick Durante
Published January 1st, 2021 6:00 PM