19 Views
What Are the Pros And Cons Of Living In Asheville, NC?
December 8th, 2021 4:46 PM
Share
We're committed to finding, researching, and recommending the best products. We earn commissions from purchases you make using links in our articles. Learn more here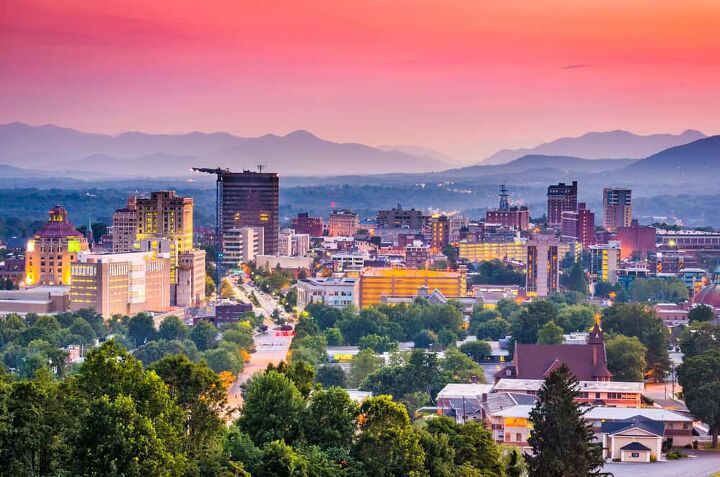 Asheville is the largest city in western North Carolina and home to about 90,000 people. It is one of the five cities located in the metro area. Though Asheville is a charming area with a Southern feel, it boasts both pros and cons.
Asheville has an abundance of outdoor activities, great weather, and great food. The educational opportunities in Asheville are many for both K-12 as well as college-level. However, traffic, high housing costs, limited employment opportunities, and no downtown area are some downsides to living in Asheville.
If you want to call Asheville, North Carolina home, here are the pros and cons to consider.
Do You Need to Hire Movers?
Get free, zero-commitment quotes from pro contractors near you.
What Are the Benefits of Living in Asheville, North Carolina?
Asheville, North Carolina, is an excellent place if you value the outdoors and good food. In addition to good weather and educational opportunities, these qualities are reasons why Asheville is a great place to live. If you're thinking about moving to Asheville, here are some of the benefits the city has to offer.
1. Outdoor Activities
If you're the adventurous type, Asheville is the place for you. Hiking, kayaking, and days on the beach are just some of the activities you can experience when you move here. The mountains are a short drive away, and the beach is a quick day trip if that is more your speed.
Lake Norman, the Smoky Mountains, and the U.S. National Whitewater Center are available throughout the year for your enjoyment. You can also go cycling or horseback riding in the mountains. If you prefer a more laidback adventure, hop in the car to Blue Ridge Parkway to see the wildflowers bloom.
The outdoor activities in Asheville, North Carolina, are endless. Whether you enjoy fast-paced white water rafting or you enjoy smelling the flowers, this city is for you.
2. Weather
The weather in Asheville is much milder compared to the other communities in North Carolina. Because Asheville is located in the mountains, the higher altitude acts as a natural air conditioner. This means that the summers are not as hot as you would experience if you lived further south.
Average Temperature in Asheville by Month
Month
High (°F)
Low (°F)
January
47°
28°
February
51°
31°
March
59°
38°
April
68°
46°
May
75°
53°
June
82°
61°
July
85°
65°
August
84°
64°
September
78°
58°
October
68°
46°
November
58°
38°
December
50°
31°
Another benefit of living in Asheville is that the weather is always the perfect temperature to enjoy the outdoors. Because the city is more inland than other areas in North Carolina, hurricanes aren't usually an issue. Asheville is a great place if you value great weather.
3. Great Food
Asheville is home to good food and offers many options to choose from. With over 250 restaurants, this city is for foodies and those who just like a good meal. The density of breweries in Asheville is one of the highest rates in the United States.
Asheville was the first city in the United States to be recognized by the Green Restaurant Association. This non-profit organization awards restaurants for being environmentally responsible. In Asheville, chefs have a passion for supporting local farmers throughout the area, creating an authentic farm-to-table experience.
4. Education System
Asheville has many educational opportunities from K-12 to college-level. The city is one of the most significant student communities in the United States for a city of its size.
The SAT scores in this educational system are much higher than the state average and the national average. The average SAT score in North Carolina is 1,098. The national average SAT score is 1,068.
Average SAT Score by University
College
Reading and Writing Score
Math Score
UNC Asheville
540 – 640
520 – 610
Western Carolina University
520 – 610
510 – 600
WCU at Biltmore Park
560 – 640
540 – 630
Appalachian State University
500 – 590
490 – 570
In addition to the four universities above, Asheville is also home to Montreat College, Mars Hill, Warren Wilson, and Brevard College. The educational system in Asheville is home to 23 elementary schools and 18 secondary schools. There are also several private and religious-based schools in the community that also offer a rigorous curriculum.
Cons of Living in Asheville, North Carolina
An abundance of outdoor activities, nice weather, good food, and a superb education system are the benefits of Asheville. However, Asheville, North Carolina, has some flaws. Heavy traffic, high housing costs, limited employment opportunities, and no proper downtown area can pose some disadvantages.
1. Traffic
Because of its location in the Appalachian Mountains, more than 9 million people come to Asheville every year. The hospitality that the city radiates makes everyone feel like a local. While tourism is great for the economy, locals must deal with a lot of traffic.
The heavy influx of traffic, especially during busy seasons, can pose a challenge to locals. This is especially true if you're trying to get a table at your favorite restaurant. Additionally, trying to enjoy a quiet trail can also be difficult due to the heavy traffic.
2. Housing Costs
The cost of groceries and utilities are lower in Asheville, but the housing costs are much higher. You can expect to pay at least $272,000 for a home when you move here. Asheville ranks 145 in the United States for median housing cost.
High housing costs impact those renting, as well. Asheville is one of the most expensive rental markets in North Carolina, so keep that in mind and plan accordingly.
Rental Averages per Month
Rental Property
Asheville
North Carolina
United States
Studio Apartment
$1,126
$697
$821
One-Bedroom
$1,038
$731
$1,216
Two-Bedroom
$1,376
$907
$1,343
Three-Bedroom
$1,156
$1,172
$2,000
3. Unemployment Rate
The unemployment rate is competitive with the rest of the state and country. However, there are only four significant industries that provide the majority of jobs to the community. Health services and private education contribute to one out of every five jobs in Asheville.
Leisure and hospitality provide 15% of the jobs, and public service positions represent 14% of the market. Retail positions offer another 14% of jobs in Asheville. If your career is outside of the healthcare or education system, you could struggle to find a job in the city. The unemployment rate in Asheville, NC is currently 3.8%
4. No Downtown
While there are many restaurants, breweries, and boutique stores to visit, there is no true downtown in Asheville. The city is relatively small compared to the rest of the metro area, but while it may seem small, it isn't. However, there is no central square, park, or pedestrian area that draws everyone to the area.
If you are looking for a city that has a small-town feel, Asheville may not be the best option for you. Five boundaries comprise the community, so it isn't as quiet as you may think it could be.
---
Related Questions
Is Asheville, NC safe?
Unfortunately, crime rates in Asheville, North Carolina, are high. Asheville actually has one of the highest crime rates in America compared to all communities of all sizes. The crime rate is 59 per one thousand residents. Residents risk a 1 in 152 chance of suffering a violent crime and 1 in 19 chance of suffering a property crime. Asheville is the in the 3% of North Carolina with the highest crime rates.
Does Asheville, North Carolina have public transportation?
Asheville does have several modes of transportation, though they are most abundant for tourists. The trolley can take you to see historical sites, and Segway tours can take you to guided waterfalls.For locals, regular bus routes and traditional taxi services are an option. Some areas do have pedestrian-friendly places if you choose to walk.
Do You Need to Hire Movers?
Get free, zero-commitment quotes from pro contractors near you.
Summing It Up
Asheville is a great option for adventure lovers, foodies, and scholars to call home. The abundance of restaurants, outdoor activities, nice weather, and excellent education can benefit anyone looking to move there. While there's no downtown area, there's always something to do, and you can have access to several educational opportunities.
Before you decide to move to Asheville, you must consider your budget and if you can afford the area. Housing costs are higher in Asheville than the rest of the nation, which can pose a big issue. You also should determine if the job opportunities are right for you.
At the end of the day, the pros of Asheville outweigh the cons. If you can secure a job and afford the housing, the outdoor perks are reason enough to call Asheville home. While Asheville may not offer an authentic, small-town feel, the city will give you a warm welcome.

Stacy Randall
Stacy Randall is a wife, mother, and freelance writer from NOLA that has always had a love for DIY projects, home organization, and making spaces beautiful. Together with her husband, she has been spending the last several years lovingly renovating her grandparent's former home, making it their own and learning a lot about life along the way.
More by Stacy Randall
Published January 1st, 2021 6:00 PM