53 Views
What Are The 10 Most Dangerous Cities In Kentucky?
June 2nd, 2022 6:56 PM
Share
We're committed to finding, researching, and recommending the best products. We earn commissions from purchases you make using links in our articles. Learn more here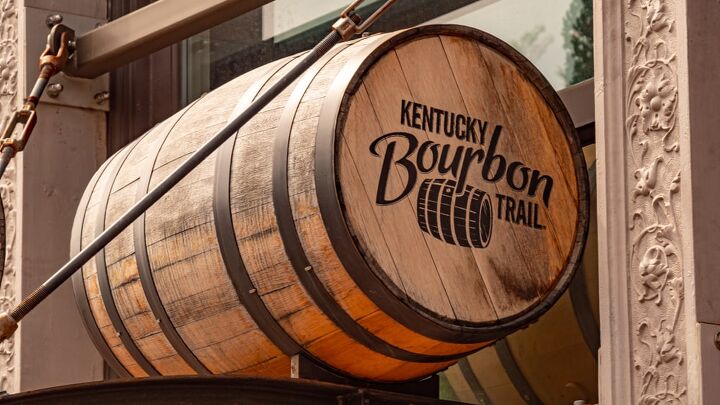 In the part of the country where I'm from, it's assumed that states like Kentucky don't really have a crime rate. However, we all lowkey know that's not true. Statistically speaking, Kentucky is a fairly safe state. In fact, it's one of the safer, with a violent crime rate of under 2.5 per 1,000 people. Though the state is safe overall, there are some places you probably shouldn't go.
The most dangerous cities in Kentucky are Louisville, Mayfield, Oak Grove, Bowling Green, and Paducah. Cities such as Ashland, Shively, and Winchester are among the most dangerous in Kentucky. Middlesboro and Radcliff are in the top 10 most dangerous cities in Kentucky.
Areas that are known for high crime rates also tend to have a lot of comorbid problems, such as poverty, low employment, and low amenities. If you ask most people from Kentucky which areas are the least safe, they're probably going to mention one of the following cities below. Newbies to the state might want to avoid these areas, especially if they're looking to move!
Do You Need to Hire Movers?
Get free, zero-commitment quotes from pro contractors near you.
What Are The Worst Places To Live In Kentucky Like?
Kentucky has amazing bluegrass, and most of the communities in the state are vibrant country places where you feel right at home. However, this is a state where a huge part of your lifestyle will be impacted by your neighbors. Crime is a good indicator of bad neighbors, which is why we decided to take a look at the worst offenders…
10. Radcliff
The small town of Radcliff hasn't been doing too well as of late. The town used to have less crime, however, there has been an uptick in recent years. While the crime rate is still far below what you would see in a town like Santa Barbara, the truth is that there is a little bit of a drug problem that causes property crime and violent crime alike. Whether or not you'd live here is up to you to decide.
All in all, Radcliff isn't that bad a place to live. However, the uptick in crime is something that people should be aware of. It's cause for concern and could lead to bad things later on.
Violent Crime: 465 per 100,000 residents
Property Crime:  2826 per 100,000 residents
9. Middlesboro
It's often said that idle hands do the devil's work, and that might be the case with Middlesboro. This sleepy little town has been struggling to get businesses up and going again since COVID-19 hit the town. This is also a city where crime has been creeping up on people. Between terrible drug addictions, a listless economy, and a lot of inner strife around town, it's easy to see why people are leaving Middlesboro.
Violent Crime: 260 per 100,000 residents
Property Crime:  3968 per 100,000 residents
8. Winchester
At first glance, Winchester looks like the type of place you would want to call home. It's clean, has plenty of well-mannered families, and also happens to be remarkably affordable. Most people here love it. However, we would be lying if we said that this town isn't dangerous in its own right.
Unlike most other definitions of danger, we're focusing on property crimes. Winchester has been dealing with a spate of serious burglaries. It's gotten so bad, residents have started to panic over it.
Violent Crime: 236 per 100,000 residents
Property Crime:  4423 per 100,000 residents
7. Shively
To a point, it makes sense that Shively would end up on this list. Shively is a suburb of Lousiville—a name you're going to see a little later on our list. This suburb seems to be dealing with a lot of the same problems as Kentucky's biggest cities. High housing prices, poor schools, and a lot of crime started to take hold of this neighborhood. It's been bad.
Shively has a fair mix of both violent and property crime, which means that you probably should avoid dealing with neighborly disputes if you choose to live here.
Violent Crime: 340 per 100,000 residents
Property Crime: 3351 per 100,000 residents
6. Ashland
As far as cities go, Ashland looks pretty darn gorgeous. It's got great views, wonderful nightlife…oh, and a little bit of crime. While this Kentucky city is still far below what you would see in an average American city, it's still relatively dangerous for a place in the Bluegrass state. The big issue here isn't violent crime, but property crime.
Car thefts and robberies are particularly common compared to other parts of the state. So, you might want to get insurance on your property before you come here.
Violent Crime: 291 per 100,000 residents
Property Crime:  3659 per 100,000 residents
5. Paducah
Paducah is a city in Kentucky that started to get a pretty foul reputation for crime, especially when it comes to the sheer frequency of it all. This is a place that is rife with non-violent crime, thankfully. The national violent crime average is higher than what you'll find in Paducah, but when it comes to property crime, this place is off the charts.
Burglaries, robberies, pick-pocketing, and vandalism all happen in this shady little town. It could be due to the increase in drug addiction throughout the area.
Violent Crime: 285 per 100,000 residents
Property Crime:  5855 per 100,000 residents
4. Bowling Green
Ask anyone in Kentucky about Bowling Green, and they'll tell you that it's "a little rough" here. This is a larger city, which means that crime is a given. However, how much crime Bowling Green has is still problematic. The city has a fairly bad rap when it comes to property crime, particularly violent robberies.
However, assault and shootings do occasionally occur. As long as you know which neighborhood you should stay in, you should be okay.
Violent Crime: 291 per 100,000 residents
Property Crime:  4667 per 100,000 residents
3. Oak Grove
This is probably the smallest city we're going to mention, and we use the term "city" loosely. While this petite town has only 7,000-ish residents in its borders, it has a serious crime problem. The underfunded police at Oak Grove find themselves overwhelmed with an unusually high rate of both property crime and violent crime.
The biggest issue here is theft, often by residents who are desperate for some kind of income. Larceny and a whopping 26 car thefts were all reported in a single year. With that said, this town *is* improving, albeit slowly.
Violent Crime: 326 per 100,000 residents
Property Crime:  4239 per 100,000 residents
2. Mayfield
For people who are in the Northeast, hearing that a town under 10,000 people could be one of the most dangerous in a state might be jaw-dropping. But, that's Mayfield for you. Mayfield is famous for having a Wild West recreation in town as a tourist attraction. Unfortunately, it still has a Wild West feel in terms of crime.
The big problem that Mayfield faces is out-of-control property crime. In fact, the rate is one of the highest in the state. Sadly, this small town also happens to rank high for violent crimes, too. If you move here, investing in a security system might be a good idea.
Violent Crime: 401 per 100,000 residents
Property Crime:  4395 per 100,000 residents
1. Louisville
You don't have to be a Kentucky local to know that Louisville has a serious problem with crime. Unlike most of the state, Louisville has a notable gang presence. This causes a regular spike in violent crimes ranging from assault, to rape, to murder. A hard drug trade also plagues the area, making it difficult for families in the wrong neighborhoods to raise kids in safety.
If you want to raise a family or live in a city that doesn't have a crime problem, it's best to avoid Louisville. It ranked as the top in the state for violent crime, though the property crime isn't as bad. It's a great place to visit, but you definitely wouldn't want to live there.
Violent Crime: 686 per 100,000 residents
Property Crime:  3891 per 100,000 residents
Do You Need to Hire Movers?
Get free, zero-commitment quotes from pro contractors near you.
---
Related Questions
Is Kentucky a good place to live?
If you are a fan of gorgeous nature trails, quaint villages, and great barbecue, Kentucky will be a great place for you to live. A nice part of Appalachia, the state of Kentucky has plenty of towns where you can find a new place to call home. For the most part, the crime rates are fairly low in the state, especially when compared to the national average.
While the state is tough on crime, there are many parts that lack education and medical access. So, while it can be a great place to live, it's still important to take a look at the town you want to move to on an individual basis.
Is Kentucky a friendly state?
There's a saying among many parts of the country when it comes to Southern hospitality. It can't be beat. Kentucky is a good example of this. It's a known fact that most residents of the state are super-friendly, often to the point of striking up a conversation while they're waiting in a checkout line. We're not going to lie—the Southern friendliness is contagious. You might end up craving it after a vacation here!
Is Kentucky a cheap place to live?
When it comes to the cost of living, it's hard to get better than Kentucky. Almost every aspect of living here is going to be lower than the national average. This makes it a great state for people who want to start out in life with an easier cost of living.
What is the safest city in Kentucky?
Providence is the safest city in Kentucky. There are only 3,100 residents in Providence, Kentucky, and the small neighborhood community has a low crime rate. Providence is safer than 61% of other cities in the country.

Ossiana Tepfenhart
Ossiana Tepfenhart is an expert writer, focusing on interior design and general home tips. Writing is her life, and it's what she does best. Her interests include art and real estate investments.
More by Ossiana Tepfenhart
Published April 21st, 2021 10:45 AM