433 Views
70+ Kitchens With White Appliances (with Photos)
September 8th, 2022 10:48 AM
Share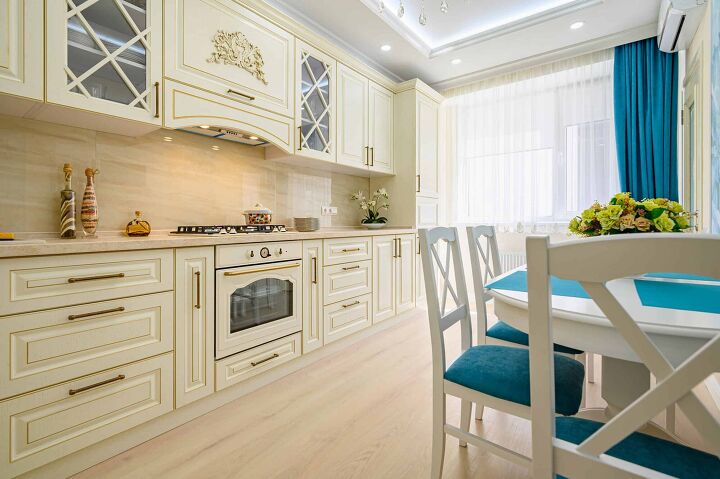 Believe it or not, like almost everything nowadays, white appliances are coming back in style. While they're still not considered the most popular choice, there are plenty of reasons to love white appliances. And, you don't have to settle between just a few design options since there are a bunch of ideas for kitchens with white appliances.
You can pair white appliances with all white cabinets for a light and bright kitchen or opt for colorful cabinets to make your white appliances pop. White appliances are great for farmhouse-style kitchens but can also provide a more modern look too. Using white appliances in your kitchen provides you with a neutral that you can mix with a variety of styles.
There are a number of ways that you can style kitchens with white appliances, and we're here to show you how. The striking kitchens outlined below are excellent examples of how using white appliances in your kitchen can add a light, fresh, clean look to your kitchen when it's done right.
Ideas For Kitchens With White Appliances And White Cabinets
Pairing white appliances with white cabinets is the ultimate combination for achieving a crisp, seamless look. All-white kitchens are incredibly stylish, modern, and not the least bit boring.
In fact, this technique is a great way to make a small kitchen appear larger. Having both white cabinets and white appliances allows the light to bounce around the space.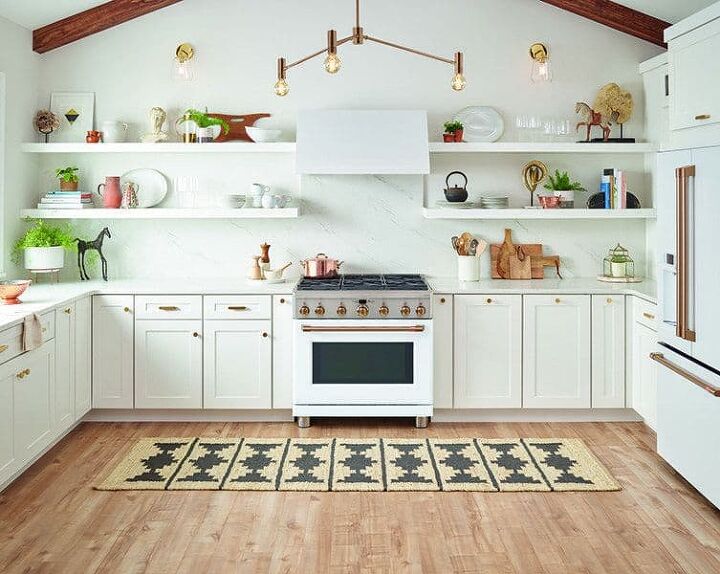 In this example above, you can see how the wood and brass accents stand out vividly against the crisp white of the cabinets, countertops, and appliances.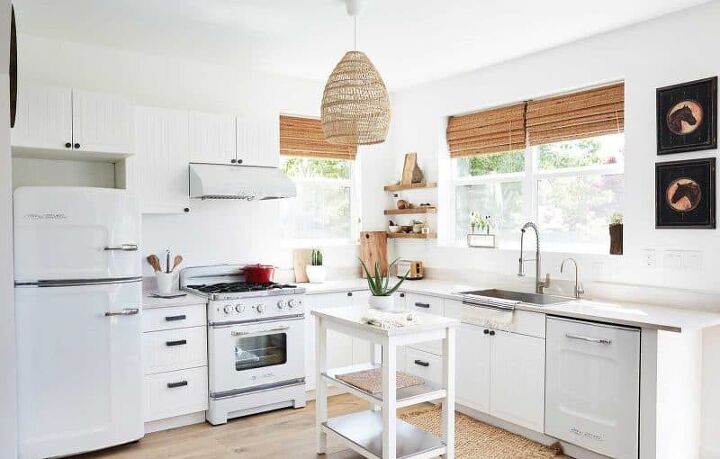 Another white appliance and white kitchen example that uses subtle wood accents throughout in the blinds, shelving, flooring, and more.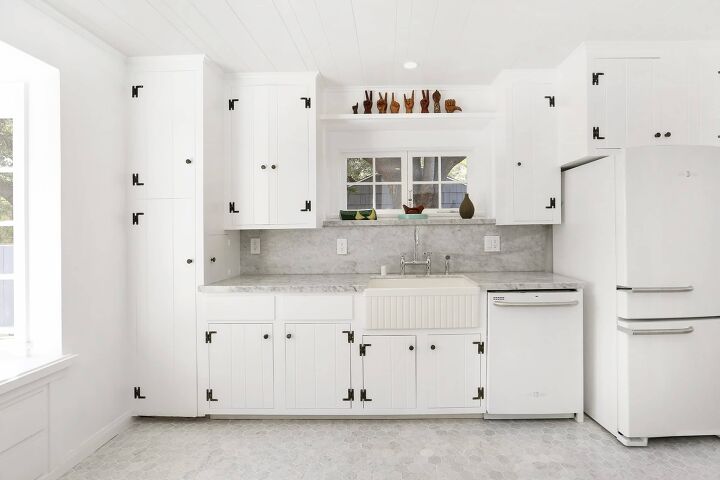 This all-white kitchen implements dark hardware to add some contrast to the clean, modern space.
White cabinets and white appliances are the ideal choices for a modern kitchen. You can even add in stainless steel hardware to enhance the design you're going for.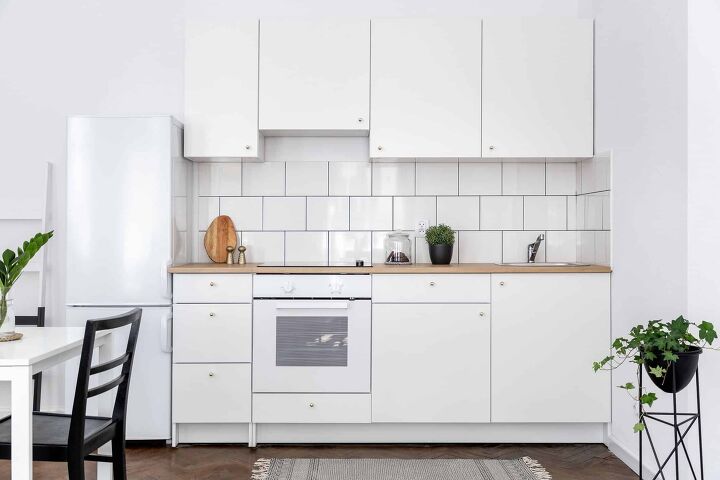 This technique also works great for those who desire a very minimalistic style, as is evident in the kitchen example above.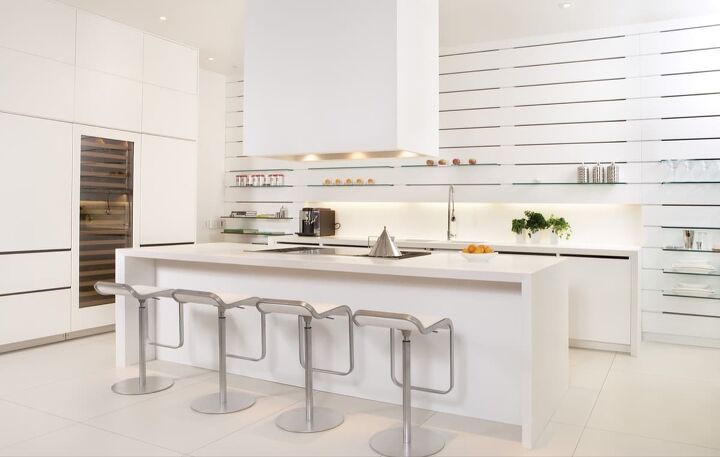 This design is both simple and modern. It features a modular design with cabinets that lack knobs or handles. The most striking part about this kitchen is the shelving on the back wall. Instead of using more white cabinetry, they installed open glass shelving for a unique look.
Pairing White Appliances With Natural Accents
To help add a special touch, pair white appliances with natural elements like wooden butcher block countertops or metal hardware and light fixtures.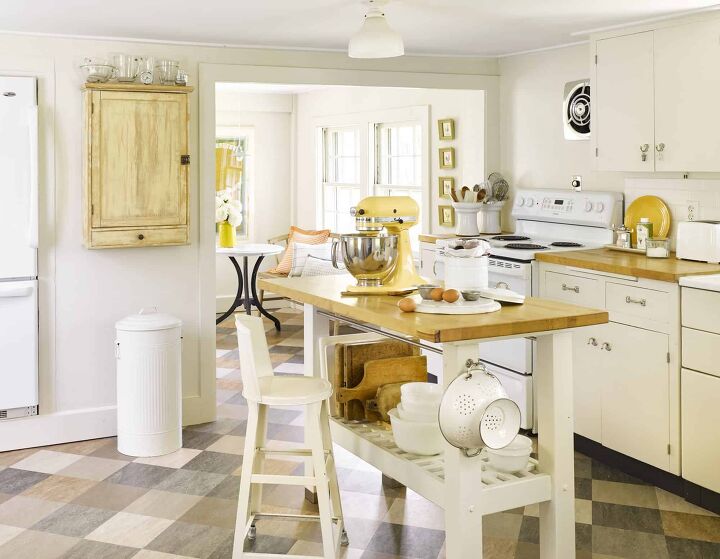 This kitchen features off-white cabinets, white appliances, and butcher block countertops. The way the appliances blend into the cabinets allows the countertops to stand out in a striking way.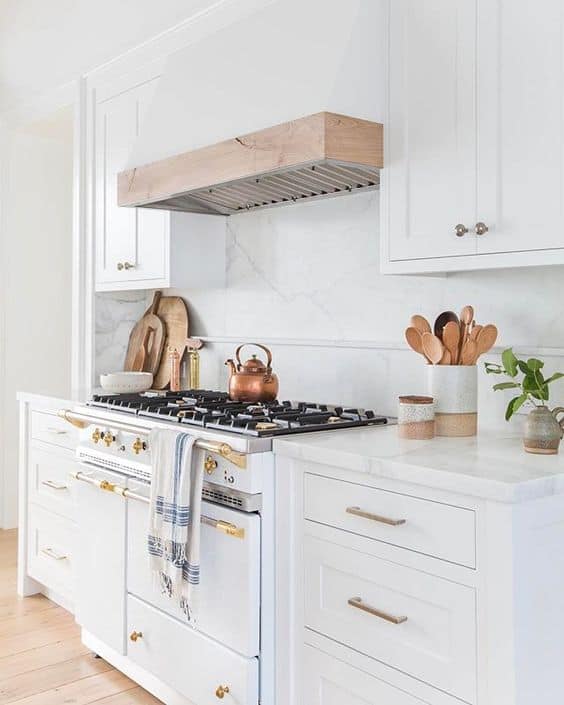 One of the best things about quality white appliances is that they blend seamlessly into neutral cabinetry in a way that stainless steel simply cannot. When your stove isn't the main focal point of your kitchen, your stunning marble countertops can take center stage.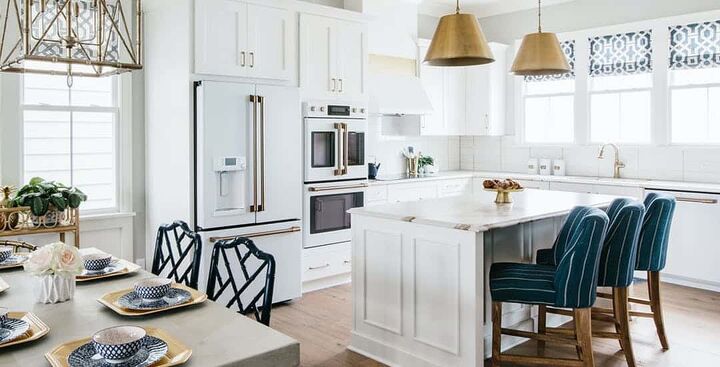 These matte white appliances from Café offer a design that is timeless, clean, and polished. They look wonderful against the white cabinetry, and with the ability to customize the hardware, these white appliances are going to give stainless steel a run for their money.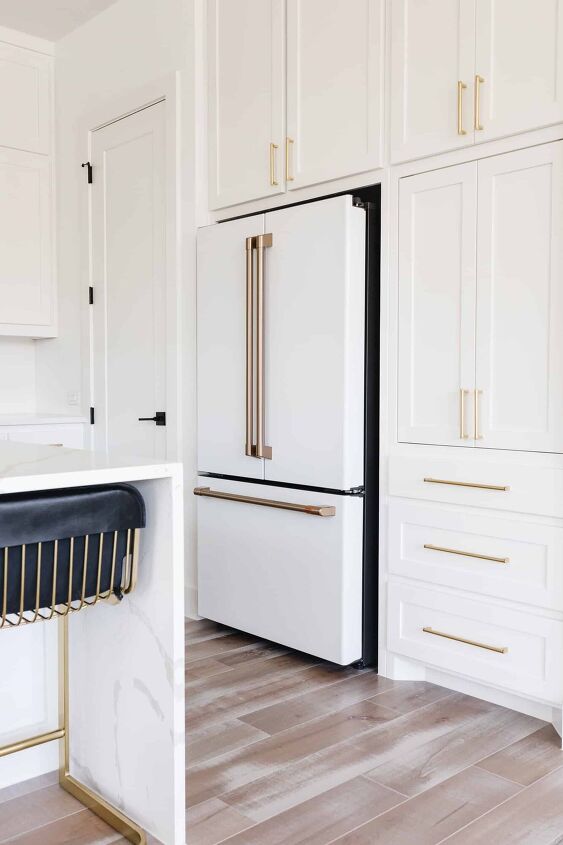 Of course, stainless steel appliances aren't going to go away anytime soon. But, their white counterparts have certainly transformed from underdog to become a very strong competitor.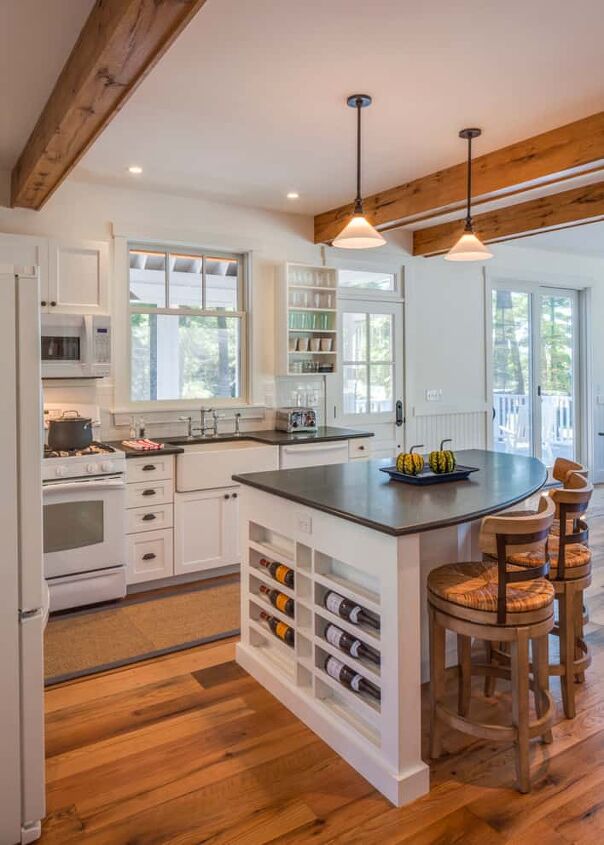 Another gorgeous example of white cabinets and white appliances, this country-style I-shaped kitchen features shaker cabinets, dark countertops, a subway tile backsplash, and wood plank flooring.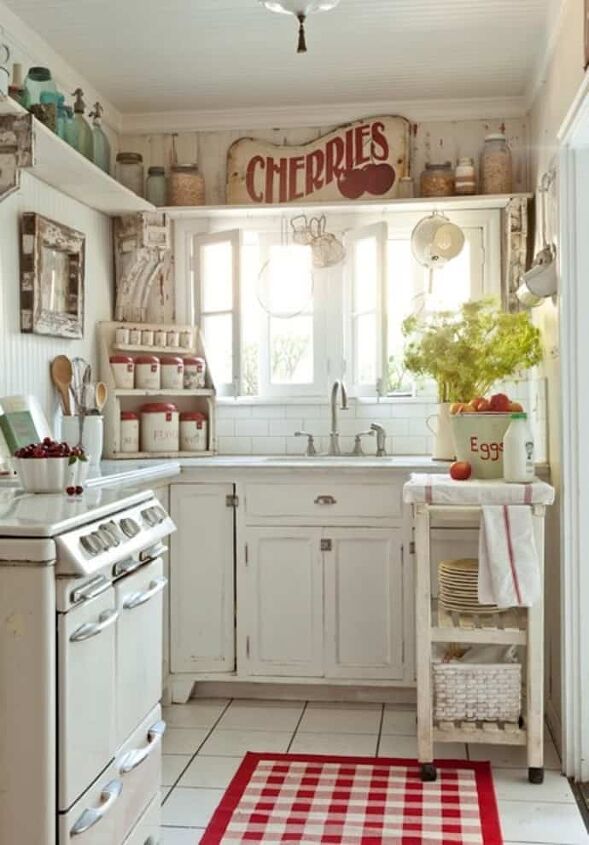 This enclosed kitchen features the popular shabby-chic look with distressed cabinets, subway tile backsplash, white cabinets, and white appliances. The red accents in the rug, signs, and jars add a nice pop of color throughout this vintage-inspired space.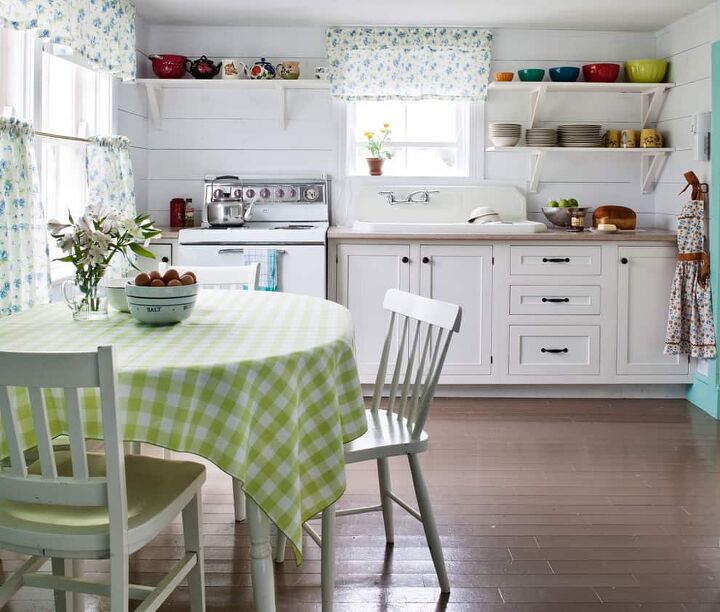 A shabby-chic eat-in kitchen with shaker-style white cabinets, white appliances, and colorful accents throughout. This example gives off a subtle coastal, romantic vibe.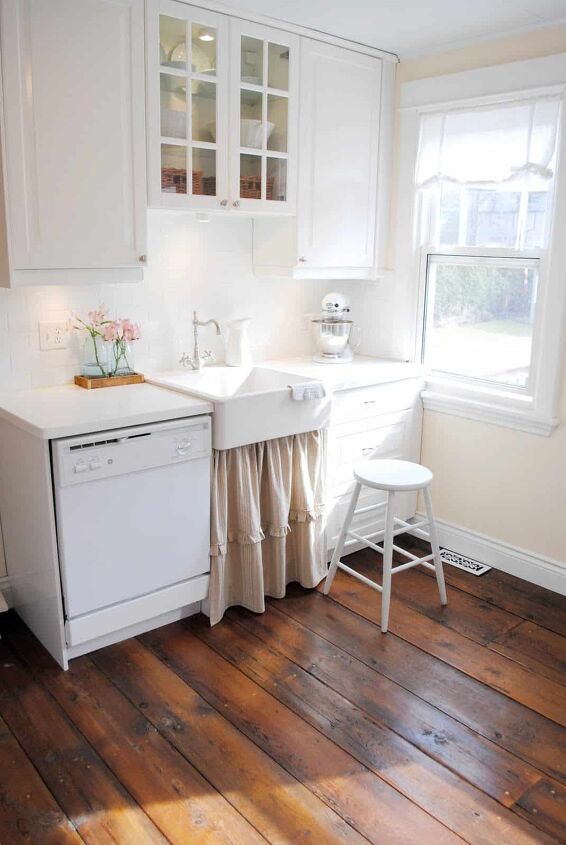 This is a wonderful example of a small, cottage-style kitchen. The chic design includes white cabinets, white appliances, a farmhouse sink, subway tile backsplash, glass-front upper cabinets, and a stylish sink skirt.
White Appliances, White Cabinets, And Colorful Walls
You can keep the all-white appliance and cabinet theme going but add some vibrancy with some colorful walls. Whether you go with a more muted tone or a vibrant pop, splashes of color are yet another great idea for kitchens with white appliances.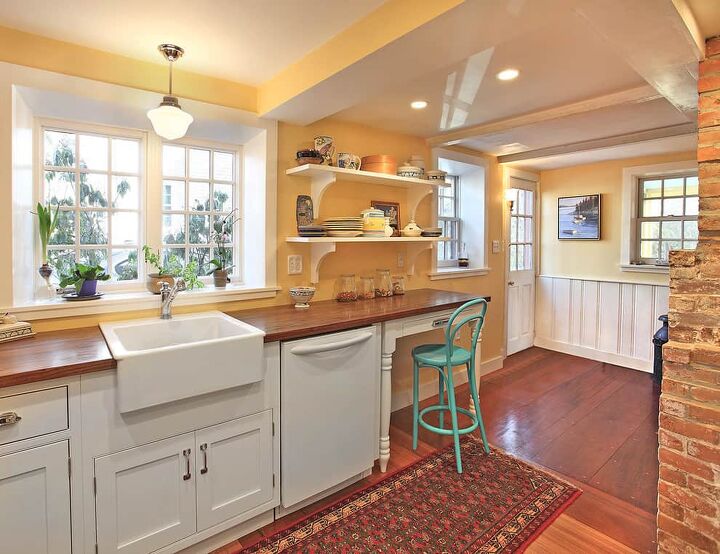 A truly timeless kitchen design, with wood countertops, white cabinets, and white appliances. The window casing above the farmhouse sink is angled to allow for more light while adding a nice architectural detail.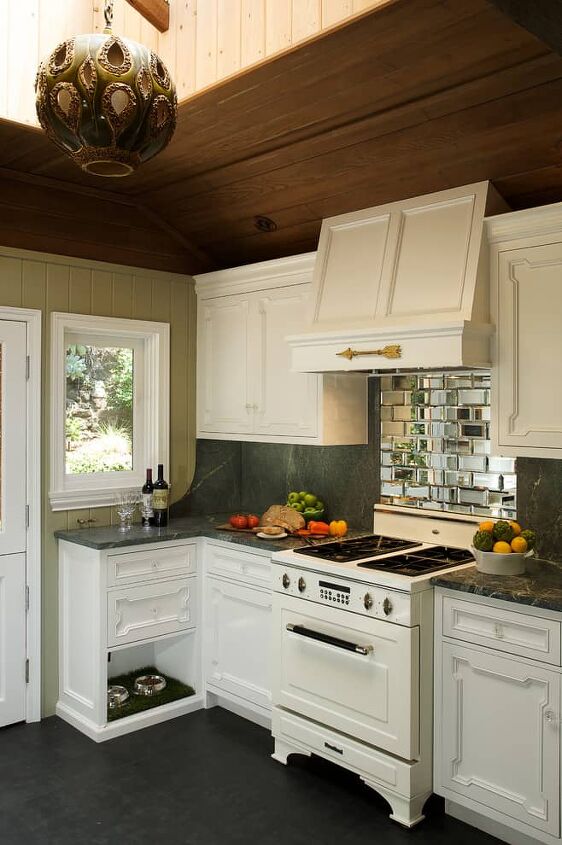 A vintage pendant light, fir tongue and groove ceiling, beveled mirror subway tile backsplash, and recessed cabinets add visual interest and sophistication to this nearly all-white kitchen.
White Appliances And Colorful Cabinets
White appliances don't solely work in all-white kitchens. If you're someone who loves bold and colorful cabinets, white appliances are an excellent choice. They offer a nice contrast and don't distract away from letting your cabinets be the star of the show. The ways that you can style white appliances with colorful cabinets are virtually endless.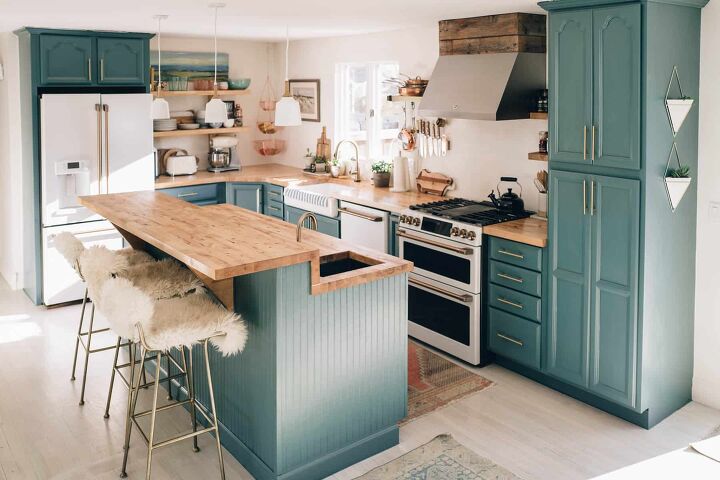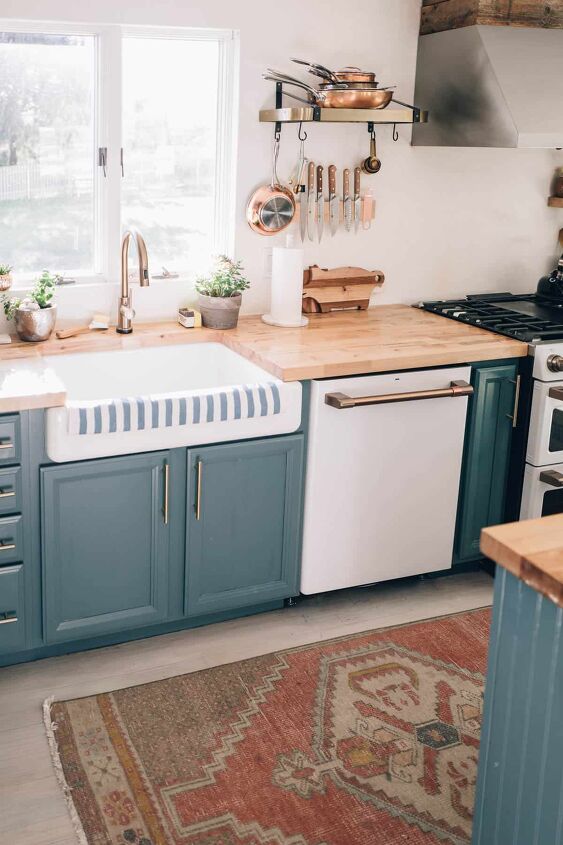 The matte white appliances pair beautifully with cabinet color in this kitchen, brightening up the space in a way that stainless steel appliances wouldn't be able to do. I am obsessed with the bohemian yet modern design of this kitchen.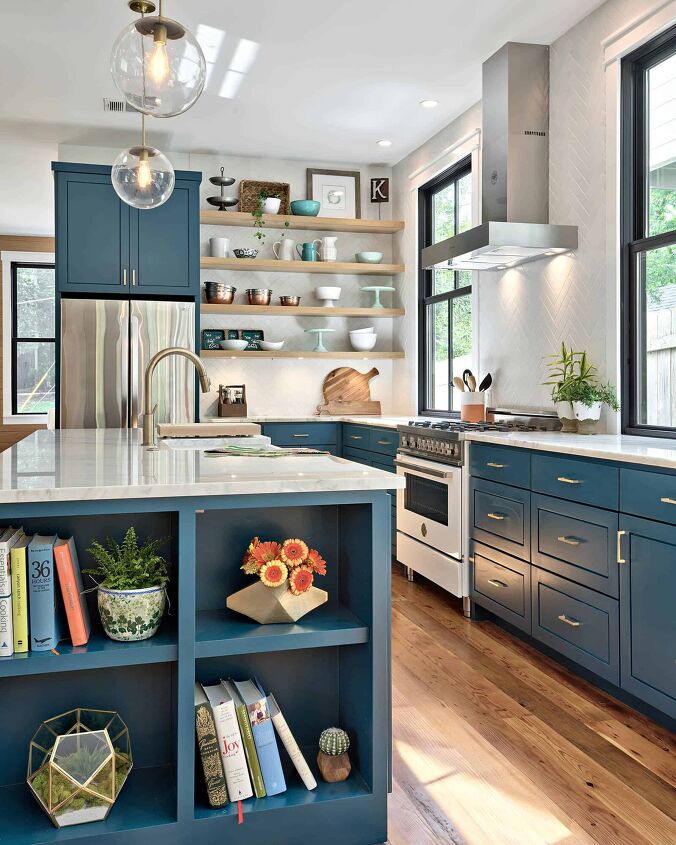 This kitchen features a dark navy color on the cabinets, with a blend of white appliances and stainless steel appliances. Just think about how much lighter and brighter this space would feel if they swapped out the current fridge for a white one.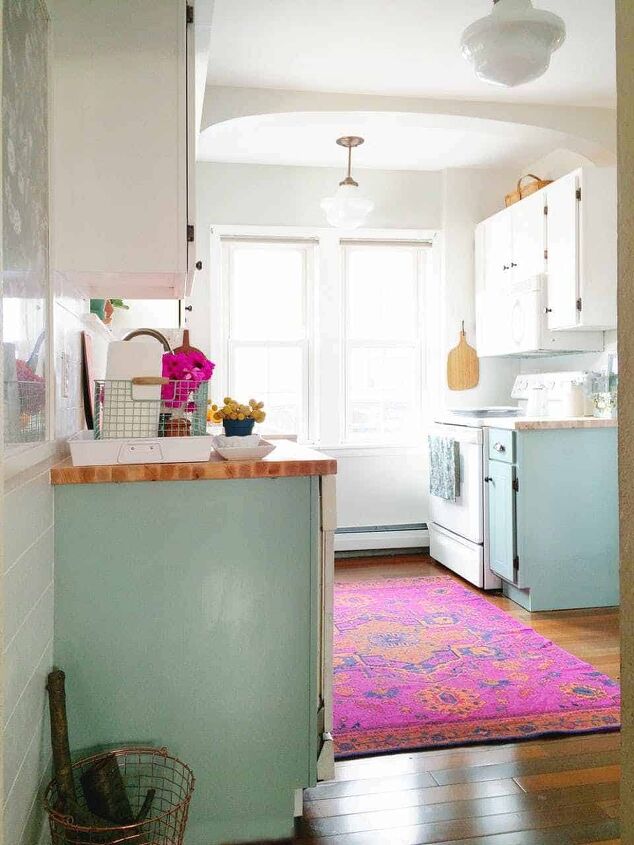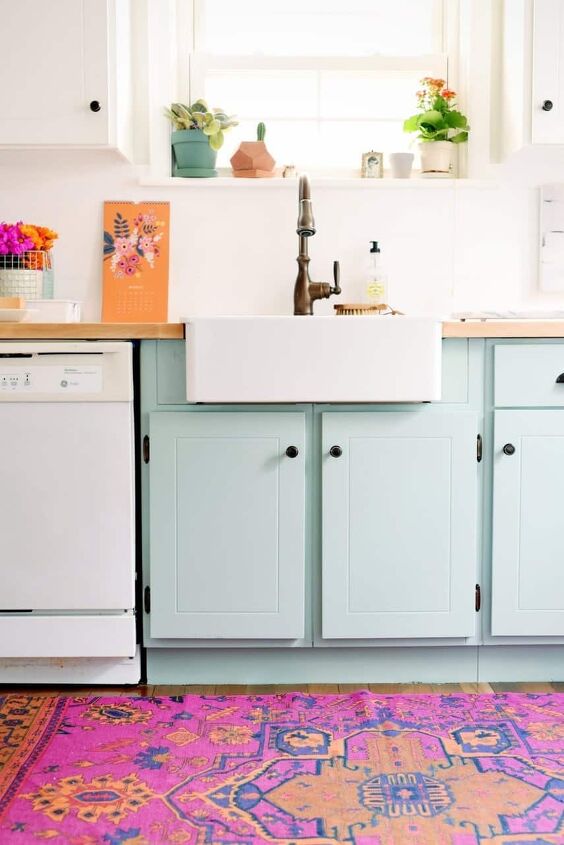 If you're not a fan of such the stark contrast of white and navy, you can go for a subtler look with mint and white. In the example above, the cabinets and appliances look so light and fresh.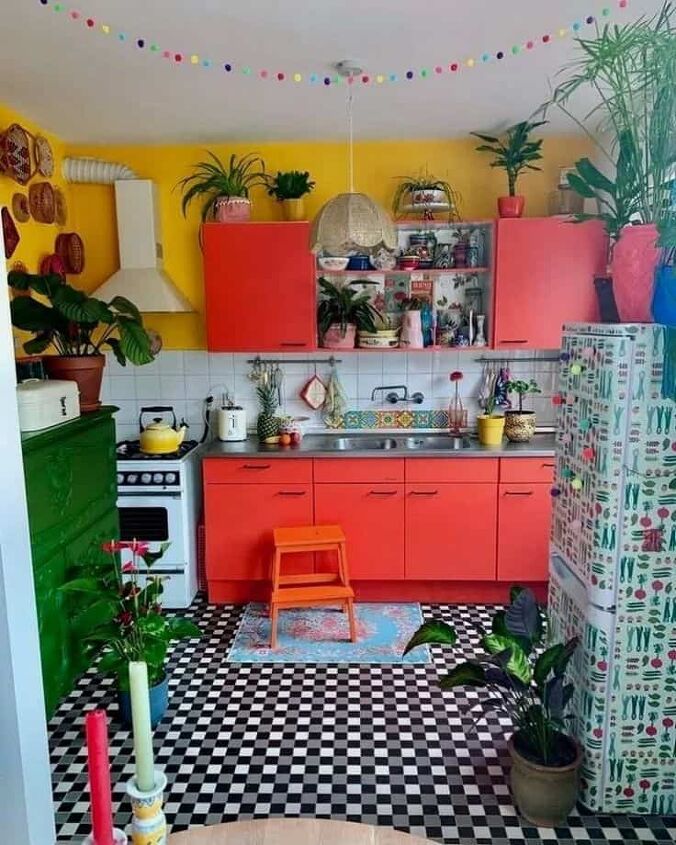 A very eclectic and colorful kitchen design that features bright coral cabinets, yellow walls, checkered flooring, and white appliances.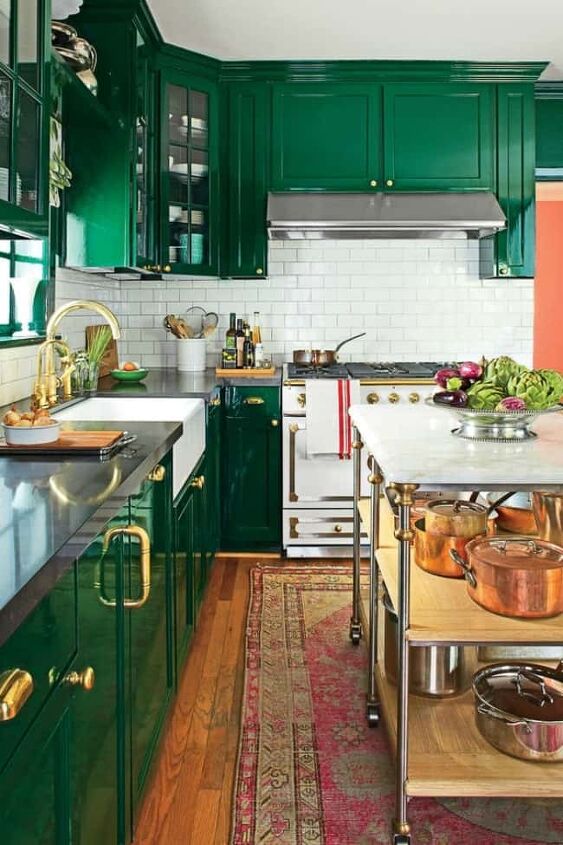 Go bold in your kitchen with a glossy emerald green cabinet color. These cabinets look incredible with brass hardware, white appliances, and a white farmhouse sink to add some contrast to the space.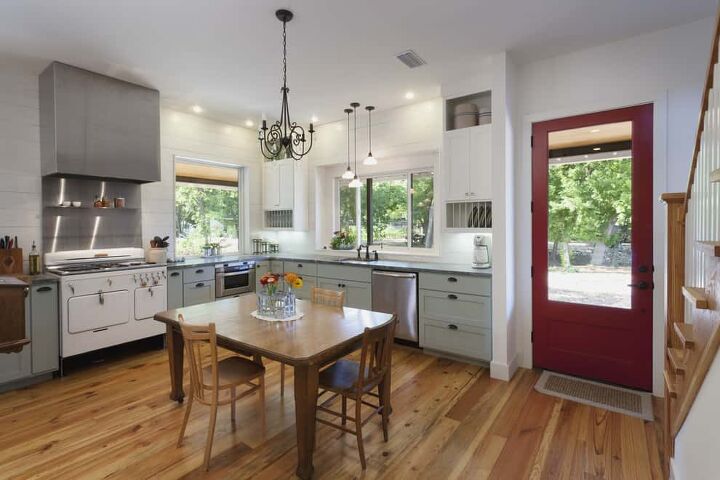 This cottage kitchen design blends modern and natural elements, with gray shaker cabinets, a farmhouse sink, large butcher block cutting board, metallic backsplash, and dark gray countertops.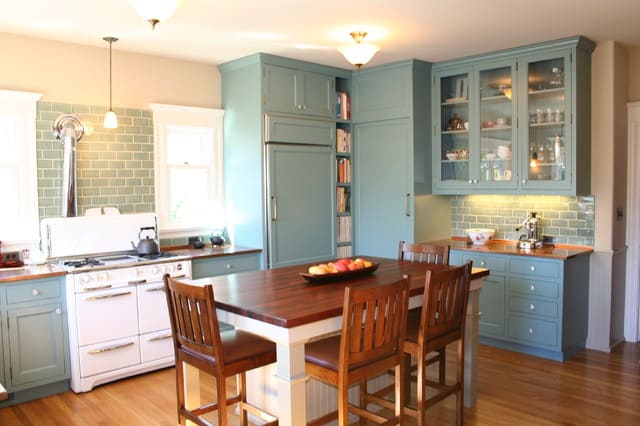 A blue backsplash and blue cabinets look lovely with the copper countertops and white appliances in this traditional style kitchen. This is a great example of how to incorporate colorful cabinets in a way that doesn't overpower the space.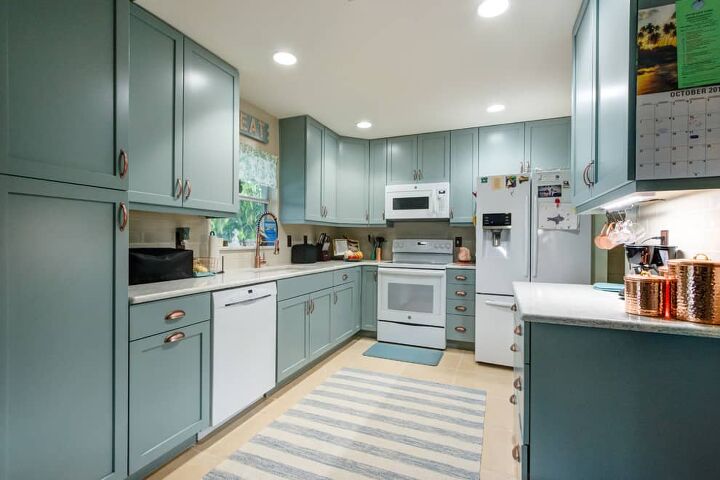 This image features a small, eclectic kitchen with various copper accents, "haze" colored cabinets, white countertops, and white appliances.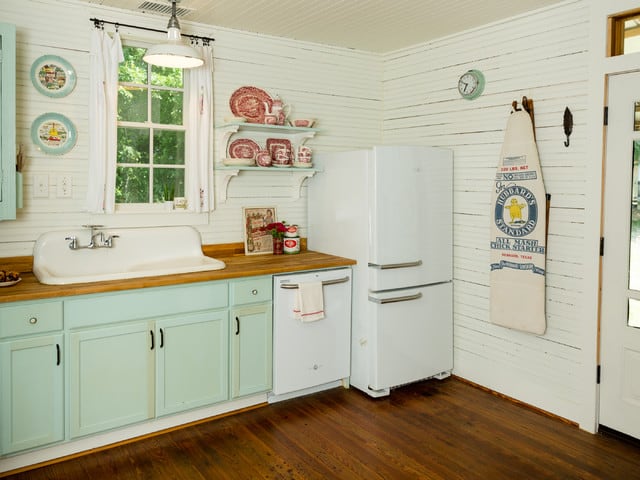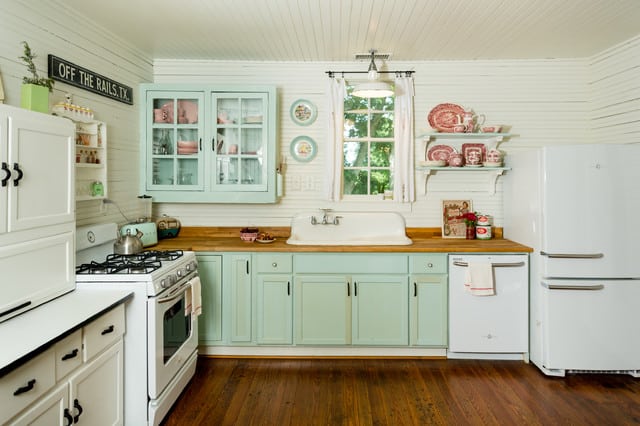 A wonderful example of a cottage chic, vintage-style kitchen. This space features white appliances, mint cabinets, a white backsplash, and butcher block countertops for a charming and eclectic look.
White Appliances With Different Types Of Cabinets
Another idea is to pair your white appliances with two-tone cabinets or different cabinet styles. For example, glass-front cabinets on the tops with solid-faced cabinets on the bottom.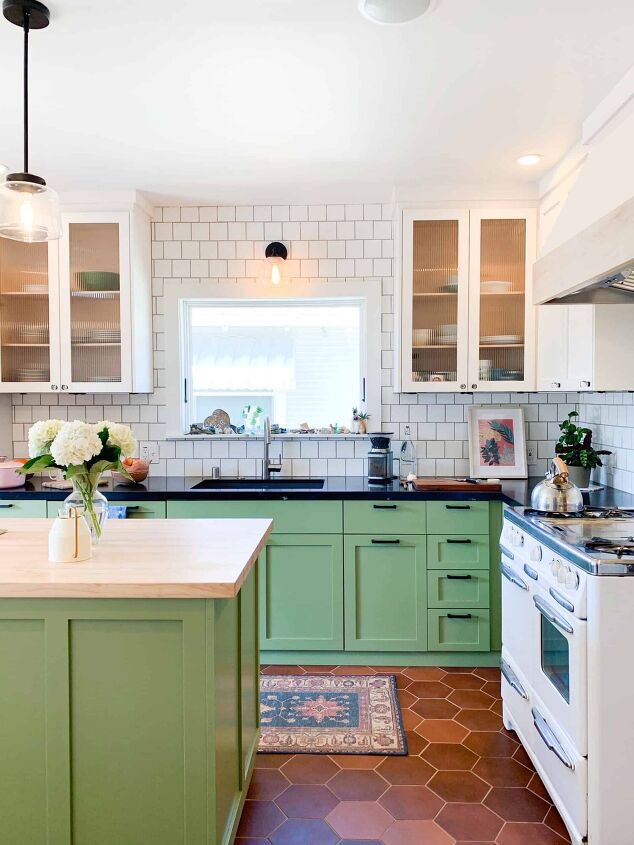 This kitchen displays the perfect balance between pattern and shape, with a subway tile backsplash and hexagon floor tiles. Whereas the combination of green lower cabinets, white upper cabinets, and black countertops is put together beautifully.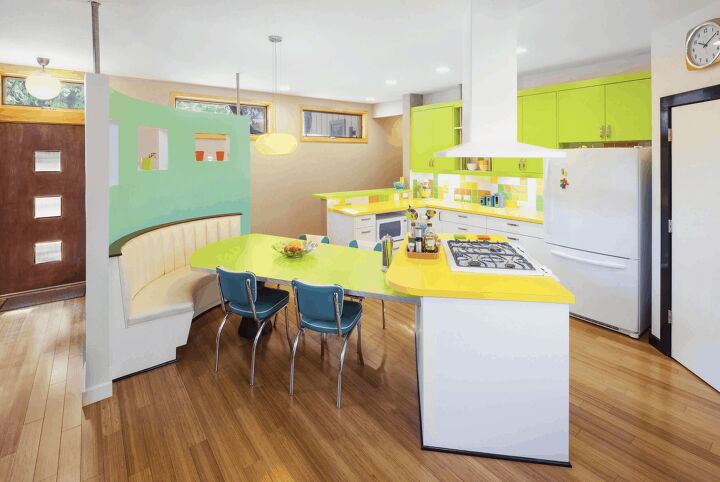 A 1960s-inspired kitchen with medium-tone wood flooring, white appliances, yellow countertops, and a combination of white and neon green cabinets. This design is perfect for those who desire a true mid-century modern look.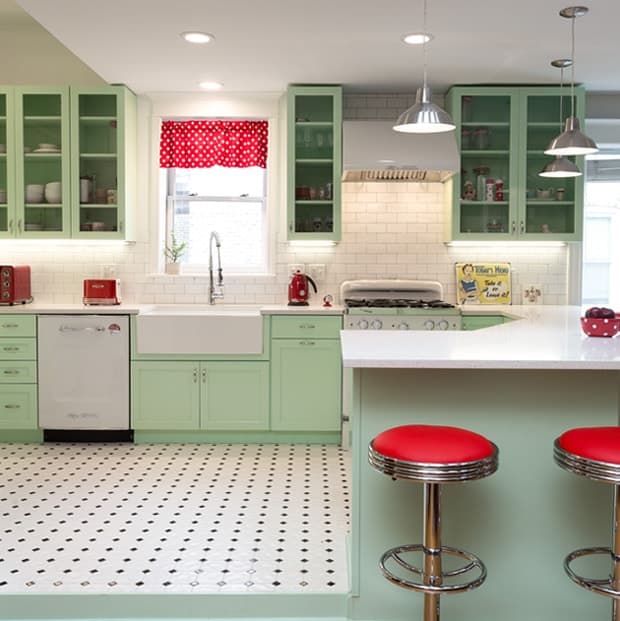 This kitchen has a retro 1950's inspired design with green custom-colored cabinets, glass door mounts, and under cabinet lighting. To contrast the green, red accents were added in the toaster oven, stools, window treatments, and various polka dot accessories. It's a very unique way to pair white appliances with colorful cabinets.
White Appliances And Wooden Cabinets
Another design choice is to pair traditional light, or even medium tone, wood cabinets with white appliances. Although this option is less common, the examples below display how this combination can look great in virtually any kitchen.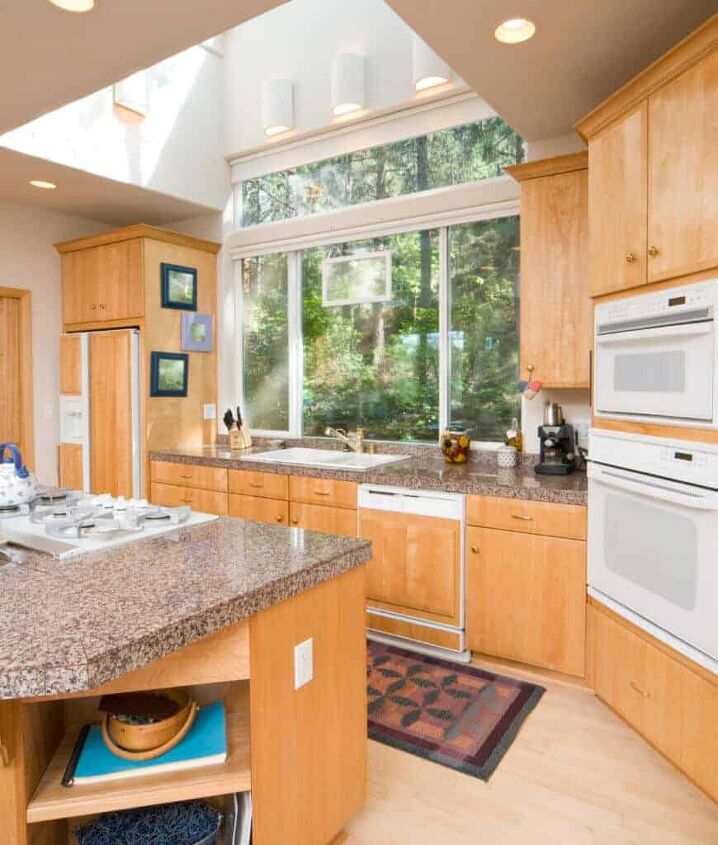 The massive windows and skylight allow substantial natural light into this 70s-inspired kitchen. This space feels even lighter and brighter with light wood cabinets and white appliances.
For a modern look, opt for light wood kitchen cabinets without handles. Instead of traditional hardware, these cabinets feature cabinet pulls to create a clean and minimal yet stylish appeal.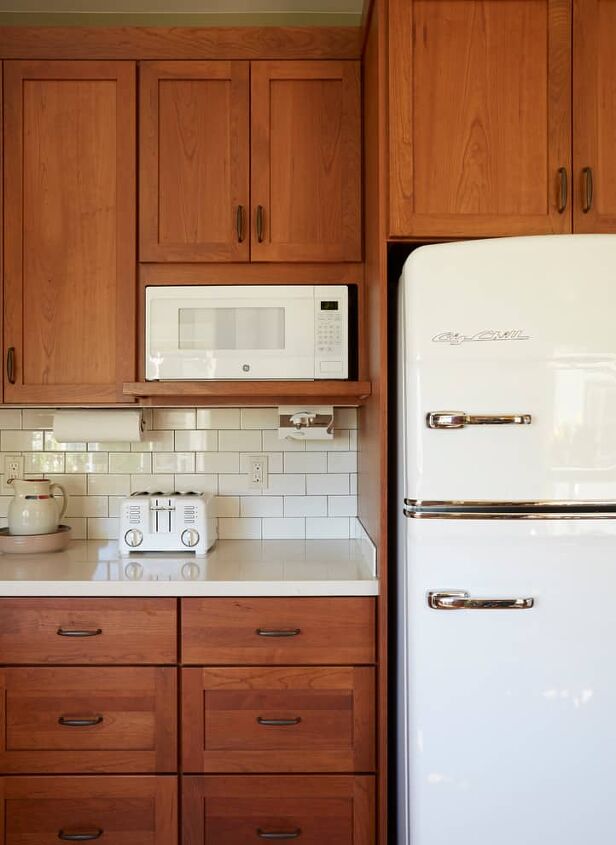 This retro-inspired enclosed kitchen features medium tone wood flooring and cabinets, with white appliances, quartz countertops, and a white ceramic backsplash.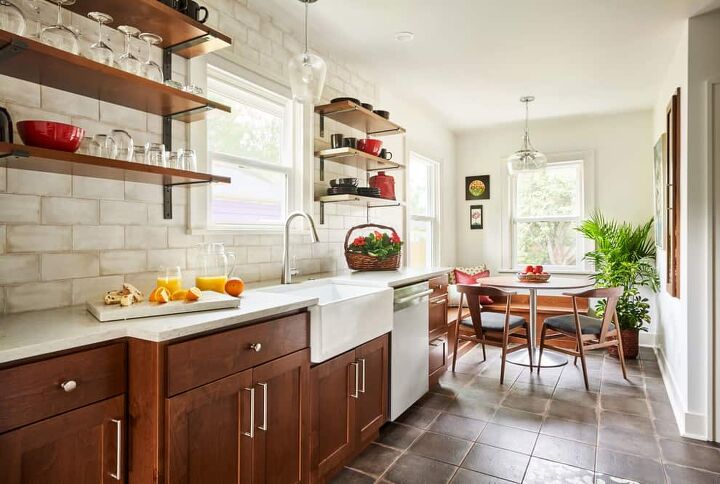 The combination of open shelving, rustic subway tile, white countertops, white appliances, and medium-tone wood cabinets creates a warm and inviting kitchen space.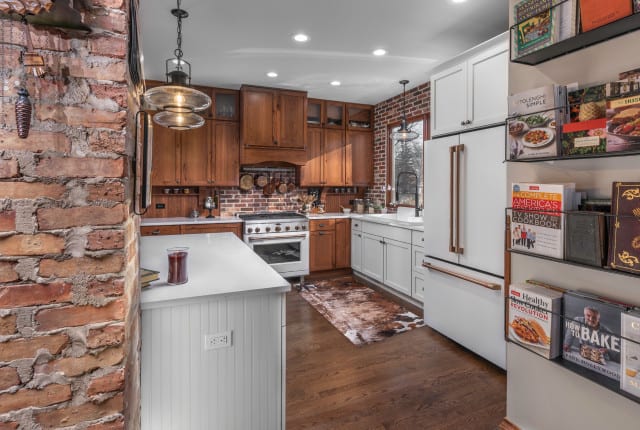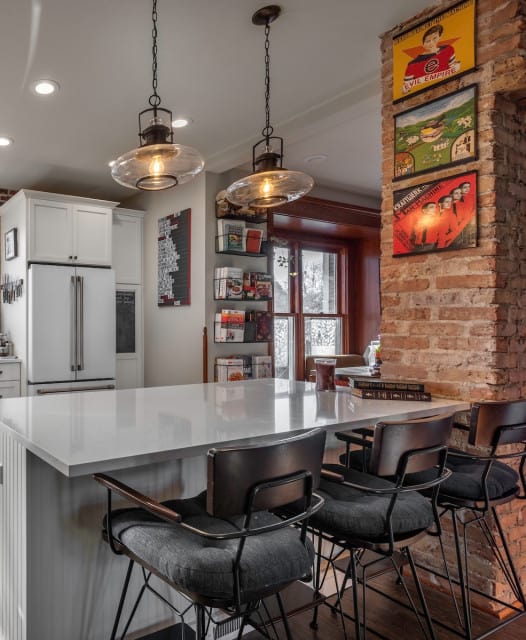 The above images display a great example of a rustic, mountain-style kitchen. This space features dark wood floors, a brick backsplash, white appliances, and a combination of medium-tone wood and white cabinets.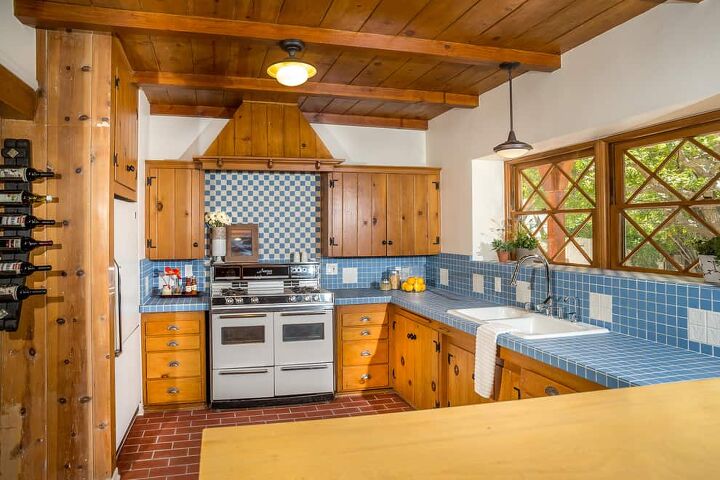 A wonderful vintage kitchen with brick floors, a blue porcelain backsplash, and blue tile countertops. The cabinets are a medium-tone wood, which pairs well with the white appliances to create a cottage feel in this L-shaped kitchen.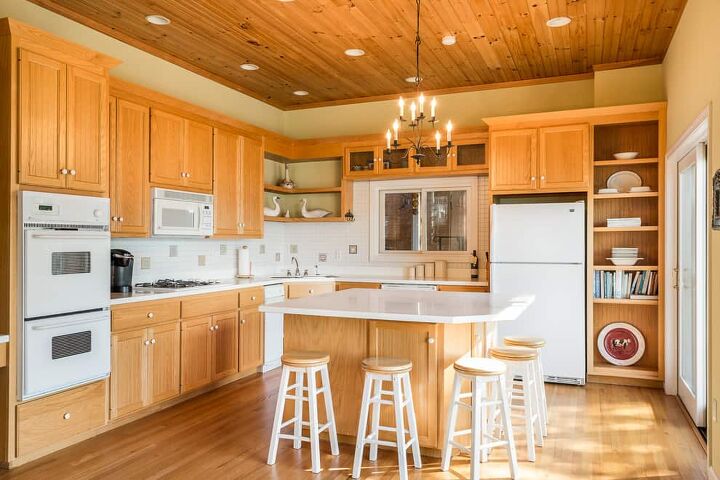 Another classic L-shaped kitchen design with medium tone wood cabinets, white countertops, and white appliances. The multicolored backsplash and open shelving next to the fridge offer a unique touch to a relatively traditional kitchen.
Combining White Appliances And Stainless Steel Appliances
If you're having a difficult time parting completely with stainless steel, you can have the best of both worlds by combining both white and stainless steel appliances in your kitchen.
This combo is just another idea for kitchens with white appliances that can make your space a showplace. There are many different ways that you successfully achieve this look, without the two types of appliances looking out of place together.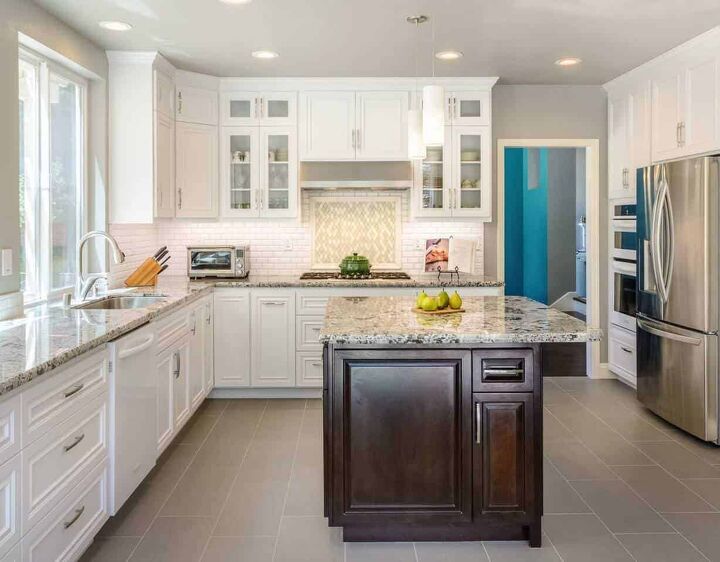 A traditional style kitchen that contrasts a white oven, dishwasher, and cabinetry with a stainless-steel refrigerator. This style works because the dark wood kitchen island in the center helps to create a seamless transition, while the marble countertops feature gray, almost stainless, accents.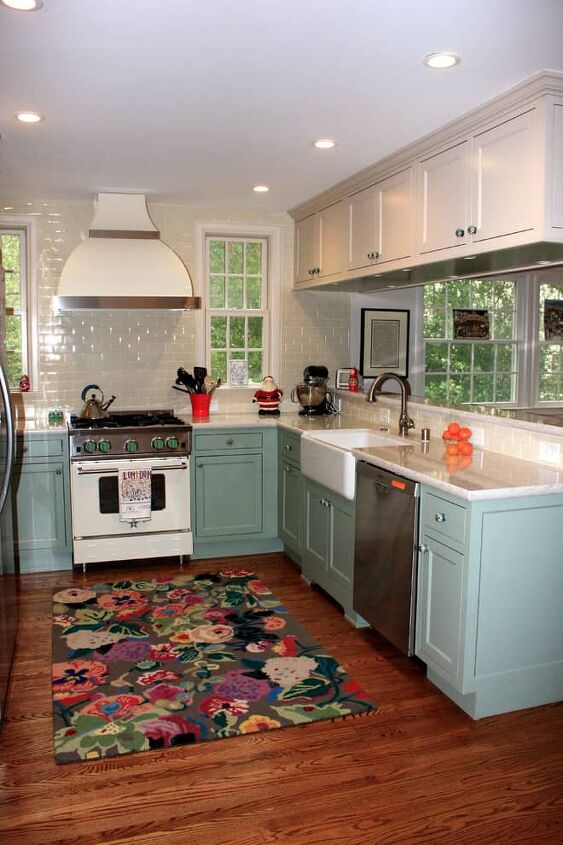 This eclectic kitchen is old-world-inspired, with new gadgets. It combines colorful cabinets with both white and stainless steel appliances. Although the stove is primarily white, it has stainless detailing, which helps tie the space together.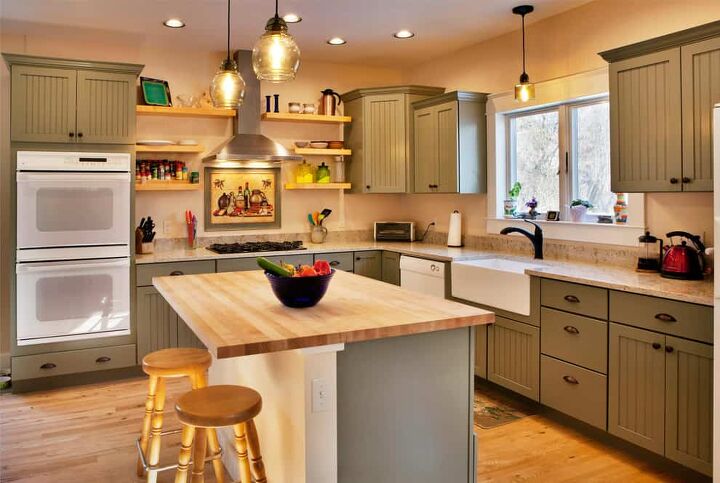 Another prime example of effortlessly pairing white and stainless appliances together. This craftsman kitchen design features shaker green cabinets, a farmhouse sink, primarily white appliances, and a stainless steel vent hood and microwave drawer.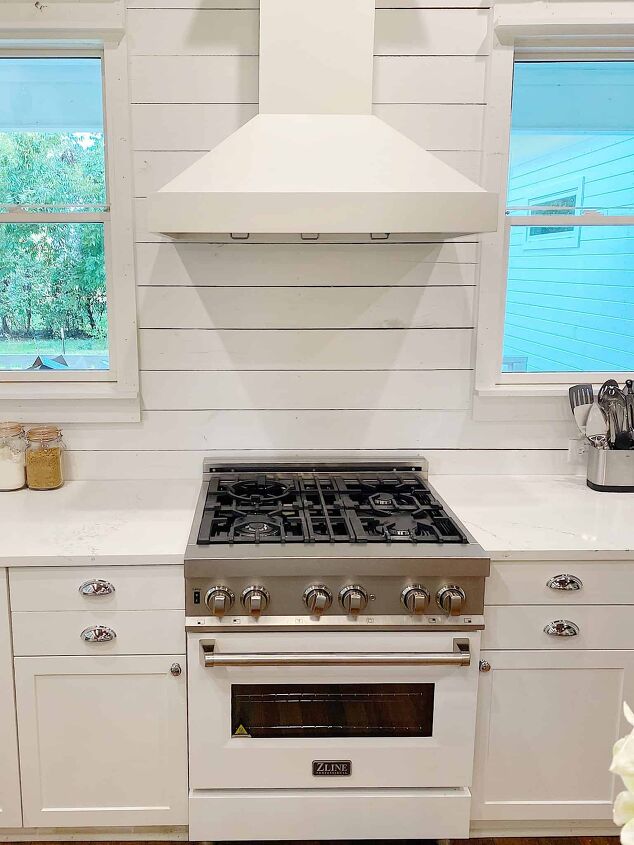 One of the best ways to effortlessly pair white and stainless steel appliances together is to purchase a white stove with chrome details. The stove displayed above would fit perfectly into a kitchen that is filled with mainly stainless steel appliances.
Pros And Cons Of White Appliances
Often, white appliances are seen as the safe option when it comes to choosing kitchen appliances. They offer the widest variety and price range of all types of appliances on the market. As a result, it's no surprise that white appliances are the biggest seller. In fact, as we've seen above, they look great in almost any type of kitchen due to their neutral finish.
Sure, stainless steel appliances are wildly popular, but they have a more cold, commercial feel compared to their white counterparts. They can also be incredibly difficult to clean. Whereas white appliances don't display fingerprints, can be easily wiped down, and have a bright, crisp appearance that will look lovely in any kitchen design.
While there are many simple, low-budget options, there are also some incredibly modern, high-end white appliances to choose from. On the one hand, if you're looking for appliances that are going to be practical and reliable for your rental, you'll surely find white ones that fit within your budget.
However, on the other hand, selecting the right model should be your top priority if you're looking for white appliances that you want to enjoy for many years in your home.
With that said, here's some of the pros and cons commonly associated with white appliances:
Pros Of White Appliances
Easy to clean. When compared to stainless steel varieties, white appliances are very low maintenance, and cleaning them is as easy as giving them a quick wipe down.
No smudging. White appliances don't show smudges and fingerprint marks as easily as stainless steel.
Clean appearance. They offer a clean, minimalistic look that will look great with virtually any color scheme. This makes white appliances a relatively safe choice.
Modern varieties. Although there are many traditional-looking options, there are plenty of white appliances with a high-end glossy finish to complement a sleek and modern kitchen design.
More affordable. Often, depending on the model and manufacturer, white appliances are cheaper than other alternatives.
Cons Of White Appliances
Fewer options. Since white appliances tend to be less popular than stainless steel, there is much fewer options and selection to choose from.
Dated and old-fashioned. The traditional white appliances are often considered old-fashioned and outdated. Though, there is an argument that they are coming back into style, especially with the introduction of white ice appliances.
Some of the older models have a tendency to yellow and discolor over time.
Less value. If you plan to sell your home eventually, you'll always want to consider resale value when you're planning a remodel. Since stainless steel is most popular and in demand, you may find it more difficult to sell your home if you have white appliances. That's not to say that white is going to be a major deal-breaker, though many prefer stainless.
Lacks contrast. Although all-white kitchens look sleek and modern, they lack contrast. When you have white cabinets, white counters, and white appliances, it can sometimes result in too much white. Unless, of course, that is the look you're going for.
Final Thoughts
Although it's unlikely that we'll ever see stainless steel appliances disappear, new high-end white models have become strong contenders. Whether you choose white appliances that are traditional or more modern in design, there are plenty of ways to style them and achieve a kitchen design you love.
---
Related Questions
What is white ice?
White ice is a popular new finish for appliances – whether it's stoves, refrigerators, microwaves, or dishwashers. It's essentially a contemporary version of traditional appliances that features refined stainless steel handles and accents. White ice is bright, shiny, smooth, and offers easy cleanup. These types of appliances are incredibly trendy and modern while still maintaining that classic look.Think of white ice as stainless steel, but a lighter and brighter variation that also doesn't show smudges. It's a great choice for those who want a traditional look but with a more contemporary feel in their kitchen.
Why are white appliances usually less expensive?
Basic white appliances are typically cheaper simply because of the demand for them. With anything, if the demand isn't high, the price won't be high either. Since so many people desire stainless steel appliances, these finishes are often more expensive.However, modern white appliances have just as many bells and whistles as their stainless steel cousins, so in some cases, they'll cost the same. Overall, the prices of appliances depend on the brand, manufacturer, and the special features of the appliance.

Jessica Stone
Jessica considers herself a home improvement and design enthusiast. She grew up surrounded by constant home improvement projects and owes most of what she knows to helping her dad renovate her childhood home. Being a Los Angeles resident, Jessica spends a lot of her time looking for her next DIY project and sharing her love for home design.
More by Jessica Stone
Published March 13th, 2021 12:32 AM