508 Views
What Are The Top 8 Italian Mattress Brands?
November 9th, 2021 3:49 PM
Share
We're committed to finding, researching, and recommending the best products. We earn commissions from purchases you make using links in our articles. Learn more here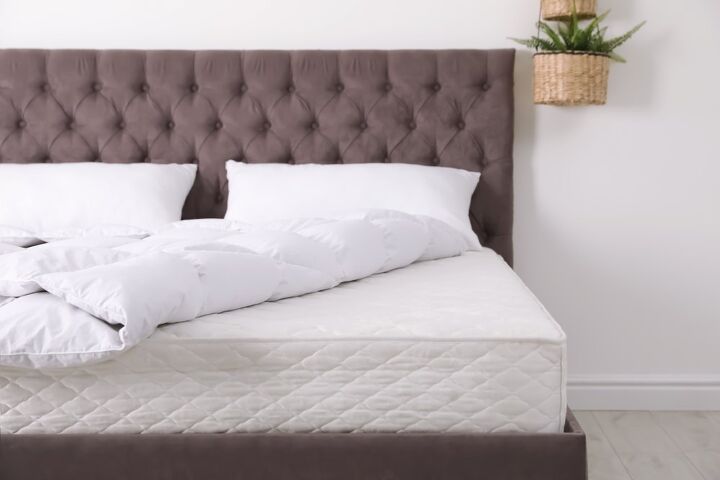 It is one of the most essential aspects of getting a good night's sleep, and the right mattress (or the wrong mattress) can make a world of difference. And a good mattress can also impact much more than how comfortably we sleep too. The importance of rest and the studies on ergonomics are only a few reasons why having a good mattress to sleep on is important. These are also all benefits found in (or on) the best Italian Mattress brands.
The most popular Italian mattress brands are Magniflex, Marcelliflex, Extraflex, Banchi Maison, Ceriflex, Dormi & Dormi, Flou, and Legarflex. This list of Italian mattress brands is in no particular order or preference. These mattress brands are all recognized and respected companies in their industry and offer quality and comfort.
There are several popular Italian mattress brands. While any of these quality mattress companies can be counted on for a good night's sleep and support, everyone has different preferences. Some like a mattress to be very firm, while others prefer the mattress to be softer, along with many other considerations. That can also result in a considerable amount of searching.
Here is a list of some of the most popular Italian mattress brands, and hopefully a cheat sheet to help make your search for the right mattress easier. Now, without further ado, the most popular and leading Italian mattress brands.
1. Magniflex
This leading Italian mattress brand is likely best known for its Pierre Cardin mattress line. Additionally, this sizable mattress company shows its prowess by manufacturing approximately 50,000 mattresses per week. If it is a mattress company that has the experience and know-how that you are looking for, then the Magniflex mattress brand definitely qualifies.
This leading Italian mattress brand also exports the majority of its mattresses, which also makes them very accessible. From innerspring to polyurethane foam mattresses and more, Magniflex provides quality, reliability, and mattress options for people all over the world. Many people may not be aware that poor sleep or bad sleeping habits are also a major contributor to obesity. So, not only does that make getting a good night's sleep important, it is healthy too.
2. Marcelliflex
While Marcelliflex is one of the most popular Italian mattress brands on the market, it doesn't have quite the same level of prolific manufacturing that the aforementioned Magniflex does. This, by no means, however, suggests that Marcelliflex isn't productive. The truth, in fact, is to quite the contrary. And with mattress production numbers well over 150,000 mattresses per year, Marcelliflex is one of the most available Italian mattress brands too.
One of the most distinguishing aspects of this leading Italian mattress brand is that Marcelliflex also makes foundations along with mattresses. That makes the Marcelliflex brand one of only a few mattress manufacturers that also produce foundations. Were you aware that poor sleeping habits or lack of sleep are considered to be at a higher risk of having a stroke or heart disease? That makes the top Italian mattress brands look even more inviting and ideal for a good night's sleep.
3. Extraflex
Another one of the top Italian mattress brands, Extraflex, gets the nod based not so much on production rates but quality and a patented mattress design. This Italian mattress brand has been in the business of manufacturing mattresses for over 40 years. Extraflex also exports more than a quarter of its mattresses.
That special mattress design by Extraflex is the patented Sanibed design. This mattress is built with an enclosed case to allow for antibacterial or anti-dust mite products to be used. And, of course, the Extraflex mattress always offers an excellent night's sleep. Although it isn't that much of a surprise, it is worth noting that good sleep is linked to better concentration and productivity levels.
4. Banchi Maison
Another large mattress producer and one of the most popular Italian mattress brands are the Banchi Maison brand. This mattress manufacturer can kick out upwards of 20,000 mattresses every month. The Banchi Maison brand also specializes in producing foam mattresses, along with viscoelastic, polyurethane, and latex options. So, regardless of what type of mattress or style you are looking for, chances are good that the Banchi Maison mattress line has a perfect match. And that looks like a good night's sleep for Banchi Maison brand customers.
Natives of Italy and France may also be familiar with the Banchi Maison brand via endorsements from actor and Frenchman Alain Delon. The Banchi Maison brand is not only recognized as one of the top Italian mattress brands, but as the Brand itself promotes, they are a "leading company in the design and manufacture of rest systems… ." And it appears that there are also thousands of well-rested customers all over the world to support them.
5. Ceriflex
The Ceriflex company is not only one of the top Italian mattress brands, but it is also another one of the mattress companies that manufacturers foundations too. This mattress company reportedly produces more than 6,000 mattresses each week. While this is one of the more popular Italian mattress brands, they export primarily to their European neighbors France.
What is even more impressive about this leading Italian mattress brand, is that it manages its entire operation with a staff of around 150 people. That is possible because this leading Italian mattress brand takes advantage of many of the latest manufacturing technologies. This enables Ceriflex to continually provide quality products, like its roll-packed mattresses. Some reports suggest that as many as 90% of those diagnosed with depression, also have poor sleeping habits. If you aren't feeling as happy these days, perhaps it might be time for a new mattress?
6. Dormi & Dormi
Another one of the top Italian mattress brands, Dormi & Dormi, is also one of the smaller companies on the list. The Dormi & Dormi brand is recognized for its patented Biofera bed. These mattresses are sold under the brand name Curvatifossati. The primary goal of the Dormi & Dormi mattress is to help prevent moisture between the foundation and mattress.
Studies also suggest that people who don't get at least seven hours of sleep are more likely to develop issues like the common cold. With designs like the Dormi & Dormi Biofera beds and a good night's sleep, customers can not only get rest but potentially help prevent getting sick too. And yes, the Dormi & Dormi also scores high marks when it comes to comfort, which is also a result of the Biofera bed design.
7. Flou
The Italian mattress brand, Flou, offers a wide range and variety of mattresses to choose from. This includes special handmade mattresses to more common but high-quality traditional mattresses. The Flou brand continues to adhere to its traditions while incorporating the latest mattress manufacturing technologies. The Flou brand is also recognized for its dedication and pursuit of mattress innovations and technology. That dedication and effort are also included in every type and style of mattress Flou makes.
From ergonomic considerations to research invested in the "sleeping culture" to deliver quality mattresses, the Flou brand is on the shortlist of the leading Italian mattress brands. The Flou brand also manufactures other bed and bedding-related products. These are items such as quilts and linens. The Flou brand also exhibits its flare for Italian style and fashion through its mattresses and bedding accessories. And at the end of the day and for this leading mattress brand, that all adds up to the only thing that matters, a good night's sleep.
8. Legarflex (dba Zigflex)
Many people may not know this top Italian mattress brand under the company name Legarflex but may be more familiar with its Zigflex brand name. This popular Italian mattress brand is recognized for the quality and craftsmanship of its mattresses. That quality and craftsmanship are also part of the tradition passed down through the Salvadori family. And this has always been the heartbeat of the Legarflex company. This established and popular Italian mattress brand also recently celebrated its 50th anniversary.
That experience, the Legarflex commitment to quality, and the tradition of craftsmanship are also the reasons why consumers choose the Zigflex brand. That quality, tradition, and craftsmanship are also on display across a wide selection of mattress options and styles. In addition to manufacturing mattresses, customers can also shop bunk beds or folding beds and even look at slatted foundations.
As one of the most popular Italian mattress brands, Legarflex is also proud to manage its success and company with a staff of around only 70 people. That also means the ability to keep overhead down, and that translates into the ability to offer customers even better pricing options. Getting plenty of rest, a good night's sleep, and waking up refreshed and ready for the day is priceless. And it is the benefit of sleeping on a mattress from a leading Italian mattress brand.
Related Guides

Upgraded Home Team
We are a team of passionate homeowners, home improvement pros, and DIY enthusiasts who enjoy sharing home improvement, housekeeping, decorating, and more with other homeowners! Whether you're looking for a step-by-step guide on fixing an appliance or the cost of installing a fence, we've here to help.
More by Upgraded Home Team
Published November 9th, 2021 3:48 PM