203 Views
How To Secure Bookshelf Speakers To Stands (Quickly & Easily!)
December 22nd, 2021 8:44 AM
Share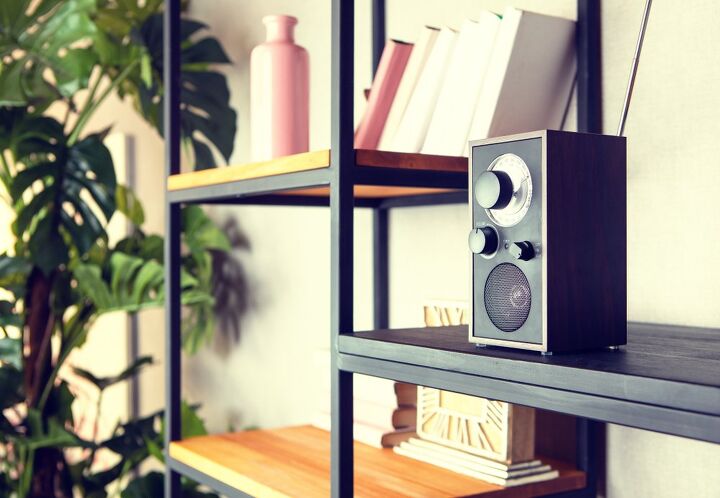 Don't be misled by the name– bookshelf speakers aren't made just for bookshelves! Since bookshelf speakers are meant to maximize sound in smaller spaces, you should elevate them, whether on a table, shelf, or stand. You'll want to position your speakers at ten and two o'clock for the best quality sound. Fortunately, you can secure your bookshelf speakers to stands for less than the price of lunch.
Some bookshelf speakers are geared towards enhancing your film experience, while other brands are created with music lovers or gamers in mind. Speaker stands are perfect for creating an immersive total experience to be enjoyed by film buffs or music fans alike. Not to mention, speaker stands can lend a luxury home theater vibe to your small apartment or living room.
First, to secure your bookshelf speakers to speaker stands, position your speaker stands towards the desired viewing location. Fill the stands with sand to reduce movement and to reduce vibrations. Make sure that the speaker stands are level with your floor.
Do You Need Handyman Services?
Get free, zero-commitment quotes from pro contractors near you.
Securing Bookshelf Speakers To Stands
Securing your bookshelf speakers to a stand is a simple process. Below, we've included the tools necessary and the steps that you need to follow in order to do this successfully.
Tools Needed
Securing your bookshelf speakers to stands is an easy DIY job that'll have you feeling like a tech guru. You can find the tools you will need at your local hardware store for less than $20. You will need:
Step 1: Position Speaker Stands
Before you begin, position your speaker stands in the desired location. For optimum sound quality, place speakers a few feet from the wall and slightly angled in towards the listener or viewer.
Ensure that the stands are not in a highly trafficked area where someone can easily knock them over. The floor needs to be level as well.
Step 2: Fill Stands With Sand
Once you have set up the speaker stands, fill them with sand, rice, or cat litter. Unscrew the top plate from the stand and fill it with sand. You may want to lay down plastic sheeting to prevent any mess.
Sand not only weighs the stands down to keep them from wobbling, but the sand dampens the speakers' vibrations for quality performance. You want to add weight without making the speaker top-heavy or changing the center of gravity, so start by filling your stands halfway. Many brands recommend filling their stands ⅔ to the top.
If you want to geek out on the sound quality difference, fill your speaker stand halfway, re-attach the top plate, place your speaker on it, and press play!
Then unscrew the top plate again, and add more sand until the speaker is ⅔ full. You may be surprised at the difference in sound quality. You want less vibration, more detail, and more directionality.
Step 3: Check Stability
Check the stability of your stands now that you have filled them with sand. Make sure the floor is even where you have positioned the speakers.
Even a tiny dent in the flooring could compromise the stability of your speaker stands and send it toppling over. Remember, your speakers will "move" as they emit sound.
Step 4: Arrange Blu-tack On Stand Surface
Blu-tack is a safe, non-toxic adhesive putty that can be shaped and used in place of tape, hooks, rope, or nails. It's a favorite for DIY home improvement projects due to its versatility. You can buy a 2-pack online for $6. Better still, Blu-tack doesn't even leave a mark!
Roll the Blu-tack into your desired shape. Some experts recommend rolling the adhesive into a worm, while some say only three well-positioned pieces are necessary, with one in the back and two in the front.
Arrange the Blu-tack as desired on the surface of your speaker stands. Once the Blu-tack cools, it will lose its malleable properties. You don't want to move Blu-tack around too much, as the adhesive will become weaker.
Step 5: Position Bookshelf Speaker On Stand
Position your bookshelf speakers on the surface of your stand. Line up any spikes on the stand to the bottom of your speaker. The speaker should be sitting level on the stand, with no parts extending past the stand's surface.
Step 6: Apply Pressure To Set
Ensure that the Blu-tack is in contact with both the stand and the speaker before you press down to set. As long as the floor is level and the weight is evenly distributed, the Blu-tack will be enough to keep your bookshelf speakers secure.
Step 7: Repeat!
Use Blu-tack to secure the remaining bookshelf speakers to their stands. For added protection, use a secondary adhesive.
Alternative Adhesives For Bookshelf Speakers
Blu-tack is the preferred adhesive when securing bookshelf speakers to stands. Not only does Blu-tack offers a stronghold, but it decouples the speaker from the stand, improving the quality of sound.
Even better, Blu-tack is easy to remove and doesn't leave a mark on your equipment. Depending on your home, you may find that another adhesive is better suited to your needs.
Museum Putty
Museum putty is similar to Blu-tack. It's easy to remove and reuse, plus it's non-toxic. Museum putty is marketed towards keeping valuables and antiques secure during earthquakes. Translated: it's great for homes with children or pets!
Plasti-Tak
Plasti-tak is another reusable putty designed to secure valuables during earthquakes. It's marketed as the "Duct Tape of Tak" and never dries out.
Double-sided Tape
Industrial strength double-sided tape can hold up to 30 pounds and comes in both permanent and removable.
Even if you use Blu-tack or another adhesive putty for the bottom of the speaker, you may want to use double-sided tape to secure the back of the speaker to the wall for added security. Double-sided tape will damage the speaker's vinyl wrapping, so think twice before putting it on your expensive speakers!
Velcro
Although Blu-tack is durable, it won't last unless you leave it alone. If you have young children or rowdy animals, Velcro may be a more sustainable option for you to attach your speaker safely.
Velcro will last longer with constant wear and tear but be aware that Velcro has a pressure-sensitive adhesive and will leave a mark once removed. But if you and the kids aren't going anywhere soon, Velcro is a great option to secure your speakers.
Jar Opener
If you aren't worried about little ones bumping into your speaker stands, you can use a rubber jar-lid opener for a quick fix. Since rubber jar openers are textured, they provide enough grip to secure the speaker to the stand while isolating the sound. Place the flat rubber jar opener under your speaker.
Screws
For those that are serious about securing their bookshelf speakers, you can attach them to your stands with screws.
Although no one wants to damage their speakers, a permanent solution may be the safest option for your household. Using 2-3 small screws, attach them to the underside of the stand's top plate. Drive the screws ½" into the bottom of your speaker.
Wall Mounts
In an ideal world, our new Klipsch bookshelf speakers would stay untouched on their stands, relegated to their thrones. But as life happens, you may find that the stands get nudged more than you predicted. If that is the case, and you don't want to risk your speakers falling, consider mounting your speakers to the wall as a last resort.
---
Related Questions
How long does Blu-tack last?
Blu-tack, when used correctly, lasts up to 3 years. As long as you are not constantly repositioning your speakers, you should be able to leave them undisturbed until you decide to relocate them. Blu-tack is not designed to withstand "extreme" conditions– such as a curious toddler or energetic puppy–  so be prepared to supplement it with another adhesive if necessary.
How should I position my speakers to get the best sound?
For optimum performance, bookshelf speakers should sit at the listener's ear level, usually 2-3 feet from the ground. The speaker stands should be slightly angled in, directed just behind the listener's head. 
Do I have to fill my speaker stands?
Filling your speaker stands with sand creates a low center of gravity so that even if you bump into your speaker stand, it won't necessarily fall over. Not only does filling the speaker stand make it more secure, but it enhances the sound quality. The sand acts as a buffer and cuts out any ringing from vibrations. 
Do You Need Handyman Services?
Get free, zero-commitment quotes from pro contractors near you.
Wrapping It Up
Regardless of whether you are a movie buff, music nerd, or gaming enthusiast, putting your bookshelf speakers on stands will allow you to have the immersive experience of your dreams! While speaker stands can get pricey, stands are a serious game-changer.
Speaker stands will enable you to position the sounds for optimum performance. Once you've positioned your speaker stands, you must secure the speaker to the stand. Using adhesive putty binds your speakers from toppling over while simultaneously decoupling the sound.
More Related Guides

HK Sloan
HK Sloan is a freelance writer currently covering DIY Home Improvement, Health, and Lifestyle. Sloan is passionate about improving situations for less, whether it be working on mind, body, or home.
More by HK Sloan
Published March 23rd, 2021 8:14 PM