124 Views
How To Repair Water Damaged Kitchen Cabinets
June 22nd, 2021 4:14 AM
Share
We're committed to finding, researching, and recommending the best products. We earn commissions from purchases you make using links in our articles. Learn more here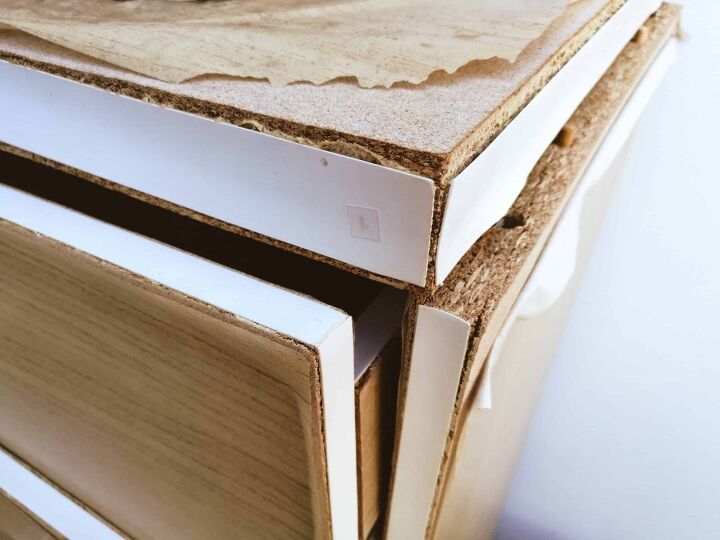 Did your pipes spring a leak? Or maybe you were a victim of the floods going on in so many areas. Whatever the reason, if your cabinets are damaged by water, you have to take care of it quickly. If you wait, they could be ruined for good.
To repair water-damaged kitchen cabinets you first want to stop the water leak and clean up. Then, spread some carpenter's glue between any delaminated layers, and apply a clamp to hold them together while the glue dries. If the layers are too damaged, you can purchase new high-pressured laminate for your kitchen cabinets.
Whether it is caused by a leak, burst pipes, or an overflow, you have to get that taken care of before you try to fix the cabinets. Once you figure out what the water problem is and fix it, you can start working on the damage it caused.
Do You Need Water or Pest Damage Repair?
Get free, zero-commitment quotes from pro contractors near you.
Taking Care of the Problem Right Away
You cannot put aside the damage and wait until you have more time. It is important to get to it ASAP so it does not get worse. Moisture can create mold and that is a toxic problem that can make you sick. Let's go over the steps to fixing your issue.
Step One: Shut Off the Water
You cannot do anything if the water is still coming out. Make sure you turn the water off so you do not have water still coming out while you try to clean things up.
Step Two: Clearing Out the Cabinet
Get everything out from the cabinet right away. Anything you can save, put it aside, and throw away anything you cannot keep. If you have food in airtight containers, they are safe, but anything in a box or bag needs to go in the trash.
Step Three: Figure Out the Extent of the Damage
Grab some towels and clean up the mess. Do your best to mop up the water and dry everything. Grab a heater or fan to blow some air on the area and dry things out. You can also get some DampRid. That stuff works wonders.
Step Four: Fix the Problem
If you have a leak, fix it. If your pipe burst, replace it. If your sink overflowed, well… you get the idea. See if the damage is repairable. If the floor of the cabinet is falling through, obviously you will need to replace it. If the issue was an ongoing one that you did not notice, the cabinets could be warped and unfixable.
Step Five: Getting Rid of Delamination
If you just have a small spot or corner that is peeling off, you can use a piece of sandpaper to rough up the wood. Then apply some wood glue and wrap it with masking tape until it dries. If you have a larger portion that is delaminating, pull it up and scuff the wood before putting on the glue. Use clamps or masking tape to hold it on until it dries.
Step Six: Repairing the Structural Damage
Wood that is delaminated or warped will need to be replaced. You may be able to fix just about anything with some wood glue, screws, and clamps. Sagging floors and warped wood laminate is not too difficult to fix. A sagging floor can be replaced with a piece of plywood and some screws and wood glue.
Important Tip: Find out what your cabinets are made of before going to buy the replacement floor or shelves. Medium-density fiberboard (MDF) is the most common material but it may also be plywood or particleboard.
Step Seven: Getting Rid of Stains
Anything that is discolored or peeling, you should be able to fix it. With oak or other real wood, you can get rid of stains with oxalic acid. But you have to sand off the finish first. Mix oxalic acid crystals with water and paint it onto the damaged wood. Wait until it dries. If it is still stained, use more and wait for it to dry.
Step Eight: Refinish the Wood
Neutralize the solution with ½ cup of baking soda mixed in a gallon of water. Rinse it with clean water and let it dry. Then you can refinish it back to its original color.
Step Nine: Replacing and Refacing
Some things you just cannot fix. If the cabinet is damaged beyond repair or the bracing is ruined, you will have to replace them. Hopefully, you will be able to get the exact design as the rest of your cabinets. Otherwise, it may be time to think about refacing your cabinets.
Step Ten: Getting Rid of the Odor
If your cabinets have a musty or moldy smell even after you have fixed them, you may need to use a dehumidifier or ozone machine if the DampRid did not do the job. An ozone machine uses ceramic ozone plates and germicidal UV-C bulbs to clean the air.
Check All Your Pipes
After you get your cabinets all fixed up, you should take some time to check out all of your other pipes in the home. Check for leaks or water damage in and around the sinks and stove. A lot of the time, steam from cooking will damage the cabinets above the stove so check that too. It is best to get ahead of it before it gets bad.
Do You Need Water or Pest Damage Repair?
Get free, zero-commitment quotes from pro contractors near you.
---
Related Questions
How Do I Know What Kind of Cabinets I Have?
Look at the end of the board to see what it looks like. If it is real wood, you will see the grain pattern naturally continues all the way around. Engineered wood like MDF and oriented strand board (OSB) are manmade for construction purposes.
Medium-Density Fiberboard (MDF) is a material made from wood and other plant fibers. They are pressed together with glue or resin and heated to make a strong board. The result is a smooth board that has no wood grain look to it that is stronger than OSB.
Oriented Strand Board (OSB) is made with wood flakes arranged in a cross-layer using wood chips and waterproof adhesive. It is similar to plywood but less expensive and more uniform. It is a fine white color with no wood grain pattern.
Alder wood is a reddish or light brown color with straight and even texture grain. There are subtle boundaries between the sapwood and the heartwood.
Birchwood is a smooth texture with a heavy and tight grain. Most often, it is reddish-brown or dark brown but may also have sapwood that is creamy yellow to white.
Cherry wood is smooth with a close-grained appearance and random markings. It has a red undertone but may be any color from brown to white.
Hickory wood is naturally contrasting like the Adler with the sapwood and heartwood boundaries. It may be any color from dark brown to blonde.
Maple wood is usually white or cream-colored with some reddish-brown color. There is a subtle grain with a smooth appearance.
Oak wood is very distinctive with patterns and grains that stand out. It can be brown to red or even white with streaks of dark brown, yellow, and green.
Pecan wood may be dark brown to blonde with dramatic grain contrasts. The sapwood and heartwood are drastically different, giving it a vivid design.
Walnut wood has very smooth and straight grain lines. The colors range from gray to dark chocolate and the patterns can be muted brown to tan.
How Much Does It Cost to Get Cabinets Refaced?
If there is too much damage to fix or if your cabinet design is not available anymore, you may just want to get your cabinets refaced. This is a nice way to give your kitchen a facelift and add value to your home.
The average cost of getting your kitchen cabinets refaced ranges from $1,400 to $14,500, depending on what you get. The average cost overall is about $7,000. However, the price varies depending on the material you get.
| | | |
| --- | --- | --- |
| Material | Cost | Per Linear Foot |
| Laminate | $1,000 to $3,000 | $90 to $100 |
| High-quality veneer | $2,500 to $6,500 | $150 to $300 |
| Real wood veneer | $6,000 to $14,000 | $400 to $600 |
You may also have to pay extra for custom drawer fronts, hardware, or any inner replacements or refinishing that needs to be done. It is best to get an estimate from several companies before choosing the one you will go with. You should also check references, reviews, and insurance before letting anyone start work in your home.

Patricia Oelze
I am a DIYer who loves writing about anything home-related. When I am not writing, you can find me studying for my PhD in Psychology, photographing nature, and swimming at the lake with my grandkids.
More by Patricia Oelze
Published September 28th, 2020 11:10 AM