303 Views
15 Ways to Make Cherry Cabinets Look Modern
December 28th, 2022 10:36 AM
Share
We're committed to finding, researching, and recommending the best products. We earn commissions from purchases you make using links in our articles. Learn more here
Cherry cabinets are in high demand amongst homeowners looking to add a bit of luxe to their lives. But, to some prospective buyers, the cherry wood does not match the trendy modern feel that they want. Whether it be updating the room or adding modern accents, let's take a look at how you can modernize cherry cabinets.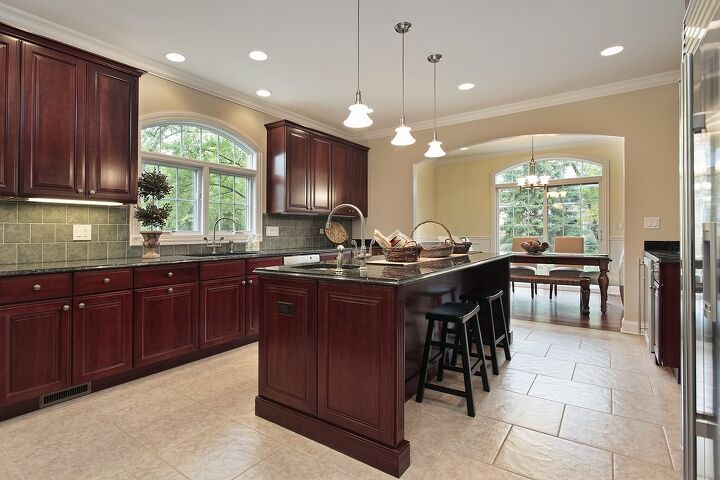 Cherry wood is known for its distinctive color. It is a rich color that is a brown blended with a warm red one. Cherry wood is also known for its smooth appearance due to its clear grain.
Cherry wood is a popular choice for cabinets. Because they are well made and built to last, cherry cabinets can sometimes feel dated. However, there are a wide variety of options to modernize your cherry cabinets.
You can update your cherry cabinets to look modern without replacing or refinishing your cabinets. There are many options for you to choose from. You can make your cherry cabinets look more modern by refreshing various elements of your kitchen, updating the paint throughout the room, and adding modern accents to your space.
Do You Need to Hire a Cabinet Refinishing Contractor?
Get free, zero-commitment quotes from pro contractors near you.
Refresh Elements of the Kitchen
You can make your cherry cabinets look more modern by changing some of the elements of the kitchen. For example, you can change the backsplash, purchase new appliances, swap out your hardware, get white upper cabinets, repaint the island, or replace the countertops.
Choose an option that is right for your space, your budget, and the amount of time you have to devote to this project.
Change the Backsplash
One great way to make your cherry cabinets more modern is to add a light backsplash. Consider adding a white or light neutral backsplash in order to refresh the space. Consider a white subway tile to add some interesting yet clean texture to your kitchen.
Purchase New Appliances
If you are in need of new appliances and are also looking to update your cherry cabinets, this might be the perfect time to invest in new appliances for your kitchen.
Choose appliances that are sleek, modern, and shiny. Avoid selecting appliances that are black as they can make the room look darker and heavier.
If your budget only allows for you to replace one appliance at a time, you can do this slowly over weeks, months, or even years. Over time, the space will transform to look more modern.
Swap Out the Hardware
Consider purchasing new hardware in order to modernize your cabinets. By refreshing the hardware, you will be able to give the cabinets an updated look.
Before purchasing an entire set of hardware for the whole set of cabinets, purchase a few different options to try out. Once you bring them home, hold them up to the cherry cabinets to see if the combination creates your desired modern style.
Also, take a few steps back to see how the combination looks from a broader perspective. This may help you in your decision making. Ask a friend or family member for their opinion.
Keep trying different hardware options until you find the one that is right for your space. Once you select a hardware that works, return all of the options that don't work for you. Then, purchase enough hardware for your entire set of cabinets.
Additionally, if you are also getting new appliances, consider matching the hardware to the new appliances. This will give the whole room a welcome update and can create a cohesive look.
Add White Upper Cabinets
If you only have lower countertops that are cherry wood, consider adding some white upper cabinets. This can give your space a unique contrast that makes the whole room feel more modern and refreshed.
Before you purchase a white upper cabinet, try placing something white above your cherry wood cabinets to see if this is the color and texture combination you are looking for. Use any white wood household object to try out the idea.
Add or Repaint the Island
If you already have an island, consider painting it a new color to give your space a refresh. If you don't have an island but do have space to accommodate one, consider purchasing an island that will help to modernize the cherry cabinets and refresh the overall space.
Replace Countertops
Consider getting some new granite countertops. You can choose either light or dark colored, a gold antique, or a brown ivory as all of these choices pair well with cherry cabinets.
Avoid any red cabinets as this will clash with your cherry countertops. This combination can overpower the cherry and create an imbalanced look.
Adding New Colors to Your Kitchen
In addition to refreshing elements of the kitchen, you can add new colors to the space. There are many different options for which color you should paint your cherry cabinets.
You can modernize your cherry cabinets by using paint in your kitchen. Paint can be used either to paint the entire room or as an accent. This depends on your space and the scope of the project.
Below are some great color options to consider when looking to modernize your cheer cabinets.
Off-White and White: This is a popular choice. This color contrast can create clean lines and can freshen up the space. Using white or an off-white paint can create a strong contrast that pairs well with cherry wood.
Green: If using a green paint color to modernize your cherry cabinets, you should select a light green or a hue close to sage. If you use too loud of a green, this will overwhelm the space. The green color should be somewhat muted and soft.
Grey: Choosing a light grey can make the cabinets feel more modern. By selecting a grey, the focus of the space can shift away from the cherry cabinets. Grey against cherry wood gives a rich contrast that can update the space.
Blue: Blue can be used as a powerful accent to modernize your cheery wood. The beautiful contrast opens the space and provides a unique pop of color.
Primary Colors: If you want to use a darker primary color, it can work in the space if the hue is bold enough to hold the color contrast. However, it is important to note that it is recommended to have a larger kitchen in order to try this striking color combination. If you have a smaller space, this combination risks making the kitchen feel darker.
Add Accents
Another way to make the cherry cabinets feel more modern is to add some accents to the space. Some of these can include getting new furniture, house plants, or a rug.
Get New Furniture
One great way to change the look of your space is to swap out your current table and chairs or barstools. Choose a modern-looking set in order to update the kitchen.
Get House Plants
Indoor house plants can be an inexpensive way to modernize or freshen up your space. Choose a few plants that are currently popular, such as a fiddle leaf fig or a snake plant, and purchase some modern planters. If you don't have ample natural light in your kitchen, select some plants that thrive in low light, such as a ZZ plant.
Adding some plants to your countertops, window sill, or space below a window can add a modern refresh without breaking the bank.
Add a Rug
Rugs have a unique and special power to transform any space. After considering some of the other options discussed, select a rug that coordinates with the other changes you are making.
Consider selecting a vintage rug to add uniqueness to the space. Because no two vintage rugs are made alike, adding a one-of-a-kind rug to your space is certain to modernize and refresh your kitchen. Rugs can create visual intrigue for anyone who enters the room.
Vintage rugs can be purchased at affordable rates from online vendors who ship internationally and include shipping in their cost.
Purchase Art
Another way to modernize your cherry wood cabinets is to purchase some new art. Select art that matches other elements of the kitchen that you are updating.
Art has the power to change the vibe of the space. To do this inexpensively, visit estate sales and thrift shops. It's amazing what a new piece of art can do in your space.
---
Related Questions
Are there colors I should avoid using when painting my room?
Yes, you should avoid darker colors, including black. Additionally, do not use any metallic colored paint as pairing a metallic hue with a cherry wood will overwhelm the eye.
Should I do all of the things listed?
It is recommended that you try one suggestion at a time in your space to see how the kitchen transforms. Start out by trying an option that fits with your budget to see how by taking even just one of these steps you can modernize your cherry cabinets.
What color appliances go best with cherry wood?
Stainless steel appliances go great with cherry wood. They provide a strong contrast, a sleek look, and they can even enhance the depth of the cherry wood.
Do You Need to Hire a Cabinet Refinishing Contractor?
Get free, zero-commitment quotes from pro contractors near you.
In Summary
There are many ways to make your cherry cabinets look more modern. By trying some of the ideas that are outlined, your cherry cabinets will look modern and updated in no time.
Related Guides

Elizabeth Yomantas
Elizabeth Yomantas is an accomplished educator, researcher, and writer. She holds a Ph.D. in education. While she loves all things related to teaching and learning, she also has a passion for making every house feel like a home. She loves writing about ways to improve your space to create meaningful memories with friends and family.
More by Elizabeth Yomantas
Published June 30th, 2021 8:41 AM