844 Views
How To Join Two Pieces Of Laminate Countertop
October 5th, 2021 12:51 PM
Share
Connecting laminate countertops can help modernize your kitchen, but it is easier said than done. You can join two pieces of laminate if you carefully glue them together and mount them on a woodblock. Luckily, you can join two pieces of laminate if you follow the steps and measure and cut each piece carefully.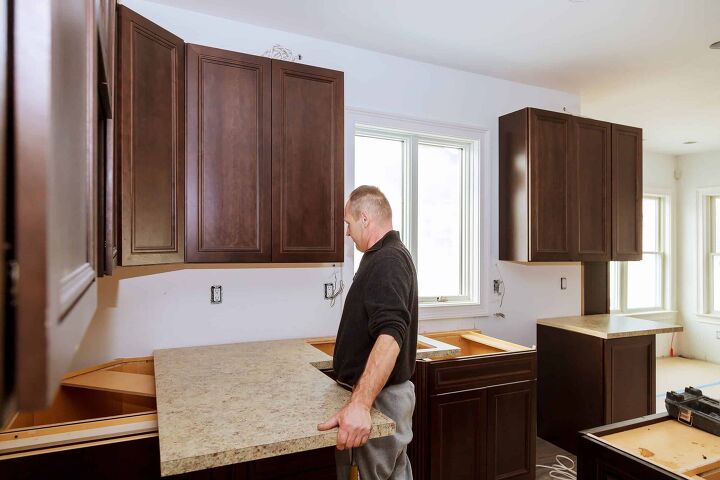 Homeowners can choose from many types of countertops. One of the more popular options is laminate. If you've select laminate countertops for your home, you may be wondering how to join two pieces of it together.
To join two pieces of laminate countertop, start by measuring and cutting the pieces to ensure they'll fit. Then, turn each piece over and cut a 1/2-inch wood block to fit along the edge of the cuts you've made. Glue the pieces together along both sides of the joint and attach the block of wood with miter bolts.
Joining two pieces of laminate countertop together is easier than you think. Continue reading to get a closer look at how to do it.
Do You Need Laminate Countertop Installers?
Get free, zero-commitment quotes from pro contractors near you.
Why Should I Choose Laminate Countertops?
Laminate countertops are a solid option that every homeowner should consider. They offer several major benefits that can be difficult to find in other types of counters.
For example, laminates are non-porous materials. This means they will not stain, regardless of what you do to them. Laminate countertops provide this benefit while still being durable enough to withstand daily use in your home.
Additionally, laminate countertops are extremely low maintenance. You won't have to use a special cleaner for upkeep and can easily use a kit to clear away scratches. Benefits like these make laminate countertops an excellent choice for your home.
What Tools Do I need to Join Two Pieces of Laminate Countertop?
The first step in completing this project is gathering the tools you'll need to do it. You won't need much to get this done. Make sure you have:
A measuring tape
A cutting tool (for the laminate)
Fine-grit (200 to 220) sandpaper
2 1/2-inch blocks of wood
Carpenter's glue
1-1/4-inch screws
Miter bolts
How to Join Two Pieces of Laminate Countertop
Measure and cut the laminate to fit your specifications. If you intend to place the pieces along a run, they should be cut at a 90-degree angle. If you intend to place them in a corner, then the pieces should be cut at a 45-degree angle.
Sandpaper the two pieces with 200 to 220-grit paper. This will ensure they're smooth enough to be placed on your countertop. Use your best judgment here. You may only need to do a bit of sanding along the rough edges of the pieces if everything else is already smooth.
Test how the pieces fit by sliding them into place without any glue. They should fit together as you want them to. If they don't, you will likely have to recut them.
Cut the 1/2-inch woodblocks to size after turning the two pieces of countertop over. You want the wood to fit nicely along the edge of the cut you've made.
Attach the woodblock to the underside of the laminate with 1-1/4-inch screws. The block should be attached along the edge of the cut you've made. Take care to ensure that the screws you use aren't pushing through to the other side of the laminate.
Turn the laminate pieces back over and apply the carpenter's glue along both sides of the joint.
Slide the pieces together and apply pressure to make them stick.
Attach the pieces to your counter with miter bolts. Work in small increments, checking to ensure the countertop fit isn't impacted as you tighten the pieces together. You may need to attach as many as 3 or 4 miter bolts depending on the length of your countertop and the size of the cut you've made.
How Can I Hide Laminate Countertop Seams?
Unfortunately, there's no way to remove seams from laminate countertops entirely. However, there are some steps you can take to hide them.
The best way to do so is by utilizing a seam filler. You should select one that matches the color of your countertop to ensure it blends everything together nicely. To do so, you'll need:
A putty knife
Acetone
A rag
Seam filler
A plastic plate
Follow this step-by-step guide to ensure you fill the seams in your laminate countertop properly:
Scrape out the seams with your putty knife. You want to get out any food and dirt remnants that could prevent the filler from adhering properly.
Wipe down each seam with acetone that you've applied to the rag.
Put a small amount of seam filler on the plastic plate and use your putty knife to mix it until it reaches the desired consistency.
Scoop the filler onto your knife and spread it across the seam. Do this as many times as you need to in order to completely fill the seam. Keep in mind that seam filler shrinks as it dries, so you may need a bit more than you'd initially expect.
Scrape any excess filler off your countertop with your putty knife. Scrape toward the seam, not across the top of it. Doing that could cause you to accidentally remove filler from the seam.
What's the Standard Overhang for a Countertop?
Your countertops perform several important functions. Most homeowners use them as a work and storage space. However, countertops are designed with an overhang because they also protect the cabinets below them from spills, crumbs, and other things that could harm them.
The amount of overhang your countertop needs can vary based on its type and your support choices. However, generally speaking, a countertop should have an overhang of somewhere between 1 and 1-1/2-inches.
That being said, you don't need to extend the overhang that far along the exposed ends of your countertop. This area typically only requires a 1/2-inch overhang. The parts of your countertop that meet the wall can be kept flush since installing an overhang there would serve no purpose.
What Kind of Caulk Do You Use for Countertops?
Caulk is an important tool you can use to prevent water damage from impacting your countertops. If you've never used caulk for your countertops before, you may be wondering which type you need to buy.
The best choices are silicone and elastomeric caulk. Both are water-resistant and available in a variety of clear and colored options. This makes it easy to find a caulk that will not impact the look of your countertops.
Do You Need Laminate Countertop Installers?
Get free, zero-commitment quotes from pro contractors near you.
---
Related Questions
Should the countertop be flush on the stove?
Yes, most stove manufacturers advise keeping the stove flush with the countertops. However, you could also make the stove half to one inch higher than your countertops. Just make sure you don't place it any lower than your counters as that could cause heat damage and reduce your cooking efficiency.
How do I protect my laminate countertops from heat damage?
Unfortunately, laminate countertops are not heat resistant. This means you need to protect them by utilizing objects that do provide heat resistance. Some of the more popular options for homeowners include trivets made of cork, bamboo, silicone, and ceramics.
How do I remove excess grout from my laminate countertops?
Grout is an important material that's used to fill the gaps between tiles. If you have a tile backsplash, some excess grout may have dried on your laminate countertops. You can fix the issue by soaking the dried grout in sugar water. This will loosen it, reducing the amount of scrubbing needed to fix it.

Upgraded Home Team
We are a team of passionate homeowners, home improvement pros, and DIY enthusiasts who enjoy sharing home improvement, housekeeping, decorating, and more with other homeowners! Whether you're looking for a step-by-step guide on fixing an appliance or the cost of installing a fence, we've here to help.
More by Upgraded Home Team
Published September 5th, 2020 8:05 PM