7 Views
How Much Does It Cost To Reupholster A Couch? (Find Out Now!)
August 23rd, 2021 5:09 PM
Share
We're committed to finding, researching, and recommending the best products. We earn commissions from purchases you make using links in our articles. Learn more here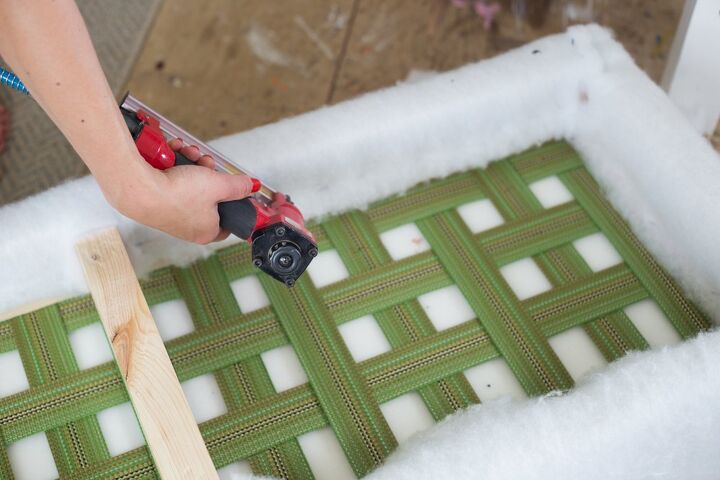 It is a fact that your furniture is not designed to last forever, but that does not necessarily mean it is time for a total replacement. A sofa is a piece of furniture found in almost every home as it is among the most commonly found. When exposed to regular use for many years, parts of the body can become discolored and uncomfortable.
It costs $1,700 to reupholster a couch, on average including materials and labor. You can expect to pay $65 per yard for acrylic upholstery, $40 per yard of chenille upholstery, and $17 per yard for cotton upholstery. It costs $1,100 to reupholster a chaise lounge, and an average of $1,200 to reupholster a loveseat.
If you're thinking of reupholstering your couch, but you aren't sure how much it will cost, you've come to the right place. This article will discuss the cost of reupholstering different types of couches and couches with different materials. That way, you can get a feel for how much it will cost you if you go this route.
Do You Need Furniture Reupholstery Services?
Get free, zero-commitment quotes from pro contractors near you.
Reupholster Couch Cost
Average Cost To Reupholster Couch

Low
National Average
Average Range
High
$80
$1,700
$700 – $3,500
$4,000
When it comes to reupholstering your couch there are a number of factors that determine the price such as the material, size of the couch, and just how much work needs to be done. On the very low end, you can expect to pay about $80.
However, on average, most people pay $1,700 with the cost usually falling between $700 and $3,500. It can go up to $4,000 for luxury furniture pieces.
Cost To Reupholster Couch By Material
The average cost to reupholster a couch is about $1,350; however, this depends on several factors, such as the material and size of the couch. People will pay anywhere between $700 and $3,500. Although for a sectional sofa, they can spend as much as $4,000, it just depends on your circumstances.
Cost By Material
Fabric
Natural Or Synthetic
Cost Per Yard
Acrylic
Synthetic
$50 – $80
Chenille
Synthetic
$25 – $55
Cotton
Natural
$15 – $20
Leather
Natural
$45 – $55
Linen
Natural
$25 – $35
Linen Cotton Blend
Natural
$18 – $25
Nylon
Synthetic
$10 – $15
Olefin
Synthetic
$25 – $30
Polyester
Synthetic
$20 – $45
Rayon
Synthetic
$45 – $90
Silk
Natural
$60 – $70
Twill Couch Fabric
Natural
$30 – $55
Velvet
Synthetic
$55 – $65
Vinyl
Synthetic
$50 – $60
The cost to reupholster a couch varies by material type from $10 to $90 per yard, which depends on the amount of reupholstering needed, as well as the material used. For a medium-sized sofa, you will need between 18 and 20 yards of fabric. A variety of colors and levels of durability are available.
Among other things, a fabric with stain resistance is more expensive than a less durable fabric. The table above and the sections that follow will explain the types of materials, how much they cost, and their pros and cons.
Acrylic Upholstery
It will cost you approximately $50-$80 per yard on average if you wish to purchase acrylic upholstery fabric. This lightweight material has a nice feel to it and is warm to the touch. In addition to its price, it offers long-lasting use, compared with many other natural and synthetic materials, without being too heavy.
A large number of colors and designs are available for acrylic fabrics, and they come in an array of easy-to-clean choices. As far as water resistance and mildew resistance are concerned, this acrylic is suitable for both indoors and outdoors.
Chenille Upholstery
It costs about $25 to $55 per yard to have chenille upholstery made. This material is commonly used for upholstery on couches, chairs, and other furniture due to its velvety texture. Usually, the chenille is made of yarns comprised of poly or poly-blend, so it resists pilling, fading, and other signs of wear.
Because of its great features, it's a durable product that makes an excellent option for furniture. Material that costs more is typically more durable. For premium designs, you may have to pay even more.
Cotton Upholstery
Cotton varies in price from $15 to $20 per yard, which makes it a realistic and affordable option. Our favorite thing about cotton is its softness, durability, and comfort. In addition, it features a variety of styles and designs, and it is also available in several finishes and textures.
In addition to cotton colors, you have a wide selection. You can easily clean this material and keep it in decent condition. Natural materials may wear faster than other materials when used excessively, but they are an affordable option.
Reupholster Leather Cost
Some people are surprised to find out that leather is not the most expensive option. It can be purchased for about $45 to $50 a yard. Reupholstering a leather couch is almost always the more affordable option than replacing it.
The characteristics of the leather are durability, flexibility, and an attractive appearance. There are many kinds of finishes available, such as smooth finishes, suedes, and even metallic finishes. They may be able to match your existing leather finish with the one you choose. Nonetheless, it could be more challenging to match leather material than others.
Linen Upholstery
In order to reupholster a couch, linen upholstery costs between $25 and $35 per yard. In addition to being thin and breathable, linen suits those looking for their couches to have a lighter look.
Despite its appearance, it is also strong, absorbs well, and dries quickly, making it useful for cleaning spills and for other uses. Many different patterns and colors are available in linen so that any furniture can be customized.
Linen Cotton Blend Upholstery
Linen and cotton blends, which average about $18 to $25 per yard, are sometimes used in couches. If you're looking for both a natural finish and a unique look, then this mix offers the best of both worlds.
There are few options on the market that are as affordable as this one. It is not the best choice for couch covers and other furniture that sees a lot of traffic because linen is thin.
Nylon Upholstery
$10 to $15 per yard is the price of nylon, an alternative material. The material selected for this furnishing is highly affordable and is often used for the lowest-priced furniture.
Natural fibers such as silk are delicate, easily torn, and more expensive than nylon, a more durable, more resistant, and stronger fiber. Nylon textiles are a lovely fabric because they are easy to clean and have a long life.
Olefin Upholstery
The cost per yard of olefin upholstery is usually between $25 and $30. The most popular outdoor furniture material is olefin because it is stain-resistance, water-resistance, and low-maintenance.
This material is a durable, outdoor-friendly material made from petroleum-based plastics. However, it requires fewer replacements and reupholstery than some materials, so many choose it.
Polyester Upholstery
Replacing the polyester couch with new materials will usually cost you 20 to 45 dollars per yard. Depending on the size of the couch and the amount of material you need, the cost will vary.
Compared with other materials, this synthetic material offers an attractive, durable finish for a lower price. It is available in many colors, textures, and finishes, allowing just about everyone to find something that they like.
Rayon Upholstery Fabric
It will cost approximately $45 to $90 per yard to purchase rayon. It comes in several quality and durability levels, which causes its high-cost variance. As strong as cotton but a synthetic material, it may be more durable and may last longer as compared to cotton.
Unlike cotton, which is well known to fade over time, Rayon tends to hold its colors better than cotton. Despite its slippery texture, it is great for couches that need to be comfortable. You can clean it more easily than silk, but if you want to ensure that it stays in good shape, it is best to use a protectant.
Silk Upholstery
It would be nice if silk were one of the cheaper options, but unfortunately, it is also one of the most expensive, at about $60 or $70 a yard. The use of synthetic materials is popular because of the cost savings; however, silk coverings are also beautiful. This silk-like fabric is a smoother, softer material than silk, but it isn't very durable.
Having a family or pets in a house with this type of couch might not be the best choice. For furniture that is subject to heavy traffic, this may not be the best solution. As a result of its easy staining and cleaning properties, silk is not suitable for everyday use.
Twill Couch Fabric
Twill is one of the fabrics that is used for making couches, and it costs approximately $30 to $55 for every yard of it. Featuring a natural feel and texture similar to wool or rayon, this fabric is a natural choice that provides some additional durability over cotton.
Upholstery has been made with twill for years because of its durability and ability to add a touch of softness to a room. It's a very popular option for furniture because it's available in many different colors and designs.
Velvet Upholstery
Velvet is one of the most commonly used upholstery fabrics, generally costing between $55 and $65 per yard. Aside from its warm, soft texture, velvet also makes the furniture appear to have an exceptional shape, thanks to its accentuated edges.
Despite the fact that it does stand out from other premium fabrics due to its beauty and benefits, it is still costly compared to others. A more luxurious finish can be obtained by investing in this method for many pieces suited to those who wish to achieve a more luxurious finish.
Vinyl Reupholstery
In order to reupholster a couch, a yard of vinyl material will cost you approximately $50 to $60. The fact of the matter is that vinyl is not only resilient but also a very attractive material and can be used for a number of different things around the home.
If you need something that can be easily cleaned, this is a good option for outside furniture or for lounge areas. There are many colors and patterns that can be found in this material. Even though it isn't something that is common, people certainly do have the option.
Price To Reupholster A Couch By Type
Cost By Type

Type
Materials & Labor
Camelback Sofa
$1,100 – $1,200
Chaise Lounge
$700 – $1,500
French Provincial Sofa
$700 – $1,500
Loveseat
$600 – $1,800
Sectional Couch
$1,500 – $4,000
Semi-Attached Backcouch
$1,100 – $1,300
Settee
$1,000 – $2,000
Sofa
$750 – $3,500
Tightback Couch
$1,000 – $1,200
You may spend more or less to reupholster a couch based on its type. The average cost to reupholster a sofa is $750 to $3,500. As well as the size and complexity of the furniture design, the fabric itself plays a significant role. There is no doubt that a larger couch will cost more, but there are also other factors to consider.
Typically, a standard eight-foot couch will be more expensive than one that is six feet long. Most of the time, the cost of both would be lower than the cost of a sectional sofa. There are multiple sizes of couches and other furniture that can be upholstered.
Reupholster Camelback Sofa
A camelback sofa can be reupholstered for around $1,100 to $1,200 if it is in decent condition. Unlike most couches and sofas with a smooth back or a flat back, this type of sofa is named for having a curved back.
In this way, reupholstering will be easier and will be less expensive in the long run. In addition to that, these sofas are available in a wide range of sizes.
Reupholster Chaise Lounge
In order to reupholster a chaise lounge, it will cost you approximately $700 to $1,500. The majority of the items on this list are unique pieces of furniture, so if you are going to handle them, you should do so with a trained professional. There is no set cost associated with reupholstering a chaise.
The cost is determined by its size, the type of fabric, and any details it may have. Moreover, reupholstering cushions can greatly affect what they will cost, as well, if the cushions are in need of reupholstering.
As with reupholstering couches, the process is similar to that of reupholstering beds, with any necessary repairs being made before the new upholstery is applied to each component. Find out what color curtains go with red couches.
Reupholster French Provincial Sofa
It will cost you between $700 and $1,500 to reupholster a French Provincial sofa. Costs of sofas may vary based on their size and the features included, and the amount of embellishment. In order to reduce the costs of the project, it is crucial to choose suitable materials.
Initially, the framing and embellishments, as well as any other structural details, will be repaired. There will then be a reupholstering procedure, the finishing touches will be applied, and then it will be ready for use. There may be a small extra cost in hiring a specialist; however, it will be worth the expense to have this kind of work performed.
Reupholster A Loveseat
The cost of reupholstering a loveseat depends on the material used. It can range from $600-$1,800. Accordingly, depending on what size loveseat you choose, how many cushions you want, and whether you want removable cushions, the cost varies.
In addition to the tight-back finishings or other details that can influence the cost and process of reupholstery, just like with the various sofas below, loveseats may also have other details. A frame that needs to be repaired or filled will be done before the reupholstery is completed in order to guarantee a like-new look.
Sectional Couch Reupholstering
Reupholstering a sectional couch can cost anywhere from $1,500 to $4,000, depending on the number of pieces, materials used, and other factors. One piece of a sectional will be reupholstered at a time.
You can also have one or more portions of your sofa reupholstered rather than the complete item. Sectionals require specific considerations, which we'll go through in the section below on section price and work.
Reupholstering A Semi-Attached Back Couch
A semi-attached back couch costs about $1,100 to $1,300 to reupholster. Cushions on these couches may be fastened partially. Although the cushions cannot be removed, they may be more supple or flexible than those found on a tight-back couch.
These should be handled by experienced personnel. Typically, the amount of fabric required will be established, and the task will be completed as a whole. When done by specialists, this needs some detailed effort but results in a flawless new look.
Reupholster Settee
It will cost you approximately $1000 to $2,000 to reupholster a settee sofa. The settee is a smaller couch with no armrests or short armrests that often resemble a bench instead of a sofa. A non-backed garment is usually smaller and doesn't have a backing, or it may have a partially backed garment.
There are various styles for this type of piece, but they are usually a bit more challenging to install than other types. If the piece contains many details, it would be wise to hire a reupholsterer who has experience with this type of work to ensure that the job is done correctly.
Reupholster A Sofa
Reupholstering a couch can cost anywhere from $750 to $3,500, with the average cost being approximately $1,750. Reupholstering a couch is often done as a whole job, depending on how the backing is fastened and whether or not the cushions may be removed.
Each item will have its own reupholstering. Any necessary frame repairs will be completed ahead of time. The kind of couch and other elements described in this tutorial all have a role in determining the cost of this job.
Tight Back Couch Reupholstering
An average couch with a tight back costs between $1,000 and $1,200 to reupholster. In some cases, because tight backs are designed so that everything is in one piece, reupholstering a tight back couch may not be that difficult.
Fortunately, since the cushion back will be built right into the sofa, you won't have to remove it separately and reupholster it. However, the seams and details required to produce a good-looking sofa can also prove difficult for less experienced upholsterers.
Do You Need Furniture Reupholstery Services?
Get free, zero-commitment quotes from pro contractors near you.
---
Related Questions
Is it cheaper to reupholster or buy new?
Reupholstering a couch is typically cheaper than buying a new one as the whole thing may not need to be reupholstered. You can save a few hundred dollars by opting to upholster instead of purchase new.
Is it hard to reupholster furniture?
Reupholstering seems a lot more complicated than it actually is. While there's a bit of a learning curve and 'art' to reupholstering furniture, it's a relatively simple project.
Can you ruin a couch by sleeping on it?
Yes, you can ruin a sofa by sleeping on it, but only if it's on a long-term basis. It will wear out the frame and cushions. But, if you sleep on it a few times a week for a nap or fall asleep overnight on it, this should not affect anything.
Related Articles

Heather Robbins
Heather is a passionate writer who loves anything DIY. Growing up, she learned everything from home repairs to design, and wants to share her tips with you. When she's not writing, she's usually hiking or searching for her next DIY project.
More by Heather Robbins
Published June 7th, 2021 8:45 AM