57 Views
How Much Does It Cost To Reupholster A Chair?
December 20th, 2021 6:20 PM
Share
We're committed to finding, researching, and recommending the best products. We earn commissions from purchases you make using links in our articles. Learn more here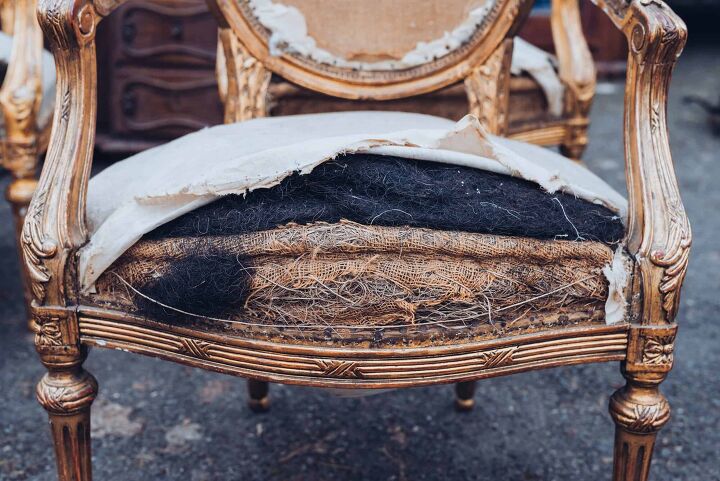 Whether you're decorating a new home or tired of your old furniture, you don't always have to buy something new. If you have a chair with good bones and the right shape, then reupholstering it can be just the ticket.
The average cost to reupholster a chair is $1,762 including materials and labor. Homeowners spend an average of $37.50 per chair seat and $45 to reupholster chair cushions. It costs an additional $110 for a tailored chair skirt, $7 per button, $11 per channel back, and $350 for new nailhead trim.
The price you pay for your reupholstery job ultimately hinges on several elements. You need to consider the type of chair, fabric choice, and if there are any intricate details involved. Another big deciding factor is if you plan to reupholster the chair yourself or plan to pay a pro.
Do You Need Furniture Reupholstery Services?
Get free, zero-commitment quotes from pro contractors near you.
When Is It Worth It to Reupholster a Chair?
If you enjoy your existing furniture but it doesn't match the wall color, reupholstering is a viable option. However, reupholstering a chair doesn't always mean it's the cheapest way to go. In other words, sometimes, the cost of new furniture can actually save you money (and time).
The cost of a new chair varies greatly. It can be $50 to $75 for a basic piece to upward of $3,000 for a high-end designer number. Therefore, take the value of the chair you want to reupholster into account.
For example, if you want to give a facelift to your expensive antique chair, reupholstering is likely the best option. If you want to give your Ikea dining chair a facelift, you probably don't want to spend $200 on reupholstery.
In other cases, reupholstering a chair might be more expensive than purchasing new, but the chair has sentimental value. Perhaps it was your great-grandmother's or the first chair you and your spouse purchased together as a couple. In this case, your chair is priceless, and reupholstering it can give it new life.
The Cost to Reupholster a Chair Seat or Chair Cushion
One of the easiest, most economical ways to alter a chair is to reupholster the seat or cushion. In many cases, you simply remove the seat using a screwdriver and remove the old upholstery. Next, recover the seat with the new fabric of your choice by stapling into place, then replace the seat on the chair.
If you're recovering a separate cushion, remove the old cover and use it to draw a pattern on the new fabric. Cut out the fabric and sew the new cover using a sewing machine, then fit it onto the cushion.
If you are not a skilled sewer, you can always pay a pro to do it for you. Labor for this project will be relatively inexpensive. The biggest cost factor is the type of fabric you choose.
| | | |
| --- | --- | --- |
| Seat or Cushion | Price Range for DIY | Price Range for Professional |
| Covering a Chair Seat | $12-$25+ | $25-$50+ |
| Covering a Chair Cushion | $20-$40+ | $30-$60+ (higher price if the cushion is attached) |
The Cost to Reupholster a Chair by Chair Type
Reupholstering a chair can cost you anywhere from $50 to $3,500 or more depending on multiple factors. One of the biggest elements that dictates the price is the style of chair you want to reupholster.
In the following chart, the lower end of the cost range reflects more basic jobs, smaller items, and mid-range fabrics. The more involved your furniture piece is and things like premium fabrics will push your total higher.
Here is a look at the price range for reupholstering some of the more popular chair styles:
| | | |
| --- | --- | --- |
| Style of Chair | Price Range for DIY | Price Range for Professional |
| Wingback | $150-$500+ | $750 – $1750+ |
| Dining Chair | $25-$260+ | $100-$450+ (depending on if it has a fabric back) |
| Channel Back Chair | $175-$525+ | $300-$1,000+ (depending on the number of channels) |
| Barrel or Tub Chair | $125-$225+ | $400-$800+ |
| Slipper Chair | $50-$150+ | $300-$550+ |
| Recliner | $175-$400+ | $500-$1,500+ |
| Parsons Chair | $50-$200+ | $150-$500+ |
| Club Chair | $125-$225+ | $400-$800+ |
| Skirted Club Chair | $175-$325+ | $700-$1,200+ |
| Office Chair | $50-$150+ | $200-$700+ |
Cost to Reupholster a Chair by Material
The fabric you choose for your reupholstery job also plays a large role in determining the project cost.Material costs range from as little as $10 to as much as $100 per yard, depending on the type. Generally speaking, materials made of natural fibers are more expensive than synthetic.
Most mid-range upholstery fabrics run between $25 and $75 per yard. Surprisingly, even some more seemingly high-end fabrics, like leather, also fall within this range.
Leather typically costs roughly $45 to $55 per yard. However, if you start looking at more premium or custom fabrics, you could easily pay anywhere from $80 to $100 or more per yard!
| | | |
| --- | --- | --- |
| Fabric Type | Natural or Synthetic | Cost per Yard (materials only) |
| Nylon | Synthetic | $10 to $15 |
| Faux Leather | Synthetic | $10 to $15 |
| Crypton | Synthetic | $10 to 35 |
| Cotton | Natural | $15 to $20 |
| Linen Blend | Natural | $18 to $25 |
| Faux Suede | Synthetic | $20 to $25 |
| Polyester | Synthetic | $20 to $45 |
| Mohair | Natural | $20 to $80 |
| Olefin | Synthetic | $25 to $30 |
| Linen | Natural | $25 to $35 |
| Denim | Natural | $25 to $35 |
| Chenille | Synthetic | $35 to $55 |
| Bamboo | Natural | $30 to $50 |
| Twill | Synthetic | $30 to $55 |
| Cotton Blend | Natural/ Synthetic | $30 to $55 |
| Suede | Natural | $35 to $40 |
| Sunbrella | Synthetic | $35 to $55 |
| Leather | Natural | $45 to $55 |
| Rayon | Synthetic | $45 to $90 |
| Acrylic | Synthetic | $50 to $80 |
| Velvet | Synthetic | $55 to $65 |
| Silk | Natural | $60 to $70 |
| Wool | Natural | $80 to $100 |
Therefore, weigh your fabric options carefully as it will be a major portion of your overall cost,
Cost of Extra Features
Don't forget to take into account any unique features of your chair. For example, does the chair include detailed piping, nailhead trim, or any other type of special elements? If so, you can count on spending quite a bit more, especially if you use a pro.
Unique elements can add up, especially if your chair has multiple special features. For example, if the back of your chair features a single button tuft, you may spend about $50 extra. However, if it features a 9-point diamond-tuft pattern, you can expect to spend closer to $500 or more.
| | |
| --- | --- |
| Extra Feature | Average Cost Range |
| Throw Pillow/Cushion | $20-$40+/each |
| Attached Seat or Back Cushions | $30-$70+/each |
| Piping/Cording/Welting | $200-$700+ |
| Tufting | $100-$550+ |
| Nailhead Trim | $150-$550+ |
| Filling for Cushions | $50-$200+/per cushion |
| Channel Back | $7-$15+/per channel |
| Button Designs | $3-$10+/per button |
| Cushion Set for a Wooden Rocking Chair | $80-$130+ |
| Tailored Skirt | $60-$150+ |
If your chair features an involved design, even if you do it yourself, remember the time it will cost you. You could spend 14 hours (and that's if you worked nonstop and know what you're doing) recovering your chair.
However, if you take it to a pro, you might have to wait a few weeks. Even though a pro can do the job swiftly, don't forget they likely has multiple projects lined up before yours.
Professional Reupholstery vs. DIY Reupholstery
As mentioned above, the style of the chair is one of the biggest factors to consider when contemplating reupholstery. The second most significant factor is if you will do the job yourself, or if you will hire a professional service. Whether you decide to tackle your reupholstery job yourself or call in a pro depends on a few things. Mainly, consider your skill level, the difficulty of the job, and how much time you're willing to spend on the project.
There is no reason why you can't attempt to reupholster a chair yourself. In fact, if you're simply recovering a chair seat, you can knock it out in a short period of time. This requires little expert skill, so it probably makes more sense to do it yourself anyways.
On the other hand, if you're recovering a large, wingback chair or recliner, you need some more experience. This project also takes more time, so depending on your situation, it might be worth using a professional service. If you reupholster your piece yourself, you only need to spend money on fabric and supplies. On the other hand, if you go with a pro, you'll pay for supplies and labor.
Cost of Professional Upholstery
Labor alone can cost between $40 to $100 an hour. Though, if your project calls for any unique work, then you'll have additional costs. You'll also want to consider costs associated with pick-up, delivery, or in-home service calls. If you opt for a company to pick up and deliver your item once it is done, it can cost you an extra $100-$300. In-home service calls can vary in price and may only be available for certain services.
You should always try to obtain extra estimates from upholstery professionals. Estimates will give you an idea of what the cost will be and what services each company offers. It will also help you understand that different options available to you so you can find a reputable company that offers the services you need.
Recovering vs. Reupholstering
While reupholstering furniture involves the full teardown of the piece, including removing all the fabric, padding, and the support systems, recovering is very different. Recovering a chair or other piece of furniture is the process of just removing the old fabric and replacing it with new fabric. This process leaves the old padding and does nothing else, while reupholstering essentially results in an entirely new piece of furniture.
Using a slipcover is another option for refreshing a chair. Slipcovers are a protective layer of fabric that fits over a piece of upholstered furniture. You can easily remove slipcovers for washing or swapping out for another style.
Do You Need Furniture Reupholstery Services?
Get free, zero-commitment quotes from pro contractors near you.
---
Related Questions
How much does it cost to reupholster an ottoman?
The average cost to reupholster an ottoman is between $300 and $500 if you use mid-range fabrics. If the ottoman features premium fabrics, a skirt, diamond-tufting, or nailhead trim it can cost closer to $1,000. Opting for hand-crafted diamond tufting can cost you an extra $150 or more for additional labor. If the chair your want to reupholster comes with a matching ottoman, then this is a big consideration. You'll need to recover both pieces if you want them to stay a matching set. If you do this, your final price can quickly surpass the cost of new pieces.
Where do you go to get a chair reupholstered professionally?
You can have your chair reupholstered professionally at a furniture re-upholstery shop. These are specialty stores that work with a variety of furniture styles. Depending on your specific project, you might want to look for a business that offers more specific services.For example, some re-upholstery shops can specialize in oversized pieces, while others are known for working with intricate designs.A final tip: if you decide to reupholster your chair, ensure you are 100% satisfied with the fabric you choose. You don't want to go through all that work and money only to be underwhelmed by the final product! 

Stacy Randall
Stacy Randall is a wife, mother, and freelance writer from NOLA that has always had a love for DIY projects, home organization, and making spaces beautiful. Together with her husband, she has been spending the last several years lovingly renovating her grandparent's former home, making it their own and learning a lot about life along the way.
More by Stacy Randall
Published September 28th, 2020 5:01 PM