10 Views
How Much Does Bamboo Flooring Cost?
August 26th, 2021 6:33 PM
Share
We're committed to finding, researching, and recommending the best products. We earn commissions from purchases you make using links in our articles. Learn more here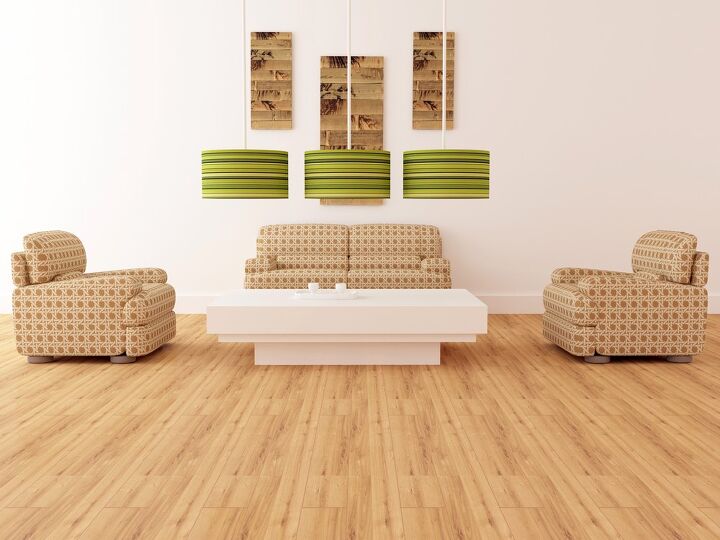 Choosing the right flooring material is tough when there are so many impressive options. One flooring material that will never go out of style is bamboo, and it's as popular as ever. Bamboo flooring affords homeowners gorgeous floors at a low cost, but just how low?
Bamboo flooring installation costs $1,600 for the average homeowner. It costs an average of $450 to remove and dispose of old flooring, and $4.50 per square foot to install new bamboo flooring. You can spend an extra $600 if you stain your bamboo floors at $3 per square foot.
There are several types of bamboo flooring with their own unique benefits. There may be a wealth of variables, but you can choose the right bamboo flooring for your home. Let's take a look at everything that factors into the total cost of bamboo flooring, and what matters most.
Do You Need to Hire a Flooring Contractor?
Get free, zero-commitment quotes from pro contractors near you.
Bamboo Flooring Price
Bamboo can cost $3.50-$7.00 per square foot, but it varies between suppliers. That is without the cost of labor, which can cost between $4 and $5 per square foot. There are additional costs, such as sealant and finishes, that are optional and affect the price.
Many homeowners that are put off by the $2,500-$7,000 that wood flooring can cost choose bamboo instead. Bamboo flooring is not quite as durable or valuable as hardwood, but it's at the very least more water-resistant.
If you hire a professional, 200 square feet of bamboo flooring can cost between $1,500 and $1,700. Total cost depends on a variety of factors, and if you have to remove old flooring, it can get pricey.
Cost To Remove Flooring
It costs roughly $2-$4.40 per square foot to remove flooring. If you need to remove flooring before bamboo installation, it adds between $100 and $800. It usually costs closer to the lower end, but costs for hauling and disposing of old flooring can make it expensive.
You may have to spend between $30 and $40 for disposal costs. On average, most floor removal jobs take 1-3 days, but it depends on how many square feet of flooring is being removed. Small projects can take as little as 1 day, and that is how you can spend $100-$200 for removal.
Sometimes, flooring disposal costs are simply included in the removal costs.
Bamboo Flooring Installation
As you can expect, installation is a big part of the cost of bamboo flooring. There are many variables that factor into installation, but the $4-$5 per square foot labor cost is a big one.
More so than anything, the size of the room that you are installing floors in determines the cost.
| | | | |
| --- | --- | --- | --- |
| Floor Dimensions | Material Cost | Labor & Installation Cost | Total Cost |
| 75 Square Feet | $262-$525 | $300-$375 | $562-$900 |
| 150 Square Feet | $525-$1,050 | $600-$750 | $1,125-$1,800 |
| 200 Square Feet | $700-$1,400 | $800-$1,000 | $1,500-$2,400 |
| 300 Square Feet | $1,050-$2,100 | $1,200-$1,500 | $2,250-$3,600 |
| 350 Square Feet | $1,225-$2,450 | $1,400-$1,750 | $2,625-$4,200 |
| 500 Square Feet | $1,750-$3,500 | $2,000-$2,500 | $3,750-$6,000 |
You typically spend between $262 and $3,500 or more for materials alone, depending on the size of the room. Besides materials, labor and installation are the only other necessary cost factors. There are other optional cost factors, such as sealing and staining, that many builder-owners choose.
Types of Bamboo Flooring
There are several types of bamboo flooring, and that doesn't make the decision any easier. Luckily, if you know a little about them, you can make the right choice for your home.
Classic Bamboo Flooring
Classic and simple are sought after in modern homes. A fine example of that is the stylish and simple choice of classic bamboo flooring. For roughly $2-$4 per square foot in materials, you can find classic and durable bamboo.
The main draw to classic bamboo flooring is the earthy and natural vibe it creates. Classic bamboo flooring is eye-catching, and there are countless options. You can choose between gorgeous browns, reds, grays, and more for classic bamboo flooring.
Typically, classic bamboo flooring is tongue and groove with a classic look. It is a great and cost-effective alternative to spending a fortune on rustic hardwood, which can cost up to $14 per square foot. Re-finish your classic hardwood once every 1-2 years to keep it looking great.
Click Lock Bamboo
Click lock bamboo is one of the most common bamboo flooring options available. The first thing you'll notice about click lock bamboo is literally just how hard it is. Hardwood is known to be harder than bamboo but click lock bamboo certainly makes a case for itself.
Vendors such as Home Depot sell click lock bamboo for $1.99-$4.99. Solid bamboo runs through the length of a segment of click lock flooring. You can refinish click lock bamboo 4-5 times, and that lets you get many years out of it.
However, if you live somewhere with year-round humidity or dryness, click lock bamboo is a bad choice. That is because click lock bamboo swells and shrinks easily. If you live somewhere arid, click lock bamboo can shrink, and if you live somewhere humid, and it can buckle.
Tongue and Groove Bamboo Flooring
Tongue and groove bamboo flooring is classic. You can choose between solid strand and engineered strand tongue and groove bamboo flooring. Solid strand tongue and groove bamboo costs up to $4 per square foot for materials alone.
Engineered strand tongue and groove bamboo is slightly less, at $2.99 per square foot from Home Depot. Tongue and groove flooring is popular to do its appearance and durability. If you have floating floors, tongue and groove bamboo flooring is the perfect choice.
Staining Bamboo Floors
Bamboo looks the best that it can when it is stained and distinguished. Many builder-owners choose to stain their bamboo floors, and it adds character. Staining can cost up to $3 per square foot, and that does not include sealant.
Before a professional will stain bamboo, they often apply sealant to it first. You can find floor sealant for between $26 and $64 from brands like Thompson's WaterSeal and Safe Choice. Most builder-owners and professionals use 1-2 coats of sealant before staining bamboo floors.
If you wanted to save money and take on some of the work yourself, sealing and staining is fairly simple. The other aspects of bamboo flooring are best handled by a professional. However, if you want to save up to $600 or more, you could seal and stain your own floors.
Bamboo Flooring Underlayment
Underlayment is something that no builder-owner should overlook with bamboo flooring. An underlayment acts as a cushion for the flooring material, i.e. bamboo, that both protects and extends its shelf life. Insulating underlayment protects bamboo from swelling and buckling, and it lasts for 10-20 years.
If your bamboo floor is going to be installed right above concrete, you need underlayment. Even if your concrete base is level, underlayment creates a stable and even base for bamboo flooring. As long as you steer clear of plywood underlayment, you can enjoy the benefits of added water resistance and support.
Cost of Foam Underlayment
Foam underlayment is one of the most popular choices, and it is cost-effective. It costs between $3 and $4 per square foot for labor, materials, and supplies for foam underlayment installation. Installing foam underlayment for a 200 square foot room could cost $600-$800, but you can find better deals by asking around.
Felt Underlayment Cost
Another popular underlayment material for bamboo flooring is felt. Felt underlayment is light, yet durable, and costs up to $1.30 per square foot. It is without a doubt the most cost-effective underlayment material, and only adds another $3-$4 per square foot for installation.
Rubber Underlayment Cost
It costs $4-$12 per square foot for rubber underlayment, and that includes installation. Rubber underlayment is known to provide excellent acoustic insulation, and it can help with privacy. It is one of the denser underlayment materials, and that is part of why it is so strong and long-lasting.
| | | |
| --- | --- | --- |
| Flooring Underlayment | Material & Installation Cost | 150 Square Foot Floor |
| Foam | $3-$4 Per Square Foot | $450-$600 |
| Felt | $4.30-$5.30 Per Square Foot | $645-$795 |
| Rubber | $4-$12 Per Square Foot | $600-$1,800 |
How Long Does Bamboo Flooring Need To Acclimate?
It is recommended that your new bamboo floors have a full 3 days of acclimation. During those 3 days, the new bamboo flooring will be exposed to air circulation as it acclimates to your home.
If you do not allow the bamboo to acclimate, it can cause problems. The biggest concern is that wood will either warp, buckle, or shrink before it is acclimated to the humidity. Leaving bamboo flooring undisturbed gets it accustomed to the general interior humidity at your house.
Failure to allow bamboo to acclimate violates most warranties. Because of that, it is hard to justify not waiting for the 3 day period. If your bamboo flooring is brand new and it is warped or cupping, it was insufficiently acclimated, most likely.
Is Bamboo Eco Friendly?
Yes, bamboo is eco-friendly, due to how sustainable and plentiful it is. Many believe that bamboo is a type of wood, and while it resembles wood, it is not. Bamboo is actually in the grass family, but its texture and appearance certainly make it seem like wood.
In just one day's time, bamboo can grow by 2 feet if well-nourished and taken care of. It also helps bamboo's eco-friendly case that bamboo products last so long. Even before processing, bamboo is naturally resistant to both rotting, and pest infestation.
Bamboo is also reusable, but it is not biodegradable. Many builders are able to take advantage and reuse old bamboo flooring for future projects, contributing to it being eco-friendly.
Is Bamboo Flooring Good For Resale Value?
Bamboo flooring is good for resale value, but not quite as good as hardwood floors are. There are several reasons for this, such as the longevity of hardwood versus bamboo flooring. Hardwood floors can last up to 100 years if they are well maintained and avoid trauma.
You can expect your bamboo floors to last between 10 and 50 years, but many factors affect lifespan. If your bamboo flooring experiences excess moisture or physical wear and tear, it will last closer to 10-20 years, and that's not enough to bring its value up to hardwoods.
Another key factor is that hardwood flooring simply costs more than bamboo, at $5-$13 per square foot. Bamboo, however, costs $3.50-$4.00 per square foot, on average, or up to $7 per square foot on the high end. Hardwood floors have an up to 80% return on investment, and is the better option is bolstering value is your goal.
Bamboo Flooring Benefits and Disadvantages
Bamboo flooring is an excellent choice, but as with anything, it has its benefits and disadvantages. It should be noted that even with some of the disadvantages to bamboo, it is still among the best flooring options.
Benefits of Bamboo Flooring
Perhaps the biggest benefit to bamboo is its relative cheapness compared to hardwood. Hardwood and bamboo are similar in appearance often, but hardwood costs $1.50-$6.00 more per square foot.
Besides affordability, the simple installation of bamboo flooring is a huge plus. Not only does it save you time, but it saves you money, even if a pro does it. In fact, some bamboo flooring options include sealants and stains, so you don't need to worry about extra cost or complications.
If you buy bamboo flooring or hire a service that includes sealant, you can save $3 for every square foot of bamboo. And finally, bamboo is great for handling spills and moisture. Granted, too much humidity can cause swelling and buckling, but bamboo handles moisture better than hardwood.
Bamboo Flooring Problems
There are problems with bamboo flooring as well, and it starts with the limitations. While it is moisture resistant, bamboo flooring can be a nightmare in humid climates. Constant humidity will gradually make the bamboo swell until it possibly buckles.
This is similar to how dryness affects wood and other materials negatively, and it is limiting if you live somewhere moist. Bamboo floors are also somewhat less scratch-resistant than hardwood is. However, bamboo flooring is still exceptionally durable, and a great option.
It is also worth noting that the darker your bamboo floors are, the less tough they are. Dark bamboo can be quite attractive, and much cheaper than dark hardwood. However, the process of darkening bamboo weakens it, making it less durable for flooring installations.
---
Related Questions
Do bamboo floors need to be sealed?
You could get by without sealing it, but bamboo floors benefit from sealant. The sheen and vibrancy that bamboo floors have at first can be sustained with proper sealing. It is recommended that you re-seal the bamboo floors at least once a year to maintain its best appearance.
Why do bamboo floors buckle?
Bamboo floors can buckle if your home and climate is quite humid. Humidity can cause wood of any kind to buckle, but bamboo in particular is sensitive to humidity. Standard hardwood flooring is less likely to buckle or shrink than bamboo floors are.
Will termites eat bamboo flooring?
Yes, termites can in fact eat bamboo flooring, contrary to popular belief. It is not necessarily strictly wood that termites are attracted to, but cellulose. Bamboo contains cellulose, so if you termites make their way into your home, they may be attracted to your bamboo flooring.
Do bamboo floors scratch easily?
Bamboo floors can scratch, but they are less likely to than hardwood, which is one of its benefits. They are also somewhat water resistant but standing water or large spills can do damage. Excess friction, impact, or water can cause scratching and damage to bamboo floors.
Are bamboo floors toxic?
Bamboo floors excrete carcinogenic gases, and they are not healthy. It can decrease the air quality and cause unfavorable side effects, such as headaches, for some homeowners. However, if you specifically look for bamboo floors that contain zero formaldehyde, it will be healthier.
Can bamboo flooring be used in a bathroom?
Technically, they can be, but bamboo flooring will not thrive in a bathroom. The problem is that bathrooms are confined spaces and a high potential for humidity. Taking a shower creates quite a lot of humidity, and it could eventually cause warping and buckling.
Do You Need to Hire a Flooring Contractor?
Get free, zero-commitment quotes from pro contractors near you.
What Did We Learn?
It costs $1,500-$1,700 to install bamboo flooring, in many cases. The cost is primarily determined by labor, as well as material relative to the size of the house. Bamboo flooring is often priced at between $3.50 and $7.00 per square foot.
Labor can be costly, of course, and many professionals charge $4-$5 per square foot for installation. There are several types of bamboo flooring, such as classic tongue and groove, or click lock bamboo. It is a good idea to pay for a stain and sealant, and it can cost $3 per square foot, and up to $60 for a gallon of sealant.
The biggest thing to keep in mind is that bamboo thrives best if you have consistent humidity. Avoid swelling by regulating humidity, and shrinkage by not allowing it to get dry. Bamboo floors are worth it for the style, look, value, and eco-friendly nature.

Nick Durante
Nick Durante is a professional writer with a primary focus on home improvement. When he is not writing about home improvement or taking on projects around the house, he likes to read and create art. He is always looking towards the newest trends in home improvement.
More by Nick Durante
Published October 8th, 2020 11:47 PM