108 Views
How Much Does An Endless Pool Cost?
October 24th, 2021 5:44 AM
Share
We're committed to finding, researching, and recommending the best products. We earn commissions from purchases you make using links in our articles. Learn more here
Endless pools are unique and create a luxurious, leisurely, and comfortable vibe like none other at a high cost. Homeowners generally spend a minimum of $28,000 to install an endless pool. Whether it be labor rates, materials, or dimensions, let's look at the factors that determine how much you'll spend to install an endless pool.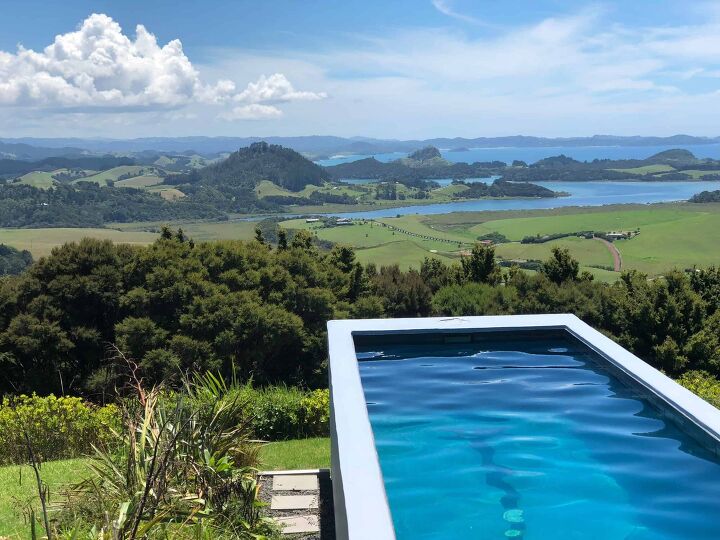 Endless pools or swim spas have gained quite some popularities in recent years. Naturally, homeowners begin to ask the question about pricing. How much does an endless pool cost?
An endless pool will cost you, on average, between $28,000 and $50,000 not including the cost of maintenance. With just maintenance fees alone, you are looking at anywhere from $375 to $2,750. Of course, the price for the pool itself, and the maintenance of the pool depends on its size.
This article will go through why an endless pool is a better choice than a regular pool in the long run. We will also cover everything you need to know regarding the cost of purchasing, installing, and upkeep an endless pool.
Do You Need Central A/C Service or Repair?
Get free, zero-commitment quotes from pro contractors near you.
What Is an Endless Pool?
The name of Endless Pool became popular because of the famous manufacturer of the same name.
Technically, an endless pool is a swim spa. It imitates the current and allows continued swimming without the need to build a large pool with laps.
Endless Pools Vs. Regular Pools
Endless pools bring endless possibilities. Unlike traditional pools, endless pools or swim spas allow more activities in a much smaller space. Its infinite current makes swimming and water fun possible for homes without enough space to build a full-sized pool.
In general, endless pools are much safer for children and seniors compared to traditional pools. They are also more affordable than conventional inground pools and saltwater pools.
We created a more detailed comparison table below for your reference:
Endless Pools vs. Regular Inground Pools
| | | |
| --- | --- | --- |
| | Endless Pools | Regular Pools |
| Cost | $9,000 to $50,000 | Easily goes above $68,000 |
| Construction | It requires less space and is more flexible. Allows swimming in a smaller room with simulated currents. | It requires a large area to allow more activities. |
| Accessories | It has a wide variety of accessories available. Endless pools can also connect to smartphones. | Accessories are limited |
| Accessibility | Safer for children and senior as it is smaller and can install accessibility accessories | Riskier for children and seniors because traditional pools are typically much more extensive. |
| Maintenance | Easy to maintain. It can be protected from extreme weather with a simple cover. | It requires heavy maintenance like sandblasting and surface restoration. More vulnerable to weather. |
| Environment | Uses much less water. | High water waste. |
The Benefits of Owning an Endless Pool
There are many benefits on top of the cost-efficiency, only an endless pool or a swim spa can bring.
For example, endless pools provide unlimited swimming possibilities. You don't need to worry about the lap length because the simulated currents will hold you steady. You will feel like you are swimming in the lake.
Besides:
Endless pools can be useful in aquatic therapy and physical rehab. When you are in the water, your joints receive less stress due to buoyancy. Therefore, a swim spa allows some people, such as seniors, to practice movements and keep their muscles active.
Endless pools are perfect for teaching children to swim. The simulation currents can be controlled by a parent easily. Thus endless pools provide a safe, hazardless training environment for your kids to learn swimming.
Overall, endless pools harmlessly strengthen your body. In other words, endless pools are workout machines in the shape of a private swimming pool.
Endless Pool Cost by Brands
As mentioned above, homeowners often think endless pools and swim spas are the same since the best swim spa manufacturer is called Endless Pool.
Costs could vary quite significantly depending on what brand you are purchasing. A detailed comparison is listed below:
Endless Pool Cost by Brands
Lower Price Tier
Manufacturers
Pros & Cons
$5,000 – $7,000
Mostly made in China
Pros: affordability

Cons: lack of after-sale service, no quality guarantee, high shipping fee, and may get damaged during the shipment

$15,000 – $25,000
Endless pool and other smaller brands
Pros: Standard quality, cost-effective

Cons: Only the basic Endless Pool model fits in this price range. Smaller brands may not have the same level of warranty and customer services.

$30,000 – $50,000
Endless Pool
Pros: Newer models with more accessories and functionalities.

Cons: Higher price
Going with a smaller brand might save you some money upon first glance. However, smaller brands usually have different warranty coverage. You may also have difficulties communicating with customer service.
The Industry Leader: Endless Pool
As the leader of the swim spa industry, Endless Pool has the best models, most innovative products, and most comprehensive accessories.
Endless pool also has a FitHome App that connects your smartphone with the swim spa to track your workout progress. If you need help with installation, maintenance, and repair, their extensive customer service team is ready to help.
Besides, Endless Pool has a certified team of technicians to handle installations for you from the beginning to the end.
Alternative Swim Spa Brands
If you are looking for more affordable, yet still quality alternatives, there are a few other brands available in the market.
SwimEx: SwimEx has a variety of essential swim spas at affordable prices. Some of their models come with propellers and pedals. However, additional underwater accessories are quite expensive at SwimEx.
Hydropool: Hydropool is known for its customizability. Some of their designs can fit into smaller spaces. Therefore, their swim spas are more applicable than other brands.
Arctic Spa: Arctic Spa is the most affordable spas in the market, not because it costs less upfront, but because it has the lowest operational cost. Their spas also are compatible with smartphones.
Endless Pool Installation Cost
The endless pool has a list of certified technicians who can help you with the installation. Their collections are compact and straightforward, so you can potentially handle the building independently.
If you decide to use one of the designated technicians, you may be looking at $28,000 to $50,000. If you are going to hire a separate contractor, then your cost will vary depending on your local contractor's standard hourly rates.
In general, endless pools cost a lot less to install than traditional inground pools, especially fiberglass pools. They are also a lot easier to install and cheaper to maintain in the long run.
The Secret to Cost Control
Like everything else, there are tricks to save on endless pools and the installation. As a general rule, always simplify and look for things that are existing to incorporate into your endless pool project.
The following tips should help you save quite a bit on endless pool installations:
Use an existing site: The pool components fit through a standard-size door and staircase easily.
If you have a spare room available as the pool room, why not use that? There is no need to dig and build. Ultimately, you only need a space to assemble the pool and run it.
Go in-ground to above-ground: In-ground pools are known to have more expensive installations. On the other hand, above-ground pools require less digging, plumbing, and electrical works.
Use standard finish: the standard finish is the most affordable option compared to fancier options. Instead of spending more on the final touches, how about increasing your budget for a new swimsuit?
Long-Term Savings: One of the biggest concerns with any swim spa is the operational cost. If you are running the spa regularly, you'd want to save for the long run.
Most pools can last ten years and above. Small price differences can quickly build into more considerable sums. Think about how you can be more efficient with heat, water, and energy spent. The difference will show.
DIY the installation: Honestly, it's not that difficult to install an endless pool. It's kind of similar to putting together giant lego bricks. If you are somewhat handy, the installation could be done without professional help.
Upgrade Your Game: Best Endless Pool Accessories
As we said before, endless pools bring endless possibilities. These possibilities reach the next level with matching accessories. In general, there are four types of accessories:
Water fitness and workout equipment
Maintenance and protection
Visual and decoration
Accessibility improvements
Keep in mind a default endless pool doesn't come with any accessories. When calculating your endless pool cost, always keep in mind the prices of additional accessories.
Aqua Bikes
Aqua bikes are one of the most famous underwater workout equipment. They can hold up to 330 lbs and have a modern, minimalist aluminum frame. The legs, handlebars, and seats are all adjustable.
Most aqua bikes cost between $700 to $1,350. Medical-grade aqua bikes used for physiotherapy could easily reach $2,000 or higher in cost.
Pool and Spa Covers
If your endless pool is placed outdoor, then a pool or spa cover will be a good option to help with winter upkeep. A cover saves you from cleaning the pool up. It also protects the interiors from extreme weather.
A drill or manual pool cover falls between $5,000 to $8,000. If you are looking for automated covers, then the price could go up to $8,000 to $10,000.
However, a pool or spa cover can significantly extend your endless pool's lifespan. Therefore, covers are worthy investments, especially if you have a later model swim spa.
Underwater Mirrors
When you have a smaller pool, underwater mirrors help create a spacier visual. Professional swimmers also use swim mirrors to adjust their postures and check their speed.
Most endless pool mirrors are made with stainless steel.
Accessibility Tools
Have a senior or children at home? Or maybe a member requiring special assistance? Luckily, endless pools also come with accessibility tools.
Some of the popular options include:
Handrails and grabs for in-ground pools or basic exercises
Interior stairs, or risers
Exterior stairs for taller or above-the-ground pools
What Happens Now? Running, Maintenance & Repair Costs for Endless Pools
Now that you've purchased and installed your dream pool, it's time to look at long-term costs, including operation, maintenance, and repair.
On average, an endless pool costs $2,500 to $5,000 in terms of basic maintenance, whereas repair costs vary according to your residential area. The operation cost is no more than the price for running a hot tub, which is far more affordable than regular pools.
Operational Cost for Endless Pools
In general, endless pools can cost as low as $1 per day or $23 per month with regular use when it comes to energy. The water and heating costs will vary according to the model you have.
Many endless pool owners, however, have stated clearly that the heating and energy saving of an endless pool is significant compared to how much a regular pool would cost.
Plus, you can run an endless pool without any issues throughout the winter.
How Much Does Endless Pool Maintenance Cost
The general endless pool maintenance cost is between $200 – $800. You can also conduct most basic pool maintenance by yourself.
On the other hand, mechanic maintenance and accessory upkeep could be slightly more expensive and will require a certified professional to complete. The price will vary according to the hourly rate in your area.
Endless Pool Repair Cost
If the repair doesn't include mechanical repair, meaning only the interior or exterior of the pool needs a fixup, the national average cost is $223 to $991.
However, if one of the accessories breaks down, or if the current mechanism needs repair, the price could quickly go up to thousands of dollars. You will find out the exact number after giving your manufacturer customer service a call.
Creativity Beats it All: DIY an Endless Pool
Creativity always comes into play. If you have an existing pool at home, why not try to DIY an endless pool?
A few things you will need for the project and their prices are listed below.
Cost of DIY Endless Pool Materials
| | | |
| --- | --- | --- |
| | Cost (Low) | Cost (High) |
| Regular Pool (18-ft round by 52-inches deep) | $1,000 | $2,500 |
| Water pump | $300 | $1,200 |
| Heating System | $300 | $5,000 |
| Elastic Swim Cord | $25 | $180 |
A water pump to keep the pool clean. You can choose a medium speed, dual speed, variable speed, or high-head submersible pump for your DIY swim spa.
A heating system if you are expecting to use the pool in winter times
A swim cord around your ankle or the waist to create the endless effect without a current-generating mechanism
And a fixing point for the resistance elastic.
Pros and Cons
Compared to a genuine endless pool, the DIY one has more restrictions. You clearly cannot plug in any underwater workout equipment. Depending on the pool you built the endless system in, your movements may be restricted as well.
Nonetheless, a DIY endless pool is more than sufficient if you are not going for professional training. For example, it will be a perfect surprise for your kids who would love some water fun.
Do You Need Central A/C Service or Repair?
Get free, zero-commitment quotes from pro contractors near you.
---
Related Questions
What type of maintenance does an endless pool need?
An endless pool needs the same type of basic maintenance as any swimming pool: cleaning, surface restoration, disinfection, etc. On top of that, mechanism inspection is required on a regular basis to keep your swim fun and safe.If you purchased accessories such as workout equipment, check with the product manual or manufacturer regarding maintenance.You can also handle the most basic maintenance by yourself.
How often should I change the pool water?
Same as a hot tub, it's best to change the water every three months. If you use your pool more frequently, then you may want to change the water every one to one-and-a-half months.Also, you will want to change your water more frequently if you don't have a water pump with your swim spa system. Using disinfectant in pumpless pools allows your water to last a bit longer, but is harmful to your skin and body.
How many people can get in the pool at the same time?
That depends on how large your pool is and who we are talking about.It's typically safe for an adult and a child to get into the pool at the same time. However, you'll need a larger model for multiple adults to be in at the same time.Therefore, an excellent way to save on endless pool costs is by creating a pool schedule. If each adult gets into the pool at a different time, then you can save a lot by purchasing a smaller model.
Are there any additional costs associated with having an endless pool?
Check with your HOA. Some areas may charge an additional fee to allow the construction of a pool. You will also need the relevant permits for the utility required for your pool.An electrical permit often costs from $25 to $50, and other licenses are usually between $75 to $150.You may also want to hire someone to draw a design plan before starting on the endless pool project and have it approved by an engineer.
Related Guides

Xiao Faria Da Cunha
With a deep passion for content and creative writing, Xiao Faria da Cunha finds a strong sense of accomplishment in creating quality home guides that resonate with homeowners. When not writing, you can find Xiao creating art masterpieces.
More by Xiao Faria Da Cunha
Published September 16th, 2020 10:36 AM