15 Views
How Much Does a Plunge Pool Cost?
March 4th, 2022 9:07 AM
Share
We're committed to finding, researching, and recommending the best products. We earn commissions from purchases you make using links in our articles. Learn more here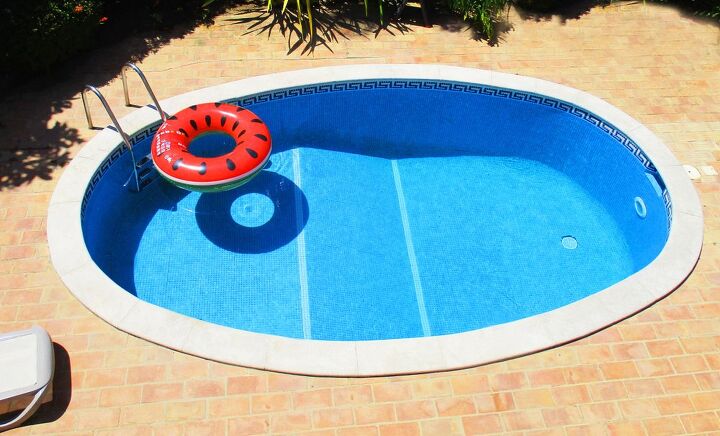 Many homeowners dream of someday building a swimming pool, but it's not always an option. Whether it's due to cost or a lack of space, building a new pool may simply not be feasible for them. Before you give up on your dream of having a pool at home, you should first consider installing a plunge pool.
Plunge or dipping pools are great alternatives to traditional pools because they only take up a small amount of space. They are also cheaper to build because the material requirements and labor costs are lower. You can get a great return for your relatively modest investment if you're looking to build a plunge pool.
The average plunge pool will cost $20,000 to install, which includes the material and labor cost. Material for above-ground plunge pools costs about $13,000 and $17,000 for in-ground pools. Labor costs between $1,000 and $10,000, depending on your pool size and your location. Concrete, fiberglass, and vinyl plunge pools cost cost about $19,000, $13,000, and $12,000 respectively. Permits required will cost an additional $1,100.
A big backyard is not a prerequisite for having a swimming pool because you can opt for a plunge pool instead. Learn more about all the factors that contribute to the cost of building a plunge pool by reading on.
Do You a Need Pool, Spa, or Hot Tub Contractor?
Get free, zero-commitment quotes from pro contractors near you.
Cost of Plunge Pool by Type
| | | |
| --- | --- | --- |
| Estimate Type | Material Cost for Above-Ground Plunge Pool | Material Cost for In-Ground Plunge Pool |
| Low-End Estimate | $3,000 | $10,000 |
| Mid-Range Estimate | $13,000 | $17,000 |
| High-End Estimate | $20,000 | $22,000 |
Having a swimming pool that only you and your family use is such a nice treat. You can take a dip whenever you want because it's your pool. On top of that, you also don't have to worry about bothering other people while you're having fun in the water.
Your small yard may have prevented you from installing a traditional pool, but you still have options. The plunge pool is a terrific alternative and it could even fit your household better.
Similar to conventional pools, plunge pools fall into two major categories. Those are the above-ground plunge pools and the in-ground plunge pools. Let's start by discussing the above-ground plunge pools in greater detail.
Above-Ground Plunge Pools
Above-ground plunge pools are more affordable than their in-ground counterparts. On average, you will have to pay approximately $13,000 to build an above-ground plunge pool.
You'll quickly discover that above-ground pools are more accessible. The kits are available from various suppliers and DIY installation is possible as long as you have some basic tools. You can also save yourself the trouble and enlist professional assistance to build your above-ground plunge pool.
The main drawback to an above-ground plunge pool is that they're often quite shallow. They have to be because they wouldn't be stable otherwise.
Homeowners also have the option of purchasing customized above-ground plunge pools. Those are made by designers and they use a mold and concrete to create the final product. Customized above-ground plunge pools are more expensive than the readily available kits.
In-Ground Plunge Pools
In-ground plunge pools are available for around $17,000. They are significantly more expensive, but you can also argue that they're better than the above-ground options.
You don't have to worry about stability when it comes to in-ground dipping pools. They can also go deeper assuming that you don't have a bunch of supply lines buried in your yard.
Unlike above-ground plunge pools, a DIY installation is no longer an option if you're building an in-ground pool. The in-ground pool must be installed by a professional or else it may be deemed unsafe to use. Hiring professional installers is also important because you need to carve out space for the plunge pool.
In-ground pools are also better to build if you want to showcase your outdoor landscape. They won't block any of your outdoor fixtures so it's easy to integrate them into your desired design scheme.
Cost of Plunge Pool by Material
| | |
| --- | --- |
| Material Used | Cost |
| Concrete | $19,000 |
| Fiberglass | $13,000 |
| Vinyl | $12,000 |
The material makeup of your plunge pool is important in numerous ways. For instance, the material you choose makes a big difference in terms of longevity. Some materials are more durable than others so plunge pools made from them have better odds of remaining fixtures on your property.
You should also consider the appearance of your plunge pool when deciding on the material to use. Concrete allows you to play around a bit when it comes to the design of your plunge pool. That's no longer an option if you're using the other materials.
Maintenance requirements also differ from one material option to the next. Remember that because you may not want to keep up with a rigorous maintenance schedule.
Don't forget about how your choice of material also affects the price tag of your new plunge pool. Choose wisely so you don't end up splurging unintentionally.
Concrete Plunge Pools
Let's start with concrete plunge pools. They are the most expensive options as they cost around $19,000 each.
So, what are you getting in exchange for that investment? Concrete dipping pools are popular because of their durability and their customizable appearance.
Concrete pools easily outlast the other options. They can last for up to 50 years as long they are maintained properly. Proper maintenance for concrete pools involves frequent scrubbing and acid washing after every few years.
As we touched on earlier, concrete pools can also be molded by designers into specific shapes. If you have a specific look in mind for your plunge pool, you may need to make it out of concrete.
Fiberglass Plunge Pools
The next material option you can choose for your plunge pool is fiberglass. Fiberglass plunge pools are more reasonably priced. They cost about $13,000 on average.
Your priority, if you've decided to install a fiberglass plunge pool, is to find a design you love. These pools are not suitable for customization. The initial design you selected will be the one you'll have as long as you have that fiberglass plunge pool.
Design options are also fairly limited for fiberglass plunge pools. Try contacting as many suppliers as you can so you have more options to choose from.
If you can move past the limited design options, fiberglass plunge pools can be great buys. They offer good durability, they are easy to install, and they are low-maintenance fixtures. Choose fiberglass if you don't want to worry too much about your pool.
Vinyl Plunge Pools
Finally, you can also install a vinyl plunge pool. Vinyl plunge pools are the most affordable options as they cost about $12,000 on average.
The main issue with vinyl is that it's just not as durable as the other options. Plunge pools that rely on vinyl liners may start to break down after only five years. You have to decide if paying $12,000 for a pool that may only last that long is a good idea.
On the plus side, vinyl pools are low-maintenance and customizable. You're getting the positive traits of concrete and fiberglass pools in exchange for durability.
Labor Cost to Install a Plunge Pool
| | |
| --- | --- |
| Estimate Type | Cost |
| Low-End Estimate | $1,500 |
| Mid-Range Estimate | $2,800 |
| High-End Estimate | $4,200 |
Labor costs often have to be considered whenever the subject of adding a new fixture is being discussed. For plunge pools specifically, the average cost of labor is close to $2,800.
Typically, contractors put forth a price for the entire project instead of an hourly rate or something similar. That's helpful because you'll have a better idea of how much your new plunge pool will cost fairly early on.
A DIY installation is only an option for above-ground plunge pools. You will need to hire professionals if you need to excavate some land and make room for your in-ground pool. Hiring the pros is also highly recommended if you want to customize that new addition to your property.
Do You a Need Pool, Spa, or Hot Tub Contractor?
Get free, zero-commitment quotes from pro contractors near you.
---
Related Questions
How Much Do Permits for Plunge Pools Cost?
Building permits are often required if you want to install a new plunge pool. You can expect to spend around $1,100 acquiring all the permits you need for this particular project. Ask your contractor for help if you're having trouble getting your hands on those permits.
How Much Will Maintaining a Plunge Pool Cost?
The annual cost of dipping pool maintenance is fairly affordable. Most plunge pool owners spend about $350 on yearly plunge pool upkeep.
How Much Will a Heated Plunge Pool Cost?
A lot of people like to use their plunge pools for relaxation. You may be able to relax more in your plunge pool if it's full of hot water. Adding the features necessary to create a heated plunge pool will cost approximately $2,500.

Gary Evans
Gary Evans is passionate about home improvement. He loves finding out how to make improvements in the easiest, most practical, and most affordable ways. Upgrading his home kitchen is one of his ongoing hobbies. Gary is also a long-time content creator and enjoys spending his free time tending to his hydroponic vegetable garden.
More by Gary Evans
Published December 29th, 2021 7:45 PM