195 Views
How Far Can You Bump Out A Room? (Find Out Now!)
October 6th, 2021 3:44 PM
Share
We're committed to finding, researching, and recommending the best products. We earn commissions from purchases you make using links in our articles. Learn more here
Bump-out additions create more space and can help liven up a room. Homeowners frequently add bump-out additions that extend between 2 and 15 feet out. Between regulations, construction needs, and cost, let's take a look at how far you can bump out a room in your home.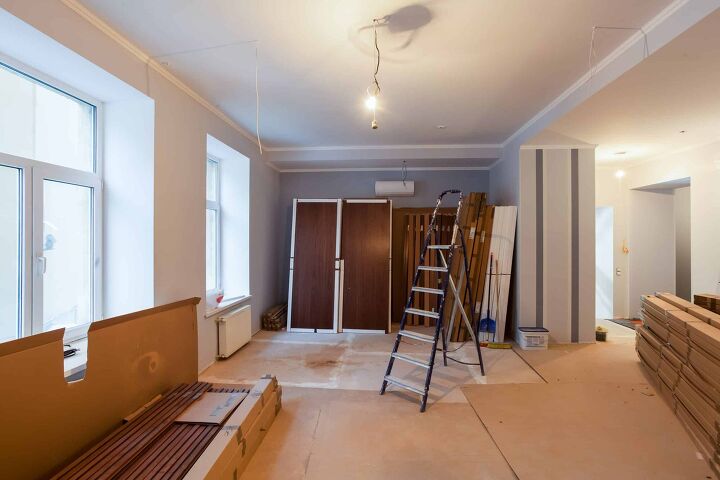 Whenever you buy or build a home, it's essential to make it your own. Decorating can go so far, but sometimes you want to add a little extra space. This is where something called a "bump-out addition" comes in handy.
To know how far you can bump out a room, you should consider the fact that for every foot bumped out, you will need two feet for support. 'Pop-outs' are usually around 2 feet bump outs, while larger bump outs can be up to 15 feet long. A 15-feet bump out will add 45 square feet.
Bump outs can be confusing, but you're in the right place. Today we'll dive into the cost, uses, different types, and more. By the end of this article, I hope you feel more confident in taking on a home improvement project that looks exactly how you imagine it.
Do You Need an Addition or Remodel Contractor?
Get free, zero-commitment quotes from pro contractors near you.
What Is a Bump-Out?
The easiest way to put it is a bump out is adding extra space to a room but not enough that it's a full-blown addition. There are two ways to think of bump-outs:
Full Rooms
Famous home renovation writer Michael Litchfield wrote a book called "In-Laws, Outlaws, and Granny Flats." In that book, he describes bump-outs as full rooms that are attached to your house, like an in-law suite.
Less Than Rooms
Another popular home improvement book, "Black & Decker The Complete Guide to Room Additions," defines it as something different. It says that it's adding to an existing room without creating an entirely new one.
Does Adding a Bump Out Provide Enough Space?
Depending on how far you bump out a room, it can add plenty of extra space. While it won't give you an entirely new bedroom, it can add a cute reading area, a bigger closet, or room for a larger shower.
If your bump-out extends out five feet and is 10 feet long, you're adding 50 square feet to your home. This isn't a massive amount, but it's something noticeable when installed in an already small room. Doing this to a 150-square-foot bedroom will give you 33% more space.
How Far Can You Cantilever a Bump-Out?
You can cantilever first-floor bump-outs, as long as they have simple foundations. This can be something like a concrete slab or foundation walls created by a crawl space. Upper-lever bump-outs can quickly be done by using the framing from the second-floor.
If you're opting to cantilever a bump-out, you need to look at the dimensions of the joists in your house. This will help you choose the depth of the bump-out, as it can be around four times the depth of the floor joists.
| | | |
| --- | --- | --- |
| Nominal Joist Size | Actual Joist Depth | Distance of Bump Out Cantilever |
| 2×6 | 5.5″ | 22″ |
| 2×8 | 7.25″ | 29″ |
| 2×10 | 9.25″ | 37″ |
| 2×12 | 11.25″ | 45″ |
Something else to keep in mind is that the cantilevered joists have to be twice the existing joist's length. So if you bump out cantilevers four feet, you'll need at least eight feet running along an existing joist.
Bump-Out Factors
So, which is true? Well, both definitions are. There aren't any standard rules as to what makes a bump-out when it comes to size.
Bump outs can be done using just about any construction and design methods you can think of. A handful of common features can be found in most bump-outs, including the following:
You're in control of the size. Bump outs can extend up to 15 feet from the house. You could also build what's known as a "pop out," which is no deeper than two feet out.
Pop-outs are also called Cantilevers. This is a smaller bump-out that isn't supported by posts from the house. Only bump-outs that are two feet in depth without foundations are considered cantilevers. 
Another great factor about bump-outs is that they don't require any extra heating or cooling installation.
A popular roofing style for bump-outs is a shed-like lean-to. These are flat and are incredibly easy to install. 
Lastly, bump-outs tend to blend in seamlessly with the exterior of someone's home because of their smaller size. There isn't a lot of change to the outside of your house, which is essential for some homeowners.
Suggested Uses for Bump-Outs
Since bump-outs aren't full rooms, they are known for adding to an existing space. Here are a few ways you can use some extra square footage in your home:
Adding a window seat with bookshelves
Installing a bathtub in a bathroom that doesn't have one or the space.
Extending a length of the counter in a bathroom or kitchen
Adding space for an appliance or installing a kitchen island
Providing a kitchen with enough extra space for a dining area or breakfast nook
Adding space for a small home office by bumping out the living room
Putting in a new closet or bay window with seating in the bedroom
Gaining space for a work area if you bump out the garage
Something to keep in mind is that bumping out a room can increase your home's value. If you plan on selling down the road, this is a great way to rake in a higher selling cost.
Budgeting for a Bump-Out
Even though a bump out is smaller than a full-size addition, it actually costs more in terms of square footage. A lot of the cost comes from getting permits, tearing open a side of your house, hiring an electrician to move wires, and more.
In general, a bump out is cheaper than an entire addition; it's just done on a smaller scale. Costs vary quite a bit depending on size, the home's location, any special requests, and so on. Here is what experts say you can expect to pay for a bump-out:
| | | |
| --- | --- | --- |
| Size | Cost | Notes |
| 2 feet by 10 feet | $17,000 | none |
| 4 feet by 10 feet | $30,000 | none |
| 6.5 feet by 28 feet | $30,000 | For a bathroom on the first floor with a poured foundation. |
| 2-foot bump out | $5,000 | For a kitchen on a second story as a cantilever. |
It's always important to compare quotes from different professionals at every step of the job. Ask several electricians, contractors, and builders, what they'd charge for your specific project. You'd be surprised at how much you can save by doing this.
On that topic, consider learning to do part of the job yourself. Obviously, things like wiring usually require a certain skill set, but there's a lot you can do to reduce costs.
Do You Need an Addition or Remodel Contractor?
Get free, zero-commitment quotes from pro contractors near you.
Related Questions
Is it less expensive to build up or out?
Building out your house costs you a lot less than building up. Adding on to the second or third floor of your home can cost upwards of $250 per square foot. Building out costs a maximum of $180 on average.
Can a house have two basements?
Yes, a house can have what's called a double basement. This can be done by using a bump-out method, but taking it to an extreme. I'd consider adding a second basement as an addition, rather than a bump-out.
How much does it cost to bump out a wall?
If you're looking to bump out a single wall, you have to consider how far you want to bump it out. It can cost as little as a few thousand and up to $20,000+.
Related Guides

Kirstin Harrington
Kirstin is a passionate writer who loves helping people learn new things when it comes to home improvement. When she's not behind a keyboard, she enjoys DIY projects, crafts, spending time with her pets, and making videos. She hopes that with all she writes, someone is finding a solution to their home improvement needs.
More by Kirstin Harrington
Published September 12th, 2020 12:18 AM